Discover Walnut Blonde – the *Ultimate* Bronde Hair Colour
Calling all bronde (brown blonde) hair colour lovers: walnut blonde is this season's new go-to hue, giving you blonde shades with warmth, richness, megawatt shine and a multi-tonal edge. If your client is big on natural shades of bronde, they'll be obsessed with this extra glowy take on the trend. But how do you create the look? Here's everything you need to know about walnut blonde hair colour...
What Does Walnut Blonde Hair Colour Look Like?
First up, let's get into the colour details. This shade is a bronde with boosted brightness, which can be channeled with a wide range of techniques: think balayage on walnut hair, bronde babylights through brown hair, or an all-over veil of radiant brown-blonde tones. Anything goes when it comes to painting, as long as you retain that perfect balance of gleaming, golden browns and beautiful, burnished blondes that shimmer from season to season.
3 Tips for Glossy Walnut Hair Colour
When it comes to creating walnut blonde shades, it's all about respecting the hair's integrity while tailoring the look to your client for a healthy-looking mane. Try these tips as you lift and tone...
1. Choose a Bond-Strengthening Hair Lightener
Healthy hair is beautiful hair, so strengthen your client's strands throughout the lifting process with a bond-strengthening lightener, featuring our WellaPlex ingredient. You can mix the No1 Bond Maker directly into your Blondor formulas (including Freelights and Multi Blonde Powder), or reach for BlondorPlex, which already has the technology built in. Then, brush on the lightener wherever your client wants their walnut blonde highlights or balayage to pop. Whether they're enhancing their natural base or indulging in a big transformation, WellaPlex will support the internal hair structure.
2. Reach for Hair Colour Products to Suit Your Client's Goals
With a range of walnut blonde hues across the Wella Professionals portfolio, you can craft a hair colour to flawlessly suit your client and their unique goals. For example, if they want to add grey coverage to their service or embrace a no-bleach blonde, we've got you covered with their ideal formula. Here's how to choose the perfect hair colour product...
For up to 100% grey coverage and colour intensity, try: Koleston Perfect permanent hair colour. With ultra-precision colour technology, the collection of vegan shades delivers rich results from roots to ends, and they can even be used to disguise grey hair or white hair.
For a bleach-free walnut blonde, try: Koleston Perfect Special Blondes. This dreamy edit of light, luminous hair colours gives you lifting and toning in a single step, so you can achieve a beautiful no-bleach blonde.
For shine you can feel, try: Shinefinity Color Glaze. The zero damage, zero lift glaze subtly enhances your client's hair colour, while veiling locks in a translucent glow. Apply to a naturally blonde head of hair or pre-lightened strands for sheer radiance.
For richness and vibrancy, try: Color Touch. This low-commitment, demi-permanent hair colour comes in an extensive range of shades with stunning results. From sun-drenched blondes to velvety brunettes, each one mimics natural hair hues by working with – not covering – your client's multi-tones.
3. Finish Their Hair Colour Service with a Clear Glaze
No matter which hair colour product you used to tone your client's walnut blonde, their fresh shade will benefit from a clear Shinefinity Glaze. It works in much the same way as the Color Glaze, except you reach for the 00/00 Crystal Clear toner instead of a tint. Mix it 1:1 with the Brush & Bowl or Bottle Activator, then apply from roots to ends of coloured hair. Depending on how much shine your client craves, you can leave it on for anywhere between five and 20 minutes before rinsing to reveal a glossy glow.
Walnut Blonde Hair Colour Ideas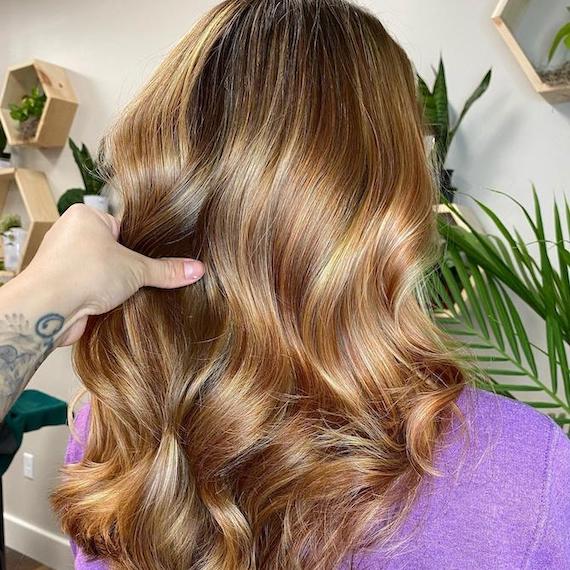 1
Cream Blonde Hair Colour with Walnut Lowlights
Image Credit: @beautybybetzi
This is a true glow-getter of a mane, with walnut lowlights cascading into cream blonde ribbons for a hair colour that looks sunny in summer and fall-ready when the temperatures dip. Few shades are more versatile. The look was created on a naturally blonde base, with lowlights painted on using Koleston Perfect 7/43. Once that formula had been thoroughly rinsed out and neutralized, locks were then toned with Color Touch 9/73 + 9/0 for a boost of bright blonde.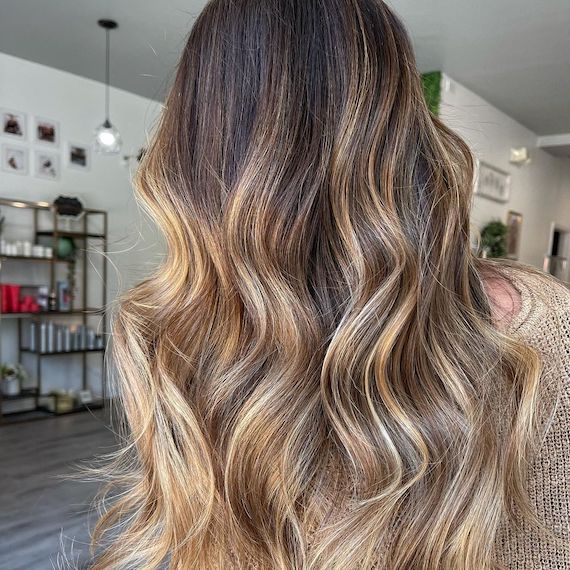 2
Frosted Cream and Walnut Blonde Hair Colour
Image Credit: @kristiwalshair
Frosted cream and walnut blonde hair is as indulgent as it sounds. Rich and remarkably sun-kissed, it sees the warmth of walnut contrast with cool-toned, creamy strokes. Paint this blend of hues with a balayage technique for a summer-ready, sun-kissed glow, as seen in Kristi Walsh's lit-from-within creation. We recommend lightening natural brown hair with Blondor Freelights, then toning with Shinefinity Color Glaze in a mix of 09/13 Toffee Milk and 08/38 Honey Latte for a silken glow.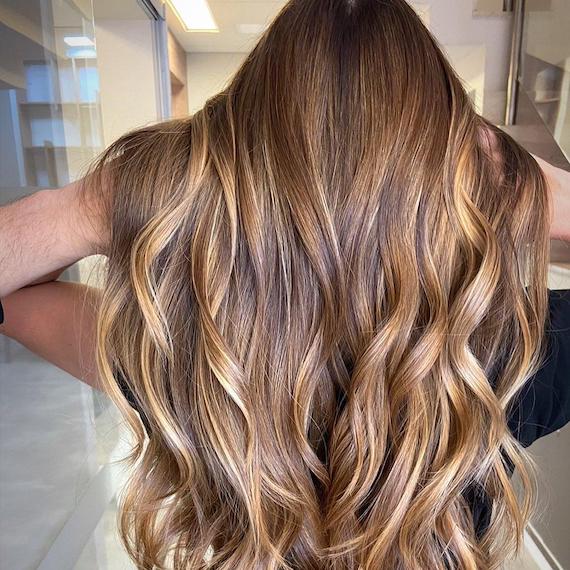 3
Walnut Hair Colour and Buttercream Blonde Highlights
Image Credit: @fredyhair
Creamy blondes pair perfectly with a walnut bronde base shade, as demonstrated by Wella Passionista Fredy Siqueira. When you're working with a chocolate walnut mane like this, try adding balayage in foils (AKA foilyage) to increase the lift, allowing each radiant ribbon to stand out and shine. Then, tone with buttery warm blondes and brondes that glisten against the base. Here, you're seeing a toning mix of Color Touch 9/03 with 7/7, applied from roots to ends.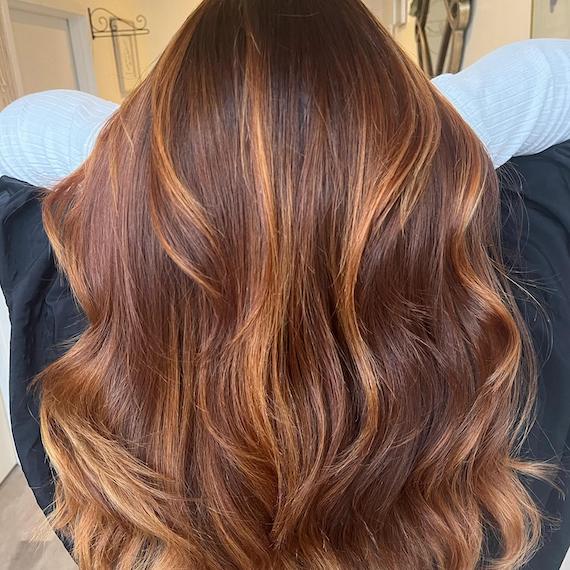 4
Walnut Bronde Hair Colour with Soft Copper Highlights
Image Credit: @hairdreams.ny
There's light, there's depth, and there's copper in this multi-tonal masterpiece, making it the perfect option for red hair lovers who are craving a sun-kissed vibe. On a brunette base, apply chunky highlights with BlondorPlex, then tone all over with a bronde-meets-copper hair colour to set the lengths aglow. Some of our favorites include Shinefinity 07/34, Koleston Perfect 8/74, and Color Touch 7/47.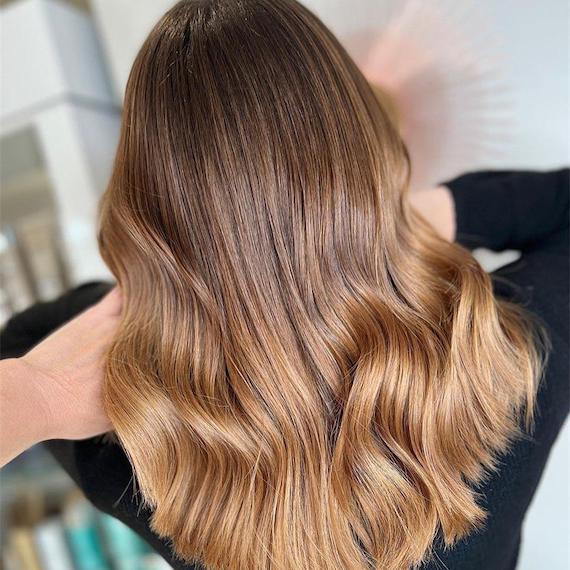 5
Walnut Bronde Ombre Hair Colour
Image Credit: @abby_wella
On a dark hair base, a walnut blonde ombre comes into its own. The rich and radiant tones get lighter and brighter through the mid-lengths, resulting in a show-stopping melt. Ombre hair colour is back in a big way right now and it's easy to see why. When it comes to low-maintenance regrowth and flattering shimmer, it's a foolproof lifting technique. Try recreating this look with Blondor Freelights + 9% painted from mid-lengths to ends, followed by Shinefinity 06/07 + 07/13 to tone to walnut perfection.
3 Hair Care Products to Maintain the Shade
Radiant hair colour is beautiful hair colour, so help your client achieve maximum shine and nourishment with the right care products to enhance their walnut blonde. These are the at-home must-haves they need...
1. A Hydrating Shampoo and Conditioner
Remind your client how important it is to use salon-grade shampoo and conditioner at home. These sophisticated formulas are expertly created to maintain colour vibrancy, while leaving locks beautifully nourished. For normal hair types, ColorMotion+ Color Protection Shampoo and Moisturizing Color Reflection Conditioner make the perfect combo, cleansing strands of fading metals and pollutants to maintain walnut blonde hues for longer. Meanwhile, damaged hair will love the Ultimate Repair Shampoo and Conditioner, which both work from the inside out to rebuild hair bonds and deeply moisturize.
2. A Supercharged Treatment Spray
For clients following the Ultimate Repair ritual, the Miracle Hair Rescue treatment is essential. It's a lightweight yet supercharged spray that's brimming with renewing AHAs and nourishing Omega-9 fatty acids. In just 90 seconds it transforms the condition of even the most fragile locks, so hair is 12x smoother*, with 99% less breakage* and legendary shine that lasts for up to four washes**. All they have to do is mist it through clean, towel-dried hair, allow it to absorb for 90 seconds (no touching!), then carry on with their everyday styling routine. Straight strands will appear sleeker, and curls, waves and coils will enjoy enhanced definition.
3. A Heat and UV Shield
Maintenance is key to all blonde hair colours – but especially warmer blondes. The rich undertones are prone to fading brassy over time, so your client needs to keep their strands protected. Point them in the direction of EIMI Glam Mist; a spray that dials up shine and shields their locks, keeping hair protected from the fading effects of UV rays, as well as frizz-inducing humidity. To apply, they can either mist it directly onto their finished style or spray it onto their hairbrush and sweep through the mid-lengths and ends.
With the tips above, your client's walnut blonde will glimmer and glow from one salon appointment to the next. We'd love to see your own creations, so remember to share them with us by tagging @WellaHairUK on Instagram.
*Instrumental test versus non-conditioning shampoo
**When using Ultimate Repair Steps 1, 2 & 3