How to Lighten Hair Without Bleach
In the quest for blonde hair, there's one thing that may be holding your clients back: bleaching. The fear of bleach damage has seen a host of would-be blondes compromising their hair goals to avoid breakage. But, did you know? There are ways your client can go all blonde without using any bleach. Whether they're craving just a touch of lightness or a full-blonde transformation, your service menu can cater to every look.
So, let's explore how to lighten virgin hair without bleach – even dark hair! – plus a series of services that harness lightener while minimising damage.
Get the full lowdown on no-bleach blondes and beyond…
Discover No-Bleach Blondes With Koleston Perfect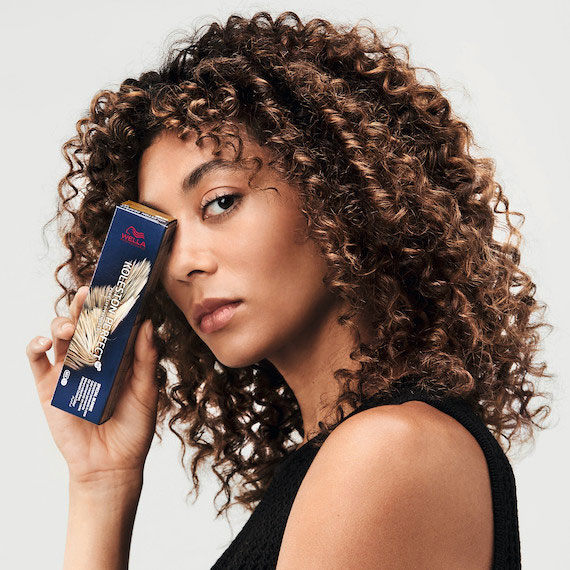 Want blonde hair without the bleach? Enter the Koleston Perfect Special Blondes palette; a collection of high-lift colours that combine lightening and toning powers in a single step. With 11 permanent hair colour hues to choose – from golden to platinum blondes – the palette is perfectly varied, giving you access to a range of natural-looking blonde shades that work on all base hues.
In fact, even darker hair can be brightened with this alternative to bleach, allowing your client to unlock subtle highlights, balayage, ombre looks, and more, without the need for pre-lightening. You'll know you're working with a Special Blonde shade if the hair colour is numbered 12 before the stroke. Not only does it make achieving blonde hues simple, but it also saves time for your client with a one-step process.
For the ideal consistency and results, mix shades with Welloxon Perfect. Just make sure you change the mixing ratio from 1:1 (used for traditional Koleston Perfect shades) to 1:2. You can lift natural hair up to three levels lighter with a 9% developer, or achieve up to five levels of lift with a 12% developer. You're also able to combine mix tones with Special Blonde shades to create truly bespoke colours. Adding other blondes from the Koleston Perfect collection lets you counteract unwanted tones (like excess warmth) or achieve a more precise match for your client's hair goals.
Once you've mixed up their dream hue, apply in their chosen technique and allow colour to develop for up to 50-60 minutes. Here are just some of the services you can offer clients for a single-process, no-bleach blonde...
For High Impact: Full-Head Blonde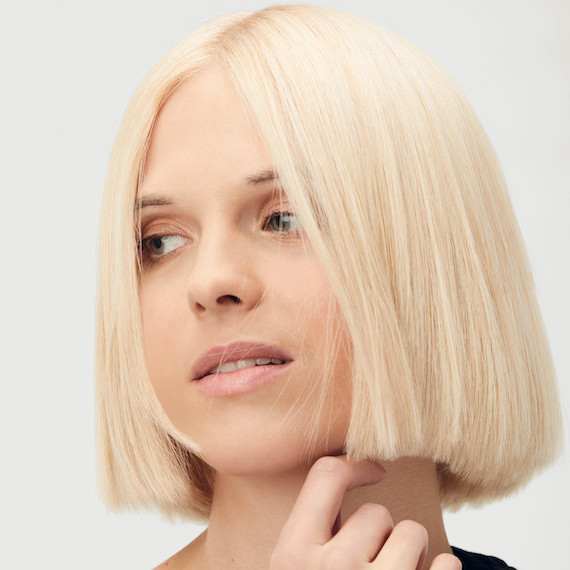 The ultimate light hair transformation can be achieved with all-over colouring in crisp, cool tones. Try this step by step for a Nordic blonde that delivers on shine and impact...
Step 1: Brighten Lengths & Ends
The Formula: Koleston Perfect Special Blonde 30g 12/16 + 30g 12/81+ 2mL WellaPlex N°1 + 120g 12%
Start application at the lengths and ends, leaving 2cm natural at the root area. Leave to develop for 30 minutes before mixing up the root colour. Use foils to prevent colour from touching the natural hair through the root area – and for an even, blonde result. Leave out any previously lightened ends.
Step 2: Add Radiance Through Roots
The Formula: Koleston Perfect Special Blonde 15g 12/16 + 15g 12/81+ 60g 9%
Apply root colour to the root area, taking fine sections. Develop for 50-60 minutes, then rinse thoroughly and apply the WellaPlex No2 Bond Stabiliser for 10 minutes. Follow with ColorMotion+ Color Protection Shampoo.
2. For a Soft Blend: Foiled Highlights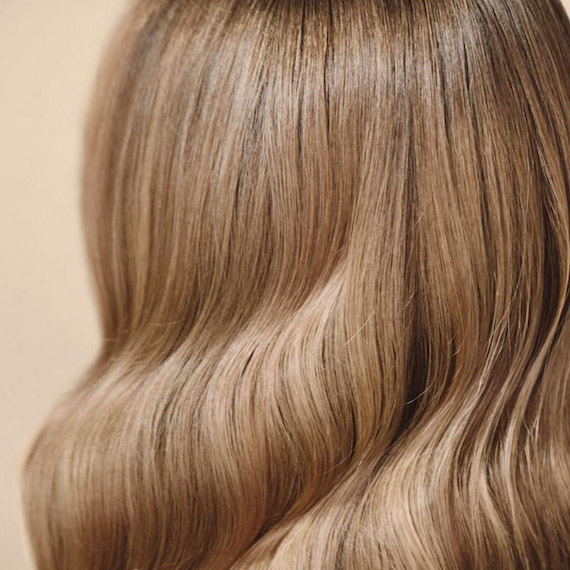 How dreamy is this honey blonde? By applying micro-fine foils to a dark blonde base, you can veil locks in a soft glow that appears positively seamless...
Step 1: Paint on Base Lights
The Formula:
Koleston Perfect Special Blonde
A: 20g 12/1 + 40g 12% B: 20g BlondorPlex + 40g 4% volume developer
Create base lights that set the tonal direction for your blonde creation. These will be scattered all over the head, from root to tip. Vary the size of weaves and microlights, and paint at a diagonal angle.
Step 2: Add Accent Lights
The Formula: Koleston Perfect 10g 9/04 + 10g 9/31 + 20g 4% volume developer
In between your highlights, add accent lights through the warm base tone with a darker shade of blonde. Every fourth weave should be this accent shade, applied under the recession area for a hint of depth.
Step 3: Gloss and Glow
The Formula: Koleston Perfect 10g 10/8 + 10g 1.9% + 10g INVIGO Post Color Treatment
Try this additional step for extra-shiny hair. Mix up a golden gloss and apply to locks for around 20 minutes, before rinsing to reveal warm tones that are brimming with dimension.
3. For Sun-Kissed Curls: Balayage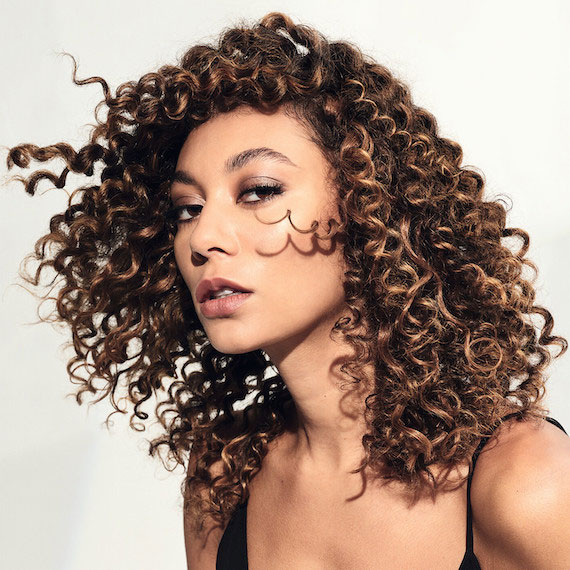 Give your client a summer glow with the most delicate curly balayage. This step by step shows how, even on brown hair or black hair, you can make hair blonde with freehand sweeps of colour.
Step 1: Sweep On Ash Shades
The Formula: Koleston Perfect Special Blonde 15g 12/22 + 15g 12/81 + 60g 12% volume developer
To enhance the shape of curls, make sure you apply freehand highlights in large, textured weaves. Separate hair into sections and apply cooler tones of blonde through mid-lengths and ends.
Step 2: Add Face-Framing Highlights
The Formula: Koleston Perfect Special Blonde 15g 12/89 + 15g 12/11 + 60g 9% volume developer
Make the face frame pop on dark brunette hair by adding medium texture weaves through the hairline. Apply them closer to the root, tipping the angle of the brush to the side for a soft blend.
When Bleach is Needed: 3 More Signature Blondes Services to Try
The Signature Blondes are here; a Wella Professionals edit of blonding services that empower you to unleash your artistry while lifting clients' locks. "Signature Blondes reflect my day-to-day clients. Unique, exclusive hair looks tailored to each client," says Romeu Felipe. They're about meeting your client's individual blonde needs – not just in look, but in condition too.
The No-Bleach Blonde techniques above are all part of the Signature Blondes collection, and they're perfect for no-compromise clients who are reluctant to use bleach on their hair. However, a customer's lightening options don't stop there if they're looking to reduce damage. Signature Blondes also features services that make use of Wella BlondorPlex; a premium hair lightener-meets-bond strengthener, which we've infused with our WellaPlex No1 Bond Maker to reinforce internal hair bonds during the lifting process.
You can use it for balayage, highlights, ombre or all-over colouring, and it will give your clients up to 97% less breakage*. Introduce them to the benefits of BlondorPlex, and this kind-to-locks lightener will unlock even more blonde options. They may require bleach, but these Signature Blonde services still respect the hair's natural vitality, so damage-fearing clients can achieve the lighter hair looks they crave.
For a Platinum Shade On Dark Hair: Ultra Blonde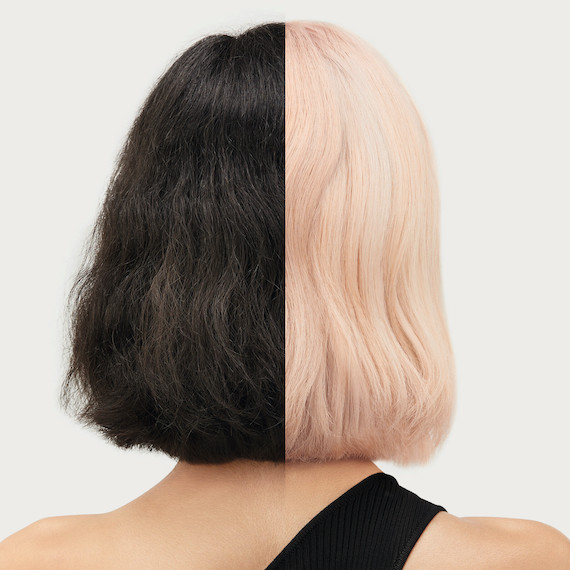 Lifting is needed when taking very dark brown hair platinum blonde, which is where the Ultra Blonde service comes in; a full-head bleach and tone for a light hair transformation. You'll need to lighten the lengths and ends first with 40g BlondorPlex + 60g 6% Welloxon Perfect, and lift the root section with 60g Blondor Soft Blonde Cream + 6%. Then, for blonde toning, apply glaze with Shinefinity Color Glaze 09/65, taking care to start at the roots before sweeping it down to the lengths.
Pro tip: Mix a fresh mass of lightener every 15 minutes when working on full-head applications.
For Shine You Can Feel: Shinefinity Color Glaze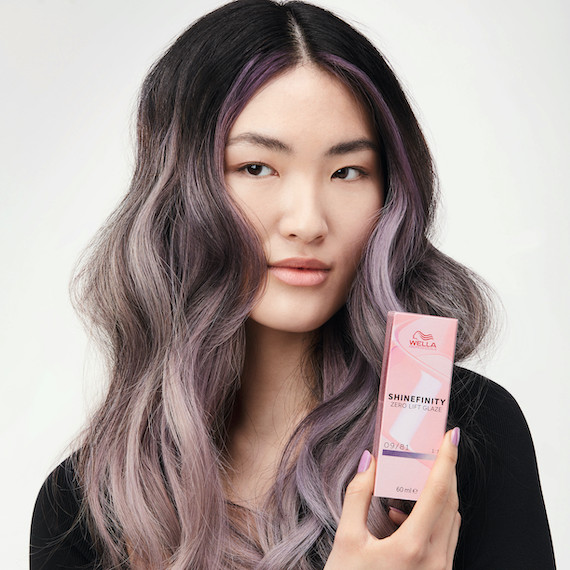 Used on its own, a Shinefinity Color Glaze is the zero-damage, zero-lift answer to enhancing the natural tone in your client's hair. It's suitable for all hair types, delivering a gentle touch of colour with shine you can feel. But, did you know? It can also be used to tone locks after pre-lightening. With a range of warm and cool hues, this high-gloss glaze will craft all manner of Signature Blondes – and here, it's giving dark hair a veil of violet-blonde reflections. Mid-lengths and ends were lifted first with 30g BlondorPlex + 45g 6%, before 50g Shinefinity 09/81 + 20g 00/89 + 5g 00/66 + 75g Bottle Activator was applied for 20 minutes, from roots to ends. Flawless.
For Striking Blends of Light: Ultra Illuminage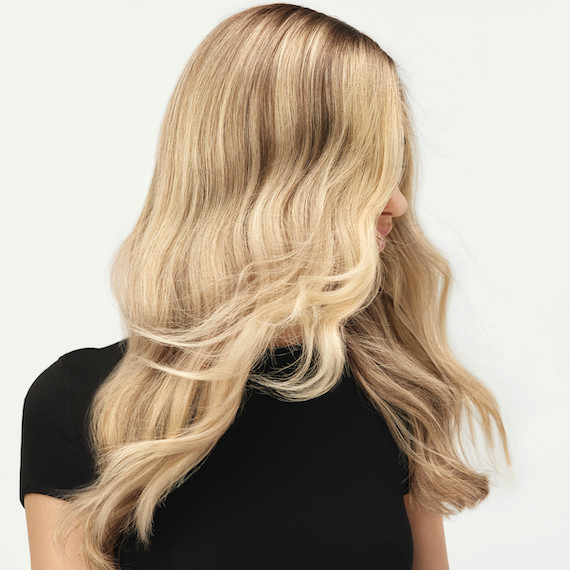 You know Illuminage as the ultimate colouring technique for sun-kissed hair. Now meet Ultra Illuminage; the brighter take, featuring striking yet seamless blends of light that frame the face and enhance the perimeter of hair. This look relies upon 30g BlondorPlex + 45g 4% to lift the hairline and lengths, teamed with an Illumina Color root shadow, using 20g 7/+ 20g 7/81 + 80g 1.9%. Then, a final toning session with 30g 10/ + 30g 9/03 + 120g 1.9% gives locks a boost of brightness, with a flattering hint of gold.
How to Maintain Blonde Hair Colour
No matter how you've created your client's blonde shade – whether it's with or without bleach – it's important they care for their tresses at home with a pro-approved maintenance routine. Recommend these steps...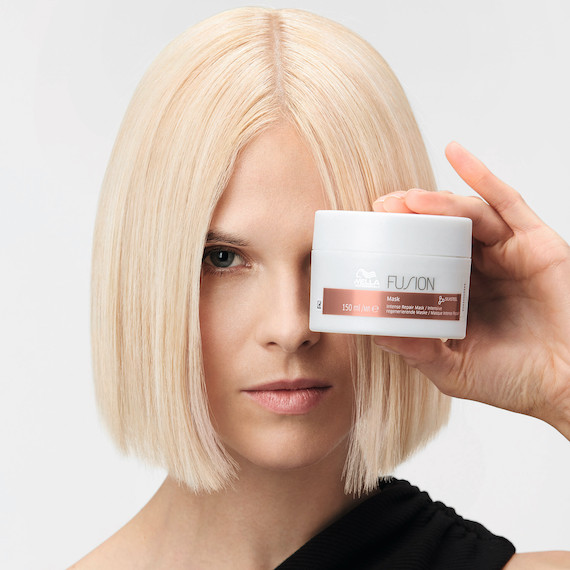 1. Use a Purple Shampoo
Brassy tones are common in blonde locks, so we recommend your clients add a purple shampoo to their hair care kit. Our pick is INVIGO Cool Blonde Color Refreshing Shampoo. Its violet pigments neutralise yellow tones and orange hair hues that can appear in between salon appointments. All your client has to do is lather up, leave the shampoo on their hair for five minutes (or less), then rinse to reveal a more balanced blonde. They can alternate with their regular shampoo to keep hair healthy and shiny.
2. Apply Nourishing Treatment Masks
Keep warm hair golden and cool tones shimmery with a mask that elevates radiance and strength. Lighter shades don't reflect the light as easily as brunettes, so a little extra help is sometimes needed. Our favourite for repairing shine and repairing hair is Fusion Intense Repair Mask; a creamy treatment that intensely conditions coloured hair in just five minutes.
3. Keep On Top Of Regrowth
Darker regrowth is all the more visible against lighter shades, so remind your client how important it is to book in for regular colour touch-ups. While balayage can be low maintenance, maintaining blonde hair from root to tip – especially on brunette hair –  means root coverage every 6-8 weeks is a must.
Now you're ready to create your own Signature Blondes with the lightening tips above, don't forget to share the results on Instagram. Tag @WellaHairUKI to show us your masterpieces.