How to Tone Yellow Hair to Perfection
Whether it's tinged with orange, red, yellow, or a perilous mix of all three, hair that's overly warm is one of the most common challenges you'll face in the salon. So how do you balance it out? In this guide, we give you an essential refresher on how to tone yellow hair to an ash blonde, icy blonde, or golden blonde shade. Let's get down to the details…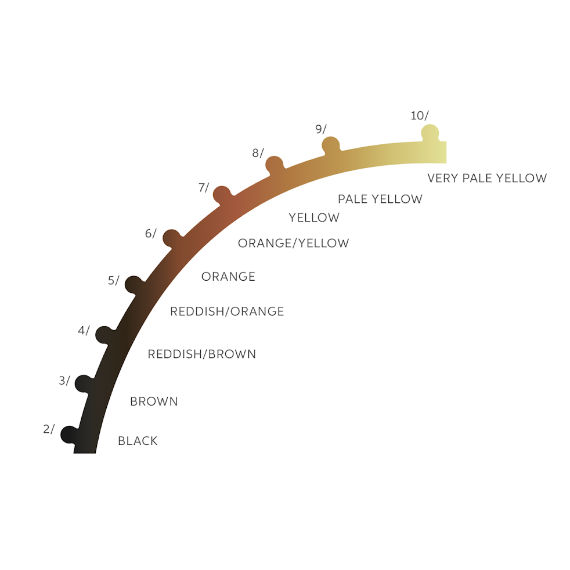 Why Does Hair Turn Yellow?
There are two key reasons why hair might be yellow. First up, you'll spot those yellow tones when you've used a hair lightener on your client's hair. This is perfectly normal, and acts as a base for the toner you're going to apply on top. The tone of that yellow can range from an orange-tinged level 7 to a very pale level 10. Refer to the lightening curve (left) to figure out what yellow hue you can expect when doing a lightening service.
But hair can also appear yellow if your client's blonde hair has faded or turned brassy. This tends to happen if they've skipped their colour care routine or styled their hair without a heat protection spray one too many times. The good news is, in both cases, whatever the cause of yellow hair, it can be easily balanced out with the correct toner.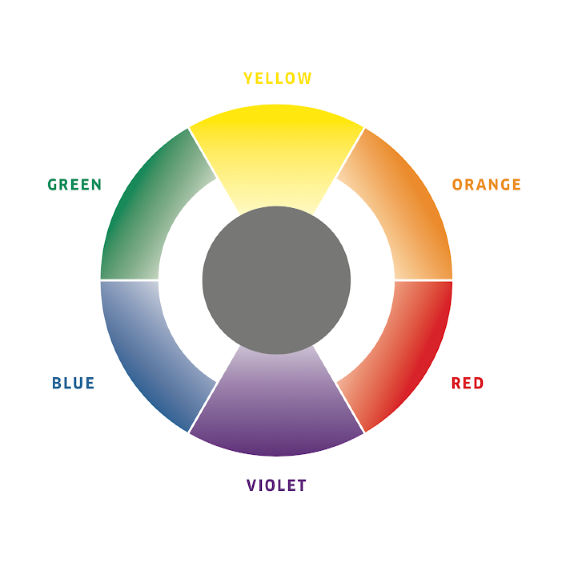 How to Understand the Colour Wheel
Colour theory is simpler than it sounds – especially when you refer to the colour wheel (left). Simply put, whichever colours sit opposite one another on this wheel can cancel each other out. For example, blue neutralizes orange, green balances red, and purple tones down yellow hues. That means, in order to target yellow, you need a touch of violet in your formula.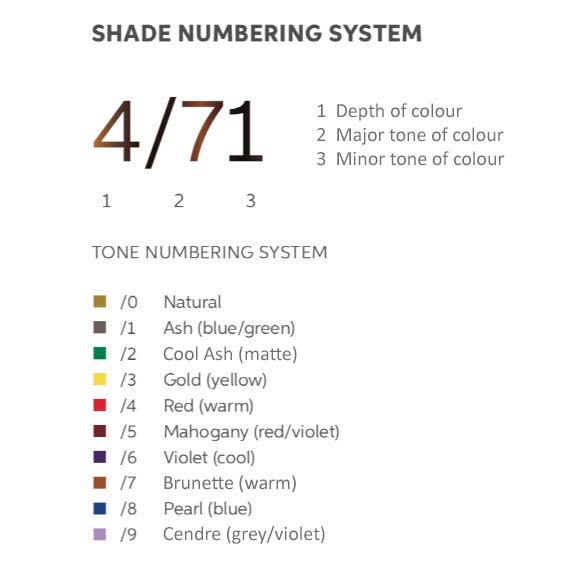 What Colour Toner Should Be Used to Neutralize Yellow Hair?
Now, let's look at how the colour wheel impacts your chosen shade. In the Wella portfolio, each hue is numbered to show the depth, followed by a digit that denotes the major tone then, often, a minor tone. As seen on the left, colours with a 6 after the dash will have a violet tonal direction. As violet is the complementary colour for yellow, you can decide whether this 6 should be the major or the minor, depending on how yellow strands are.
Case in point: if you have achieved lightening up to a level 9 and want to turn pale yellow-tinged hair into a light ash blonde, you'd need to pick something like a 9/16 colour. The 1 after dash indicates a major tone of ashy blonde, while the minor tone of 6 means there's also a little neutralizing violet in there.
Adding hints of green to a toning formula can also help to give your shade a dimension boost and reduce red, while a blue tonal direction (where 8 is the major or minor) will be useful if the hair has hints of orange.
5 Yellow Toning Before and Afters
1. Toning Hair from Yellow to Ash Blonde
With a line of Illumina Colour Platinum Lily added to her client's ash blonde formula, Danijela Ilić turned this brassy yellow mane into a cool-toned dream come true. 
2. Toning Hair from Yellow to Buttery Blonde
Here's proof you can fix yellow hair without ditching sun-kissed warmth. This buttery blonde was created with a blend of Illumina Colour 10/69 + 8/ + 9/60 + 10/38 + 1.9%. Flawless. 
3. Balancing Yellow Tones in Brown Hair
Because there wasn't too much yellow in Rebecca Sellers-King's client's hair, a major tone of 0 (natural) was enough to counteract those brassy tones. The formula? Colour Touch 6/0 + 7/0 + 8/0, blended down the root and over the previously lifted blonde.
5. Toning Yellow Hair to Icy Blonde
Goodbye brassy yellow bands, and hello icy blonde. This frosted bob haircut was perfected with a final toner of Illumina Colour 8/05 + 9/59 + Titanium Rose + 1.9% through mid-lengths and ends. 
Can Pre-Toning Counteract Yellow Hair?
While it adds time and an extra step to your service, sometimes pre-toning is needed to create a clean canvas for bolder colours. Otherwise, hints of yellow can alter the final result. Say, for example, your client wants marine blue hair: applying the shade right on top of the yellow could make strands green. However, if you pre-tone with a neutralizing violet, you have a flawless base for vibrant strokes of blue. 
Pre-toning can also help to prep hair for warm blondes. Caramel or golden shades applied on top of yellow can sometimes appear overly warm – but not if you balance the base first. Counteract yellow brassiness with a cool, violet-tinted blonde toner, applied at the backwash, then go in with your rich, radiant, sun-kissed blonde shades. Pre-toning helps warm colours fade out better too. 
How Your Clients Can Fix Yellow Hair At Home
There are ways your clients can 'tone' yellow hair at home, too – namely with a purple shampoo. But, before you recommend INVIGO Cool Blonde Color Refreshing Shampoo, make sure they know how to use it. They won't want to apply it for every wash – just on days when yellow tones crop up – and they should leave it on hair for 2-5 minutes, so the violet pigment has time to do its work. 
For more moisture, cool-toned blondes can also try a colour-depositing conditioner, like the Color Fresh Mask, which nourishes hair by targeting those stray yellow tones. Their go-to hues are Pearl Blonde, which refines icy, platinum and beige blondes, or Lilac Frost for when they want a hint of pastel purple to shine through. All they have to do is wash their hair as normal, apply their chosen mask from root to tip, allow it to develop for five minutes, then rinse and style. Their blonde will look instantly refreshed.