All that glitters is golden blonde hair; a shade so shiny, sparkly and soft, it lends a warming complexion boost to anyone who tries the trend. No wonder, then, that it's one of the most coveted shades of blonde out there. Keep scrolling for inspiration, formulas and tricks to maintain this gilded shade – each one worth their weight in gold(en blonde)…
How to Create Golden Blonde Hair
Whether you're creating golden blonde hair for a client or trying the shade yourself, keep these transformation tricks in mind to ensure you achieve the most flawless finish…
1. Golden Blonde for Blondes
It goes without saying that blonde hair is the best base for a golden blonde concoction. Locks may already be light enough to skip the pre-lightener step and go straight into glossing or toning. If you're working with a blonde, look to the shades in the demi-permanent Color Touch portfolio, adding doses of 9/03, 9/73 or 9/36 to your formula.
2. Golden Blonde for Brunettes
Brown hair will need pre-lightening before golden blonde colour can be applied, and you can do it two ways; all over for a dramatic brown to blonde makeover, or in fine blonde highlights to achieve the most natural-looking finish. Either way, use Blondor Multi Blonde Powder to lift strands to the desired underlying tone, then choose a warm blonde hue from the permanent hair color Illumina Color portfolio for luminosity. If you still want those golden hues but you're not ready to commit to a more dramatic transformation, try golden brown hair instead. You would still get a warm and luxurious feel.
3. Golden Blonde for Redheads
While those with medium or deep red hair will want to lighten all over for a golden blonde hue, copper hair can carry off a few glistening highlights to create a gilded strawberry blonde. Try Blondor Freelights for a scattering of soft, seamless babylights, then tone with permanent hair colour like Koleston Perfect for a shiny finish, using warm tones from the Pure Naturals or Rich Naturals collection.
6 Golden Blonde Hair Ideas
1
1. Pure Golden Blonde Hair
Image Credit: @marinazuravliova
A true golden blonde is neither light nor dark and glimmers beautifully under the light, a la this creation by Marina Zuravliova. A combo of Blondor-ed babylights and Illumina Color ensure locks are brimming with shine, which you can take to the next level by spritzing mid-lengths and ends with EIMI Glam Mist gloss-boosting spray.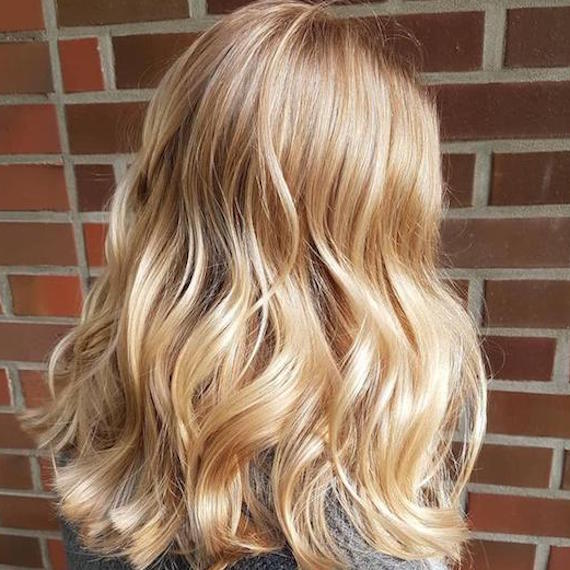 2
2. Light Golden Blonde
Image Credit: @anne_does_hair
For those who prefer a paler shade, try a light and sunny golden blonde, which features bright, twinkly highlights lightened to a level eight. A shade this luminous teams flawlessly with loose, undone waves, which you can tease to perfection using the Pro-Curl tong and EIMI Thermal Image heat protection spray.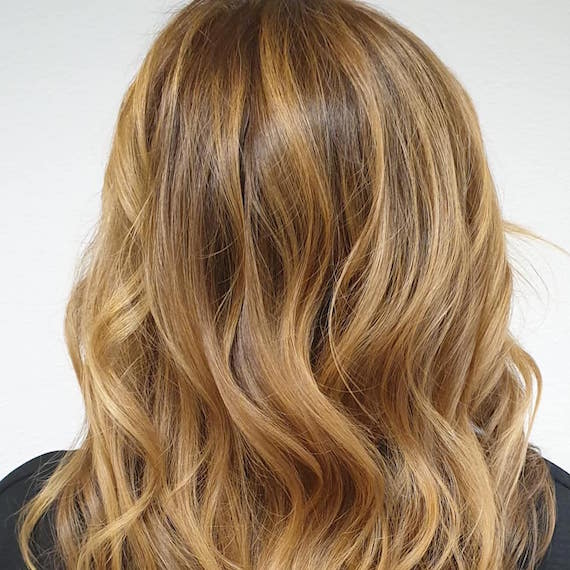 3
3. Medium Golden Blonde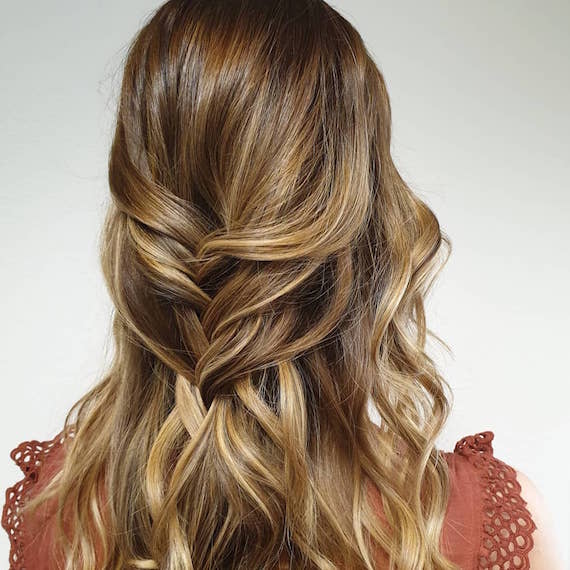 4
4. Dark Golden Blonde
Image Credit: @pablofriseure
A dark golden blonde is essentially brown hair with warm, glittering highlights, as dreamily demonstrated in yet another look from the pa.blo friseure salon. Created with a foilyage technique (that's balayage wrapped in foils for a brighter lift), the look goes next level with tousled texture. Try EIMI Ocean Spritz salt spray to get the look.
5
5. Golden Honey Blonde
Image Credit: @hairbytheflo
On the blonde hair spectrum, honey blonde and golden blonde sit close together, both decorating locks in glimmering warmth that looks luminous all year long. For something in between, go for a softer gold with a milky, hazy finish, and lower the volume of brown lowlights to reduce the contrast of your highlights.
6
6. Golden Copper Blonde
5 Golden Blonde Hair Formulas