The Colourist's Guide: How to Achieve the Perfect Blonde
How many times has a client asked you to create the perfect blonde? Countless, no doubt. It's Google's most searched for hair colour, covering a raft of shades, from bronde to platinum. And yet, blonde is also one of the most complex results you'll ever be asked to create, it requires planning, precision and on-point judgement to reach the desired finish. So, how exactly do you get blonde hair looking flawless? Here all the tips you need to brush up on your colouring technique…
1. How to Determine the Level of Lift
First, consider the hair's natural starting point. This is the foundation of your blonde creation, and it has a big impact on the formulas you use when you lighten and tone. Start with a consultation, where you can ask your client about their hair history. Here, you'll want to cover four key questions that give you a clear idea of the hair you're working with:
 When was your hair last coloured?
 What services and treatments have you had previously?
 What don't you like about your hair currently?
 What is your usual hair care and styling routine?
Then, use the Wella Lightening Curve (below) to determine the level of lift required. For example, if their existing level is a medium blonde 7/ but they want to go to a platinum 10/, you'll need to lighten the hair by three levels. You will also need to consider the underlying pigment that may be exposed. During lightening, hints of orange and yellow warmth can come through. Keep this in mind for when it comes to mixing up your toner.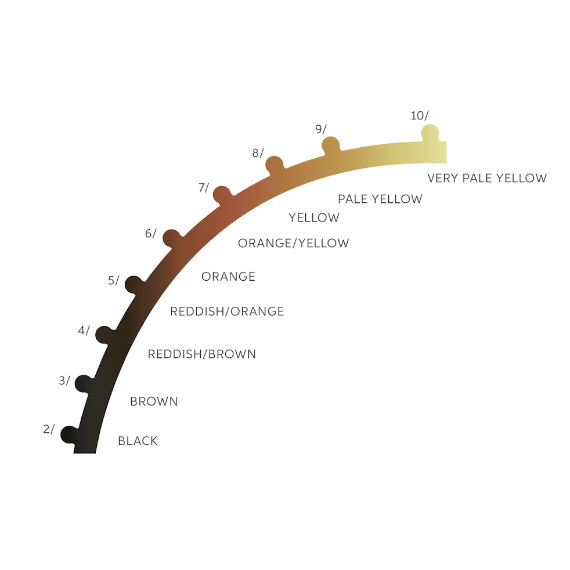 2. How to Choose a Hair Lightener
Our cult-classic Blondor portfolio offers a range of hair lighteners for all hair types, including Freelights for balayage, Blondorplex for sensitized locks, and Soft Blonde Cream for close-to-scalp lifting. Each of these can give you up to seven levels of lift. Allow to develop for up to 50 minutes, regularly checking the hair to make sure you've reached the desired result. Then, rinse and neutralize with Blondor Seal & Care.
But it's not just Blondor that creates flawless blondes; our permanent hair colour ranges can help as well. Koleston Perfect and Illumina Color are both used to lift locks, mixed with Welloxon Perfect Pastel Developer to achieve a brighter blonde.
Here's how to mix them…
For up to one level of lift: Mix Koleston Perfect or Illumina Color with Welloxon Perfect 6%.
For up to two levels of lift: Mix Koleston Perfect or Illumina Color with Welloxon Perfect 9%.
For up to three levels of lift: Mix Koleston Perfect or Illumina Color with Welloxon Perfect 12%.
As for ratios, we recommend mixing the colour 1:1. For example, you might try 30g Koleston Perfect or Illumina color + 30g Welloxon Perfect Developer.
For up to five levels of lift: Mix Koleston Perfect Special Blondes with Welloxon Perfect 9% or 12%. For this, you'd mix 1:2, so your formula would be 30g Koleston Perfect Special Blonde + 60g Welloxon Perfect Developer.
3. How to Mix Blonde Hair Colour
If the level of lift is correct but the tone of the blonde needs touching up, apply a toner to neutralize warm and brassy undertones or add warmth to flat and dull hair. You can also do this in your lightening step when you're using a high-lift colour.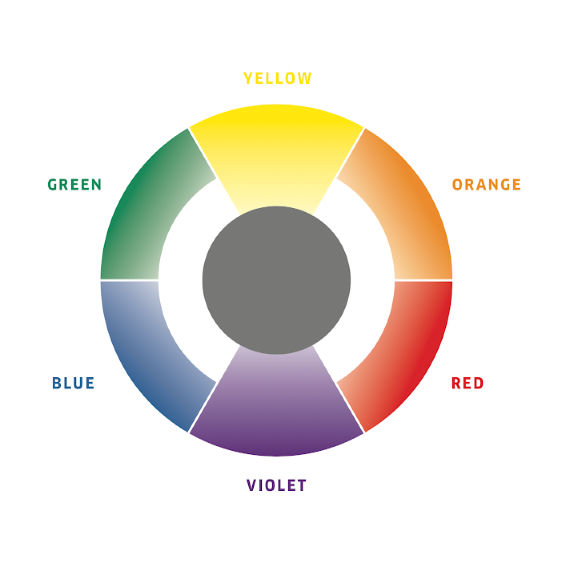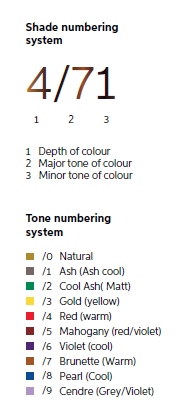 But, how do you know what shade of blonde toner to use? Start by looking at the underlying pigment the lightener has exposed. If the hair hasn't yet been lightened, preempt the tone that might appear as a result of lifting.
Then, use the Wella's Hair Colour Chart and Shade Numbering System to determine the toner required to correct it. The trick is to pick out a tone that's opposite the unwanted tone on the wheel. For example, to cancel out warm red and orange tones, use cool tones that have matte undertones, such as /2 Matt Green or /8 Ash Blue. To cool down yellow, brassy strands, add in a /6 Violet. And then do the opposite if you need to warm up a flat or dull colour.
Wella's Shade Numbering System is made up of three parts: the depth that you are lifting or have lifted to, followed by a major tone to neutralize, and a minor tone of colour. So, if you're toning level 7 medium blonde hair that's looking orange and brassy, you could use 7/81. This would match the level of lift and give your client's locks a dose of /8 Pearl to temper the warmth.
Pro Tip: One watch-out when toning. Applying your formula to the root area can gently lighten and illuminate the natural hair, which softens the contrast and lends a luminous result. However, if you do not wish to lighten the natural hair during toning, work slightly off the root area and apply only to the lengths and ends. You could also use a glossing service for soft, tonal results.
Continue Your Hair Education
Looking for more advice on how to get blonde hair that's fresh and flawless? Here's a round-up of our go-to masterclass videos, with all the tips, tricks and inspiration you could possibly need…
1. A Blonde Toning Masterclass with Robert Eaton
The ultimate masterclass, led by Wella Professionals Technical Director, Robert Eaton. Here, he takes you through the full toning process, from sectioning locks to mixing a beautiful blonde formula.
2. How to Achieve 4 Levels of Lift with Wellaplex
Ever wondered how our bond-strengthening system, Wellaplex, works in tandem with hair lightener? Global Top Artist Aubrey Loots uses it to achieve four levels of light, luminous lift in one appointment.
3. Blonde toning with Illumina Color masterclass with Zoë Irwin
Following up blonde balayage with an Illumina Colour blonde toning, Wella Professionals Colour Trends Expert, Zoe Irwin, shares her top technique and tips for sun-kissed ribbons that glow, glow, glow.
4. How to Blend Grey Hair with Highlights
For those clients who hope to camouflage grey hair, Global Wella Educator, Christopher Rea's tutorial is a must-watch. He shares his expert knowledge on the common concerns of those clients with grey hair and shares how you can achieve a beautiful grey blending result using Color Touch.
5. How to Achieve a 'No Regrowth' Blonde
Goodbye, regrowth. Hello, blonde. Wella Educator Kai Sohn touches up roots and tones light locks in one with this easy-to-follow step-by-step. His crafty sectioning allows for truly seamless colouring. Watch, learn, and try these slices next time you're blending regrowth on blonde locks.