Here's Proof Beige Blonde Hair is Anything But Boring
If you thought beige was boring, think again. When it comes to beige blonde hair, the colour becomes something else entirely; bright, light and show-stopping, from root to tip. The soft-focus hue looks especially flawless in winter, when the cooler light enhances its dreamy radiance, casting a light-reflective sheen that makes beige the blonde of the season. Here's what you need to know about this trending colour…
What is Beige Blonde Hair?
You know what the colour beige looks like. Layer it with the brightness of blonde, and you have a glossy, glowy tone that's sometimes warm but mostly cool. It's the very definition of 'expensive-looking hair', calling to mind the coziest cashmere or the softest silk. Create a beige blonde, and you've struck the perfect balance of ivory, sandy and vanilla tones.
How to Create Beige Blonde Hair
When a client asks you for beige blonde hair, there are four tips to keep in mind. These mixing and sweeping enhancements will help you create the cleanest beige-y shade...
1. Pre-Lighten to Perfection
You know the score. If the natural or coluored base you're working with is darker than a beige blonde, you'll need to pre-lighten locks first. One of our favorite products for this step is Blondorplex. Infused with phase No1 of our bond-strengthening system, Wellaplex, it lifts locks while reducing damage – ideal for sensitised hair. You can also lighten with a colour; Koleston Perfect Special Blonde colours, remeber only on natural hair, to be exact. These pure-pigment, permanent formulas are able to lift strands up to five levels.
2. Follow the Lightening Curve
Another pre-lightening tip: before you mix up the formula, use the Lightening Curve (one of our helpful Wella Color charts) to determine how much of a lift you need to achieve. Beige blonde can shift in tone – sometimes it's light and bright, sometimes it steers darker. So you'll be aiming for anything between a level seven and a level ten, depending on your client's desired finish.
3. Adopt the Right Technique
Because beige blonde hair can be created with all manner of colouring techniques – from babylights to balayage – it's always best to ask your client for a photo of their dream hair during consultation. From there, you should be able to decipher the application technique required. Is it a dark-to-light ombre? A full-head transformation? No two beige blondes are the same, so it helps to ask plenty of questions.
4. Choose a Beige-y Colour
In the Wella colour portfolio, there are endless beige blonde colours to choose from. Light beiges, warm beiges, cool beiges, dark beiges. Any beige your client could possibly want. Some of our go-tos include demi-permanent Color Touch in 7/1 or 9/97, Illumina Color in 8/93 or a neutral 8/ and Koleston Perfect in 9/8 or 8/38.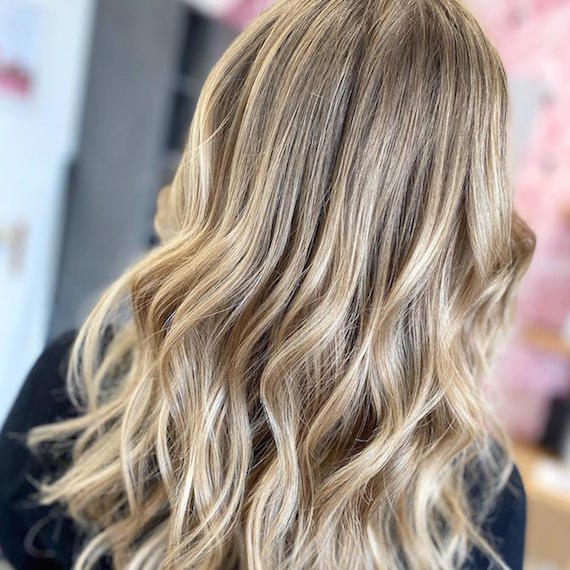 1
Beige Hair
Image Credit: @haireinspaziert_by_laura
Here's the thing about the colour beige: it can be warm, cool, light, medium and dark. It's not a single shade, but more of a direction, just like there's no one type of blonde. In this true-as-can-be beige, you get a bit of everything – a hint of golden warmth, some cool, icy tones – blended beautifully together with painterly balayage through the mid-lengths and ends.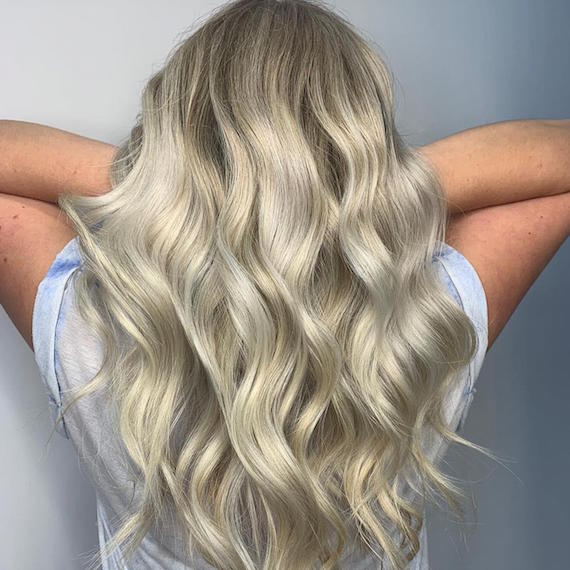 2
Light Beige Blonde
Image Credit: @theboutiqueknowle
With the soft sheen of ivory silk, this light beige blonde is as clean and crisp as colour gets. It started with a base of Blondor Multi-Blonde Powder with 6% in a full head of foils. Then, that signature glow came courtesy of light-reflective, permanent Illumina Color in 10/69 and 10/1. The perfect combo for a brighter, cooler beige.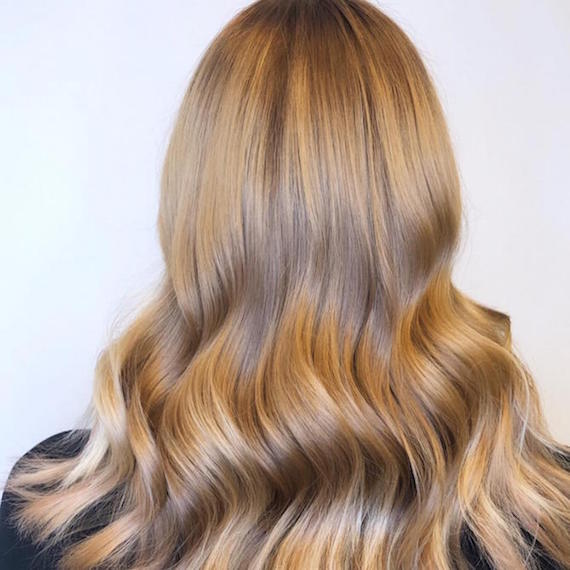 3
Medium Beige Blonde
Image Credit: @emelie.wella
Wella Educator Emelie Sandström has medium beige blonde hair on lock with this look. It's on the warmer side, featuring honeyed hues that positively shine with health from root to tip. To reach the shade, she pre-lightened with Koleston Perfect Special Blonde hue 12/96 first. Then, after rinsing and neutralizing the hair, Illumina Color 8/93 was mixed with 1.9%/6vol developer Welloxon Perfect Developer.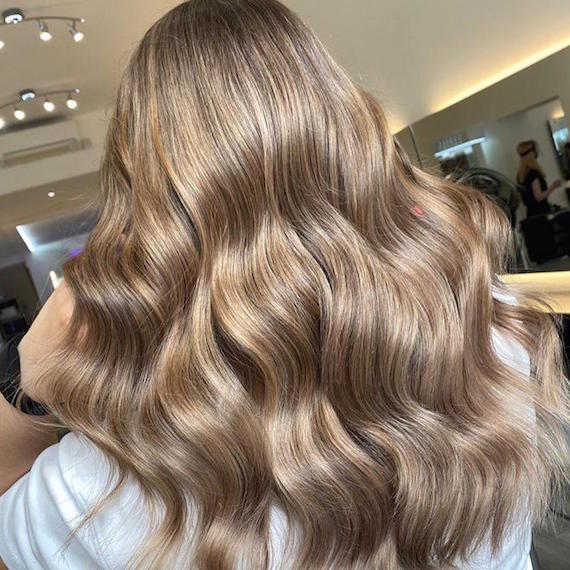 4
Dark Beige Blonde
Image Credit: @njuk_
You could almost call this dark beige blonde a beige bronde, owed to the brunette ribbons shimmering through. The question is, how do clients know which shampoo to use post-colour? One for blonde hair or one for brown hair? The best way of ensuring brondes look salon-fresh is with a purple shampoo, which can be used on both light and dark locks to keep any overly-warm, brassy tones at bay.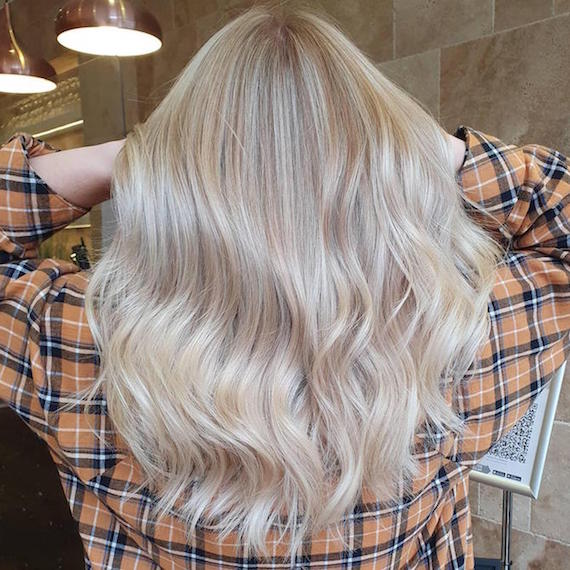 5
Beige Blonde Highlights
Image Credit: @jordannacobella
This look was cleverly created by Wella Craft Expert Jordanna Cobella, using a mix-and-match colouring technique called 'tweed highlights'. Essentially, it's a combination of balayage, highlights and strand lights, resulting in a multi-tonal, tweedy-textured effect. And the lightener of choice? None other than Blondorplex. Remember when using Blondorplex to complete the service with Wellaplex Step 2 Bond Stabilizer.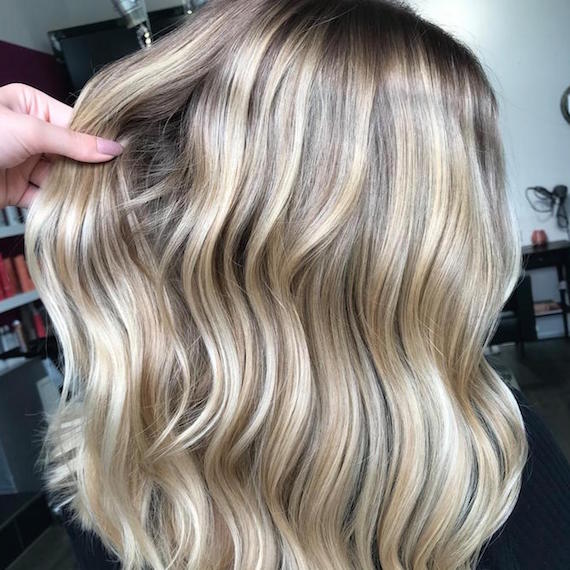 6
Beige Blonde with a Root Shadow
Image Credit: @hairart.lisa
This hazy daydream of a hair colour was brought to you by Lisa Futterer, a whole lot of gloss-enhancing Illumina Color, and a flawlessly-blended shadow root. If you're wondering what formula to use when smudging the root on a beige blonde, try taking a leaf out of her book. She used 5/81 with 5/ and 6/16. Apply to damp hair for a softer finish.
How to Maintain Beige Blonde Hair
Maintaining blonde hair is an art in itself. Because it's prone to fading or turning brassy, clients will appreciate your tips on keeping their newly-lightened hair in check. There are five key products all beige blondes need to add to their home routine: a colour-kind shampoo, a purple shampoo, a nourishing conditioner, a pigment-depositing mask, and a heat protection spray.
1. The Colour-Kind Shampoo
When hair is exposed to pollutants, colour-fading free radicals can make blonde hair appear dull. That's why it's important to use an antioxidant, pollution-fighting shampoo. ColorMotion+ Color Protection Shampoo ticks that box, and offers up to eight weeks of colour protection, ensuring beige blondes look radiant from one appointment to the next.
2. The Purple Shampoo
To be used as a weekly treatment, or whenever brassy tones start to show up, INVIGO Cool Blonde Color Refreshing Shampoo neutralizes excess warmth in beige blonde locks. It's a must-have for every blonde who craves that salon-fresh look between touch-ups. Simply leave it on for three to five minutes, then rinse out thoroughly.
3. The Pigment-Depositing Mask
For clients who prefer a colour-depositing treatment over a purple shampoo, the Color Fresh Mask is perfect. It nourishes locks, while refreshing the tone in just 10 minutes. Suggest the Golden Gloss edition to enrich warm beige blonde locks between salon appointments, or Pearl Blonde to balance cool beige blondes.
4. The Nourishing Conditioner
Working in tandem with the ColorMotion+ Shampoo, the Structure+ Mask pampers locks back to their best with a dose of the Wellaplex bonding agent. This strengthens the hair structure, improving shine and manageability, so beige blonde hair retains its gloss. Apply to sensitized areas only, such as lengths and ends.
5. The Heat Protection Spray
Finally, we all know that heat can have a detrimental effect on hair colour. From the sun or your straighteners, heightened temperatures speed up the colour-fading process. If your client uses heated tools often, recommend they always prep damp or dry hair with a heat protection spray. We love using a spritz of our cult-classic EIMI Thermal Image.