What is Hair Glossing? We've Got the Gloss
Everyone's heard of glossy hair, but what about a hair gloss? Some of your clients may still be mystified by this shine-boosting, tone-enhancing service. If they want to maintain or illuminate their color, a Wella Pure Glossing treatment is a must-try, helping to eliminate brassy tones and dullness in the space of a lunch break.
So, let's cover the basics...
What is a Hair Gloss?
A hair gloss is a subtle coloring and conditioning treatment that infuses locks with radiance and shine. It's perfect for refreshing blondes, reds, brunettes and bold shades in between color appointments, but it can also be used to add on-the-day luminosity to freshly-colored hair. Think of glossing as the hairdressing industry's best kept secret, as it offers a cost-effective, time-efficient way of breathing new life into locks. Your clients will be in and out the door in under an hour.
What are the Benefits of a Hair Gloss?
The clue's in the name with this treatment. One session veils hair in the glossiest, most light-reflective shine, while offering up a host of other beauty benefits…
1. It Refreshes Existing Color
Picture the scene: your client is three or four weeks out from their last color appointment and – while it's not time for another tint or head of highlights yet – their hair still needs freshening up. This is where a hair gloss really shines; it imparts a subtle dose of brightening pigment, so clients get that just-left-the-salon look and feel without repeating the full coloring process.
2. It Removes Brassy Tones
Brassy hair happens to the best of us. When yellow or orange tones start to crop up, a hair gloss works like a color corrector to neutralize the warmth. Clients should opt for this treatment to keep tone in check in between appointments, so they can keep that tell-tale brassiness at bay for longer.
3. It Creates the Subtlest Tint
When only the softest kiss of color will do, a hair gloss can be used in place of traditional toners for those who want to try out a new shade without seeing a dramatic shift. Use it to add a mahogany glaze to red locks, bring some chocolate brown warmth to medium brunettes or lend a subtle ashy tone to a naturally blonde base.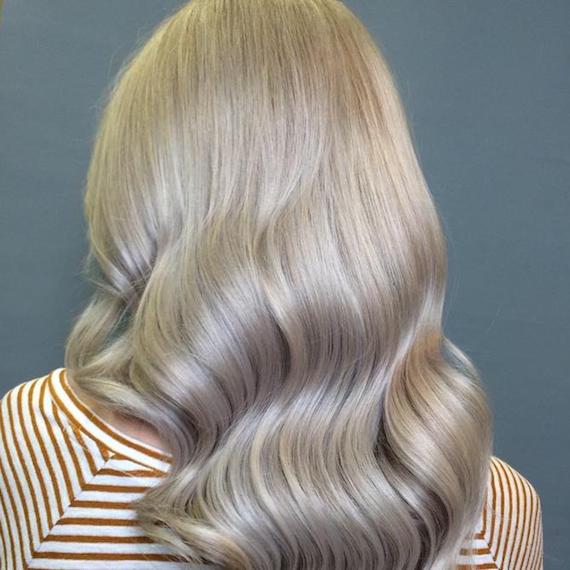 Image Credit: @hairbyjonnynightingale
How is a Hair Gloss Applied?
A Koleston Perfect Pure Glossing Service couldn't be quicker or easier. Whether you're a colorist who's nailing the application or a customer who's thinking of booking the treatment, check out the simple steps involved…
Step 1
First up, hair is shampooed to thoroughly remove any build-up or residue. This ensures your client gets the best results from a gloss, while making it quicker and easier to apply.
Step 2
A shade of Koleston Perfect permanent hair color is selected based on the desired end result. A few colors can be mixed up to create a custom blend.
Step 3
The Koleston Perfect shade is mixed with Welloxon Perfect 1.9% and INVIGO Service Color Post Treatment with a 1:1:1 ratio.
Step 4
The blend is applied to hair, then combed through using a wide-toothed comb to create an even, balanced result.
Step 5
Color is left to develop for no more than 5-10 minutes. We weren't kidding when we said a flawless gloss could be achieved in the space of a speedy lunch break.
Step 6
The gloss is rinsed out without shampoo, then dried and styled to perfection. And… you're done.
What's the Difference Between a Hair Gloss and a Hair Toner Or Color?
The clue's in the formula. A gloss isn't different to a hair color as such, because a glossing blend contains color – along with the developer and  Color Post Treatment. However, a color or toner is just that – a product that may feature a dose of developer, but offers purer pigment and longer wear than a gloss.
Color also takes longer to develop; we recommend 30-40 minutes for Koleston Perfect without heat, compared to a glossing service's speedy 10-minute process time. So, in summary, if clients want a new shade or a full color touch-up that is long-lasting, they need a hair color. But if they're looking for a subtle shade shift or an in-between-appointments tone refresh, they'll love a gloss.
The Glossiest Pure Glossing Looks
Our Wella Passionistas have been mixing up their own Pure Glossing blends in the salon. Here are some of our favorite looks…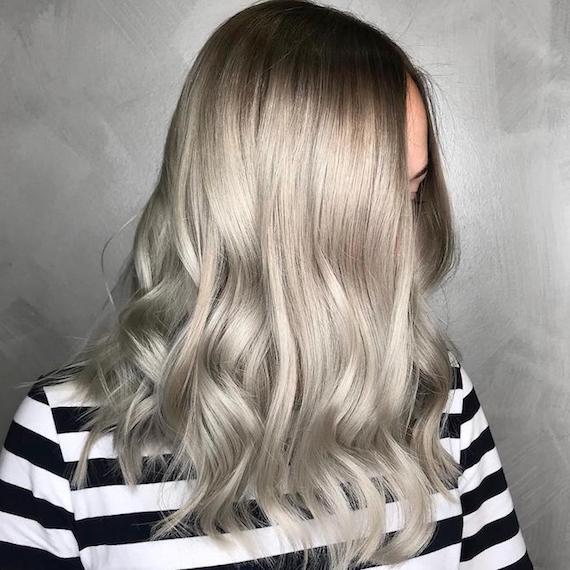 1
The Silver Blonde Gloss
Image Credit: @kthrnaprg
Shine is a must in silver hair so, after lightening with Blondor Freelights, Katharina Pfrang gave her client a gloss by blending Welloxon Perfect Pastel Developer with INVIGO Color Service Post Hair Color Treatment and Koleston Perfect 10/16 + 10/8. Dreamy.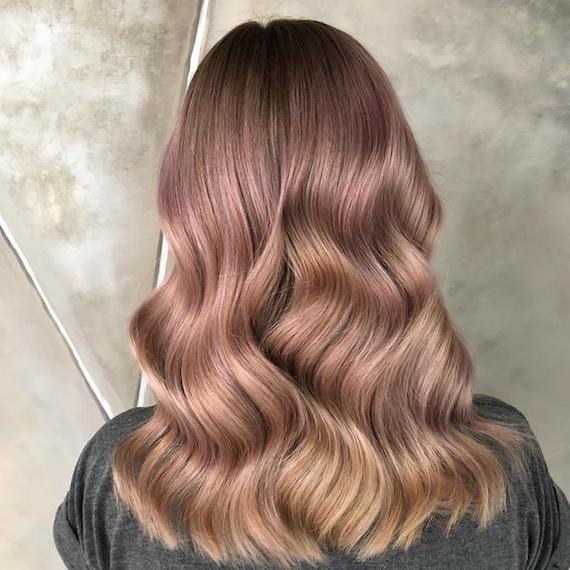 2
The Rose Gold Gloss
Image Credit: @fergalwella
As if rose gold hair wasn't covetable enough, Fergal Doyle has taken the look next-level with the Pure Glossing service. His formula? Koleston Perfect 30g 10/96 + 3g 33/66, blending with 33g Pastel and 33g INVIGO Color Service Post Hair Color Treatment.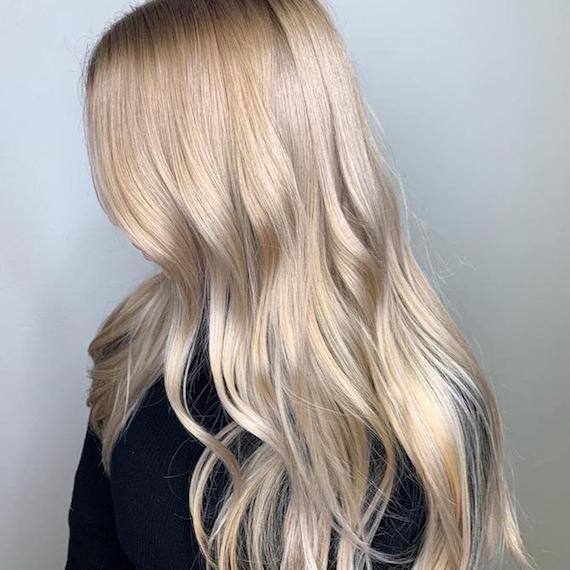 3
The Cool Blonde Gloss
Image Credit: @matthiasscharf
The best blonde hair happens when you give it a gloss. After lightening locks with Blondor Freelights, foils and our bond-strengthening system WellaPlex, Matthias boosted these baby blonde highlights using a glossing blend of 8/07 + 7/18 2:1 with 1,9% on the roots and 9/8 + 10/16 + 10/97 1:1:1 with 1,9% through the ends.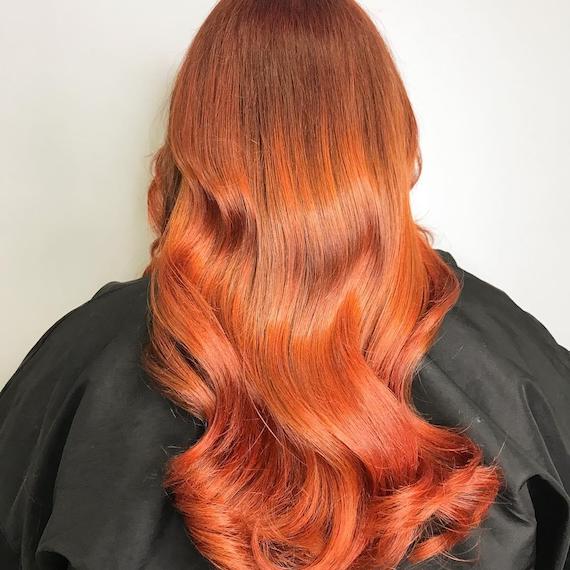 4
The Copper Red Gloss
Image Credit: @hairbysharell
Just look at that red. Sharell topped off a radiant copper hair hue with Pure Glossing, resulting in strands that positively sparkle with every swish and flick. Team a just-glossed 'do like this with loose waves, and you'll be taking the shimmer to the next level.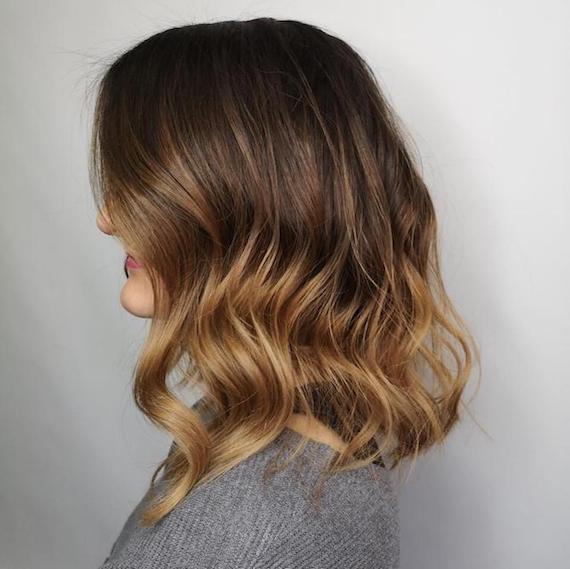 5
The Caramel Balayage Gloss
Image Credit: @kopsidashair
Did you know? A glossing treatment can also help to blend balayage through brunette hair. This glowy graduation was enhanced using one part Koleston Perfect 7/38 + one part Welloxon Perfect Pastel Developer + one part INVIGO Color Service Post Hair Color Treatment.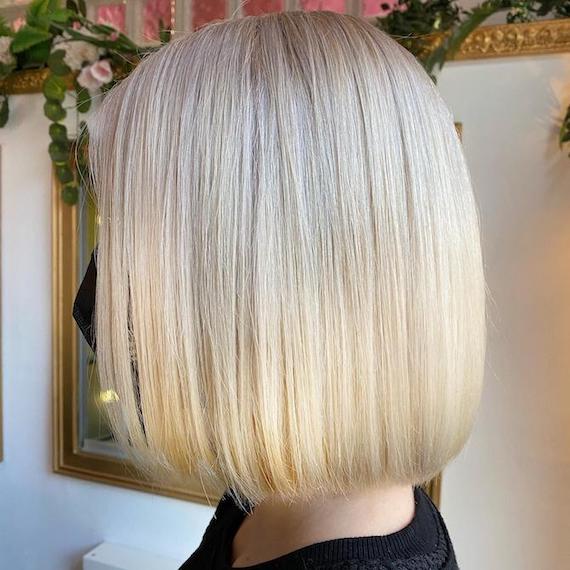 6
The Vanilla Blonde Gloss
Image Credit: @christian_cartano_hair
Cool blonde locks can be tricky to maintain, as they're prone to turning brassy. That's why, when it comes to balancing vanilla hues like this, a glossing service is a must-book. Maintain the shade by adding Illumina Color 10/81 + 10/05 to the formula. They're two light, bright blondes that will knock out warmth in a matter of minutes.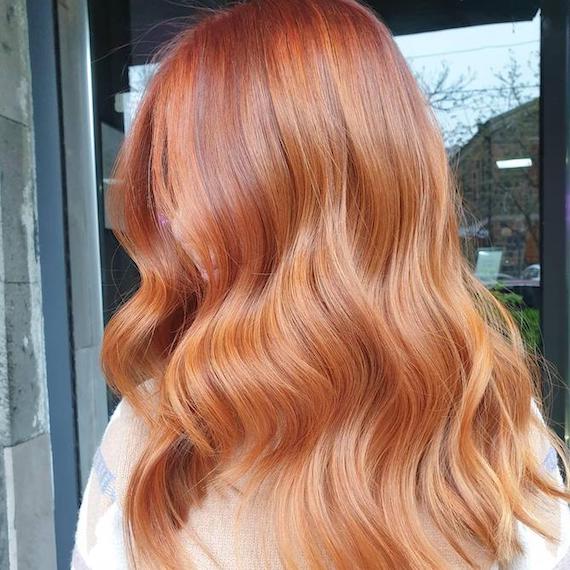 7
The Strawberry Blonde Gloss
Image Credit: @hair_lust
Have you seen a more covetable color? Brimming with shine, this strawberry blonde creation has been glossed to perfection with a dose of 8/43 + 0/43 in the formula. It's not easy to make a warm color look this evenly balanced, but the blend of golden tones is striking just the right note. There's not a hint of brassiness in sight.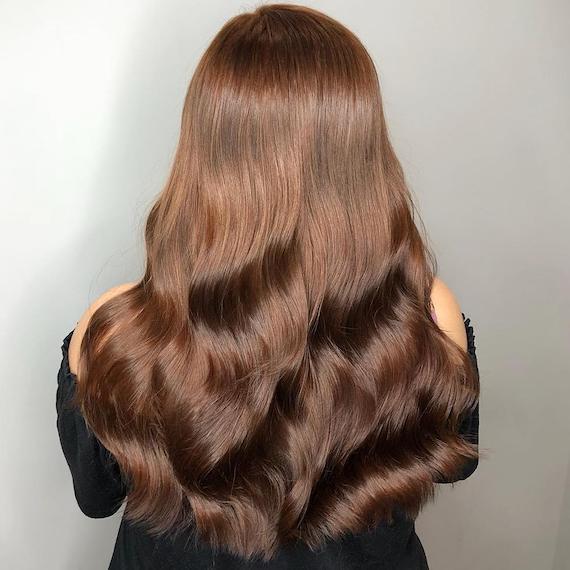 8
The Chocolate Brown Gloss
Image Credit: @kapille_hair
Rich tones are key to chocolate brown hair – but how do you keep them intact? A brunette gloss is our go-to for bumping up all that lustrous, luminous shine. Here, dark cocoa locks have been veiled in 6/74 + 6/7 + 7/34; a trifecta of golden tones that dazzle every. single. time.
How to Maintain a Hair Gloss Treatment
Watch a Hair Gloss in Action
Learn more about the glow-boosting effects of a hair gloss by watching our guide to the new Pure Glossing routine, featuring Wella Professionals Global Color Expert, Meiju Thornley.