7 Ash Gray Hair Ideas and Formulas
The gray hair trend is definitely here to stay, and the good news is there's something for everyone. Our diverse portfolio of colors allows you to create more than just fifty shades of gray, from ultra-shiny and metallic colors like silver to dipping your toe into ashy tones like ash brown or blonde tones. But, if you're looking for a dramatic change, why not embrace the mystery and go fully ash gray? 
What is ash gray hair?
You can find ash gray towards the darker end of the gray spectrum. Its smoky hues suit every hair type and texture as well as most complexions, but it should have a more neutral or cool undertone rather than warm – otherwise it will look brassy.
How to get ash gray hair?
If you want to achieve the ashiest shade of gray, you'll first need to lift the hair to the lightest blonde underlying pigment on the depth of a 10/0 .Make sure to use a bond strengthening treatment like Wellaplex that will protect the hair strand during bleaching.  Depending on how dark the hair is when you start with it, you might need more than one application.
Once the hair is lightened to the correct depth, you will need to carry out two toning services: a purple toner to cancel out the yellow undertone in the hair, and another toner to achieve the gray result.
How to care for your ash gray hair 
An ash gray mane requires quite a bit of upkeep in order to maintain that dark smoky look. Advise the client to wash their hair with a color-protecting shampoo and conditioner like our Colormotion+ line that also strengthens the hair after the intensive bleaching process. They also might need regular in-salon root touch ups and toning.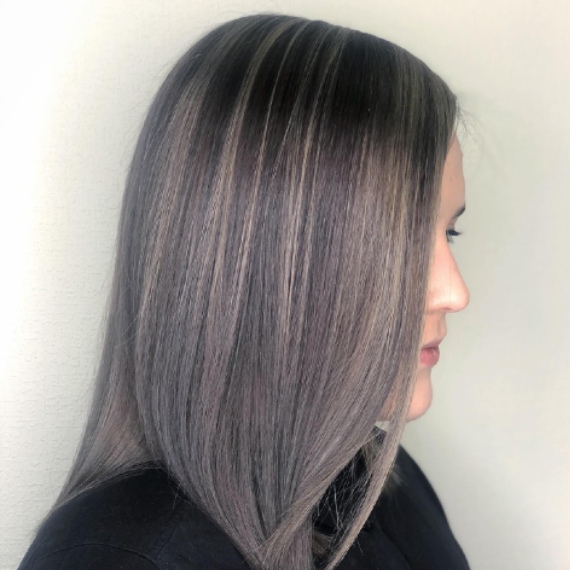 1
1. Smoky gray highlights
Image Credit: iliyazaytcev
This look created by Iliya Zaytcev is definitely generating some heat. He created gray highlights on a brown base using Koleston Perfect 12/81+0/88+12%, then toned them in a dark, smoke color using the formula: Color Touch 7/86+2/0+ Color Touch Emulsion 1,9%;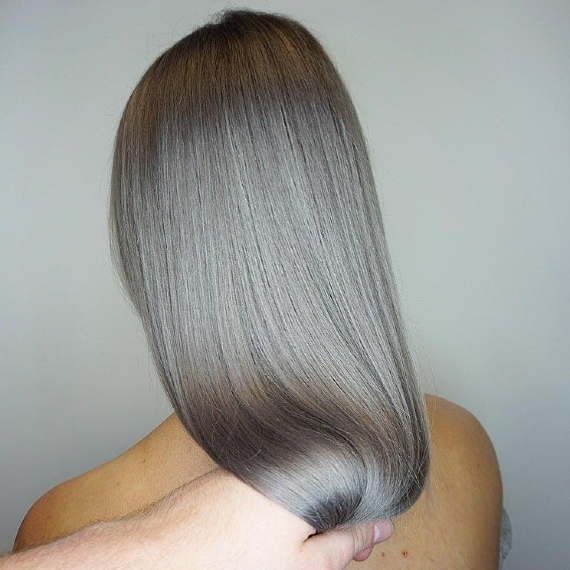 2
2. Silver ash gray
Image Credit: kai_sohn
Embrace the shine and choose gray hair with a silver finish. This look is very stylish, especially when the locks are kept straight and sleek. Glass hair is here to stay! After lightening the hair with Blondor Multi-Blonde Powder, Wella Passionista Kai Sohn toned the hair with two different Illumina Color formulas: 5/81+9/60(1:2)4% pastel) on the roots and 10/69+6/19+5/02 (4:1:1) 4% pastel on the lengths.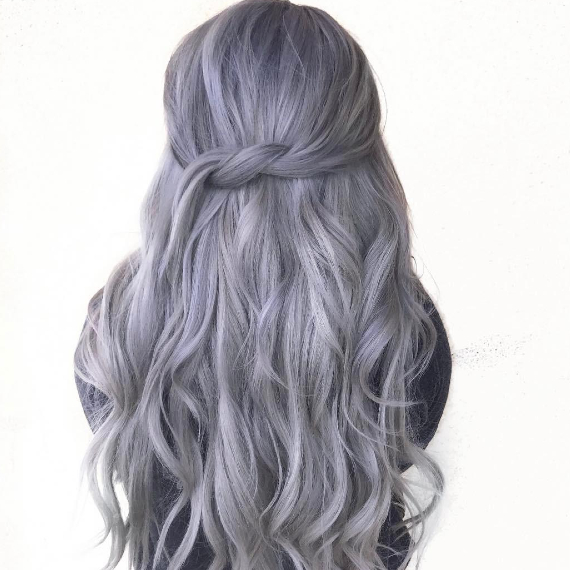 3
3. Purple ash gray
Image Credit: kellynaso
If the classic ash gray look is a bit too dark for your client, why not suggest a tinge of color? We love the pastel, purple vibe in this look created by Kelly Naso using Wella Blondor, Color Touch and Color Touch Relights.  We recommend the following gray shades from the Color Touch range: 7/86, 7/89 and 8/81.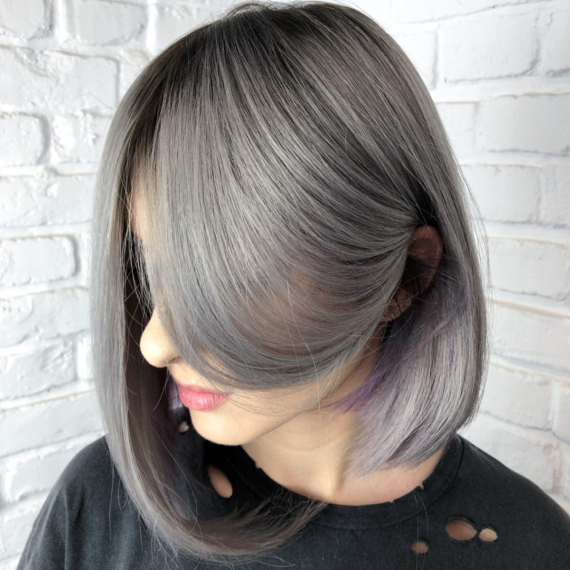 4
4. Warm ash gray
Image Credit: lucianbusuioc
Sometimes the client might ask for a specific shade of ash gray that might not be suited for them. This means it's all about personalising the gray shade to the client's skin tone whilst staying close to their desired look.  Try this warm ash gray variation created by Lucian Busuioc. He enhanced the bob with subtle but cheeky purple ends.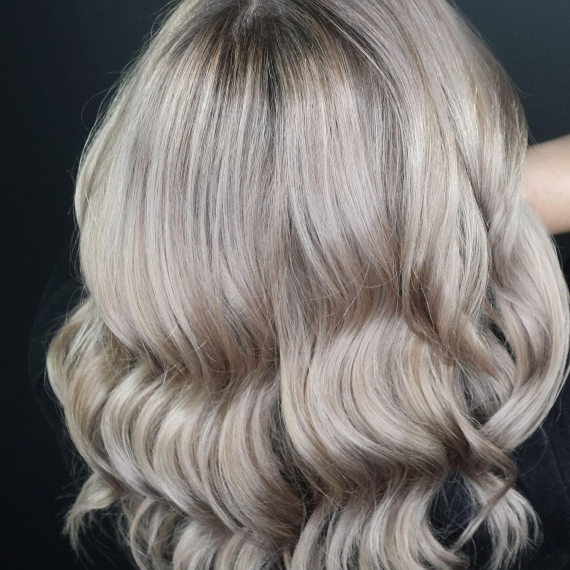 5
5. Ash gray blonde
Image Credit: intercoiffure.silviarausch
Ash blonde is one of the coolest blondes out there, so why not take it up a notch on the cool-scale by creating an ash blonde with a gray tone. Style with loose waves for a dreamy finish.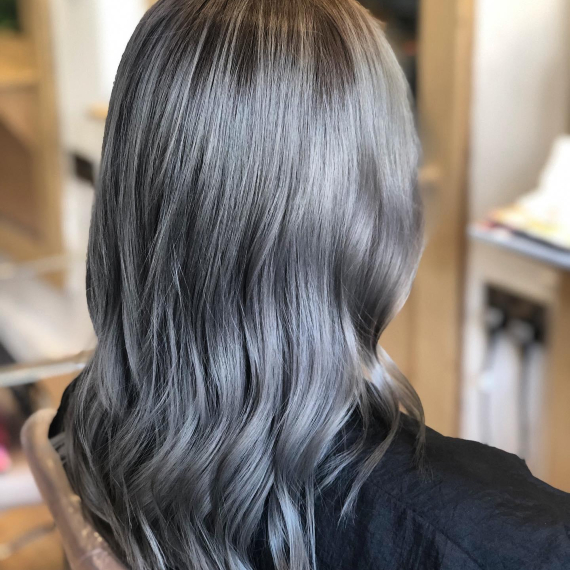 6
6. Metallic ash gray
image Credit: sothisispeter
Turn up the shimmer by adding some metallic streaks and create a cool-warm contrast with the ash gray roots. Spritz with EIMI Glam Mist after styling for even more sheen. If you want to maintain this metallic glow for longer, we recommended getting a glossing or toning service in between appointments.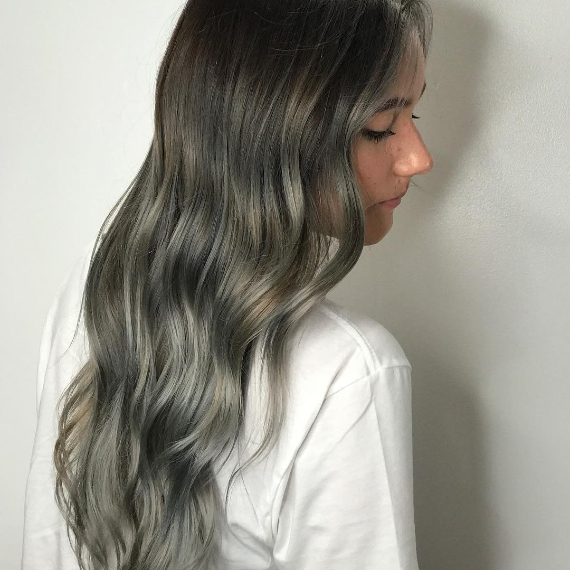 7
7. Ash gray balayage
Image Credit: daryl.lienhart.hair
Create dimension and movement with this wonderful ash gray balayage and scattered babylights to enhance the deep base color. For this look Daryl Lienhart used Blondor for lightening, Illumina Color for pre-toning and Color Touch for the big finish. And, here's a bonus Wella expert tip: depending on the depth you achieve with the lightening, using violet shades will help neutralise the yellow tones in the hair. Illumina Color 9/60 and 8/69 work wonders in this situation.
Now that you're feeling inspired, why not test some of these formulas ? Share your looks on Instagram using @wellahairUSA and #wellapassionista and we will share the love further.