How to Do a Glow-Boosting Red Hair Gloss
Red hair colors are at their best when they're gleaming, glossy and glowy – so it's no surprise that more and more redheads are booking in for glossing services. Making coppers crisper, burgundies brighter and mahoganies all the more mesmerizing, a red gloss sets locks aglow and banishes brassiness in record time. 
Here, we reveal everything you need to know about red hair glossing, including formulas to inspire your future creations… 
What Does a Gloss Do to Red Hair?
Not only does a hair gloss make hair glossy (as the name implies), it also veils strands in a subtle tint to delicately shift their shade. This sheer hint of color is great for refreshing your client's dream hue, neutralizing brassiness, blending a balayage, or even using in place of traditional color. 
Try recommending it to clients who: 
• Have red hair that's looking off-tone or duller than they'd like.
• Want to revive their red locks with an added charge of radiance.
• Need their balayage or highlights to appear more seamlessly blended.
Your clients will love the results – and the ultra-speedy development time, which means their gloss can be completed in under an hour. They can even drop by during their lunch break. 
How to Carry Out a Red Glossing Service
1. Mix Up Their Perfect Shade
Reach for the Koleston Perfect or Illumina Color colors that will help your client reach their target shade, whether that's a strawberry blonde, a cherry red or anything in between. Then mix it at a 1:1:1 ratio with Welloxon Perfect 1.9% and the Post Color Treatment. Now you've got your glossing formula. 
2. Apply With the Right Technique
Usually a glossing formula is applied from root to tip, but you can also paint it on with a more precise application method for targeted results. For example, you could use it as a root shadow, as a toner for balayage, or to give a red money-piece an extra boost of brightness. 
3. Rinse Out and Remove
Allow the gloss to develop. Good news: this only takes 5-10 minutes, making it one of the speediest color services out there. Then take your client to the sink, rinse the formula thoroughly, and remove with the INVIGO Brilliance Color Protection Shampoo. Apply conditioner if needed. 
Once you've followed these steps, your client's red will appear more radiant than ever before. 
5 Red Hair Gloss Formulas to Try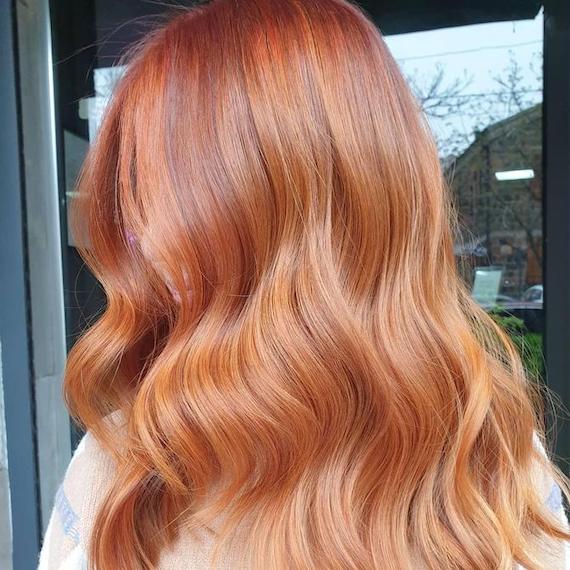 1
Copper Red Hair Gloss
Image Credit: @hair__lust
Blorange meets strawberry blonde meets copper in this dreamy, sun-kissed mane, created with Blondor Freelights + 9% and a Koleston Perfect Pure Glossing Service. Along with Welloxon Perfect 1.9% and the Post Color Treatment, 6/43 was mixed into the root formula, and 8/43 + 0/43 was added for the mid-lengths and ends.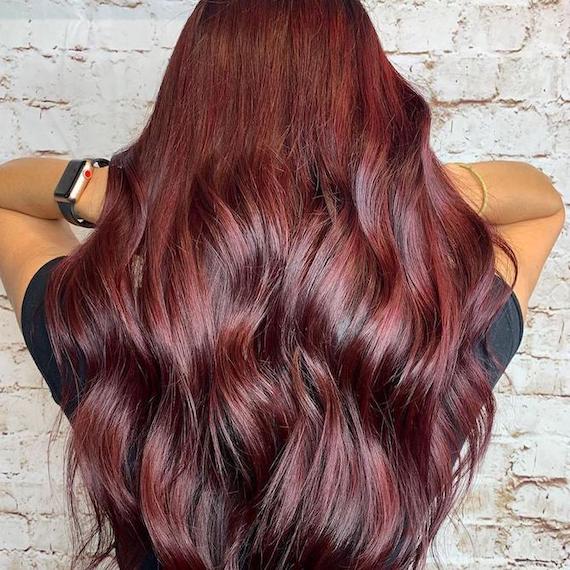 2
Mahogany Red Hair Gloss
Image Credit: @jmr.hair
Would you believe the starting point for this mahogany mane was an ashy blonde? What a transformation. To create the look, a toning step was required first, featuring Koleston Perfect 55/44 + 66/55 +/65 + 4%. Then, once the red had developed, lengths were treated to a glossing service, featuring 44/65 + 33/66 + 55/66 in the formula.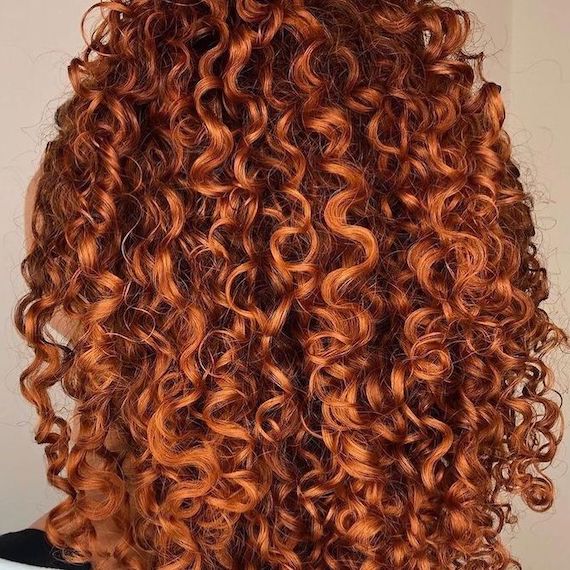 3
Ginger Red Hair Gloss
Image Credit: @colormecurls
This two-step ginger featured an initial toning step with Koleston Perfect 8/43, followed by tone and gloss using Relights /43 + 1.9% (1:2). By layering red on red, the most vibrant shades can be achieved. Try it with your own red-haired clients, completing their toning services with a touch of gloss for added shine.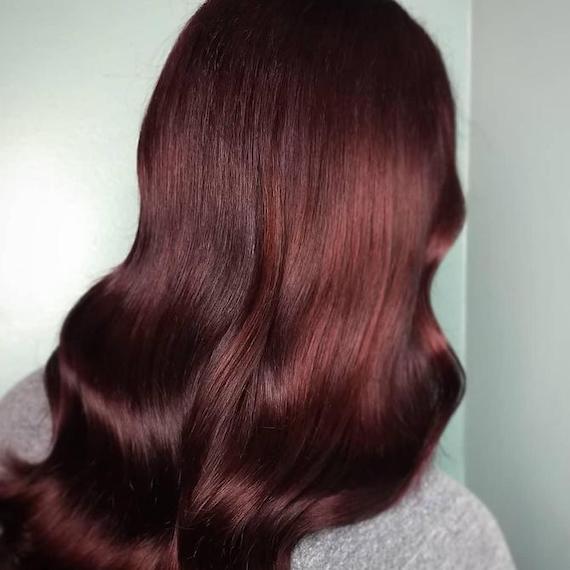 4
Burgundy Red Hair Gloss
Image Credit: @cassandra_foehr
This is a red hair gloss with a difference. The deep burgundy shade was crafted with a toner first, which saw Koleston Perfect 44/65 + 0/00 + 9/81 + 4% mixed together. Then, once the color had developed, no tint was applied on top – just a clear gloss that left the shade untouched, but delivered a serious dose of megawatt shine. For those clients who are all about radiance, this trick is one to try.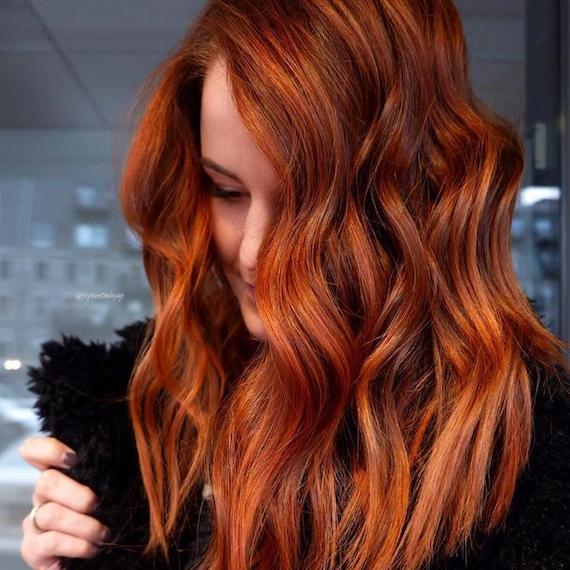 5
Fiery Red Hair Gloss
Image Credit: @topknotbalayage
We're obsessed with this fiery red. To get a hue with this much vitality, try lifting with Blondor Multi Blonde Hair Lightening Powder. Then, gloss to perfection, a la Amanda Leaman, with Color Touch Relights /44 + /34 + 1.9% (1:2). Flawless.
How Long Does a Red Hair Gloss Last?
How long a red gloss lasts depends on how well your client cares for their locks at home. Maintaining red hair isn't easy, but this trio will keep their shade radiant for longer…
1. Use a Color Protecting Shampoo
Remind red-haired clients how important it is to use a shade-shielding shampoo. The INVIGO Brilliance Color Protection Shampoo is our pick for locking that hue down while boosting shine. Team with the Vibrant Color Conditioner to keep mid-lengths and ends hydrated. They can even choose between the Fine/Normal or Thick/Coarse formulas.
2. Enhance With a Color-Depositing Conditioner
Your clients can now top up their tone at home with the Color Fresh Mask in Copper Glow; a tinted treatment to be used weekly for a quick color refresh. All they have to do is apply it to clean, damp hair in place of their conditioner, comb through to distribute evenly, then rinse after 10 minutes. It's like an at-home gloss. 
3. Protect Hair With a Heat-Shielding Spray
No matter if they're blow-drying, straightening or curling their hair, your red-haired clients should make sure they have a heat protection spray to hand to prevent fading and brassiness. EIMI Thermal Image offers safeguarding from heat up to 220 degrees celsius, along with a boost of shine that gets that red hair gloss gleaming.