How to Create Mahogany Hair Color
Autumn is coming and, if you're a hair colorist, that can only mean one thing: a raft of requests from clients who want to go richer, deeper and more radiant. Enter, mahogany hair. If red hair is on the agenda, this is the autumn shade to go for; delivering radiance, shine and depth in the sweep of a tinting brush.
But what is mahogany hair, and how do you differentiate it from other dark red hues? Keep scrolling for the answer to this burning question, plus tips on how to create this look for your clients…
What Color is Mahogany Hair?
Typically, mahogany hair is described as a reddish brown color. However, it can also feature a very subtle violet hue, much like the deep, rich wood it's named after. It's one of the darkest red hair colors you can create - up there with wine and burgundy - making it the dream for anyone who likes a deep, dramatic look.
Is Mahogany Warm or Cool?
Mahogany hair can be both warm and cool depending on the mix you create. For example, if you want to skew cooler, you can add a little violet to your mahogany shade, while using a warmer red will give you a little extra richness. Either way, mahogany is the ultimate in flatters-all-skin tones hair colors.
How to Create Mahogany Hair
1. Mahogany Hair for Blondes
Once you turn blonde hair red, it can be really tricky to get that deep tone out. That's why it's essential for fair-haired clients to be sure they're ready to take the plunge into mahogany brown hair. If they are, approach the transformation the same way you would for any other light-to-dark makeover, gradually layering the color to build up depth and pigment over time.
You want the color to look bold and packed with brilliant shine, so work with our permanent hair color, Koleston Perfect, which delivers the purest pigment yet. Hello, glossy locks. The Vibrant Reds collection has you covered for deep to intense mahogany red hair. Look to 55/46 for a red-violet tint or try 44/44 to achieve an intense red-brown on a deeper level.
2. Mahogany Hair for Brunettes
The technique for turning brown hair a mahogany hue depends on the depth of the base. What you apply to light brown locks is bound to differ from how you treat a dark, almost-black hair color. So, here's the lowdown. When taking light brown or medium brown hair mahogany, the process is fairly simple: you can apply their new, deep red shade directly over the top. However, very dark brown hair may need lifting first with our award-winning pre-lightener, Blondor Freelights. Adopt a balayage technique to prep for mahogany highlights that peek through the deep base color.
As for the toner you should use, try tailoring it to the base color's undertone. If the tone is cool, apply a violet-tinged mahogany, and if it's warm, opt for a dark mahogany brown. Demi-permanent Color Touch has all tones covered with its host of vibrant reds, including 4/5, 5/4 and 5/5 for a warmer hue or 5/66 and 44/65 for red with an aubergine sheen. If your client prefers an entry into the mahogany hair trend, opt for a brunette shade with a mahogany reflection such as 5/75 or 6/75.
3. Mahogany Hair for Redheads
Redheads can follow the same rules as brunettes. If their hair is a light shade, like a copper or strawberry blonde, the mahogany toner can be applied directly over the top. You might have to layer the reds to create enough saturation and depth. However, if their base red color is any deeper than mahogany, pre-lightening is required to ensure the new hue shows up. Finish with Color Touch to polish that mahogany shade to perfection.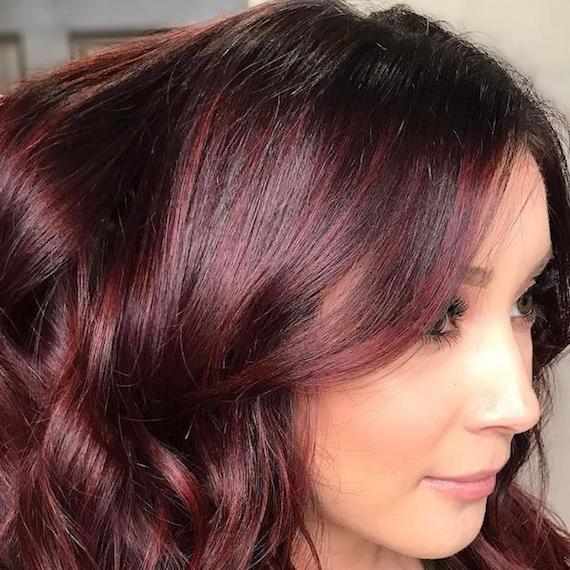 1
True Mahogany Hair
Image Credit: @maeipaint
So. Much. Shine. Marissa Mae Neel brings new meaning to glossy locks with this mahogany red hair color, created using fashion-forward, demi-permanent Color Touch Relights. Her formula? Over a faded level 6, she applied equal parts of /57, /44 and /74, resulting in the most luminous mahogany mane. We're obsessed.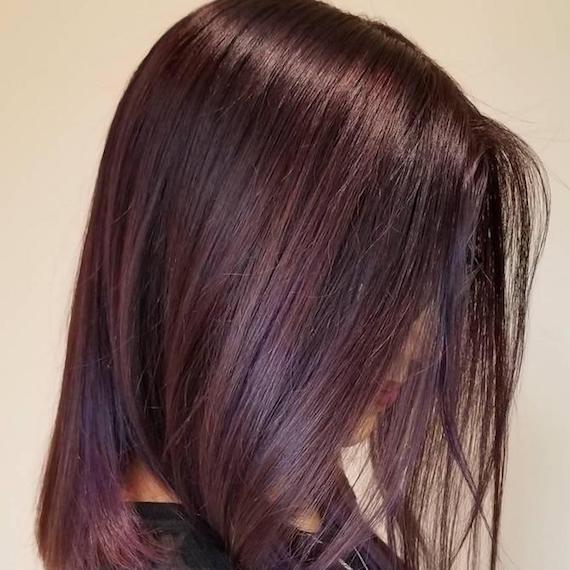 2
Dark Mahogany Hair
Image Credit: @shea_eliz
So dark, it's almost a deep brunette, this mahogany red hue was mixed to perfection by Wella Portfolio Brand Educator Shanea Elizondo. She started by highlighting hair half an inch from the scalp, then applied Color Touch 0/68 to the roots, before smoothing equal parts Instamatic by Color Touch in Clear Dust and Color Fresh CREATE in Pure Violet in alternate sections through the rest of the hair.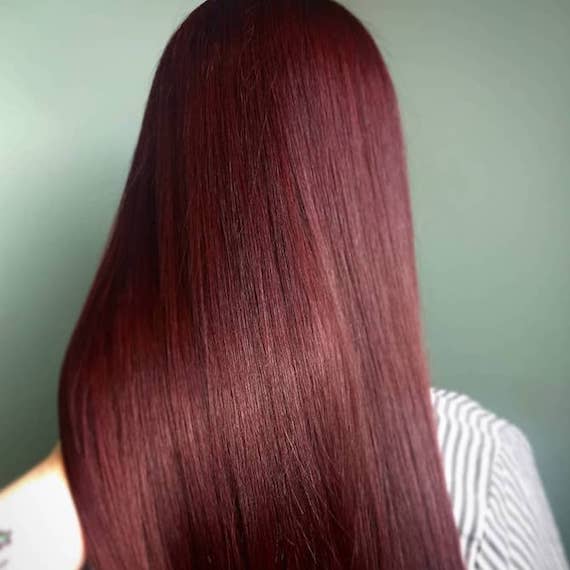 3
Light Mahogany Hair
Image Credit: @cassandra_foehr
By 'light' we mean, slightly less vampy than your traditional mahogany mane – but no less dramatic. In fact, this creation by Wella Passionista Cassandra Foehr is seriously striking. Working on a dark brown base, she applied Koleston Perfect 55/46 4%, which helped to bump up redness and shine in a single coloring session.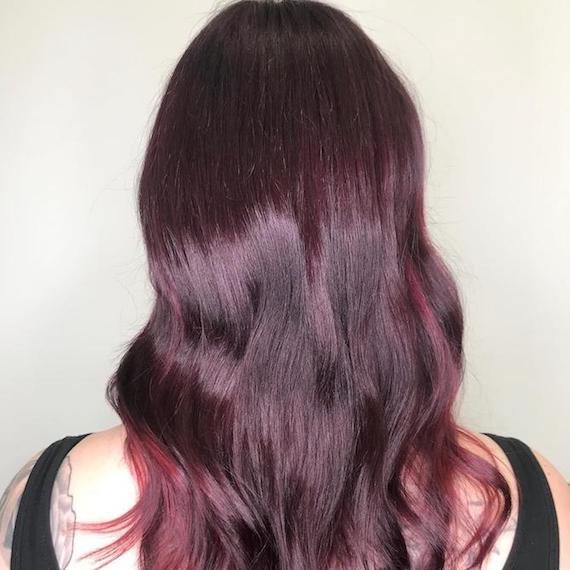 4
Mahogany Balayage
Image Credit: @laila.wella
Balayage lovers, rejoice. The technique teams flawlessly with mahogany hair – especially when applied to a dark base color or against a deep root smudge. Wella Educator Laila Pettersen went for the latter with this look, first shading roots with 55/66 + 0/65 6%. Next, she painted lengths using 55/66 + 8/96 + 0/65 9%, then added light-reflective effects using Magma by Blondor /65 +6%.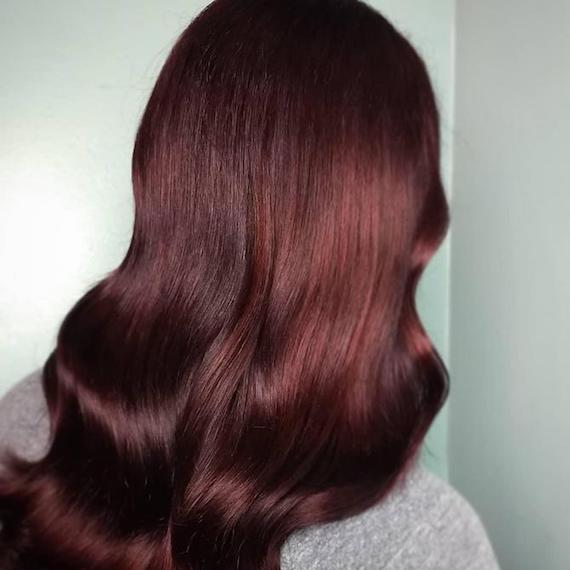 5
Glossy Mahogany Hair
Image Credit: @cassandra_foehr
Mahogany hair doesn't get much more polished than this. Another dream blend by Cassandra Foehr, it sees Koleston Perfect 44/65 + 0/00 + 7/18 + 4% veil hair in the richest, most radiant red. To get the full, glossy effect, finish this formula with a post-styling spritz of EIMI Glam Mist, which will instantly up the dazzle while smoothing any flyaways.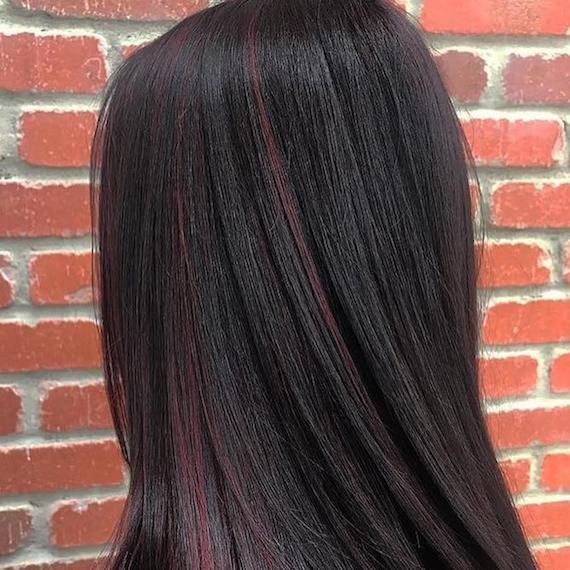 6
Mahogany Highlights
Image Credit: @masphx
If soft and subtle is the 'do du jour, recommend your client tries mahogany highlights. This way, they can maintain their base color, while still having a little autumn-ready red shining through. We love how delicate the ribbons of red are in this look by Cortney at Mane Attraction Salon. Put it down to a combo of Magma by Blondor, as well as shades from Color Touch's Vibrant Reds collection.
How to Maintain Mahogany Hair