5 Red Money-Piece Hair Ideas Your Clients Will Go Crazy For
Who doesn't love a money-piece? That blaze of brightness applied to the face-framing layers not only lends a boost of dimension, but casts a glow on your client's complexion too.
Usually, we see it in shades of blonde, but the effect is just as flawless with red money-piece hair. And guess what? It works on all shades of red, from rich auburn to cool copper.
Here, we reveal how you can add face-framing highlights to red hair of any shade – including tips, tricks and formulas to create the look, then lock it down for longer.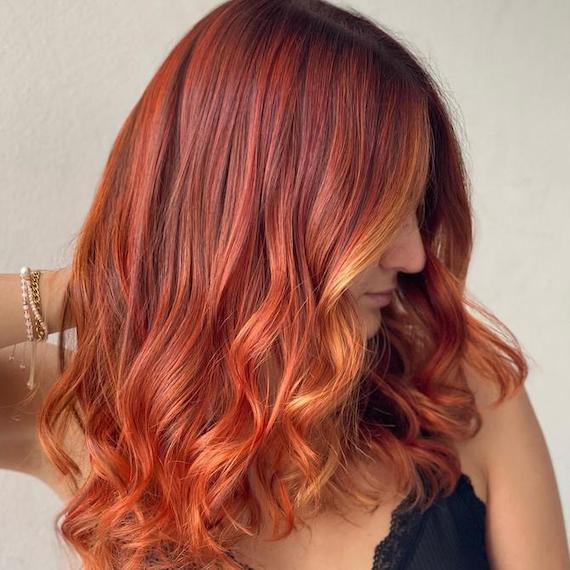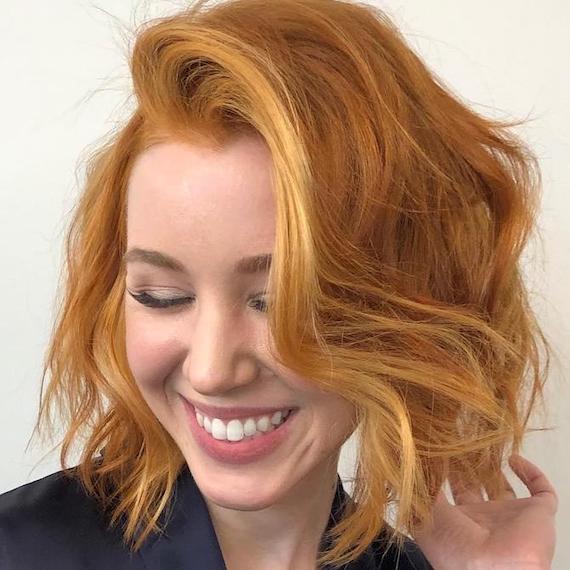 Image Credit: @lorenzo.huan | @shannonrha
How to Create Red Money-Piece Hair
1. Lighten the Face-Framing Section
Even if you're applying balayage or foil highlights through the rest of the hair, we recommend doing your money-piece first, so the lightener stays on this section for the longest. This allows it to lift a little more for a stand-out, statement-making effect. Developing in foils will also increase the lift, so wrap hair up for a sparkling money-piece.
You can also play with the size to personalize your client's dream look. For example, if they want it to be bold, you can take a thicker, root to tip slice of hair and lighten the whole piece with BlondorPlex. Finer weaves in back-to-back foils will create a softer shimmer through the face frame. Meanwhile, starting the money-piece from off-root downwards with Blondor Freelight helps it to blend with a balayage.
2. Tone With Their Perfect Money-Piece Shade
There are two ways to tone money-piece hair:
 Apply a bright blonde money-piece to a red base for contrast.
 Make the actual money-piece red on a head of hair that's also (a slightly deeper or more saturated) red.
If you're trying the first one – blonde on red – your client may want their existing red base brightened. You can tone it after lightening, but be careful not to get the toner on the money-piece. You might find their face frame has already lifted to a perfect strawberry blonde, but if it's not quite the shade your client hoped for, you can carefully tone this too. Try Color Touch for a rich, high-shine finish.
For option two – red on red – you can either apply a red toner all over, or mix up a few formulas to boost the dimension even further. Try combining an auburn with a copper money-piece, or a ginger mane with a strawberry blonde face frame. You can take these shades as subtle as your client would like.
5 Red Money-Piece Hair Ideas
1. Auburn Hair With Copper Money-Piece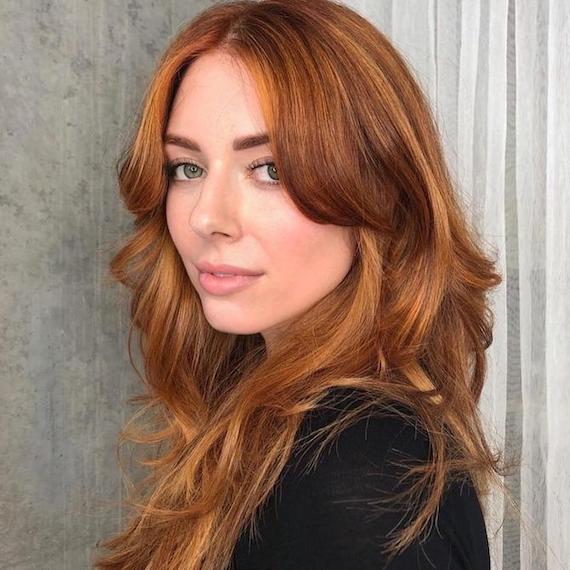 Image Credit: @thenewblackindustries
This delicate red money-piece sees a stroke of copper applied through an auburn mane, with a focus on the 'gringe' (AKA grown-out fringe). A few additional sweeps through the mid-lengths and ends helps to tie the whole look together, resulting in radiant warmth that's further enhanced by a bouncy blow-dry. The color comes courtesy of Color Touch, while the extra boost of shine is the handiwork of EIMI Glam Mist; a lightweight glossing spray that lends luminosity to all hair colors.
2. Brown Hair With Red Money-Piece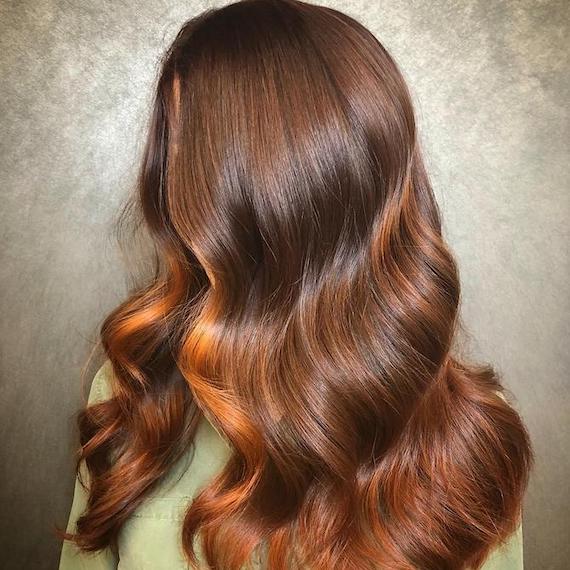 Image Credit: @hairbynay719
Brunettes can work a red money-piece too, and here's the proof. These face-framing highlights start a little lower down, through the mid-lengths, for a softer, subtler take on the glow-bestowing trend. Blondor Freelights was applied first, before Color Touch 6/47 & 6/7 was painted through the roots, and 7/43 & 7/4 was focused through the mid-lengths, ends and that striking face frame.
3. Balayage Hair With Red Money-Piece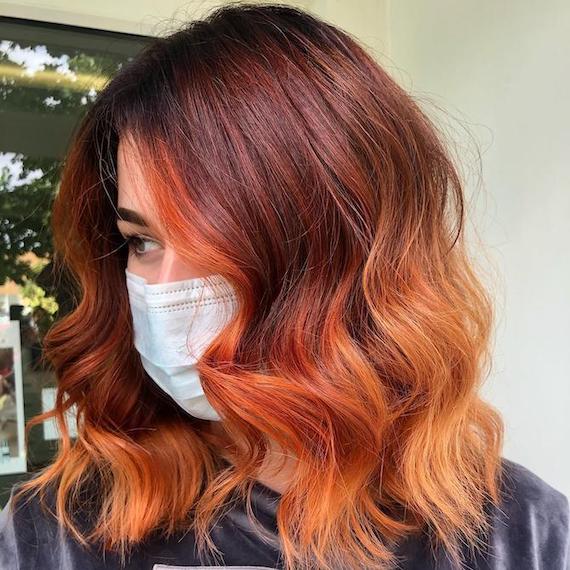 Image Credit: @ievahairstyle
There are so many tones to catch the eye in this multi-dimensional masterpiece, which features dark red roots, copper balayage, and a true red money-piece. To create the look, first BlondorPlex was applied through the face frame and the mid-lengths, while Koleston Perfect 66/44+ 6% was used to deepen the root. Once these formulas had been thoroughly removed and neutralized, the mid-lengths, ends and face frame were toned using Color Fresh CREATE in Infinite Orange + Hyper Coral.
4. Copper Red Hair With Blonde Money-Piece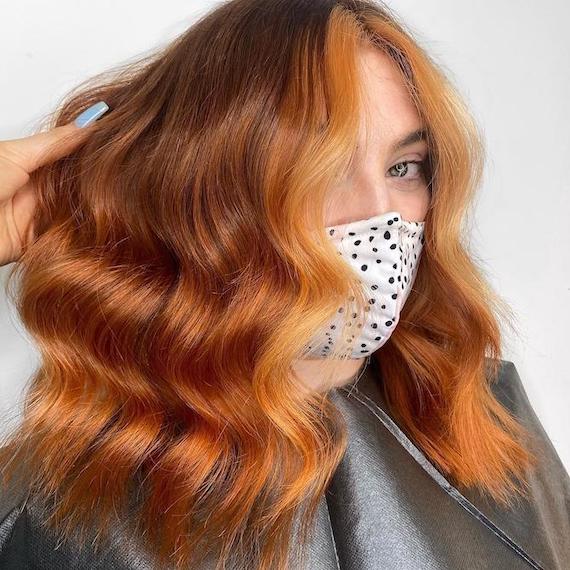 Image Credit: @hairbygerrileigh
Now this is what you call a weighty money-piece. Thick, blonde and statement-making, it starts right up at the root and creates a bold contrast against the rest of the client's copper mane. Chunky highlights are trending right now, so don't be afraid to reach for wider sections of hair when sweeping lightener through the face frame. As you can see, the effect is striking. Just make you go for a warm blonde to work with coppery lengths.
5. Ginger Hair With Blonde Money-Piece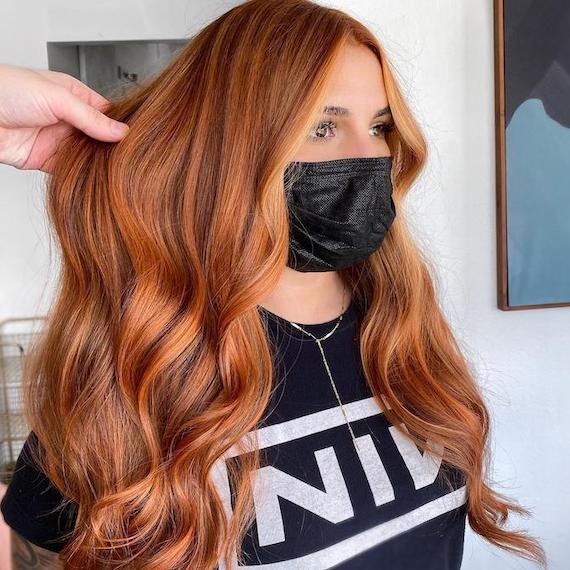 Image Credit: @williamnewberryhair
Ginger hair gets a sunny upgrade with a micro-fine blonde money-piece, as seen in this radiant creation by William Newberry. Try recreating the look with BlondorPlex to lighten, followed by Color Touch 8/43 through the lengths, a few strokes of Relights /43 for an orange pop, and 10/34 on the face frame.
How to Maintain Red Money-Piece Hair
Maintaining red hair of any shade requires TLC from your client, so make sure they leave the salon with easy tips and products to keep their locks looking vibrant. The number one essential they need is a color-kind shampoo, which is why we developed the Color Fresh Mask Copper Glow to enhance shine and shield colored strands.
Suggest they follow up the shampoo with the Color Brilliance Vibrant Color Conditioner or, when they need a boost of pigment, the Color Fresh Mask Copper Glow. The latter deposits a touch of red color when left on for 3-5 minutes, but take note: if they have a blonde money-piece, they should avoid applying it to the face frame.
Last but never least, make sure they add a heat protection spray to their home care kit. Our favorite is EIMI Thermal Image for safeguarding strands and elevating shine in a single spritz. Heat from styling tools is one of the biggest culprits for speeding up shade fade, but by shielding locks, that red money-piece will stay fresher for longer.