The 5 Hair Color Types: How to Choose Your Perfect Color
You might have heard your hairdresser talking about the different types of hair color. Perhaps they've dropped in words like 'demi-permanent' or 'glazing service' when suggesting new ways to transform your shade. But if all the different names have you confused, trust us, you're definitely not alone. With so many hair color types available, understanding what makes them unique isn't always easy. 
Once your colorist has decided what service you need to reach your hair goals, their next step is choosing the right color product for a flawless result. That's where this guide comes in. Here we explore the different kinds of color available, so you can understand why your colorist picks certain color types to suit your individual needs…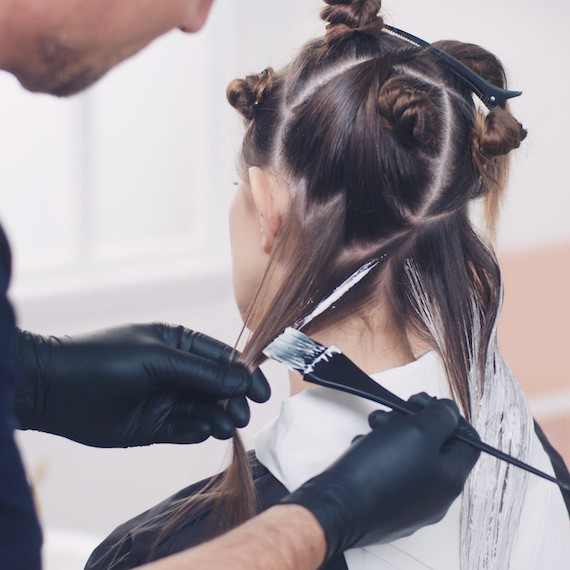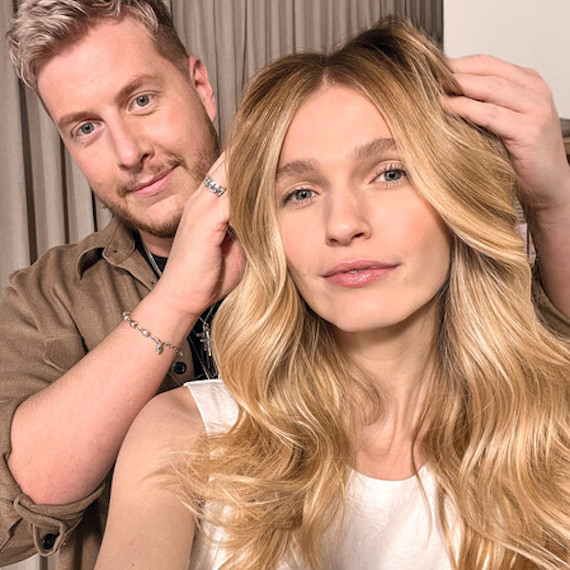 What it is: While it's not quite a hair color, bleach still belongs on this list for its shade-shifting powers. Also known as hair lightener, it's used for all-over lifting, highlights, ombre hair and a classic balayage to – you guessed it – make your hair lighter. 
Who it's for: Those of you who want to lighten your locks, whether you're looking for a subtle ombre effect through red lengths or a big transformation that takes you from brown hair to blonde hair. Balayage can also be stroked on freehand with a lightener, so you get a more bespoke finish through the mid-lengths and ends. 
How it works: If you're going for a lighter shade, a lightener is usually applied as the first step in your color appointment. Your colorist will sweep it through hair with your technique of choice (e.g. ombre highlights, balayage, babylights), then allow it to develop with or without foils. Keep in mind that, for bigger transformations, your colorist may need to lift your hair across a number of appointments. This is done to protect your hair's condition and ensure you reach your picture-perfect shade. 
The best hair lighteners: Choose any of the Blondor lighteners. There's one for every look you ask your colorist for, from ultra-precise highlights (Blondor Multi-Blonde Powder) to freehand strokes of balayage (Blondor Freelights). There's even a Blondor Soft Cream lightener that's ideal for a sensitive scalp or close-to-the-root lifting. Plus, your hairdresser can mix the bond-strengthening WellaPlex No1 Bond Maker with any of these lighteners, or lift with BlondorPlex so that it's already mixed in.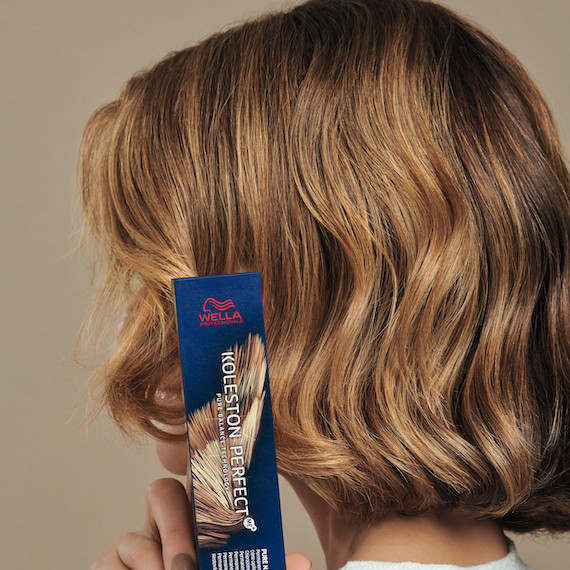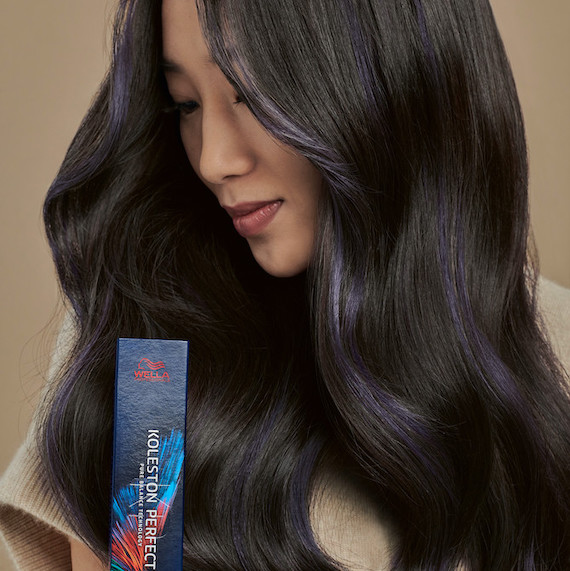 What it is: Don't be fooled by the name; just because it's called a permanent hair color doesn't mean it will last forever. It will, however, give a longer-lasting finish than any other hair color on this list. This is because permanent shades are able to open up the hair cuticle, so the desired pigment can penetrate the hair shaft and transform it from within. It's this deep-down action that makes permanent shades so rich in finish.
Who it's for: Those who are looking for a long-lasting, pure pigment shade will love permanent hair color. It offers vibrant color intensity, and it can even be used for up to 100% gray hair coverage. The regrowth lines can sometimes be stronger than with other color types, but if you're good at staying on top of your hairdresser appointments, you'll find the maintenance manageable. 
How it works: Permanent hair colors are pretty clever. The color molecules start out completely clear, and it's only when they interact with the pH of your hair strands that they become pigmented. This is a process called 'oxidation', and you might have already seen it in action. If you've noticed your hairdresser apply colorless formulas that transform before your eyes, they may have given you a permanent shade. 
The best permanent hair colors: There are two permanent hair color collections in the Wella portfolio. First, you have Illumina Color, which enhances the natural light reflections in your hair for a luminous finish. Then there's Koleston Perfect, which reduces the formation of dulling free radicals to give you ultra precise color with an irresistible, healthy-looking shine. 
Demi-Permanent Hair Color
In the Wella color portfolio, there are two types of demi-permanent hair color available, and each one offers you very different results and benefits – from an intense and vibrant finish, to a translucent veil of color. So let's explore them both… 
The Intense and Vibrant Color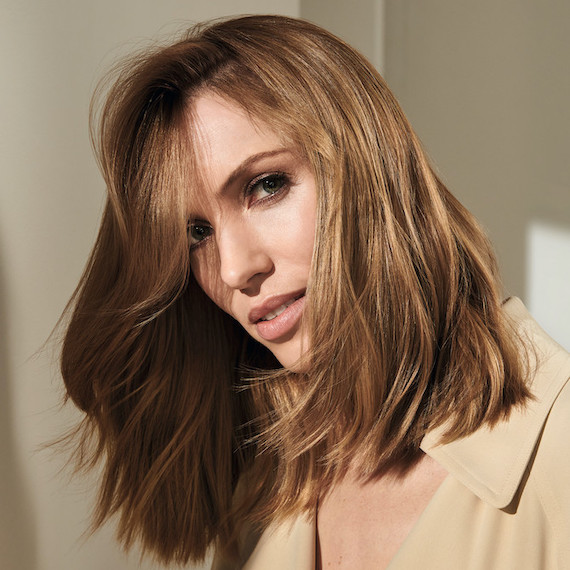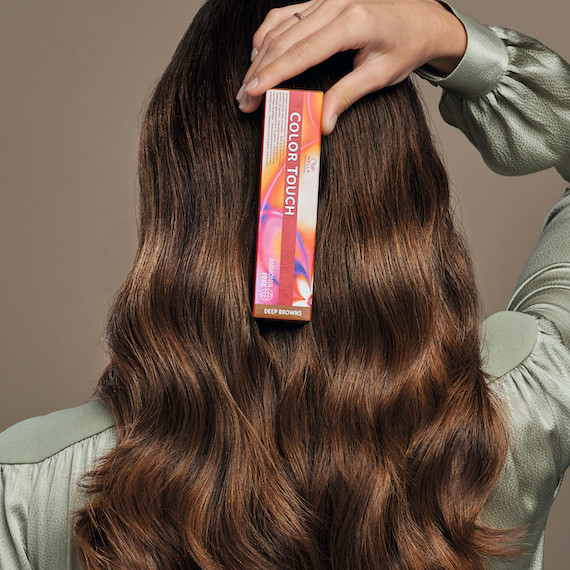 What it is: This is an eye-catchingly rich, ammonia-free hair color that's brimming with dimension. It's designed to respect the natural highs and lows already in your hair, while transforming locks with the flattering shade you crave. Demi-permanent colors also offer a lustrous color switch-up that lasts for up to 24 shampoos, so if you like to change your color from season to season, this will be your ideal pick. 
Who it's for: Those who want an intensely vibrant color to transform their shade, level up their highlights or balayage, or banish brassiness as part of a color correction service. Demi-permanent hair colors are also able to sweep away your first grays, while giving you softer regrowth for a beautifully blended look. Plus, they're perfect for adding lowlights, a root smudge or a root shadow, so you can upgrade your look with high shine and boosted dimension. 
How it works: Like permanent shades, demi-permanent hair colors are able to open the hair cuticle. However, they don't go as deep; instead, they enter the first layer for a high-shine color change. Your colorist may apply a demi-permanent hue directly to your hair, or over the top of pre-lightened sections to personalize the finished look. 
The best demi-permanent hair color: Color Touch is your go-to for a demi-permanent tint. Not only does it give you up to 70% gray coverage with Color Touch Plus, but it also offers virtually invisible root regrowth. The finish is high on shine and low on commitment, while the shade palette is huge. You'll find everything from bold blue hair to strawberry blonde is made possible. 
The Translucent Color Glaze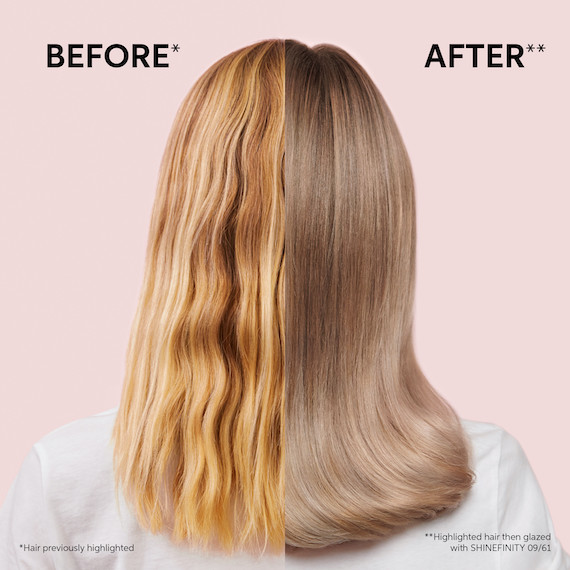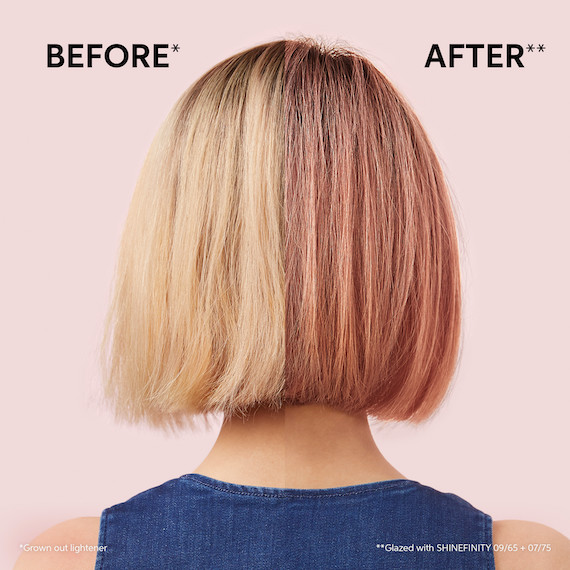 What it is: A zero lift, zero damage veil of translucent color that's packed with shine. Color glazes work like a 'top coat' for your hair, gently shifting your shade to deliver a glossy and – you guessed it – 'glazed' finish. Technically, they're classed as a color service rather than a color type, but their popularity (and uniquely glowing finish) has earned them their own spot on this list. 
Who it's for: Anyone and everyone. A hair color glaze can be applied to virgin hair for a subtle tint, to colored hair for a quick correction, or to highlighted strands for a bespoke shade. It's especially good if you've never colored your hair before, and want to give your natural hair color a change-up without damage or lifting. You can also book a clear topcoat if you're hoping for color-free shine. 
How it works: Not all glazes are made the same, and the Shinefinity Color Glaze is certainly unique. It offers pH-balanced technology to give you a healthy-looking glow-up that respects the integrity of hair strands. The formula very gently opens the cuticle, just enough to let the color in, then the pH level drops back down so that the cuticle closes without any damage to your hair. Ingenious. 
The best glazing service: The Shinefinity Color Glaze benefits go beyond the zero damage formula. This high-shine service also enhances the natural highs and lows in your hair, so you get a hyper-natural finish from root to tip. Plus, it takes no more than 20 minutes to develop (less for a softer result), so you can be in and out of the salon in the space of a lunch break. 
Semi-Permanent Hair Color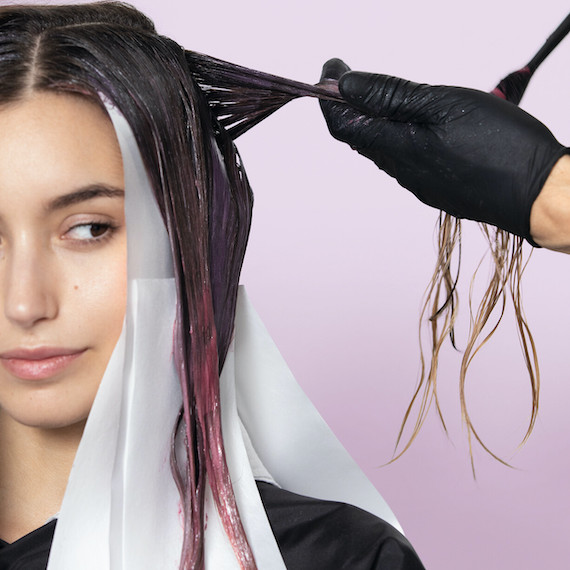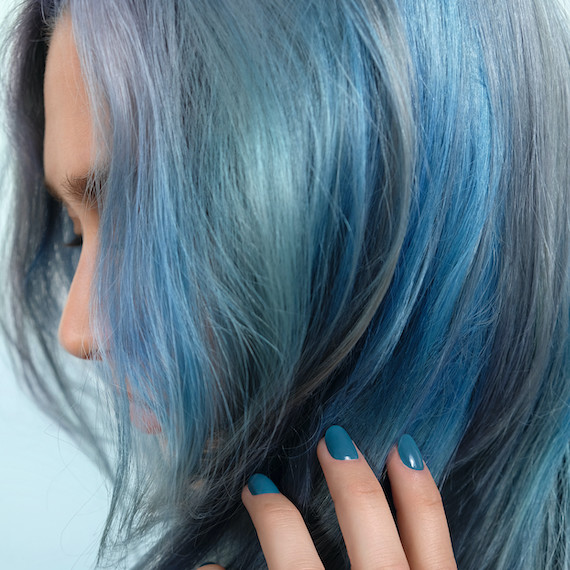 What it is: Semi-permanent hair colors are damage-free, deposit-only shades that coat the surface of the hair, resulting in a low-commitment glow-up for every hair type. Typically, they last up to 10-20 washes, and can be used to create any color you crave – from natural blondes, reds and brunettes to rainbow brights and pastel hair tones. 
Who it's for: Choose this type of hair color if you're looking for shades that are longer-lasting than a temporary color, but lower-commitment than a permanent or demi-permanent color. They're perfect if you want to try a seasonal trend, like pumpkin spice hair or caramel balayage in autumn, or beachy blonde hair in the summer months. Some formulas (Color Fresh) also gently blend resistant grays if you want soft coverage. 
How it works: Demi-permanent and semi-permanent hair colors are far more different than their similar names imply. While demi-permanent pigments enter the first layer of the hair shaft, semi-permanent colors deposit pigment onto the surface of your hair strands. 
The best semi-permanent hair colors: Thanks to Color Fresh and Color Fresh CREATE, a world of semi-permanent hair coloring is available to you. Color Fresh has your natural-looking hues covered for up to 10 washes, while Color Fresh CREATE allows you to unlock a kaleidoscope of shades, from ultra violet to pastel pink. Plus, each one lasts up to 20 washes and fades true to tone, so your look will soften over time without losing its fundamental beauty.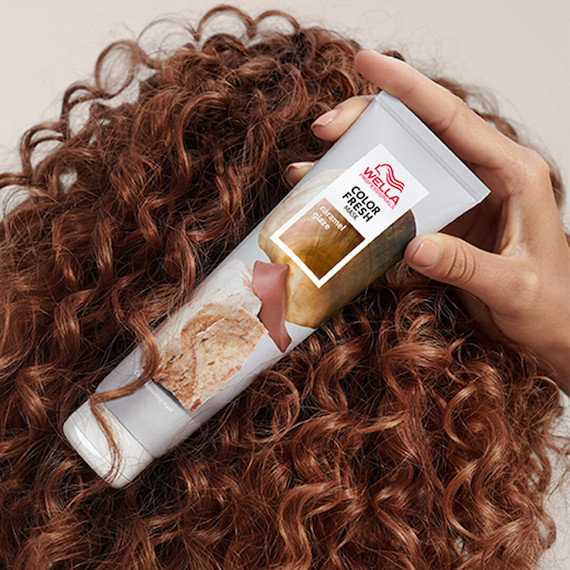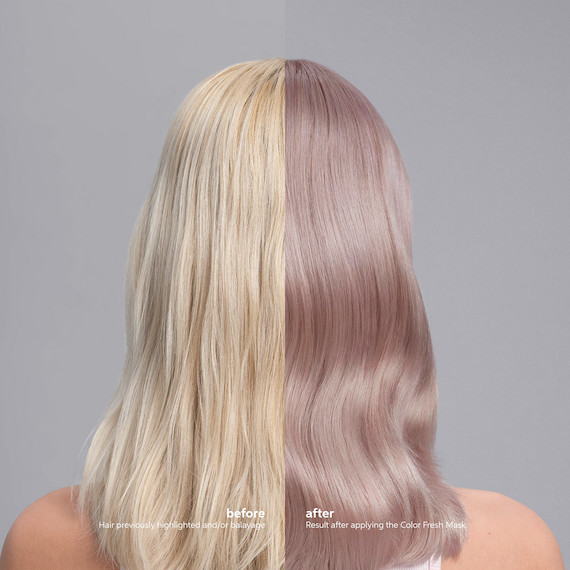 What it is: If low-maintenance color is your vibe, go for a temporary hair color. These days, you can even try color-depositing masks to tint and nourish your locks in one. Your wash-in shade can last anywhere from hours to weeks, depending on the product you choose, and will lend a zero damage veil of color that works with your existing tones. 
Who it's for: The color experimenters. Temporary shades of hair color are for anyone who wants to test out a new look with no commitment or simply switch up their hue for a special occasion. They're also a great pick for enhancing your salon shade in between color appointments, as some temporary colors feature correcting pigments that banish brassiness. 
How it works: If you're achieving temporary hair color with a color-depositing conditioner, your treatment is applied to clean, damp hair and left to develop before you rinse thoroughly. The pigments will enhance the hair surface, and gradually fade with every wash. Top up any time to boost vibrancy. 
The best temporary hair color: The Color Fresh Mask is a conditioner and color enhancer in one, spanning 11 show-stopping shades, from soft naturals to bold brights to delicate pastels. In 10 minutes, it refreshes your professional salon color with a boost of sheer pigment. You can also use it to neutralize brassy hair – simply reach for the Lilac Frost or Pearl Blonde bottles. 
Now you know what makes each hair color type different, which one are you going to choose? Get your next appointment lined up, have photos of hair color ideas at the ready, and enjoy the shade of your dreams.