9 of the Freshest Hair Color Trends Coming Up in 2021
There are plenty of reasons to feel excited for the start of a new year. Not only does it bring with it the hope of a fresh beginning, but it serves up a series of new hair looks, too. And, while we may be a few months in, 2021's hair color trends are just shaping up. Want to know what's in store? Keep scrolling for the hair color shades you'll be mixing in the salon this season…
Looking Back at 2020's Hair Color Trends
Before we admire what's up and coming, let's throwback to the hair color trends of 2020. In the blonde camp, it was all about golden, caramel and honeyed hues that radiated richness. The need for low-maintenance styles post-lockdown made balayage the go-to technique – once again. But these freehand highlights weren't just for blondes, as the rise in brunette balayage proved.
Speaking of brunettes, chocolate brown hair color was one of last autumn's must-have trends, along with chestnut brown, cool-toned ash brown and red brown hues. (Think mahogany, copper and auburn.) On the bolder side, peacock hair and half and half hair color packed a pigmented punch. But, with quarantines keeping clients out of the salon, requests for natural-looking corrections were high when doors reopened, too.
There were clients who chose to undergo gray coverage services – like a root touch-up – and those who opted to embrace their grays, or book in for a root-to-tip silver. If you're a colorist, you probably spent much of last year's in-salon time fixing brassy hair and home dye jobs. But that didn't stop your creativity from flowing – and you'll be flexing it once again this year.
Hair Color Trends for 2021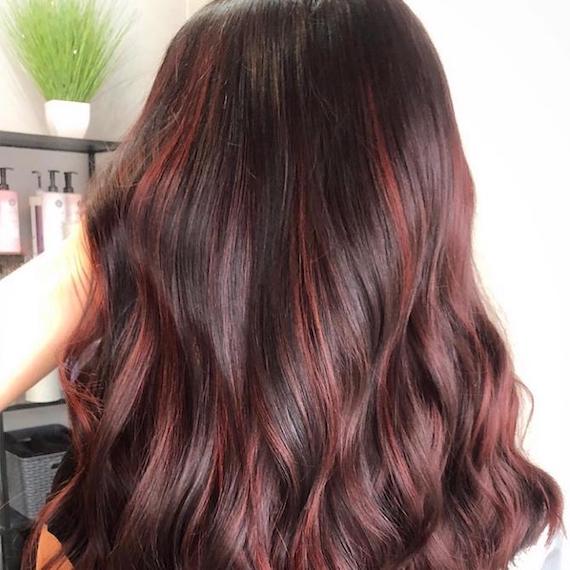 1
1. Cherry Chocolate Hair
Image Credit: @josie_wright_hair
As sweet as cherry and as smooth as chocolate, this delicious 'do is one of this year's biggest brunette looks. Perfect for adding touches of red to darker hair, it features bright ribbons against a deep, rich base. The roots were shaded using Color Touch 5/66 + 5/0, highlights were added with Blondor + 6%, then hair was toned to perfection using intense cherry hue 66/45. You could also try Koleston Perfect 55/66, 66/46 or 44/44, or Illumina Color and 5/3, 5/43.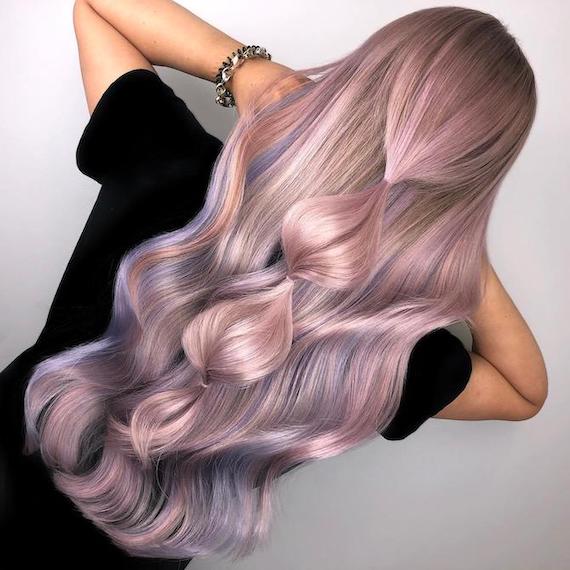 2
2. Mermaid Hair
Image Credit: @glam.by.heather
Whimsy is welcome in 2021, as we all need a little pick-me-up. Perhaps that's why hip-lengths, pastel-colored mermaid manes are making a comeback. Here, babylights were swept through the whole head to create overall lightness, before Koleston Perfect 10/96 + 0/65 was applied for a pink sheen, along with Illumina Color 9/60 + Silver Mauve.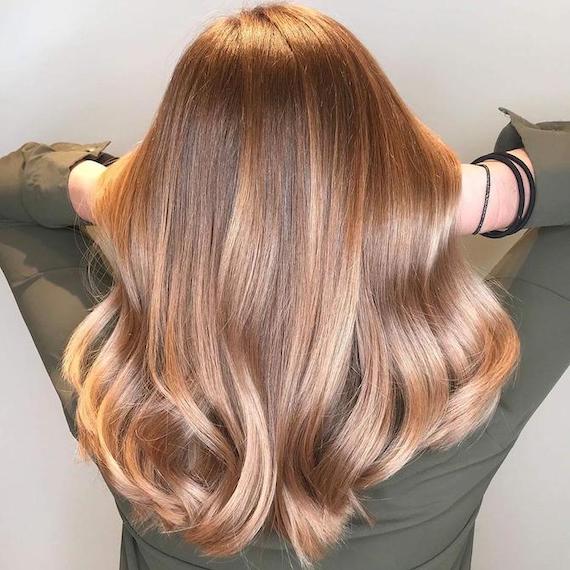 3
3. Bronde Balayage
Image Credit: @wellanordic
For clients who just can't choose between a brunette or blonde balayage, a balance of bronde (brown-blonde) will be this year's most popular choice – thanks to Hailey Bieber. The model has been trending on Instagram with a milk chocolate mane, proving that low-maintenance locks are anything but boring. To get the look, try applying Blondor Freelights + 6% through mid-lengths in soft, painterly strokes. Then, tone using a blend of Illumina Color 8/37 + Titanium Rose + 1.9% to give strands a glassy sheen. For a demi-permanent glow, Color Touch 8/71 + 8/35 works, too. You can also try permanent Koleston Perfect in 9/73 + 7/38.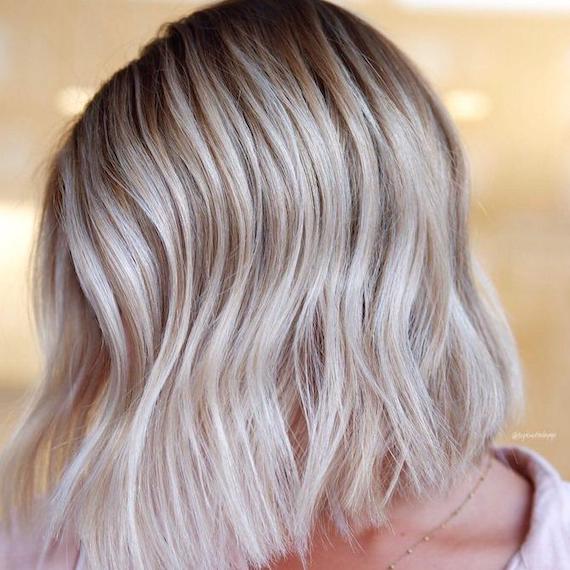 4
4. Rooted Platinum Hair
Image Credit: @topknotbalayage
It's the ultimate blonde hair trend for the season: rooted platinum. Pair it with a piecey bob for extra texture that lends those dark, post-lockdown roots a beachy feel. Simply pre-lighten mid-lengths and ends with Blondor, then apply your toning formula. Our go-tos are Color Touch 10/6 + 9/16 and Koleston Perfect 10/16 + 9/81. Bright, blonde and beautiful.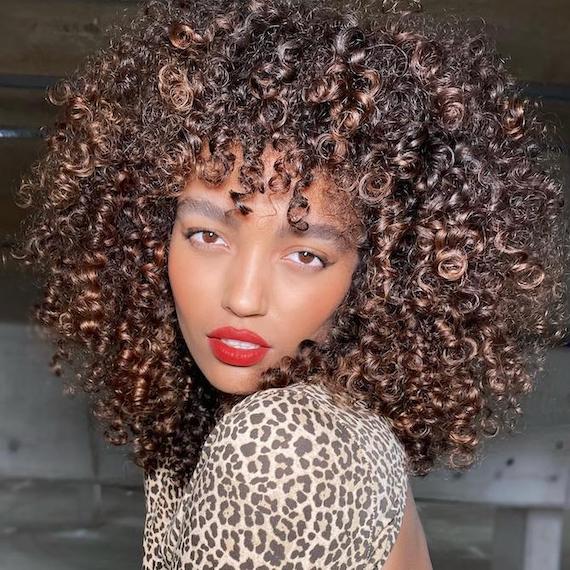 5
5. Frosted Chestnut Hair
Image Credit: @jhair_stylist
Chestnut hair is taking on a frosted look in 2021, giving us the perfect balance of rich, radiant brown hues with a high-shine, icy finish. In this mane masterpiece, chunky strokes of Illumina Color were applied, with 7/35 + 6% and 7/81 + 10/81 + 9% swept in alternating sections. We're obsessed. You can also try Koleston Perfect: 7/17 + 7/18 and 10/8, or Illumina Color 6/76 and 9/60.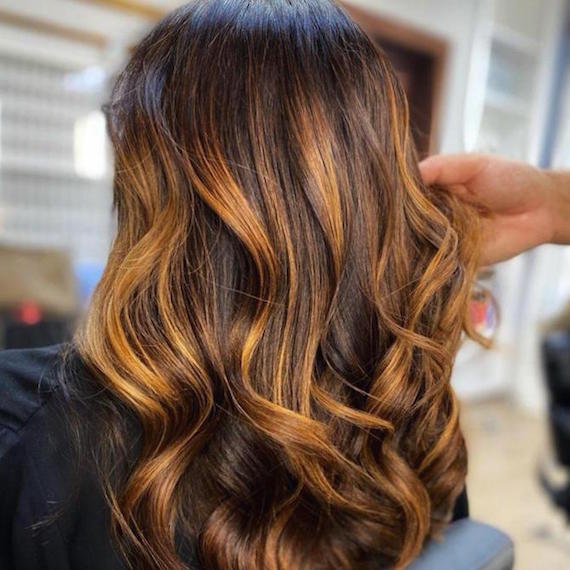 6
6. Chunky Highlights
Image Credit: @kalnascimentostudio
Think chunky highlights belong in the nineties? Not according to the A-list set. We've seen everyone from Zendaya to Jennifer Lopez working bumper 'lights in recent weeks. To recreate the coppery waves above, stroke hair lightener through dark locks in generous ribbons. Then, apply Illumina Color 77/43 + 9/43 over the top. Chunky and chic. A blend of Koleston Perfect 88/43 + 7/47 will also give highlights a cool, coppery edge, while Color Touch 6/4 + 7/73 allows you to unlock the trend in a demi-permanent formula.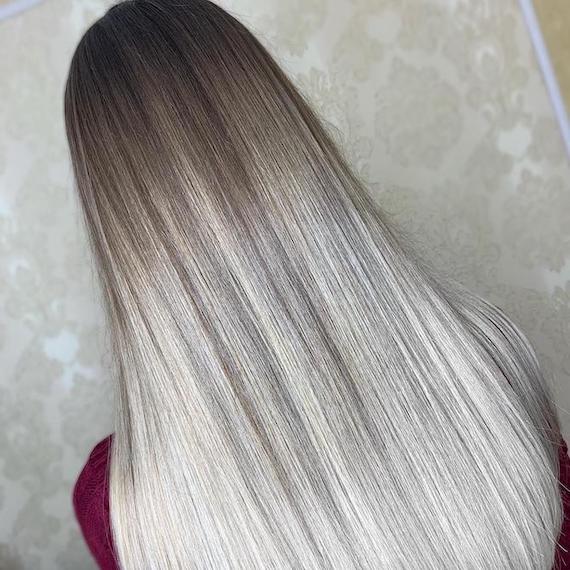 7
7. Gray Ombre Hair
Image Credit: @profinadi2
We can't get enough of gray ombre hair. The gunmetal gloss and soft gradient make this look ideal for clients who want to embrace their post-quarantine silver strays. You can recreate the shade using Color Touch, starting with 6/71+ 7/97 + 0/68 + 1.9% in the root area. Then, for the lengths and ends, try mixing up /18 + 10/31 + 10/6.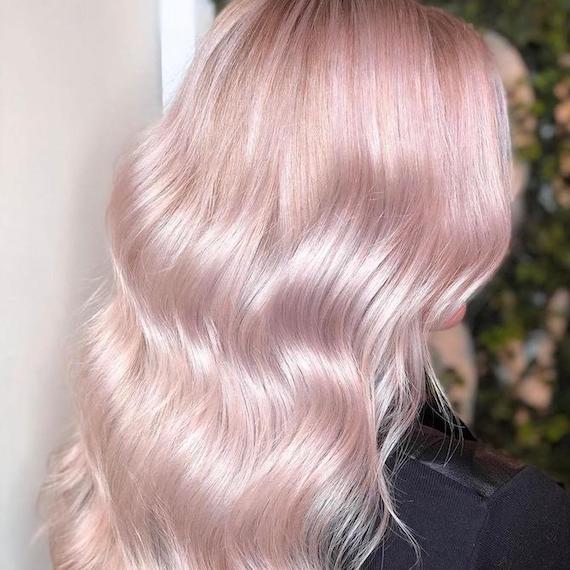 8
8. Pastel Pink Hair
Image Credit: @wellanordic
Searches for 'light pink hair dye' are up 200% since the start of the year – but we all know that the best pinks happen when a colorist mixes them up in the salon. Go for pale, candied colors that look lit-from-within, and your clients will love the boost of shine. Start with Blondor + 6% first, then tone locks in a pastel-perfect combo of Illumina Color 9/59 + Titanium Rose + 1.9%. Color Touch 9/75 + 8/35 or Koleston Perfect 0/65 + 10/95 can also be used to give clients the macaron mane of dreams.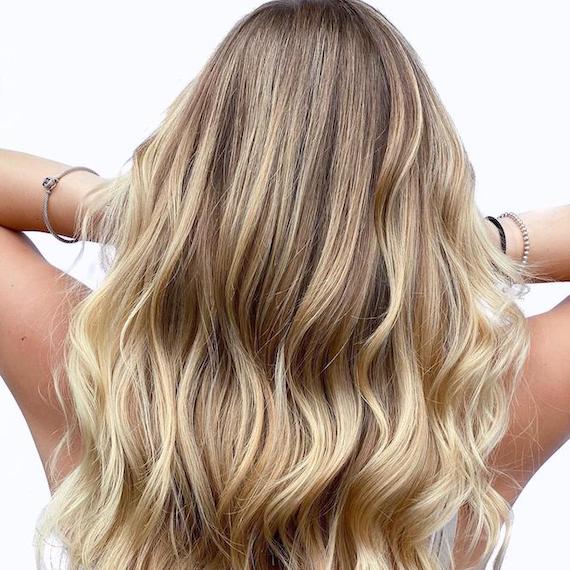 9
9. Beach Blonde Hair
Image Credit: @ktudor.styles
Because the beach is where we all want to be after a challenging 2020; expect surfer-girl shades of blonde to be high on the lust list for clients craving a brighter boost. For this Cali-cool color, Blondor Freelights + 9% was hand-painted through the full head. Then, roots were toned with Color Touch 7/89 + 5/1, and mid-lengths were topped up with 10/81. Other beach blonde formulas include Illumina Color 7/81 + 10/69, and Koleston Perfect 10/86 + 9/16.