6 BEYOND BOLD HALF AND HALF SPLIT HAIR COLOR IDEAS
For locks that are twice as nice, it's all about split hair color right now; a trend that sees two block shades painted through strands to create a duo-tone effect. From punchy pastels to statement bolds, this split hair trend was made for the brave, seeing colors meet at the roots (below left) or halfway through the lengths (below right).
Case in point:
How Do You Color Hair Half and Half?
Two colors, two ways. Here, we explore how to create the split hair trend for your clients, whether you're dividing the color up vertically or horizontally. Which look will you be trying first?
1. Split From the Roots
For half and half hair color that starts at the parting, you'll want to treat the two sides of the head separately. Consider the base you're working with, and whether hair lightener is needed as a canvas for color. As a general rule, Blondor is required for locks any darker than a medium blonde – that is, if you're trying to switch to a shade that's bolder and brighter or lighter than the existing hue. Use a pintail comb to precisely split the two halves of hair, then clip into place so there's no bleeding between the colors you're creating. You're aiming for a clean, flawless line.
2. Split Through the Lengths
Half and half hair color top and bottom is a little like a dip-dye. Your client's shade switches part-way through the lengths for a contrasting effect, meaning precision is key. The goal is a clear line across the full width of hair, whether created with Blondor and foils plus two toners, or two concentrated color formulas from root to mid-lengths, then mid-lengths to tips.
Half and Half Hair Color Ideas and Formulas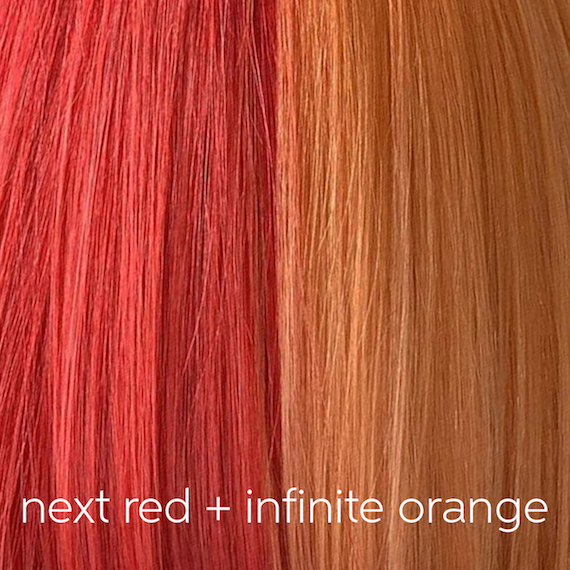 1
Two Tone Red Hair
Image Credit: @aslabreyt
Pure and punchy, this two-tone red hair look is split directly down the middle, then styled poker straight to allow the crimson-orange combo to make a statement. Color Fresh CREATE was applied to a Blondor'd surface, using the semi-permanent shades Next Red (left) and Infinite Orange (right). We are obsessed.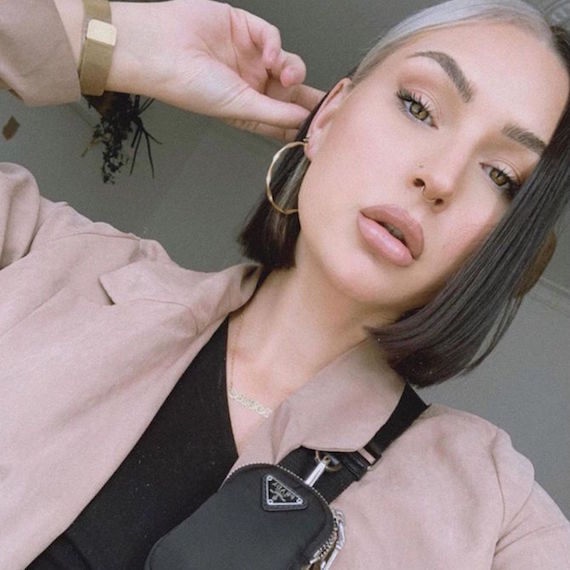 2
Icy Two Tone Hair Color
Image Credit: @tombadgerhair
More 70/30 than 50/50, this black and white split hair creation sees an icy cool shot of color swept through the front of the hair on just one side. Wella Passionista Tom Badger painted the panel in Blondor 4%, let it develop for 30-40 minutes, then applied 10/69 + 8/69 + 9/60 over the top for a killer contrast.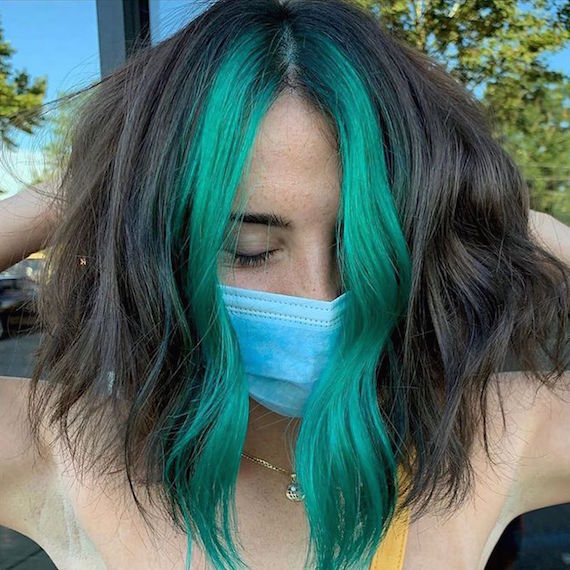 3
Green and Gray Split Hair Color
Image Credit: @off7thsalon
Charcoal lengths and green money piece highlights are giving us Billie Eilish vibes, and they are easily recreated using Color Fresh CREATE for that emerald hue. Look to Neverseen Green, and consider adding a dose of Super Petrol for a cooler twist. Then, apply in three-inch panels through the front of the hair, before rinsing, drying and styling with a curling iron.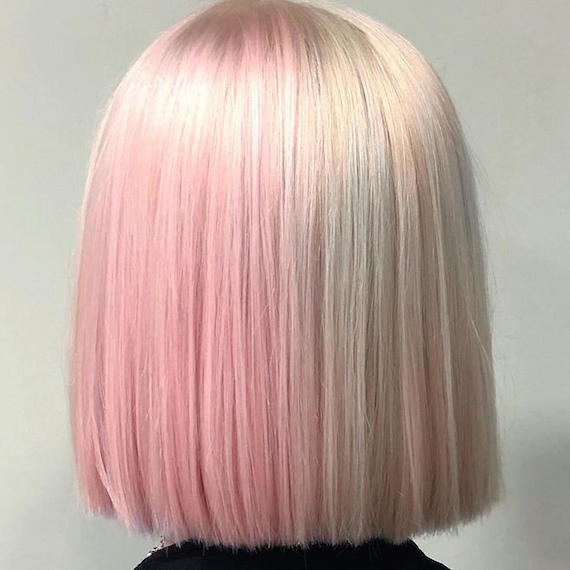 4
Pink and Blonde Split Hair Color
Image Credit: @ajhairstudio
This is a strawberries and cream dream come true, featuring macaron pink on one side and vanilla on the other – both enhanced by a sleek and super-blunt bob haircut. For the blonde, Color Touch 10/81 + 9/16 1,9% was applied and rinsed, before Koleston Perfect 10/95 + 0/65 gave locks a pinky pastel glow.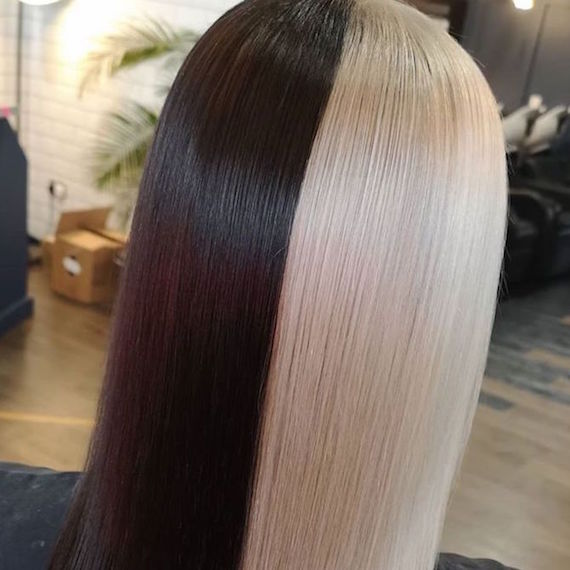 5
Black and White Split Hair Color
Image Credit: @kelly_evans_hair
For clients who ask 'how do I dye my hair half black and half blonde?', this look is the answer, with an even split between glossy jet black and a frosty platinum that's ultra-alluring. While BlondorPlex was used for the lift, permanent Illumina Color gave the finished look a light-reflective sheen that pairs flawlessly with super-straight styling.