5 Punchy Pink Blonde Hair Ideas & Formulas
From Florence Pugh's rosy dip-dye to Lady Gaga's candy-cute bouffant, pink hair has been making headlines this summer – but we're not just talking any pink. Pink blonde hair is 2021's next-generation take on the rose gold trend. And, frankly, we're here for it: this is the fun, frou-frou hue we've all been waiting for.
So, how do you create the look for your clients? Keep scrolling for tips, tricks and formulas that will help you serve up this season's pink blonde hair trend, then maintain it for months to come.
How to Create Pink Blonde Hair
1. Start With a Blonde Base
Pink blonde hair needs a light blonde base to ensure those rose tones truly pop. So, unless your client's hair is already fair, you'll need to pre-lighten locks to the correct level. If they want a warmer, rose gold shade, try lifting their hair to a level seven medium blonde, which will give their pink tone a little extra richness.
Meanwhile, a frosty pink-on-platinum 'do requires lifting to a level nine or ten. Just remember: the lighter the hair, the more the pinky hues are able to show up and shine. Keep this in mind when discussing the desired end result with your client.
2. Choose Your Lightening Technique
Once you know what level of blonde your client is hoping to reach, it's time to talk techniques. Do they want balayage? A dip-dye? Or simple streaks of baby pink? For most pink blonde looks, you'll need to apply the pre-lightener all over as a canvas for those rosy tones. Try BlondorPlex for this step, which harnesses our bond-strengthening system, WellaPlex No1.
However, if your client is already blonde and wants to brighten up sections with a balayage or ombre, opt for Blondor Freelights. Allow to develop, then shampoo and neutralize using Blondor Seal & Care.
3. Pick a Pink Product
Good news: the Wella colour portfolio has pinks aplenty for this look, from playful semi- and demi-permanent tones to permanent colour pigments that last as long as the trend. If your client wants a low-commitment shade, suggest they go for 9/75 from the Color Touch palette; a macaron-tinted demi shade that lets them flirt with the trend for up to 24 washes. Semi-permanent Color Fresh CREATE in Nu-Dist Pink is a ballet blush hue that gradually fades true to tone. Meanwhile, Opal-Essence By Illumina Color in Titanium Rose is a glossy, permanent metallic pink.
4. Pick Technique Round Two
You've chosen your pre-lightener technique. Next up: choose an application method for your client's pink colour. There are endless ways to work a pink blonde mane, whether you sweep it root to tip or in delicate, dainty ribbons. You can blend rose colours with blonde tones to create a muted blush colour, or team light roots with candy-coloured tips for a multi-tonal look. Anything goes with this trend.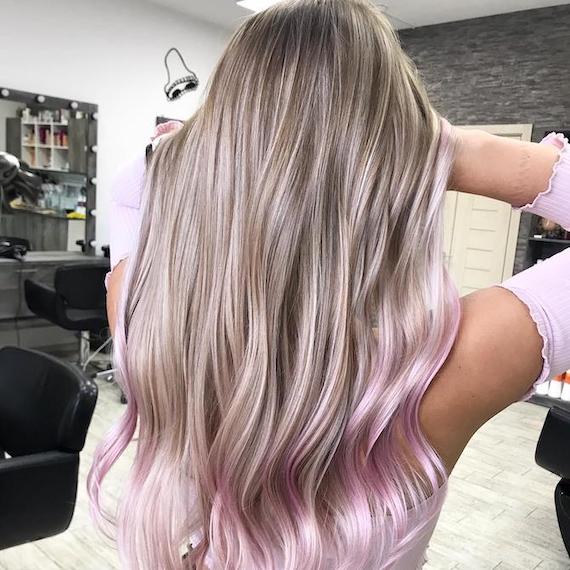 1
Blonde Hair and Pink Tips
Image Credit: @aina_rudenok.br
Ash blonde meets frosted pink in this two-tone, ultra-cool, dip-dyed 'do. Try creating the look by mixing up the ashy base first, then stroking Opal-Essence By Illumina Color in Titanium Rose through the ends. Focus pink through the very tips for the subtlest effect, or raise the line higher for a bolder finish – ideal for your colour-brave clients.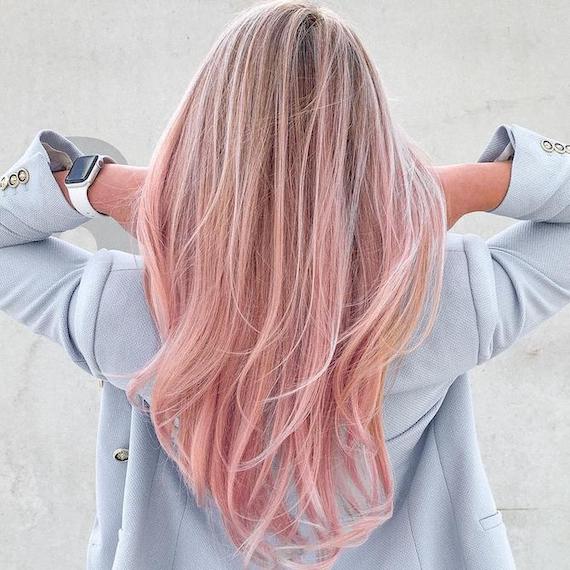 2
Blonde to Pink Ombre
Image Credit: @matherzberg
Part pink ombre and part beach blonde, this Cali-cool shade is a summer staple. Lighten locks with Blondor Freelights + 4% first, then shampoo, neutralize, and go in with the pink. Here, Global Top Artist Matthias Herzberg has applied Color Touch 10/0 + 0/65 + 1.9% to create a light, lived-in pink any surfer girl would fall for.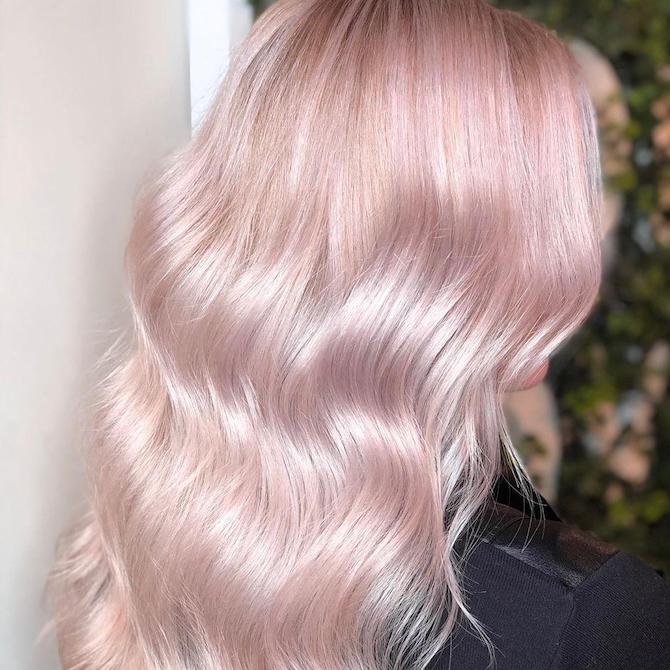 3
Pink Platinum Hair
Image Credit: @kostyle via @wellanordic
This pink-tinted platinum mane is a pastel dream come true, shifting from blonde to blush as it catches the light. We're positively entranced by every wave. Mix up your own metallic using Illumina Color 9/59 + Titanium Rose + 1.9% developer. It's a show-stopping blend.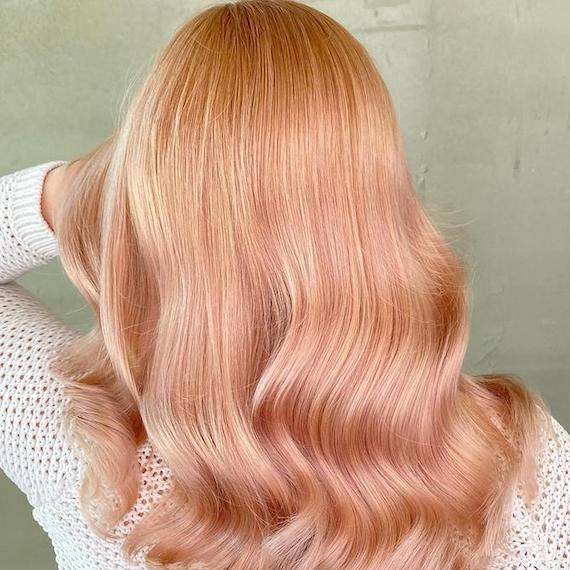 4
Strawberry Blonde Hair
Image Credit: @hairbysatukylatasku
Strawberry blonde is one of the most versatile red hair colours out there. You can work it in a light copper shade or, in this case, a pinky, peachy tone with a hint of blonde. For clients who love the rose gold trend and are craving a dose of warmth, try blending Koleston Perfect 10/95 + 10/38 + 9/16 + 0/65 + 9% over an existing copper base. Subtle rose pink: coming up.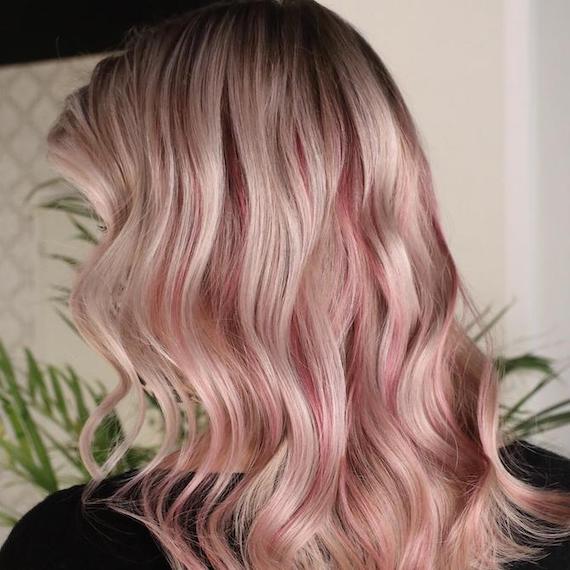 5
Pink Blonde Hair With Dark Roots
Image Credit: @harriakerberg
Since lockdown 1.0 began, blonde hair with dark roots has been trending. And, even now, with quarantine over in most countries, the low-maintenance look is still going strong. Combine it with hints of pink blonde for clients who want a rosy look with soft regrowth. This particular creation was perfected using Color Fresh CREATE in Nudist Pink 40g + High Magenta 10g for pastel highlights.
How to Maintain Pink Blonde Hair
Pastel hair colours are prone to fading, so how do you keep them fresh? Here are three tips to share with your clients before they leave the salon with their new hue.
1. Use Two Shampoos
One that cares for coloured hair and one that neutralizes brassy tones. We recommend ColorMotion+ Color Protection Shampoo for regular washing, then a purple shampoo like INVIGO Cool Blonde Color Refreshing Shampoo whenever the tone tips overly warm.
2. Tint and Treat
Combining hydrating care with a hint of a tint, the Color Fresh Mask will refresh their salon shade. The Pearl Blonde edition knocks out any brassy tones, so their pink blonde shade appears fresh and bright – always. Recommend they use it once per week for the best (read: coolest) results.
3. Safeguard Styled Strands
Clients who use heated tools (meaning most of them) will need to use a protective spray before styling. After all, heat is one of the top culprits for fading pastel hair colour. Suggest they add EIMI Thermal Image to their kit, along with INVIGO Sun UV Hair Color Protection Spray – a must when those summer temperatures rise.