Dreamy Pink Hair Colour Ideas & Formulas
Pink hair shows no signs of slowing down. The candied colour has been everyone's go-to pastel hue for years, standing out amongst a slew of mint greens, pale yellows and true baby blues. From playful pink tints to chic rose tones with a metallic finish, everyone is obsessed with pink hair. A trend that's not going anywhere anytime soon!
If shades of fuchsia, magenta and raspberry have got you tickled pink, it's time to start experimenting with pink hair blends that will make your clients' hair shimmer. We've rounded up our favorite pink hair colour ideas complete with formulas. There's something for every client, whether they love bumped-up bobs, grown-out roots or mermaid manes…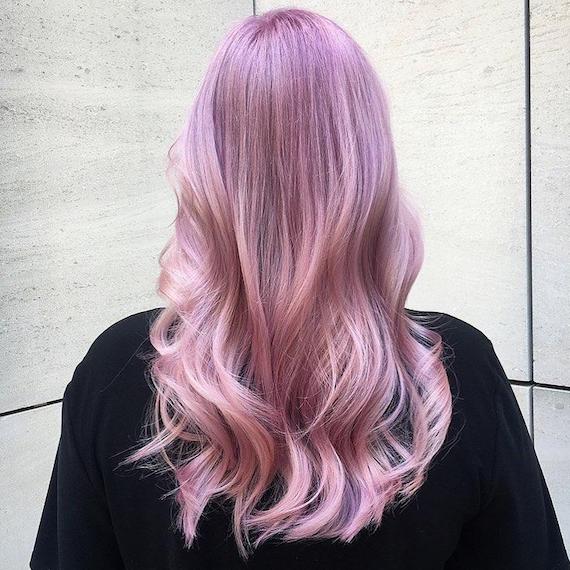 1
The Punchy Pastel
Image Credit: @kai_sohn
Pastel pink hair packs a punch when paired with a hyper-real metallic sheen. Case in point? These wonder waves, expertly crafted by Wella Passionista, Kai Sohn. He created this root-to-tip look by pre-lightening locks with Blondor Powder + 6% (1:1,5) and our bond-strengthening system, WellaPlex, then toned to a rosy hue using permanent colour, Koleston Perfect ME+ 9/16 + 0/65 (10:4) 1,9%.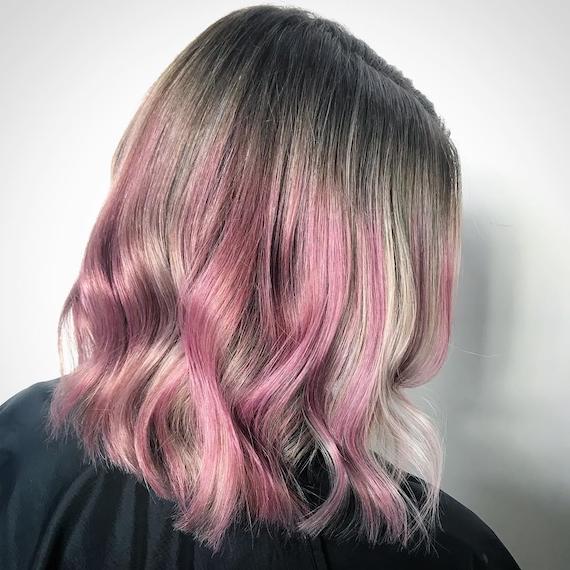 2
The Metallic Melt
Image Credit: @shaunaformanhair
For clients who crave low-maintenance root regrowth, this grey-to-pink melt is the dream formula. Start by tinting the roots with our permanent, light-reflective formula, Illumina Color 7/81 + 4%. Then, to work your melting magic Shauna Forman-style, freehand paint Blondor Freelights + 6% through mid-lengths and tone the panels using three blends:
1) Color Touch 8/81 + 1.9%
2) Color Touch 9/16 + 1.9%
3) Color Fresh CREATE in High Magenta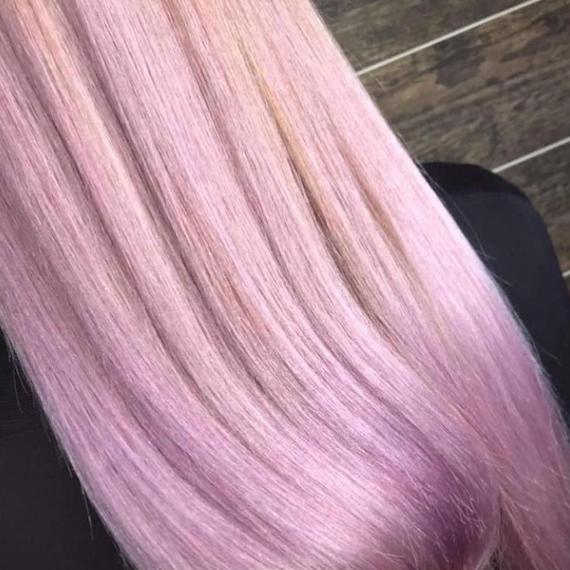 3
The Muted Magenta
Image Credit: @thebankhairdressing
This ice-creamy blend of strawberry and vanilla hues is perfect for blondes. If your clients want something sweet, pre-lighten hair first with Blondor + 6% to get a paler base. Then, add the pink by toning using Koleston Perfect ME+ 30g 10/86 + 30g 10/96 + 3g 0/65 with double pastel developer.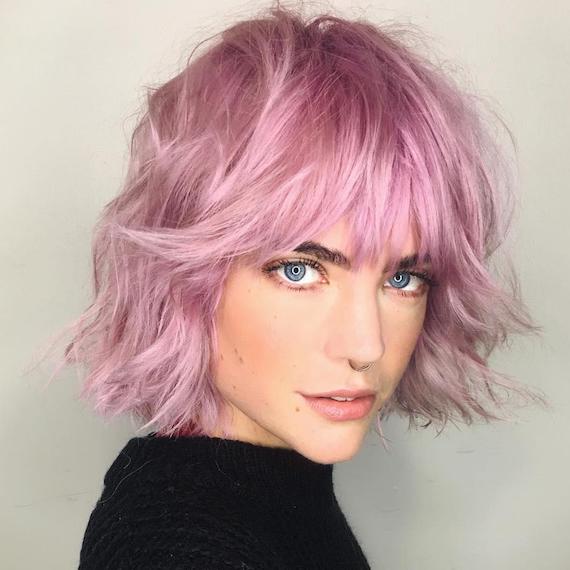 4
The High-Shine Shag
Image Credit: @jhair_stylist
Combine two trends by teaming a Karlie Kloss-inspired shag with a metallic candyfloss colour. This choppy, fringed bob is throwing us back to the neon wigs at Jeremy Scott AW18. Create the look IRL with our demi-permanent dye, Color Touch 20ml 10/6 + 20ml 10/0 + 5ml 55/65.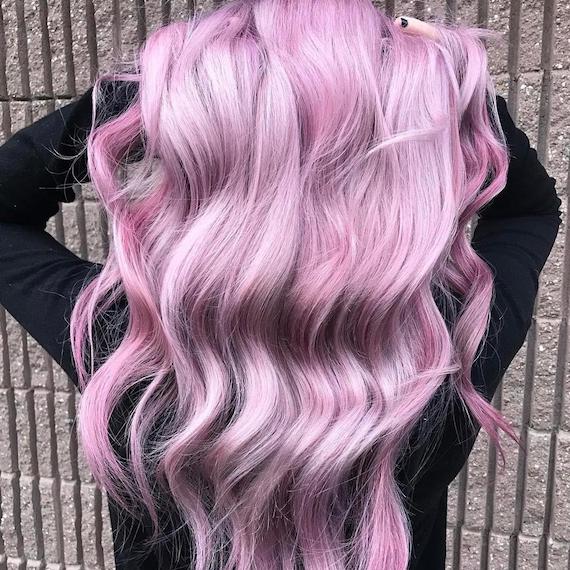 5
The Mermaid Mane
Image Credit: @hairbydanp
Nothing says 'mermaid' like tumbling waves in a striking shade of metallic pink. This particular mane looks like something out of the most starry-eyed of fairytales. To achieve an equally mes-mer-izing colour, follow Danielle's perfectly pink formula, which sees Color Touch 10/6 mixed with a dot of Special Mix 0/56, before hair is glazed using Instamatic by Color Touch in Pink Dream.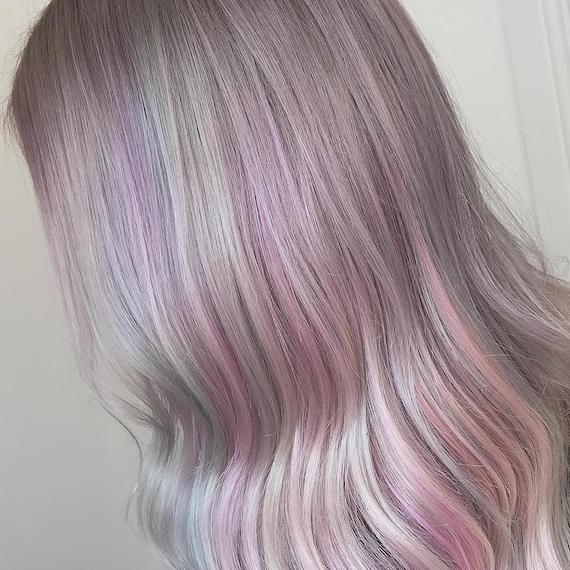 6
The Blushed Blonde
Image Credit: @blunt.salon
Blushed blonde is the most wearable way for fair-haired clients to do a metallic pink hair look. It sees the softest, subtlest bands of rose lightly swept through a cool, pale base. To achieve the look, start with a full head of Blondor in foils to pre-lighten, then tone with 10/1+ 10/8. Finally, apply Instamatic by Color Touch in the shades Pink Dream, Muted Mauve, Ocean Blue and Jaded Mint for a holographic effect.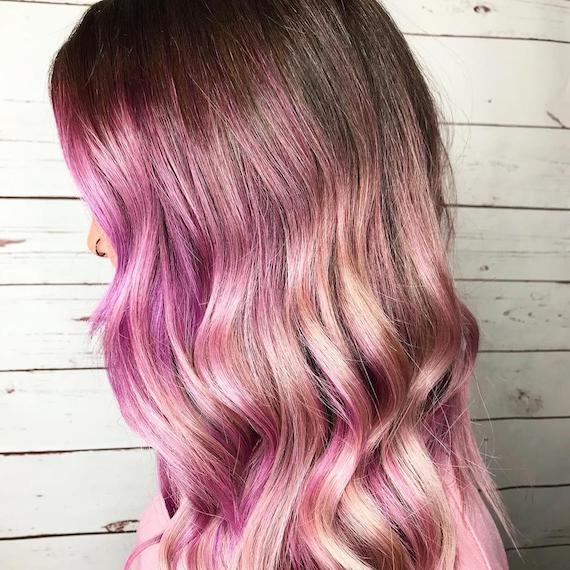 7
The New Neon
Image Credit: @badwolfstudio and @hairbyemilya
Neon hair has long been focused on an all-over block of bright, bold colour, but Emily Andrews of the Bad Wolf Studio is offering up a fresh, new take. Her version? She teamed soft pink balayage with a hot pink hue weaved through face-framing layers, resulting in a multi-tonal mix that's sure to turn heads. The look was created using our pure, semi-permanent hair colour Color Fresh CREATE palette, with the shades High Magenta, Nudist Pink and Tomorrow Clear."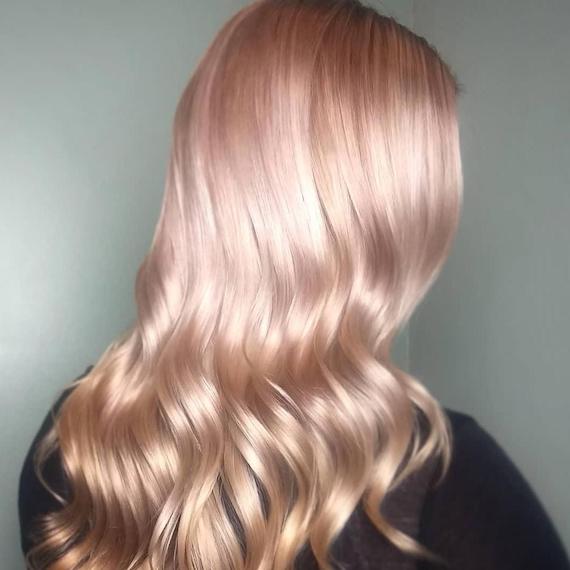 8
The Pretty Pearl
Image Credit: @cassandra_foehr
'Unreal' is how we'd describe this perfectly pearlescent creation by Cassandra Foehr. It's a high-shimmer baby pink that proves just how glossy our new Opal-Essence by Illumina Color collection can truly be. To create the look for your clients, use Titanium Rose 1:1 1.9% + Platinum Lily 1:2 1.9%. Then, use palms of hands to press a little EIMI Oil Spritz through mid-lengths for a luminous glow.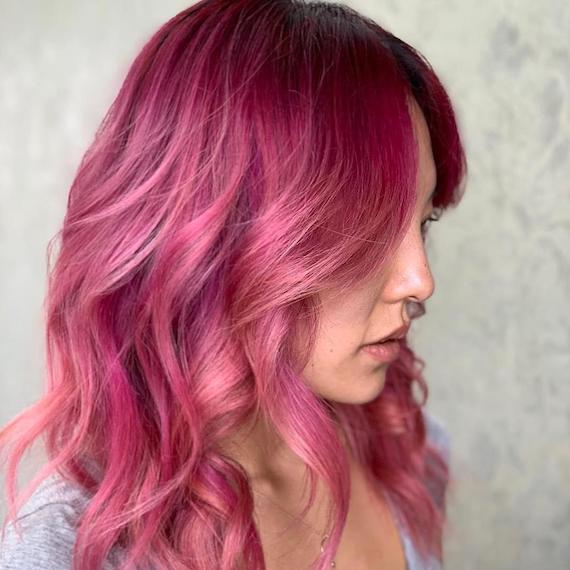 9
The Full-On Fuchsia
Image Credit: @stuartbane_valonz
Give fuchsia hair the metallic treatment with Stuart Bane's punchy pink formula. He started by freehand painting Freelights + 6% + WellaPlex over old pink/purple ends, then he toned using Color Touch 55/65 + 4% (1:2) into 30g 10/0 2g 55/65 + 1.9% for 15 minutes. One to follow if your client already has a faded pink mane in place, this technique refreshes the colour while adding a foil-like finish.
Keep It Rosy
For clients who are keen to keep their newly-pink hair looking punchier for longer, recommend a three-step regimen of INVIGO Color Brilliance Color Protection Shampoo + Vibrant Color Conditioner and twice weekly doses of the Vibrant Color Mask. EIMI Thermal Image is a must if they regularly use a hairdryer or tong, but remind them that heated tools can cause colour to fade and are best used on a need-to-tame basis. Finally, to ensure a majorly metallic effect, introduce them to EIMI Glam Mist, a shine-boosting spritz that adds gloss to all hair types.
METALLIC PINK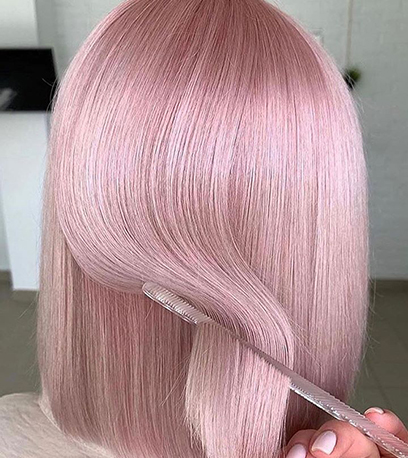 Colour Formulas:
Blondor, Illumina Color, Welloxon Perfect, Color Fresh Create
30g Soft Blonde Cream + 60g 4%
Pre-tone: 20g 10/36 + 20g 10/05 + 80g 1.9%
Tone: NuDist Pink
BUBBLEGUM HAIR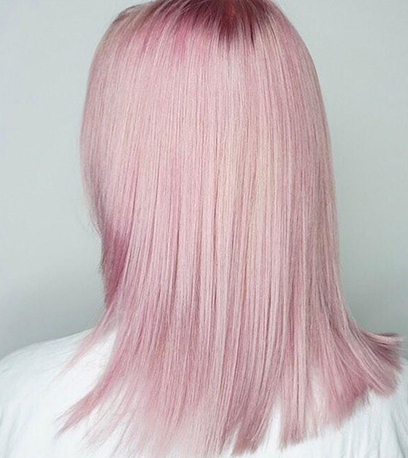 Colour Formulas:
Blondor, Koleston Perfect, Welloxon Perfect, Color Fresh Create
30g Multi-Blonde Powder + 45g 1.9%
Pre-tone: 30g 9/16 + 60g 1.9%
Tone: 40g Vintage Blush + 2g High Magenta
BLUSH PINK HAIR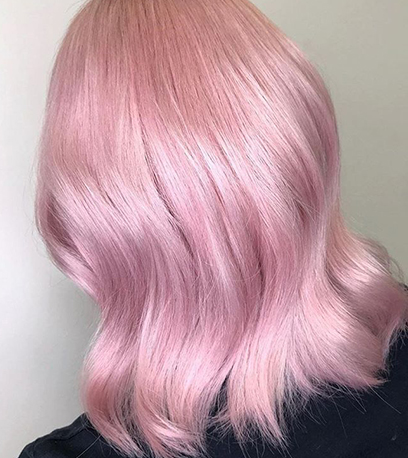 Colour Formulas:
Blondor, Welloxon Perfect, Koleston Perfect
Prelighten: 60g Multi Blonde Powder + 90g 6%
Tone: 40g 10/96 + 10g 0/65 + 100g 1.9%
PEARLESCENT PINK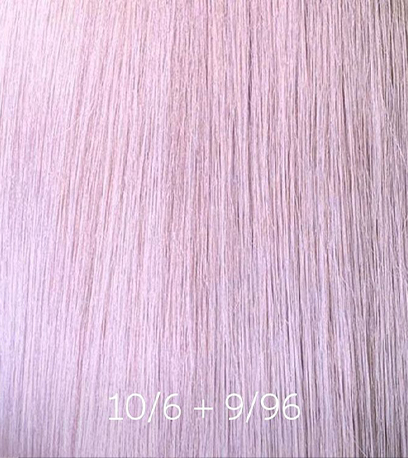 Colour Formulas:
Color Touch, Color Touch Emulsion
Tone: 30g 10/6 + 20g 9/96 + 100g 1.9% .
PASTEL PINK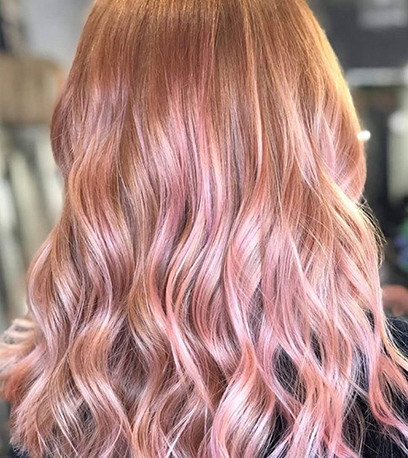 Colour Formulas:
Color Touch, Color Touch Relights, Color Touch Emulsion
Pre-tone: 30g 10/6 + 60g 1.9%
Tone: 10g /06 + 10g of /00 + 2.5g /56 + 50g 1.9%