7 Platinum Blonde Ombre Formulas For Those Cool Customers
Light and bright from root to tip isn't the only way to work platinum hair. For clients seeking extra dimension, a platinum blonde ombre look is the way to go. Melting dark roots into a platinum shade in one even and seamless graduation, it packs in plenty of drama that's more versatile than you might think. Clients with fair skin, medium skin and dark skin tones can all work this trend.
So, let's take a look at the tips to know for a bright platinum that pops, plus seven pro formulas to inspire your own light ombre creations...
3 Tips For the Purest Platinum Blonde Hair Colour
1. Learn Your Client's Hair History
When creating the perfect blonde, hair history is key. It's important to know what your client's locks have been through, so you can preempt any unwanted tones or correct possible banding through strands. Make sure you arrange a pre-platinum consultation to get the full lowdown. Questions to ask include:
What is your natural hair colour?
Has your hair been previously lightened?
Have you used any at-home hair colours recently? 
Are there any other past hair colour processes to be aware of?
This is also a good time to make your client aware of the steps involved in crafting a platinum blonde. Sometimes you can reach bright, white hair in one session, but on coloured or naturally dark hair, it may take two or more hair salon appointments to get to that desired silver shade.
2. Choose the Perfect Lightener
For ombre hair, our failsafe hair lightener is BlondorPlex. It comes with our bond-strengthening WellaPlex ingredient, so locks get extra reinforcement as the colour lifts. Apply it from the mid-lengths to the ends of your client's hair, creating a clean, bright canvas for platinum white hues to be applied over the top. Just make sure you follow the lightener with the WellaPlex No2 Bond Maker when you rinse it out; a key step that gives your client up to 97% less breakage.
You can even achieve a no-bleach blonde on naturally lighter locks with our high-lift Koleston Perfect Special Blonde shades. Apply to your client's natural colour through the mid-lengths and ends, choosing a hue such as 12/81 or 12/86. The product lightens and tones their tresses in a single step, and should be mixed 1:2 with your Welloxon Perfect developer for up to five levels of lift (with 12%). 
3. Saturate Strands For Even Coverage
To achieve optimal lift, saturating your client's strands is a must. No delicate strokes here; make sure you're coating tresses evenly with plenty of lightener to unlock boosted brightness. Leave the dark roots untouched and sweep right down from the mid-lengths to the ends of your client's hair. You'll often find that, because the tips are more porous, they'll lift higher to give that ombre effect. 
7 Ombre Platinum Blonde Formulas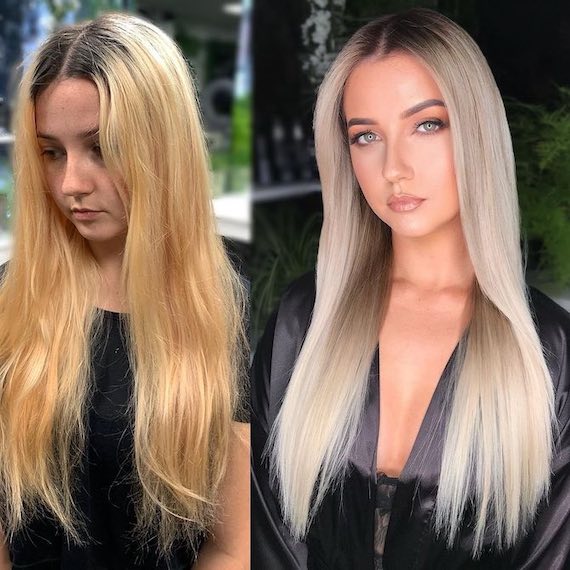 1
Dark Roots and Platinum Silver Hair
Image Credit: @hair_by_oana
We love a strong 'before and after' shot. This one sees already blonde, overly warm locks transform into a cool and clean masterpiece, thanks to Illumina Color. You're seeing 6/ + 7/81 + 7/35 for the shadow root, and 10/ + 10/05 + 9/03 + 10/36 on the mid-lengths and ends. The platinum ash blonde hair hues shine brighter through the tips, resulting in a subtle ombre (sombre) that teams flawlessly with sleek, straight hair.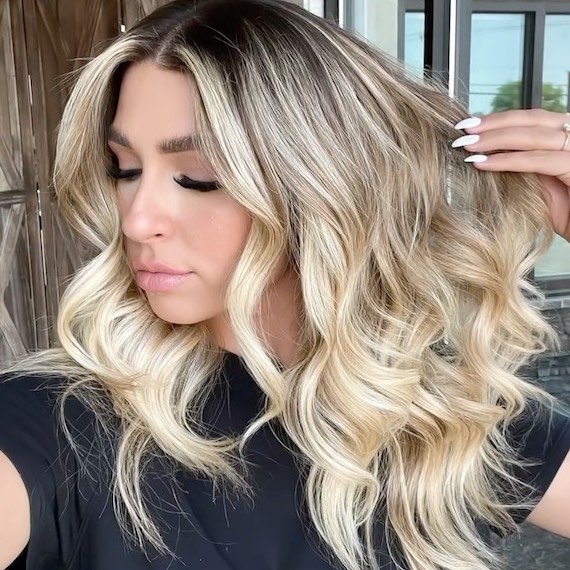 2
Ombre Hair in a Golden Platinum Colour
Image Credit: @camouflageandbalayage
Not all shades of platinum are made equal. While, usually, they boast an icy coolness, you can also go bright with a golden tone, as long as you keep it sheer and subtle. This beachy style ombre isn't as white as your traditional platinum, but it still features plenty of luminosity, taken to the next level with face-framing highlights. Create the look by lightening lengths with BlondorPlex + 6% first, starting a few inches from the darker roots. Then tone with Color Touch 9/0 + 10/01 + 1.9%; two neutrals that stop platinum from steering warm, while skewing softer than a white blonde.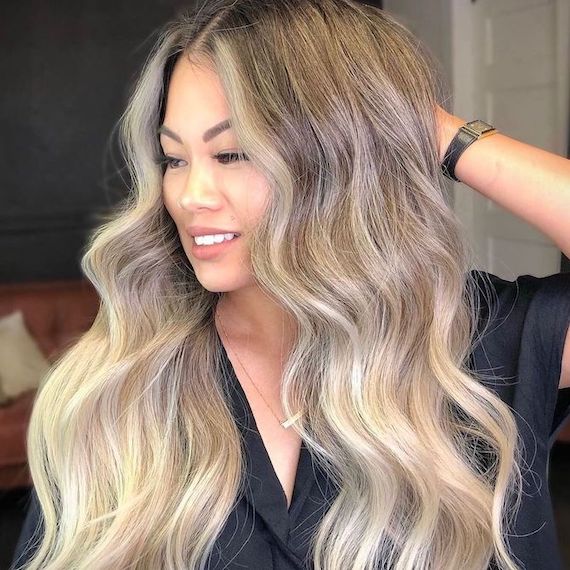 3
Ash Platinum Blonde Ombre
Image Credit: @hair.qny
For this ashy platinum hair colour creation, BlondorPlex + 4% has been painted through locks to make the ends and face-framing layers brighter. The natural roots of the light brown base contrast with the resulting lift for a coconut blonde glow. If you want to recreate the look, finish by glossing with a light, cool tone, like Koleston Perfect 10/16 + Post Color Treatment + 1.9%, for breathtaking dimension. Style with loose curls and gently brush out for effortless blonde waves.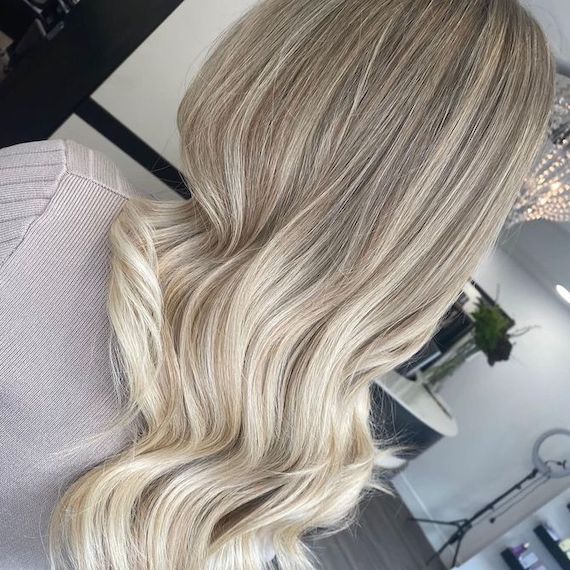 4
Powdery Platinum Ombre Balayage
Image Credit: @matthewjamessalons
Platinum blonde balayage meets ombre in this powdery creation, which sees platinum highlights swept in ribbons through the root area, then painted across the full width of the hair through the lengths and ends. The lift comes courtesy of BlondorPlex + 6%, while the toner is a Color Touch mixture of 10/6 with a touch of 9/36 + 1.9%. If your client already has ash hair but wants to take it brighter and bolder with tones of platinum, this is a great formula to try. Style this ombre balayage with waves for a romantic hairstyle.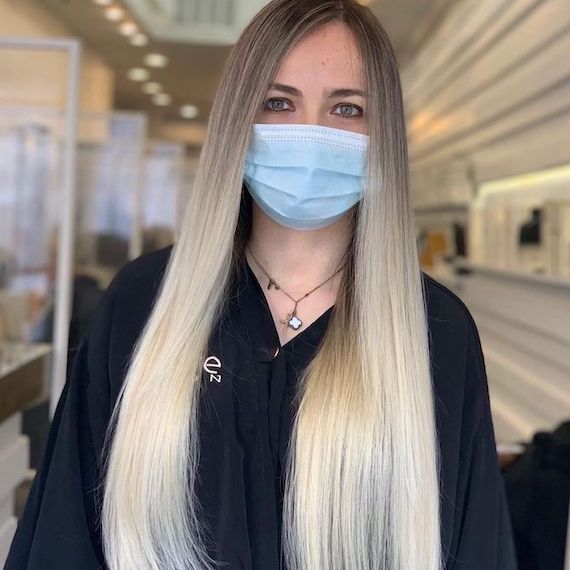 5
Bold Platinum Blonde On Long Hair
Image Credit: @kadirhair
The length, the lift, the luminosity. Ombre on long hair really packs a statement, as demoed by this beautiful platinum creation. It's hard to believe this look started out with a brown hair base, before BlondorPlex + 9% gave the client lift through the mid-lengths and ends. A final flourish of Color Touch 10/0 + 10/6 + 1.9% took it cool-toned and crisp.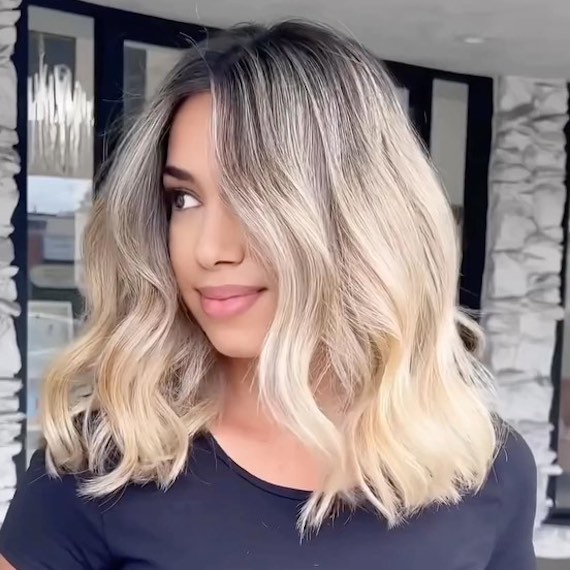 6
Black and Platinum Blonde Ombre Hair
Image Credit: @marianna.colorist
Dark brown roots or black roots give your ombre looks extra drama, so don't be afraid to play with depth. The contrast is ultra eye-catching – especially if you take the shadow down towards the mid-lengths of hair. For this look, Color Touch 7/89 + 5/1 + 1.9 % was applied to darken the roots, before already blonde lengths (from a previous session) were toned with 9/16 + 10/01 + 1.9%. To give this mane a surfer vibe, strands were then styled in beachy waves, which you can replicate by gently wrapping locks around a curling iron, and misting with EIMI Ocean Spritz for grip and guts.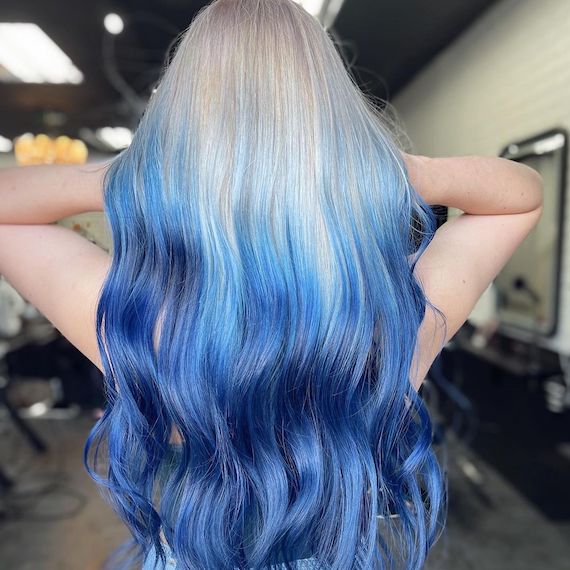 7
Blue Shadow Root and Platinum Waves
Image Credit: @alexis_hair__
We can't talk platinum ombre without talking reverse platinum ombre. This look sees the lightest shade focused through the hair roots, so the cobalt on the lengths can seriously pop. Give it a go by toning the roots to mid-lengths with Koleston Perfect 10/0 + 10/96. Then, colour the mid-lengths to ends with 0/88; a blue shade that, FYI, looks seriously dreamy with both cool skin tones and warm skin tones. 
How to Maintain Platinum Blonde Ombre Hair
1. Blitz Brassiness With a Purple Shampoo
Every blonde should have a purple shampoo in their hair care routine. The violet pigment inside helps to neutralize unwanted warm shades, so their amazing platinum hair colour stays fresher for longer. So, before your client leaves the hair salon, recommend they stock up on INVIGO Cool Blonde Recharge Shampoo, which they should use whenever brassiness starts to appear through strands.
For every other wash, they should lather up with the ColorMotion+ Color Protection Shampoo, which is packed with antioxidants to keep dulling free radicals at bay. A must for every shade of platinum.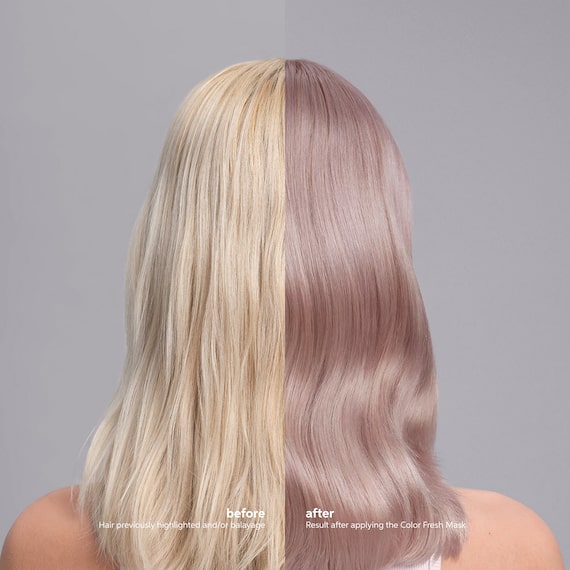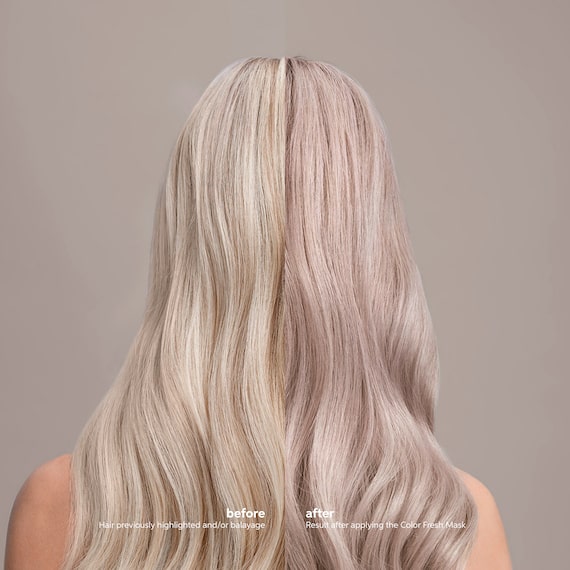 2. Enhance the Beauty of Platinum Hair With a Colour-Depositing Mask
As an alternative to purple shampoo, your client can also maintain ashy tones and platinum hair with a colour-depositing mask, like the Color Fresh Mask. Infused with nourishing oils and a touch of pigment, it comes in two ultra-light hair hues: Lilac Frost for a subtle violet tint, and Pearl Blonde for nixing warmth in bright, white highlights. Colour match your client to their perfect treatment, then suggest they apply it once per week to clean, damp hair. All they need to do is leave it on for 10 minutes, then rinse to reveal a refreshed tone. It works on every hair type.
3. Keep Hair Healthy With Deep Conditioning Treatments
Blonde shades don't tend to reflect the light as easily as darker hair, so extra help is needed to enhance shine, while giving lifted locks a hydration boost. So, introduce your client to ColorMotion+ Structure+ Mask and advise them to use it at least once per week as part of their hair care routine. Applied to clean, damp hair for 10 minutes, it helps smooth strands with our signature WellaPlex ingredient for smoothness and nourishment. If they have curly hair, they'll also love the NutriCurls Deep Treatment. It's a rich, creamy mask that leaves their natural texture frizz-free, super-soft and looking more defined after just five minutes. 
4. Book in For Regular Tone Touch-Ups
Last but never least, remind your clients how important it is to book in at the hair salon regularly. Even if they don't need extra highlights, having those new cool tones refreshed every 6-8 weeks (or 8-12 weeks, if their locks are low-maintenance) will ensure their platinum shines.
Now it's time to start perfecting your own platinum ombre creations. Get those graduations seamless with the tips above, and don't forget to share your looks with us on Instagram by tagging @WellaHairUKI.