How to Make Waves With Blonde Beachy Hair
Beach blonde shades and tousled lengths. Can you name a better duo? They're a summer dream team; an unbeatable combination for seriously sun-kissed hair. Once the temperatures rise, bouncy blow-dries are swiftly knocked off the styling top spot by wavy lengths, and all season long, clients put in requests for bountiful, breezy curves.
So, let's hear it for blonde beachy hair. Keep scrolling for your complete guide to the trend, featuring colour formulas and coiffing tricks that make surfer styling super-simple…
Blonde Beachy Hair Step 1: The Colour
Let's kick off with colour. Before you style your client's waves to perfection, create beach blonde hair with a combination of lightening techniques. Here are three we love…
1. Balayage Plus Foilyage
By combining traditional, open-air balayage with freehand highlights in foils (AKA foilyage), you get a multi-dimensional, beachy blonde with spotlights of lighter, brighter colour. Try the technique with Blondor Freelights, which features an adhesive mass to ensure the hair lightener stays right where you want it. No smudging or bleeding; just precise, painterly ribbons of blonde.
2. Babylights
Let's layer in another technique. By fusing foilyage with babylights, you get micro-fine, freehand highlights with a higher lift for a surfer-girl effect. Contrasting against the chunkier balayage, those skinny, brighter pieces look sun-kissed no matter how they're styled: in curls, in waves or super-straight and smooth.
3. Twilighting
Brunettes can do blonde beachy hair, too. The trick is to try a little twilighting, which sees golden, glistening hues swathed through a dark base to create a moonlit effect. Use the techniques above – balayage, foilyage and babylights – to lift sections of hair, then tone highlights with a warm colour, such as permanent Koleston Perfect 8/03 or demi-permanent Color Touch 9/73.
Blonde Beachy Hair Step 2: The Style
Once you've lightened and toned your client's hair to create a beachy blonde, it's time to rinse, blow-dry and style those Cali-cool waves. All hair types are different, so your step-by-step will vary from one client to the next. However, these tips and tricks are must-follows for every tousled look.
1. Use an Uplifting Shampoo
If your client is blessed with wavy locks, lather up using the Nutricurls Shampoo For Wavy Hair. It's lightweight and sulphate-free, helping to define their natural curves. For born-with-it curls, keep coils intact using the Nutricurls Micellar Shampoo For Curls, which combines delicate washing with anti-frizz ingredients to enhance existing texture. Meanwhile, give straight hair a pick-me-up with INVIGO Volume Boost Bodifying Shampoo; a lift-enhancing cleanser that creates the perfect canvas for tousled styles.
2. Opt For Lightweight Conditioners
You want your client's hair to look lifted, tousled and voluminous. However, if their ends have been lightened, their strands will also need a dose of care. So, how do you nourish coloured locks without weighing down would-be waves? The secret is in a lightweight conditioner that helps to nurture lengths. Our go-to is the INVIGO Volume Boost Crystal Mask or, for wavy or curly hair, the Nutricurls Detangling Conditioner For Waves & Curls. Smooth through with a wide-toothed comb, then rinse thoroughly.
3. Mix and Match Styling Essentials
Don't be afraid to cocktail your stylers. Once your client's just-washed hair has been towel-dried, layer in volumizing products, starting with the lightest formulas first. Work EIMI Root Shoot into the root area, mist and scrunch Ocean Spritz through the mid-lengths and ends, then massage a pump of Perfect Me over the top. You'll have volume, texture and smoothness in one look.
4. Dry, Curl and Loosen
Blow-dry your client's locks using a paddle brush and the Sahira Hair Dryer. Lift the roots as you go to boost volume, pointing the dryer nozzle downwards to smooth the cuticle. Then, when hair is 100% dry, wrap sections of hair around the Pro Curl tong. Start around two inches down from the root, and leave an inch free at the ends for an undone feel. Once you've created ringlets through every section of hair, use fingertips to loosen, ruffle and tousle from root to tip.
5 Ways to Work Beach Blonde Waves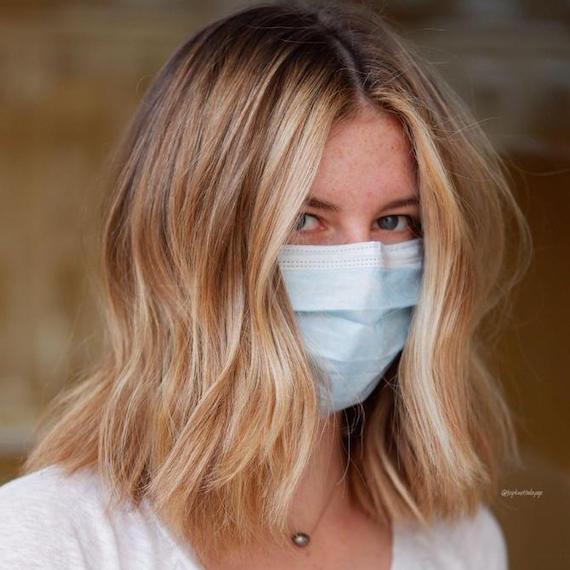 1
Short Blonde Beach Waves
Image Credit: @topknotbalayage
'S-shaped' isn't the only way to wave; when working with a lob (long bob), adding a gentle bend can look ultra-beachy too. Create the style by blow-drying locks straight, then wrap chunky sections of hair around a tong for up to 10 seconds. Curly away from the face for the most flattering finish. Finish with a spritz of EIMI Mistify Me Light.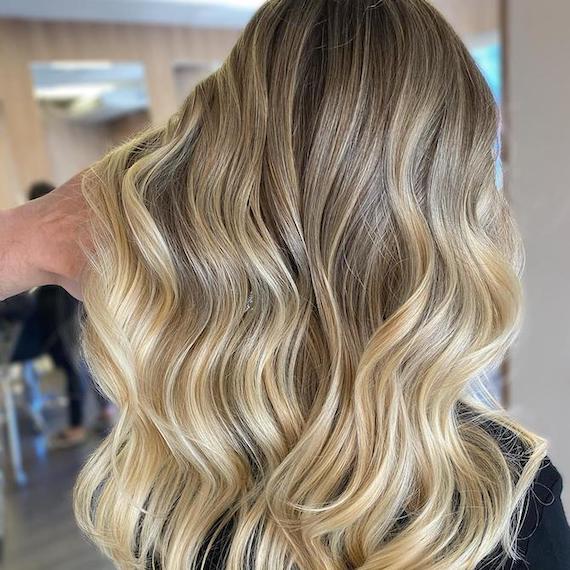 2
Golden Blonde Wavy Hair
Image Credit: @fredyhair
We see you, Color Touch Relights. Applied in the golden blonde shade, /03, it lends a sun-drenched glow to a beachy balayage. Add waves, and you've got the summer shade of dreams. You can boost the shine by misting EIMI Oil Spritz into the palms of hands, then gently pressing it through the ends of freshly-styled lengths.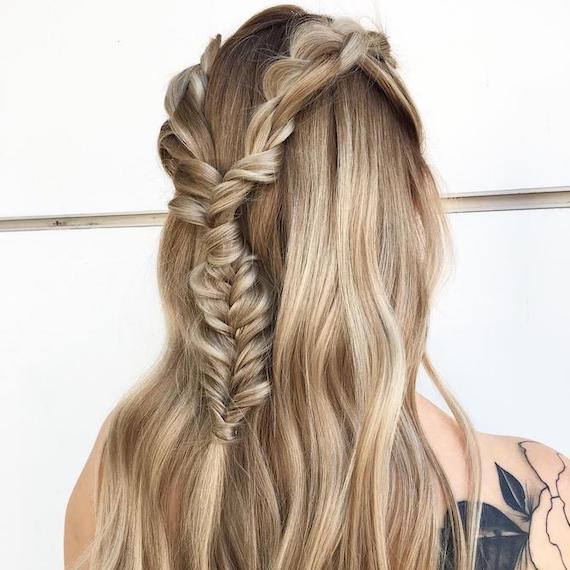 3
Beachy Braided Hair
Image Credit: @beyondhairbyhayley
Beach waves, but make it bridal. For clients planning a boho wedding, some tousled texture and a fishtail braid will take them from 'I do' to dance floor. Brides often want fresh, clean hair on their wedding day, which can make strands too slippery for a plait. However, by misting the lengths with EIMI Dry Me dry shampoo, you can add instant guts and grip. Ruffle through, then begin braiding.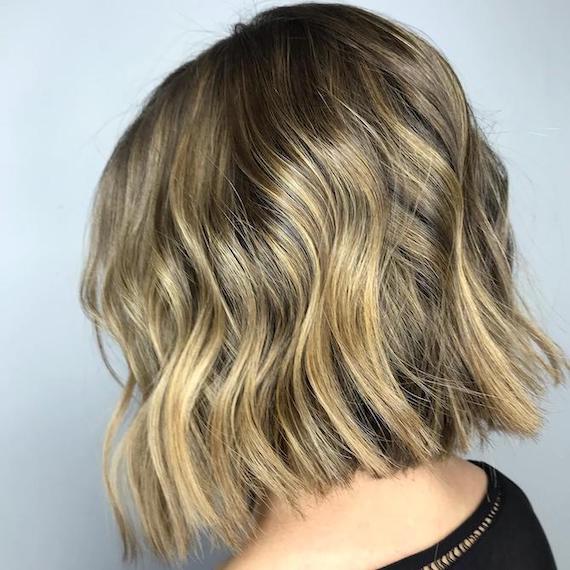 4
Blonde Wavy Bob
Image Credit: @house_of_balayage
One of our favourite things about beach blonde hair is its versatility. It can be cool or warm, meaning you're able to tailor the shade to all skin tones. This ash blonde wavy bob shows how well cendre hues work with the trend. Recreate the look with Color Touch 9/73 + 9/16, and a generous misting of EIMI Ocean Spritz.