8 Short Curly Blonde Hairstyles
Short curly blonde hairstyles are ranking high on this summer's hair trends list. The ultra-wearable length, the bouncy shape with a glow-boosting color make these styles some of the dreamiest around. And, one of the best things about short curly blonde hair is that there's so many ways to wear it, from punky and side-swept, to full and floaty, to cropped with attitude.
Here, we reveal eight of the freshest ways to work short curly blonde hair. Keep scrolling, because your next trim inspiration is coming right up…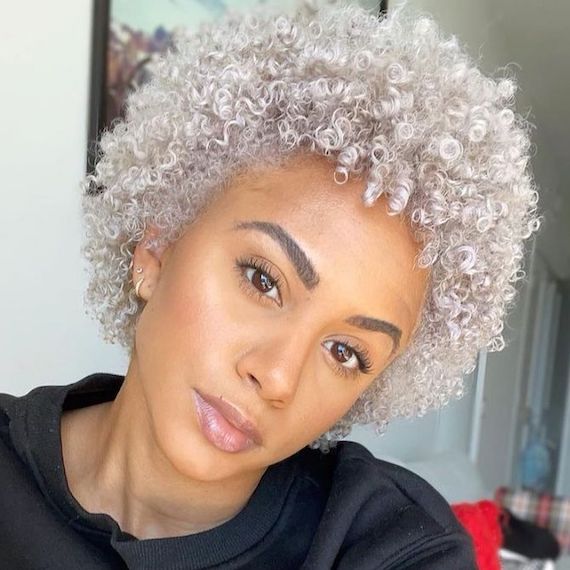 1
Platinum Blonde Short Curly Hair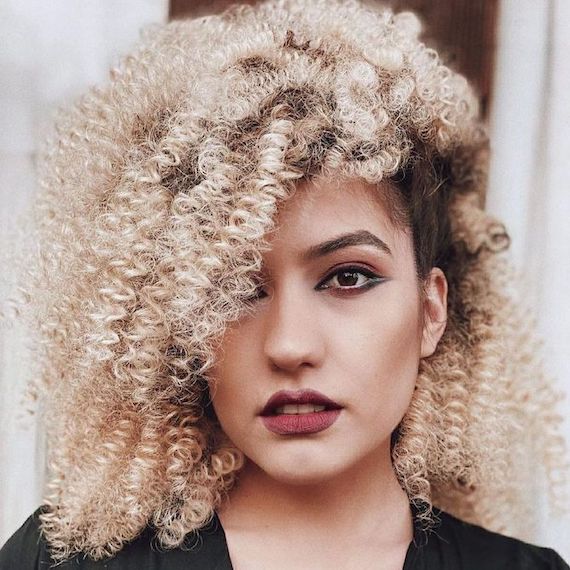 2
Side-Swept Short Curly Blonde Hair
Image Credit: @jo_ionescu
This curly blonde bob, by George Ionescu, is packed with attitude, thanks to a deep side sweep and a faux undercut that gives it a major edge. However, the style relies on zero frizz and major curl definition, which means a pomade or gel is key to perfecting the finish. Try diffusing hair with the NutriCurls Curlixir Balm until it's completely dry, braid the 'undercut' into place, then use a little more balm to target flyaways. To really boost the shape, you could even use the GHD Thin Wand to enhance each coil.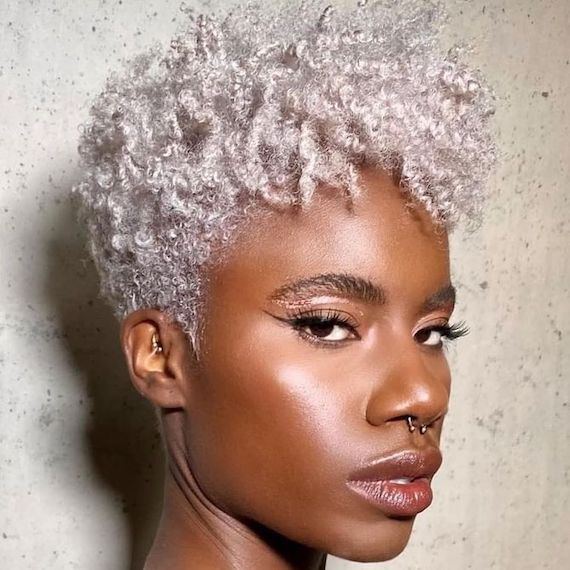 3
Short Curly Blonde Fade
Image Credit: @jhair_stylist
How incredible is this silver blonde fade? By creating a buzz cut through the lower section of hair, James Earnshaw has given the curls up top the chance to take the spotlight. A little gel – like EIMI Curl Shaper – is needed to nail this level of twisted perfection, but it's a shine spray that will really top off the look and help silvery tones glow. Try EIMI Glam Mist for lightweight glossing that lends instant radiance. It's the very last step in the routine, used to enhance a curly fade from root to tip.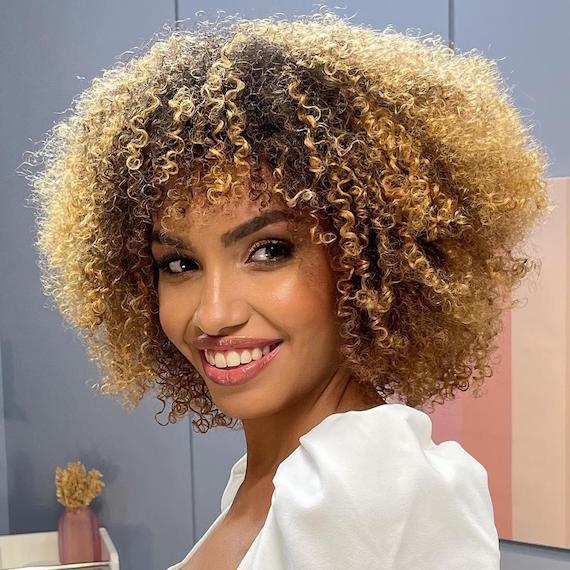 4
Short Curly Blonde Hair With a Fringe
Image Credit: @rickymoica
Curly bangs are the dream, as demoed in this bouncy, golden blonde look. They lend added shape to a curly bob, while framing the face flawlessly. If you're looking for a new way to work your curls, try this ultra-flattering trim. Definition is key to this style, so make sure you have some EIMI Boost Bounce mousse to hand to give those coils extra body. The trick is to massage the mousse into just-washed, damp hair then either diffuse it in or leave to air-dry. You can then add a little extra mousse in between hair washes to reinvigorate curls.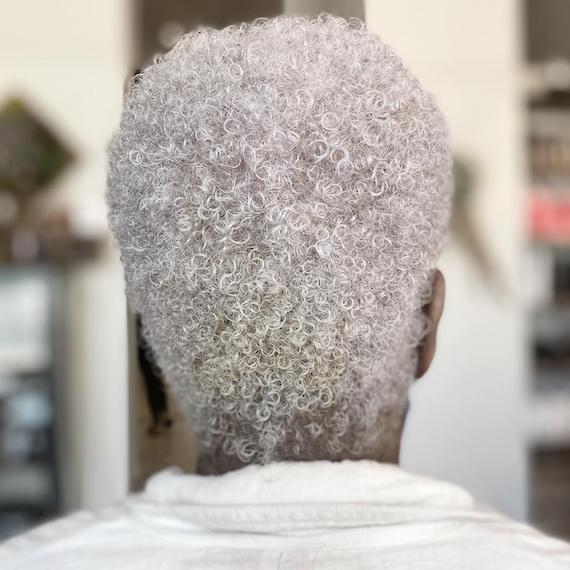 5
Short Curly Blonde Buzzcut
Image Credit: @danadidmyhair
Close-cropped curls deliver all the gamine chic we will ever need. Add in an ice blonde sheen, and this ultra-short style is guaranteed to turn heads wherever you go. If you're trying it for yourself or coiffing it up for someone else, work a little EIMI Fresh Up in there to ensure each coil appears more defined. Flawless.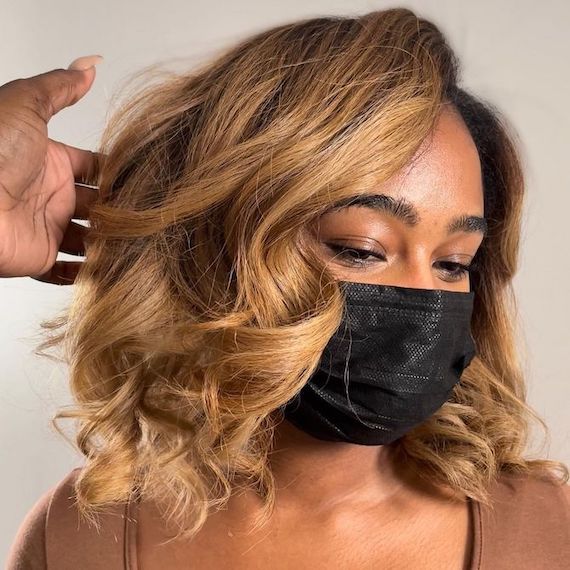 6
Loosely Curled Blonde Hair
Image Credit: @huesbygabrielle
These soft, smooth and polished curls take bronde (brown-blonde) hair from beachy to elegant. For this style, you need a prep lotion, like EIMI Velvet Amplifier, to blow-dry locks smoothly, and a heat protection spray to shield strands before you wrap them around a tong. For that second part, EIMI Thermal Image is a must-have, protecting hair from heat up to 220 degrees celsius, while dialing up shine for curls that radiate health.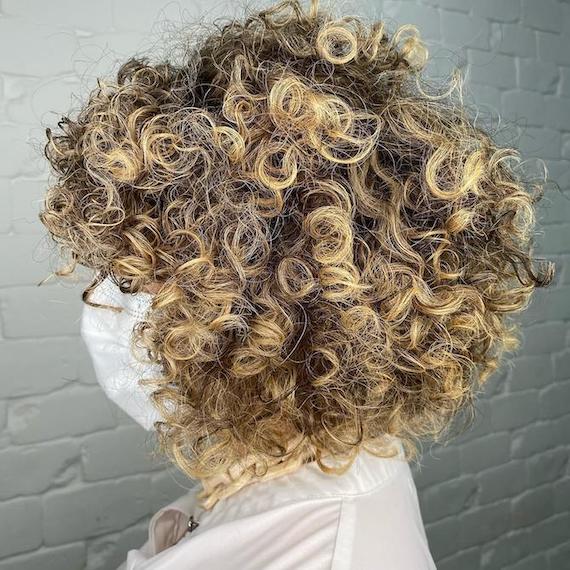 7
Big and Bouncy Blonde Curls
Image Credit: @andrefelippe
These big and bouncy loops are all about softness and movement. With a light, airy texture, they depend upon the lightest formulas to maintain their lift and weightlessness. Reach for EIMI Soft Twirl for this look, which is a feathery foam that bumps up volume, while ensuring strands feel touchably soft and hydrated. You can mist it through hair before diffusing, refine curves with a jumbo tong, then pump in a touch more foam if needed to lend a piecey effect.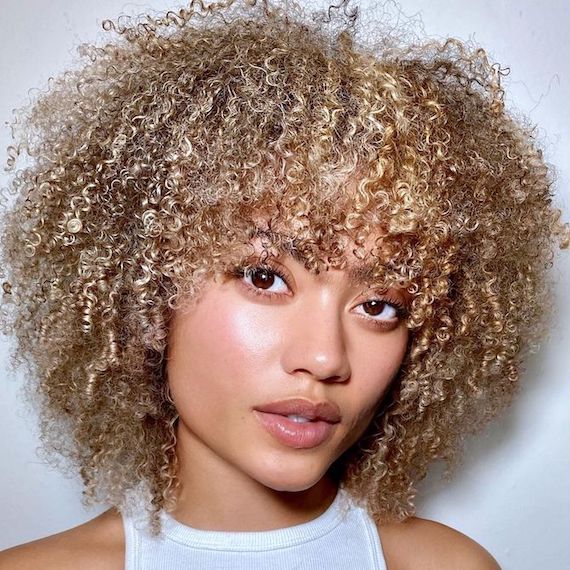 8
Wet Look Short Curly Blonde Hair
Image Credit: @michellethompsonhair
Not only is this sandy blonde hue irresistible; the wet-look finish of the curls has us totally hooked as well. This is another job for EIMI Curl Shaper; a gel that can be smoothed through hair while it's still damp, then left to dry in (or diffused for more volume) to create a glossy finish. If you're still spotting a little frizz, use fingertips to work gel into dry, styled curls. It's also great for reactivating body when you need it most.