Why Reverse Ombre Hair is the Color Switch-Up You Need to Try
There's a new color trend that's turning ombre hair on its head – literally. Reverse ombre hair switches up your dark-to-light transitions by taking them light-to-dark from root to tip. This look works best with bold hair colors; think platinum blonde to cobalt blue or golden blonde to vibrant violet. But, as you'll see in the masterpieces below, anything goes with this avant-garde trend.
So let's take a look at the reverse ombre hair formulas stacking up 'likes' on Instagram, plus tips to help your client keep those darker colors on the ends looking bolder for longer…
The Reverse Ombre Trend Explained
It's time for a quick ombre hair refresher. As you might already know, a regular ombre sees color go from a darker shade on the root to a lighter shade on the ends, in one even graduation. Unlike a balayage, the light shades aren't scattered through the hair in freehand strokes; they're applied to the full width of your client's locks to create stunning impact, a 'melting' effect and the illusion of volume.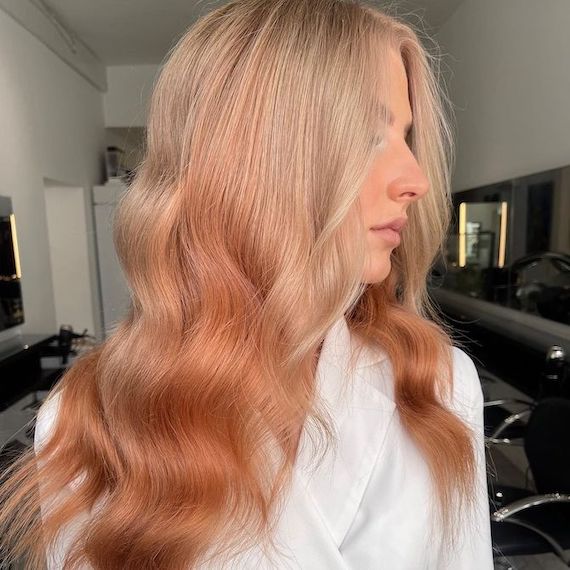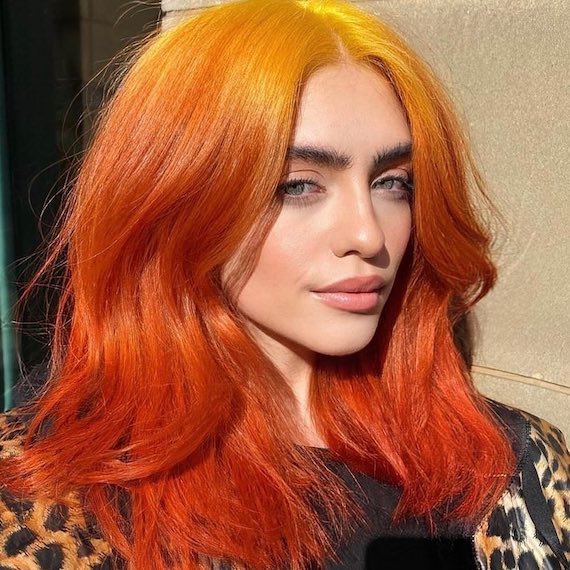 With reverse ombre styles, you still get the same beautiful color progression, but the lighter shade is swept onto the root, and a darker or bolder hue sets the ends aglow. It's rare to see this trend carried out with more natural colors, like golden blondes that melt into milk chocolate brown tones, however, color-brave clients will love how this look puts the focus on brighter colors through their mid-lengths and ends.
3 Tips for Reverse Ombre Hair Color
1. Consider Blonde Roots
The reverse ombre hair trend is all about switching things up. So instead of creating a root shadow, apply a blonde color to the roots and sweep it down to the mid-lengths of hair, where it can melt into brighter tones. Our favorite lightener for this look is bond-strengthening BlondorPlex. If you're caring for a sensitive scalp, you can also lift locks up to seven levels with Blondor Soft Blonde Cream.
Once locks have lifted to the correct level, tone the lighter roots for maximum impact, choosing anything from an icy, platinum blonde to a warm-toned golden blonde. This look is ultra-versatile. 
2. Brush On a Brighter Shade
Reverse ombre is designed to be more statement-making than traditional ombre, so lean into the drama with bolder colors on the mid-lengths and ends. As you'll see in the examples below, rainbow brights and pastel hues are the way to go – although dark hair hues in shades of chocolate brown or jet black will also turn heads. Talk to your client about the color combo that works best for them. They could even switch it up from season to season, transitioning from pumpkin spice in fall to peach blonde lengths in spring. 
3. Try a Semi-Permanent Color Mask
For clients who want to try a head-turning shade on the mid-lengths and ends but feel a little nervous, you could use a semi-permanent color-depositing conditioner, like the Color Fresh Mask. It comes in a range of hues, including pastels, bolds and naturals. Apply their color of choice to pre-lightened mid-lengths and ends for 10 minutes, then rinse thoroughly. If they love it, they could then commit to a longer-lasting demi-permanent, semi-permanent or permanent hair color next time, like Koleston Perfect, Color Touch or Color Fresh CREATE. 
5 Reverse Ombre Hair Formulas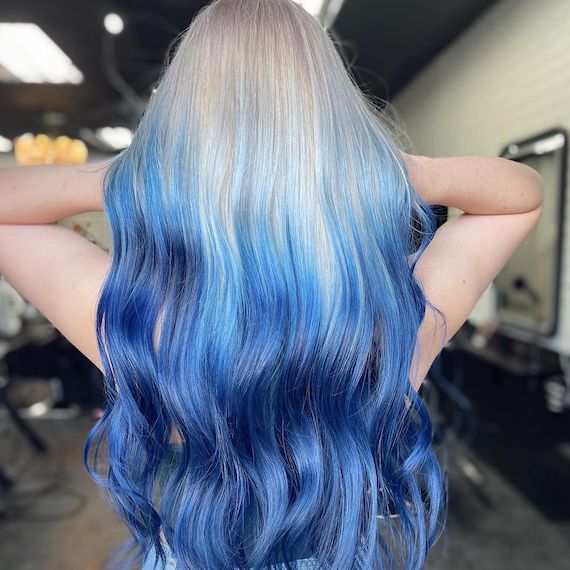 1
Cool Platinum Blonde to Bold Blue Reverse Ombre Hair
Image Credit: @alexis_hair__
Introduce a blue color to your ombre masterpiece. Cobalt is one of our favorite shades for this trend, as it packs a pigmented statement and contrasts perfectly against lighter roots. This particular platinum-to-blue hair creation is a daring choice that features Koleston Perfect Special Blonde 12/96 on the roots, and one of our go-to blue tones, 0/88, on the mid-lengths and ends. Flawless.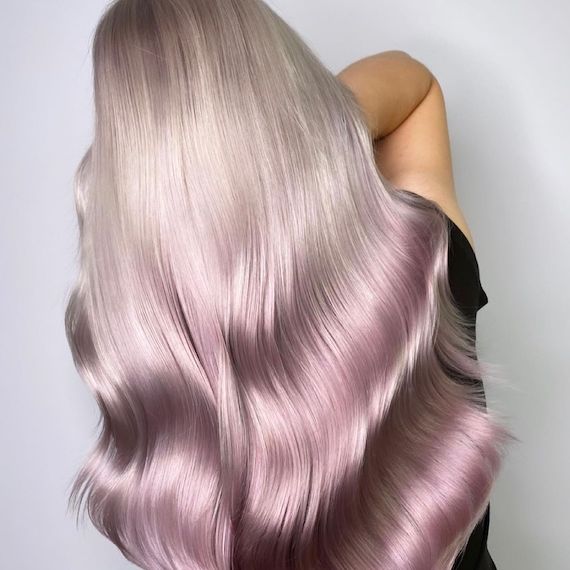 2
Ice Blonde to Pastel Pink Reverse Ombre Hair
Image Credit: @laila.wella
Bubble gum pink and silver blonde make for a fun yet classic color combination; a pastel dream team that we love pairing up for clients through the spring and summer months. If you want to work them into a reverse ombre, start by pre-lightening hair with BlondorPlex to create an all-over light canvas, then paint Illumina Color 10/69 + 10/1 from roots to mid-lengths and allow it to develop. Rinse thoroughly before applying the pink hue to mid-lengths and ends, using a Koleston Perfect mix of 10/95 + 0/66.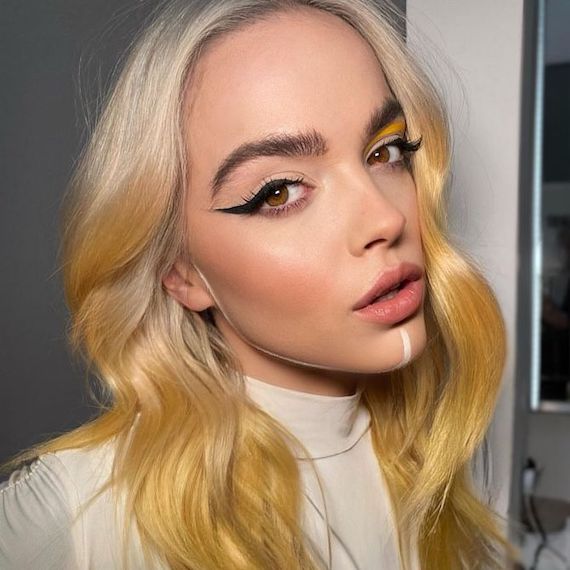 3
Light Blonde to Sunshine Yellow Reverse Ombre Hair
Image Credit: @jhair_stylist
Hello, sunshine! If your client is looking for a color transition that radiates joy, suggest this baby blonde to sunny yellow combo. It's a true head-turner. You'll need to pre-lighten locks first with BlondorPlex so the summery tones stand out. Then pre-tone the hair with Color Fresh 10/81 on the roots and mid-lengths, rinse thoroughly and dry your client's hair. Finally, sweep Koleston Perfect Special Mix one part 0/30 + one part 0/33 + equal parts Pastel 1.9% through the mid-lengths and ends. By the end, you'll have a pastel ombre that screams 'time for sundowners'.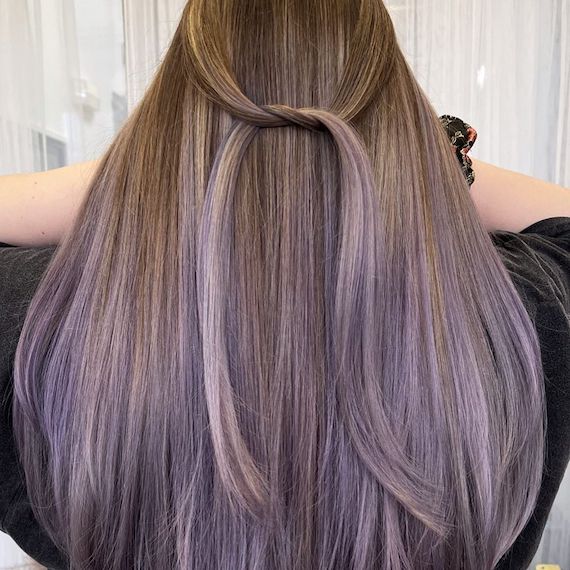 4
Dark Blonde Hair to Lived-In Lavender Reverse Ombre
Image Credit: @kristiwalshair
Take your client's root color dirty or honey blonde to work with more muted hues on the mid-lengths and ends. Case in point: this dark honey-to-lavender look by Kristi Walsh. If you want to recreate the look, some of our must-try smoky purple tones include Koleston Perfect 55/66, Opal-Essence By Illumina Color in Silver Mauve, or Shinefinity 00/66 Violet Booster mixed with 00/00 Crystal Glaze to soften.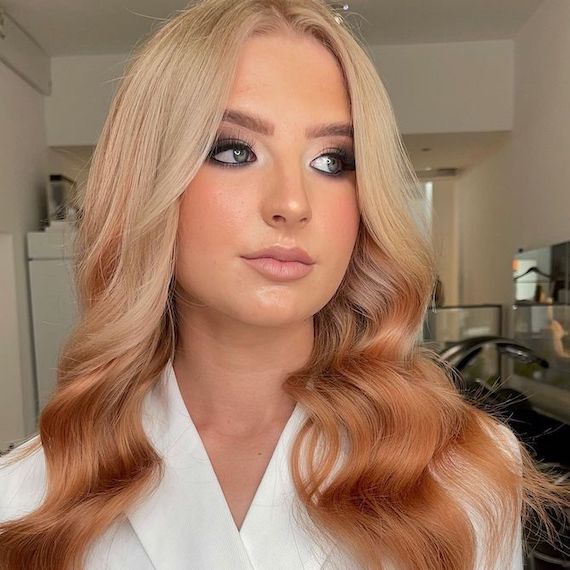 5
Light Blonde to Strawberry Gold Reverse Ombre Hair
Image Credit: @nikkiclifford_hair
This combination of strawberry gold ends and light blonde roots is an Instagram dream come true. A bit of pink can brighten up any look – especially when paired with blonde hair hues on the roots. Try recreating it with Koleston Perfect, using 12/0 for the blonde (it lifts and tones in one!), then pastelize one of the portfolio's many strawberry blonde hues with 00/00 for that statement color pop. 
How to Maintain Reverse Ombre Hair
Talk your clients through products that maintain their reverse ombre hair combo, no matter the shades. From shampoos for color-treated hair to pigment-depositing masks, these are the tips they need to know...
1. Keep Blonde Hair Brassiness at Bay
Recommend your client washes their hair with a color-safe shampoo to maintain their ombre hues. ColorMotion+ Color Protection Shampoo is ideal for nourishing locks while keeping shade-fading free radicals at bay. Then, if they've gone for blonde shades through the roots, recommend they use a purple shampoo to keep brassiness at bay. INVIGO Blonde Recharge Color Refreshing Shampoo will ensure their blonde roots stay cool and clean in between salon appointments.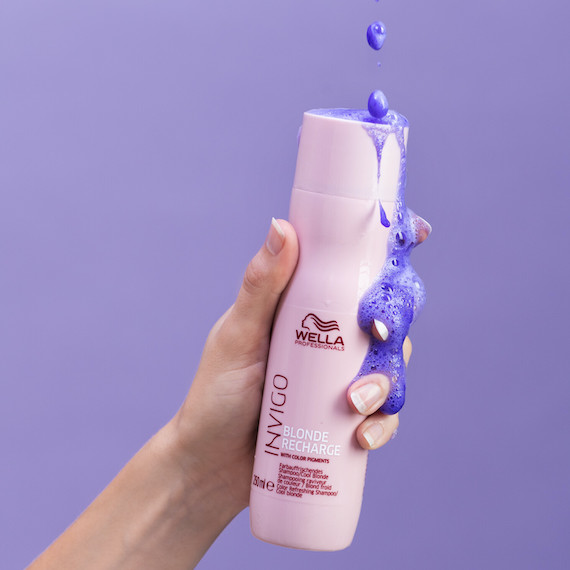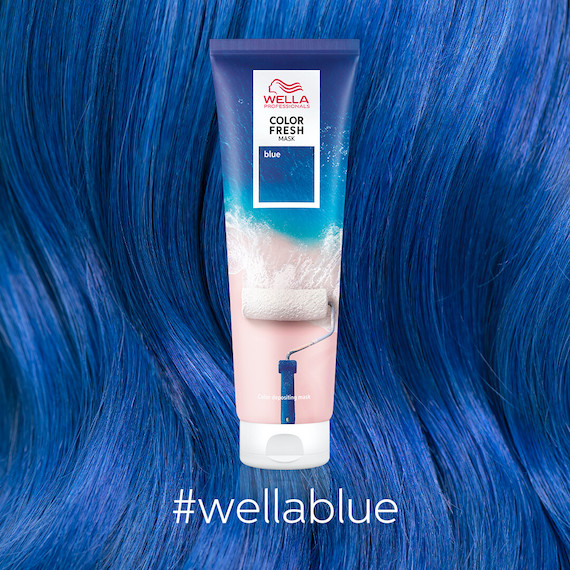 2. Top Up Bolder Tones at Home
If your client is working bright hair on the mid-lengths and ends, suggest they stock up on the Color Fresh Mask. It comes in 13 shades and refreshes their salon hue in just 10 minutes. All they have to do is pick one that matches their color – from Blue to Pink to Copper Glow – and apply it evenly through clean, damp hair before allowing it to develop. Once the mask has been thoroughly rinsed out, their lengths will look brighter and fresher. 
3. Enhance Reverse Ombre Hair with Shine
Show your clients the power of shine. Before they leave the salon, finish their look with a misting of EIMI Glam Mist which – bonus – defies humidity-induced frizz. To apply, all you have to do is spray it directly onto the surface of the hair or, if their locks are fine or oil-prone, onto the palms of hands so you can lightly smooth it through strands. This is one glossing spray clients will want to take home with them, so make sure you have plenty stocked on your salon shelves. 
Now you have all the inspiration you need for one of this season's biggest hair trends, you can start creating those reverse ombre looks. Just don't forget to share them with us on Instagram by tagging @WellaHairUSA.