7 Ways to Create Brown Ombre Hair
Sun-kissed hair doesn't have to mean blonde. If you're working with a brunette client, brown ombre hair is a go-to (or should we say 'glow-to'?) for adding beachy brightness to mid-lengths and ends. The darker roots, the radiant lengths; this trend is the epitome of 'Gram-worthy locks. Here, we're showing you how to get brown ombre hair locked down…
What is Brown Ombre Hair?
The real question is, what is ombre hair? It's a hair lightening technique that sees locks segue from darker at the roots to lighter at the ends. The goal is to ensure an even graduation so the shift in tone appears soft and seamless. To do this, you should aim to work with shades no more than three levels apart on the lightening scale.
How to Create Brown Ombre Hair
1. Shade the Roots
If you're working with a natural brunette base, first you need to decide what to do with the root area. Does your client want to keep their existing shade, or would they like you to add a root shadow? When the latter is true, consider what color product is best suited to their needs. We recommend Color Touch for a demi-permanent tint, Color Fresh for a semi-permanent hue, and Koleston Perfect for permanent color that can also achieve gray coverage.
2. Lighten Mid-Lengths and Ends
Next, lighten the mid-lengths and ends of hair, so those ombre tones stand out. You're aiming for a lift that's no more than three levels lighter than the roots. Try Blondor Freelights for this step, or look to Blondorplex for a lightener that strengthens locks. You can apply this step while the root shadow is on, but ensure the two formulas don't touch.
3. Tone to the Perfect Shade
Once you've rinsed out the root shadow and hair lightener, tone the hair to your client's dream brunette shade. Again, this should be lighter than the root shadow, in line with the level of lift you've achieved. You can mix up one or two formulas here. If you use two, apply the medium hue through the middle of the hair, then stroke the lightest hue through the ends to get that gentle graduation.
Brown Ombre Hair Ideas and Formulas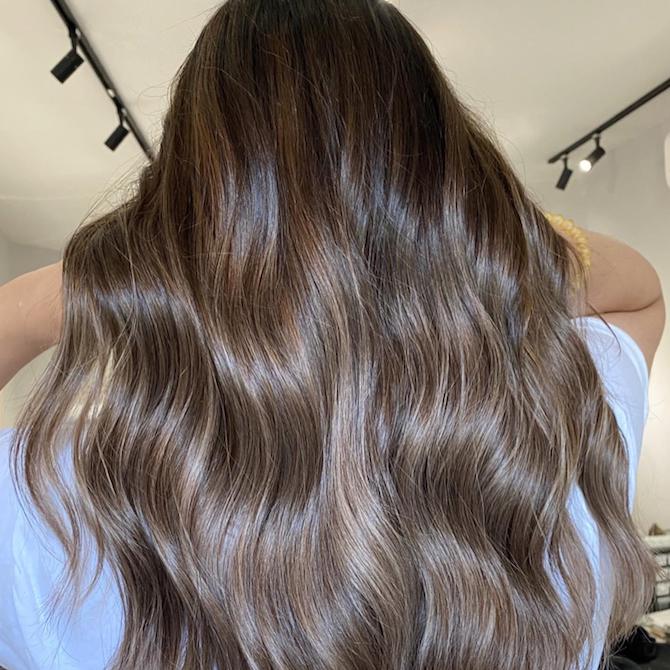 1
1. Dark Brown Ombre Hair
Image Credit: @ans0403
Have you heard of sombre hair? The clue is in the name with this technique; it's a subtle ombre. The idea is that the ends are very gently lifted for a blink-and-you'll-miss-it graduation. Perfect for clients who are taking their very first dip in the ombre pool, it allows them to try the trend with low commitment. We love this dark brown take.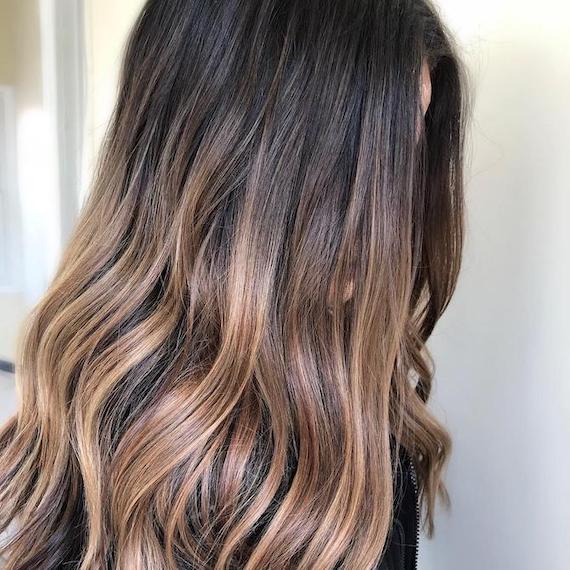 2
2. Dark to Light Brown Ombre Hair
Image Credit: @thatpaintedbabe
On the other end of the spectrum from sombre is this brown-to-blonde transition. The graduation is bolder, resulting in a striking look that feels fresh and modern. Christy Bougades Doyle used Blondor Multi-Lightening Powder + 6% to pre-lighten the lengths, while creating a root shadow with Koleston Perfect 5/1 + 7/1. Then, after rinsing the hair lightener and root color, Color Touch 7/89 + 10/6 was applied to the mid-lengths and ends for a touch of caramel.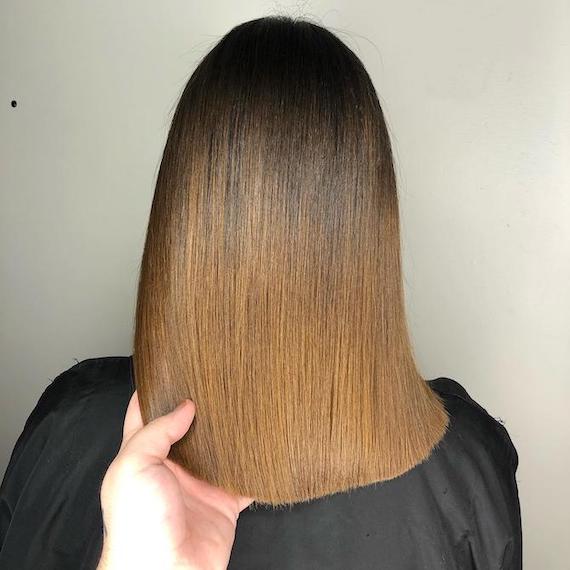 3
3. Golden Brown Ombre Hair
Image Credit: @black_diamond_by_jr
Silky-straight hair is the perfect canvas for this golden brown ombre creation. The root was kept natural, while ends were set aglow using Koleston Perfect 12/61 + 9%. This is one of the Special Blonde shades, meaning it lightens and tones hair in a single step. The result? A beautifully balanced lift, and a gilded effect from the mid-lengths to the tips.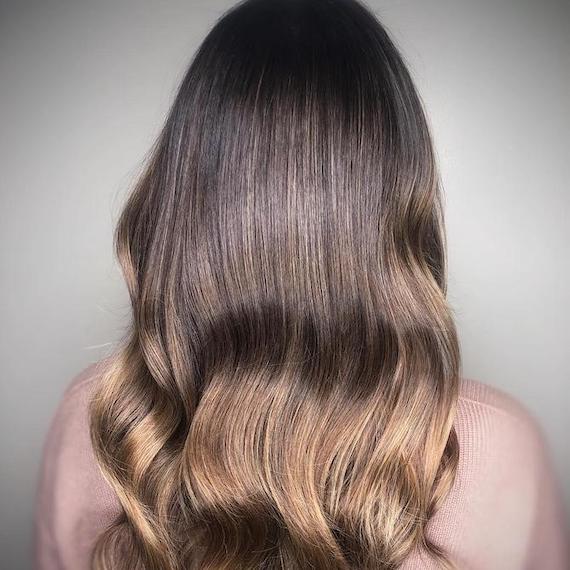 4
4. Ash Brown Ombre Hair
Image Credit: @hairbysuleyman
For fans of ash brown hair, this ombre is a cool-toned dream come true. Dark through the roots and lighter at the ends, it features Blondor-ed mid-lengths and a stroke of Color Touch. The crown has been colored with Koleston Perfect 6/1, while the lengths have been brightened using Color Touch 8/71 + 9/0 + 1.9%. A few drops of Oil Reflections Luminous Smoothing Oil completes the look, creating healthy shine.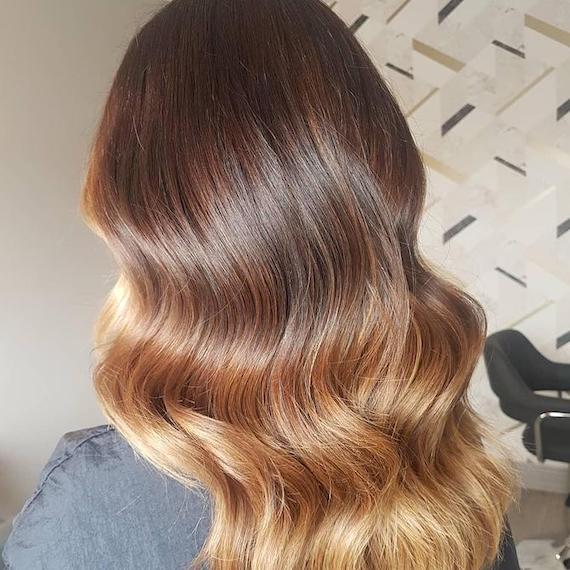 5
5. Bronde Ombre Hair
Image Credit: @hair_by_leo
As if ombre hair wasn't irresistible enough; Leo has given it a beautiful bronde twist. It's the perfect balance between blonde and brown, created using Blondor and Koleston Perfect. To recreate the look, try coloring roots with 7/73, mid-lengths with 8/74 and ends with 9/73. Finish dried and styled locks with EIMI Glam Mist to dial up the shine.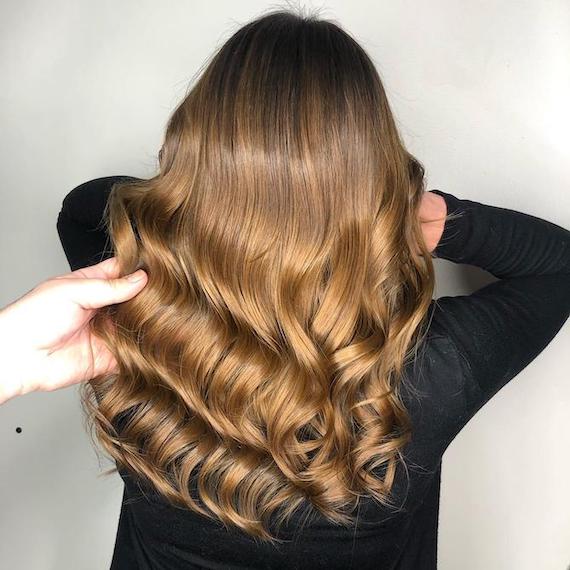 6
6. Caramel Brown Ombre Hair
Image Credit: @black_diamond_by_jr
We love how this rich mane melts from chocolate brown roots into caramel tips, with the help of another of our Koleston Perfect Special Blonde shades. Keeping the roots natural, JR applied 12/07 + 9% through mid-lengths and ends. No separate lightener was needed – one formula created one flawless tone.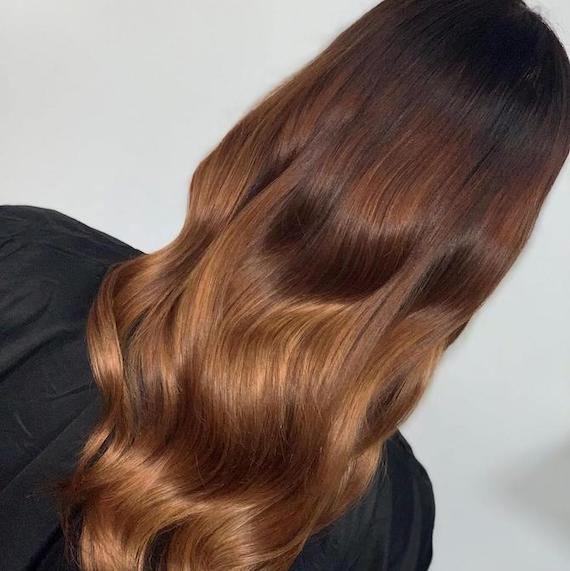 7
7. Red Brown Ombre Hair
Image Credit: @cloeeenicole3
Red brown hair color meets ombre painting in this rich and radiant look. With a hint of auburn hair color in the roots, you get a dark-to-light melt that's ultra eye-catching. To create the shade, Chloe Wilson applied Color Touch 5/0 + 5/75 to the crown area, then swept 7/75 from the mid-lengths downwards. Loose waves give the color added light-reflective shine.
How to Maintain Brown Ombre Hair
The last thing you want is for brown ombre creations to fade or turn brassy, which is why it's important to fill clients in on the best tips for aftercare. First, shampoo: a color-kind formula is a must for maintaining brunette hues, and ColorMotion+ Color Protection Shampoo is a must for every hair color. Suggest clients combine it with the Moisturizing Color Reflection Conditioner, which lends a hydration boost and enhances shine.