5 Chocolate Cherry Hair Color Ideas & Formulas
Have you tried chocolate cherry hair color yet? It might be the most delicious-sounding shade around, but nothing could sound as tempting as this dark reddish brown trend actually looks. Melting rich, radiant brunettes into violet-tinted crimsons, it's giving us a cherry crush like never before. Get ready, because it's going to go big for fall and winter.
That means now is a great time to start brushing up on the chocolate cherry hair trend – and below we're revealing five formulas to help you perfect your client's color from root to tip...
Who Suits the Chocolate Cherry Hair Color Trend?
Chocolate cherry is one of the most versatile shades of red around, as you can take it brighter, deeper, warmer or cooler to work with your client's skin tone. For example, if their complexion has warm undertones and they want a flattering contrast, you can choose reds with a touch of violet for a cherry mahogany hair color. Or, if their skin has cool undertones that would look extra radiant with a dose of warmth, you can level up the rich brown hues in their formula, adding just a touch of a neutral red.
Creating the perfect shade is all in how you tailor your client's hair color service, not to mention the coloring technique you choose. From all-over tints to berry-toned babylights, the artistry is in your hands.
5 Chocolate Cherry Hair Formulas to Try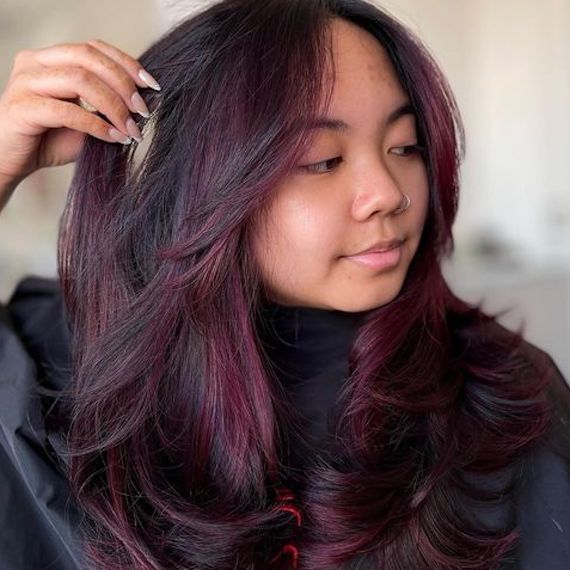 1
Black Cherry Hair Color
Image Credit: @jadahairandbalayage
One way to create chocolate cherry hair is to add red highlights to a dark brown base. You could even go for a balayage technique, sweeping those lustrous ribbons through the mid-lengths and ends of a natural brunette base. That's what Jada has done here, using our most pigmented, demi-permanent hair color, Color Touch, in 4/0 + 5/4 as a root shadow, followed by 5/66 + 6/45 + 0/56 on pre-lightened mid-lengths and ends. Flawless. If you want to up the color payoff of the cherry pieces, achieve brighter blonde highlights as a base first by wrapping strands of hair in foils. This technique is called 'foilyage'.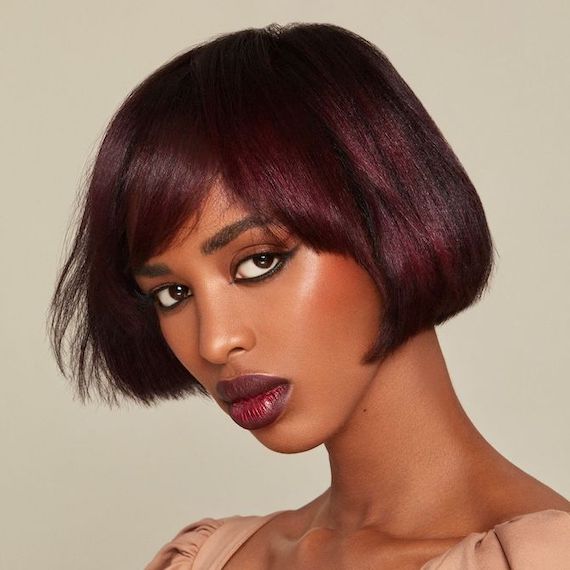 2
Dark Chocolate Cherry Color
Now this is a chic bob. Teaming a jawline-skimming cut with black cherry hair color, it's one of the most eye-catching short hairstyles we've seen this season. Wella Ambassador James Earnshaw created the look on dark brown hair, using Koleston Perfect permanent hair color, with two alternating shades applied to bump up depth and dimension. So what are the formulas? You're seeing ribbons of 44/44 + 33/66 + 4%, alongside sweeps of 55/46 + 6% for some of the most vibrant cherry hues around. There's also plenty of shine in there, which you can recreate with a veil of EIMI Glam Mist over freshly styled strands.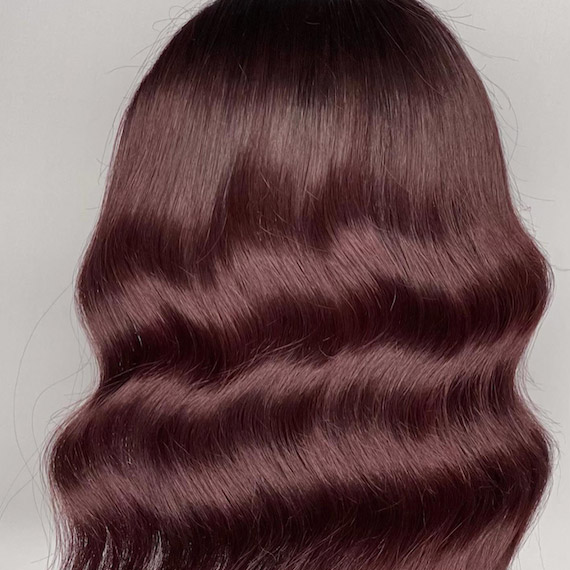 3
Deep Cherry Brown Hair Color
Image Credit: @lindsey.wella
Starting with a brunette base color on a level five and seven, this mane was transformed with our dream demi-permanent Color Touch. It's the perfect product when vibrancy and shine are top of your client's goals, as it delivers on both counts while offering you a range of red brown colors to work with. Apply 5/75 + 5/66 + 0/45 + 1.9% as an all-over color to create the look, and tresses will shimmer in a decadent combination of sweet cherry and plum tones.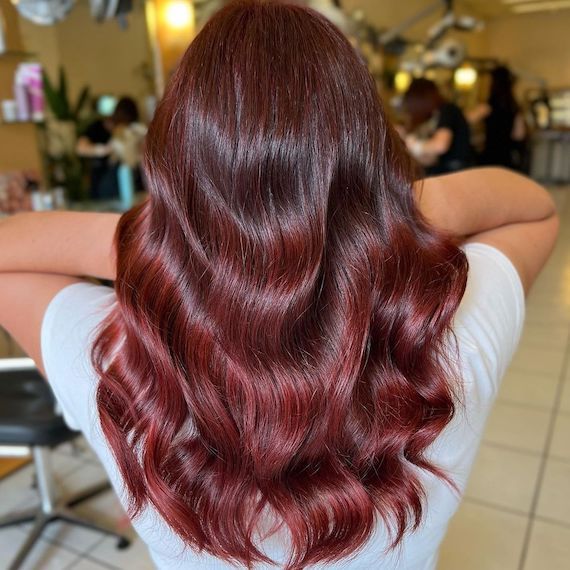 4
Warm Chocolate Cherry Color in an Ombre Style
Image Credit: @meganehairstylist
When hair looks this lustrous, you just know it's got to be a Koleston Perfect creation. It's our go-to permanent product for vibrant color with reliable results from roots to ends. If you want to recreate the look, try applying a mahogany blend of 33/55 through the root section, followed by a combo of 44/44 + 66/55 on the mid-lengths and ends. Even though there's a little violet in that root formula, the richness of the chocolate brown delivers warmth to this combination of cherry tones, resulting in a red ombre like no other.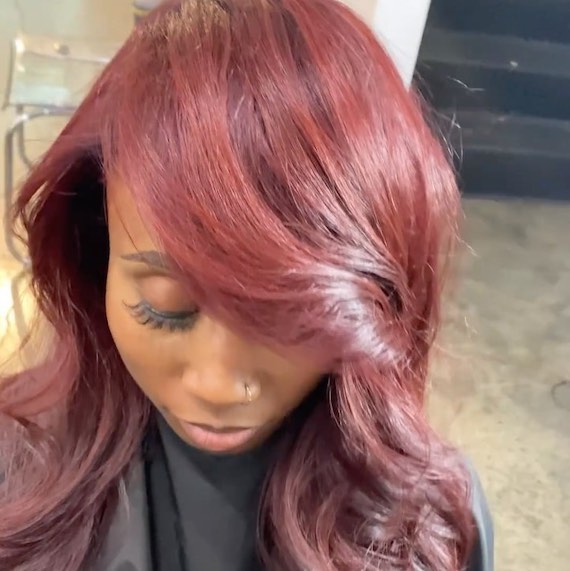 5
Chocolate Cherry Mahogany Hair
Image Credit: @dereqc
There's an extra dose of burgundy red in this shade of chocolate cherry hair color – perfect for anyone with a warm skin tone who loves the fresh contrast of cooler-toned locks. Try recreating the look with Koleston Perfect in the shades 44/65 + 66/46 + 55/66, applied from root to tip through dark hair to truly pack a statement. Bonus: Koleston Perfect features our unique Metal Purifier in each tube of color, which prevents any metals within the hair (usually copper) from causing damage during the coloring process. So, not only are you achieving your client's dream shade, but you're helping them maintain healthy hair too. Plus, it gives you up to 100% gray coverage for those clients who want to disguise silver strays.
How to Maintain Chocolate Cherry Hair Color
Reds are notoriously tricky to maintain as they can be prone to fading, so make sure your client leaves the salon with all the tips they need to get more mileage out of their chocolaty mane. Here's how they can keep their cherry chocolate colored hair healthy from one appointment to the next…
1. Recommend a Shampoo For Color-Treated Hair
How your client washes their hair can have a big impact on their shade. If they're not using the right shampoo, they might find those chocolate cherry tones fade much quicker. So, suggest they add color-safe shampoo formulas to their hair care routine, like INVIGO Brilliance Color Protection Shampoo. It deeply cleanses without dialing down the color intensity and levels up shine for the glossiest chocolate mane. Or, if their hair is damaged, introduce them to the Ultimate Repair Shampoo, which is packed with skincare-inspired ingredients to transform even dry, brittle hair back to its hydrated best.
2. Suggest This Deep Conditioner Combo
When hair is healthy and moisturized, it better reflects the light, giving cherry chocolate hair colors an extra dose of shine from root to tip. So, show your clients how to nourish locks with this expert-approved combination of conditioners: Ultimate Repair Conditioner and Miracle Hair Rescue. The Conditioner is applied to clean, damp hair and left on for between 30 seconds and three minutes. The coarser your hair type, the longer you can absorb its nourishing goodness. Its rich, creamy texture pampers even dry strands back to their best, yet it leaves locks feeling ultra clean – never weighed down – after it's been rinsed.
Follow with a mist of Miracle Hair Rescue to repair damaged hair in just 90 seconds. Together with the Shampoo and Conditioner, this revolutionary treatment delivers 12x smoother hair* with 99% less breakage* and legendary shine that lasts up to four washes**.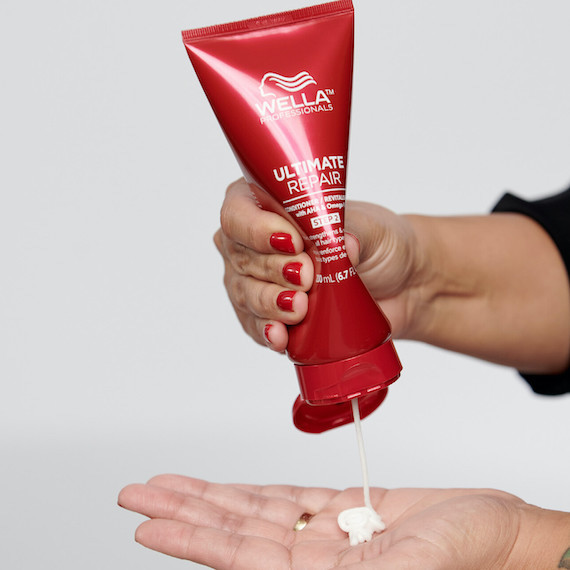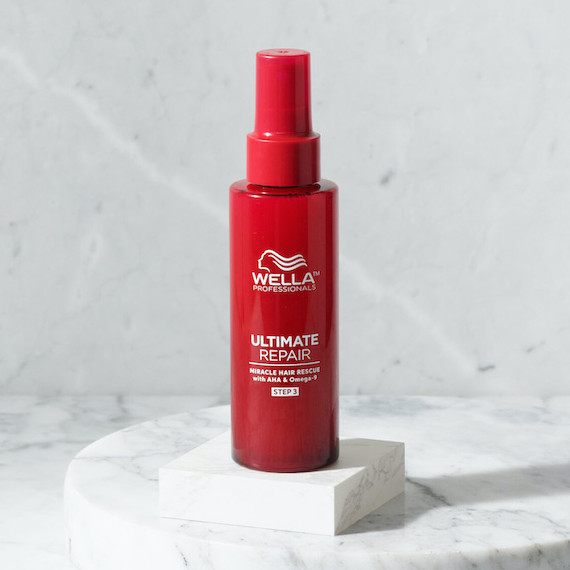 3. Shield Hair From Heat, Sun and Chlorine
Heat, UV rays and chlorine can accelerate brassy tones through chocolate cherry hair strands, so suggest your client adds this protective duo to their at home kit:
EIMI Thermal Image: A weightless heat protectant spray that shields locks while blow-drying and straightening. Black cherry tones will stay brighter for longer with this shine-enhancing mist.
EIMI Glam Mist: Not only does this finishing spray give strands a glow, but it also protects hair from damage caused by UV rays. Mist over dried and styled locks for an invisible barrier.
Then, if they go swimming, remind them to drench hair with clean water before they get in the pool. Hair is like a sponge; it can only soak up so much liquid before it stops absorbing, which means the clean water will reduce the amount of chlorine it takes in.
Now you've got all the inspiration you need to craft your own chocolate cherry hair creations. Don't forget to share them with us on Instagram by tagging us @WellaHairUSA. We can't wait to see them!
*Instrumental test versus non-conditioning shampoo
**When using Ultimate Repair Steps 1, 2 & 3