How to Create the Spiciest Cinnamon Blonde Hair
We've all heard about pumpkin spice hair – but it's not the only fall-ready rust hue around. If you're looking for a lighter take, cinnamon blonde hair is your go-to spiced shade for the season. Perfect for clients who want a little extra copper in a strawberry blonde mane, it's warm, it's rich, and it's oh-so addictive. Here's everything you need to know about cinnamon blonde…
What is Cinnamon Blonde Hair?
Think of it like a strawberry blonde, but with an extra dose of warmth. Cinnamon blonde blends honey hues with touches of red for a "sugar 'n' spice" (and all things nice) finish. You can paint it with a range of techniques, whether your client wants a blonde balayage and a pinch of cinnamon through the roots, a red-to-blonde ombre, or an all-over fusion of gilded blonde and copper tones.
How to Create Cinnamon Blonde Hair
While cinnamon blonde hair is new on the trend scene, it's surprisingly easy to recreate. In the Wella colour portfolio, you'll find a host of radiant red-tinted, honey-hued shades to work with. You may need to lift your client's hair in order for their cinnamon tone to pop, so make sure you have a lightener to hand that works with your chosen technique. If you're applying highlights or an all-over shade, bond-strengthening BlondorPlex is the ultimate go-to. If you're painting freehand (for balayage, foilyage or teasy lights), Blondor Freelights will enhance your masterpiece and stay right where you want it. 
Then, reach for a cinnamon blonde toner to complete your client's look. 
The Best Wella shades to Create a Cinnamon Blonde Hair Colour
Here are just some of the shades we rate for this look, ready to be mixed to perfection:
Color Touch Relights /74: A rich auburn that you can tone down with 0/00 Clear to create a soft cinnamon blonde. Adjust the red-to-clear ratio to suit your client's needs. 
Koleston Perfect 8/43 and 8/34: Two golden coppers that, when mixed with light or dark blonde shades, offer a hint of spice for a fall-ready feel. 
Illumina Color 8/37 and 7/43: A duo of cinnamons – one light (8/37) and one deeper (7/43) – which can both be mixed with blondes and light browns to achieve your client's desired finish. 
Shinefinity 08/34 and 07/34: Zero damage, zero lift colour glazes with a hint of cinnamon spice. They give your client beautiful shine and translucent colour that respects their existing tone. 
5 Cinnamon Blonde Hair Formulas
Looking for some cinnamon blonde inspiration? Take a look at these formulas to guide your own creations…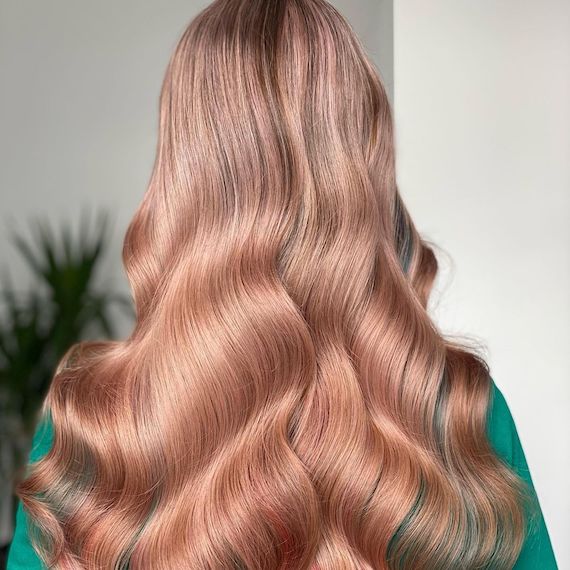 1
Cinnamon Blonde Highlights
Image Credit: @jo_ionescu
How dreamy are these cinnamon blonde highlights? Crafted with BlondorPlex + 6%, they're tightly packed for a light and luminous finish from roots to ends. For the toner, Color Touch 9/73 + 9/75 + 0/65 + 1.9% was applied, while 9/73 + 0/56 + 1.9% was painted through sections of the mid-lengths and ends for a spiced accent.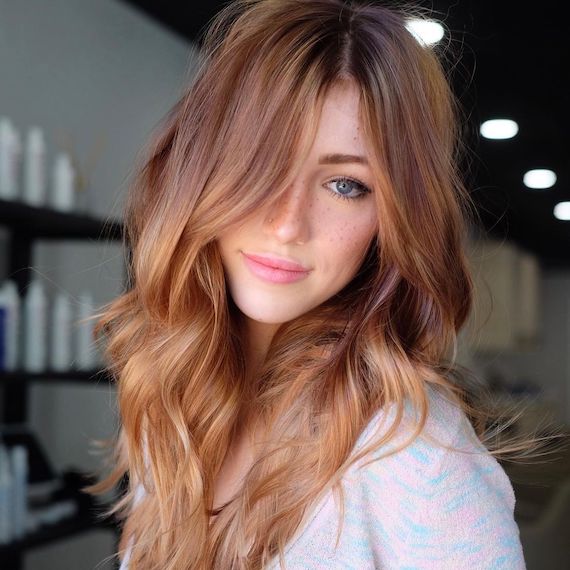 2
Dark Cinnamon Blonde Hair
Image Credit: @bethanyschair
Can you believe the starting point for this look was a dark auburn shade? It proved the perfect base for a dark cinnamon blonde, as some of the underlying warmth is still visible in the finished masterpiece. Try recreating it on a client with red hair by using BlondorPlex to lift, before applying Koleston Perfect 7/1 + 7/7 + 1.9% to the roots, and 9/03 + 1.9% to the mid-lengths and ends.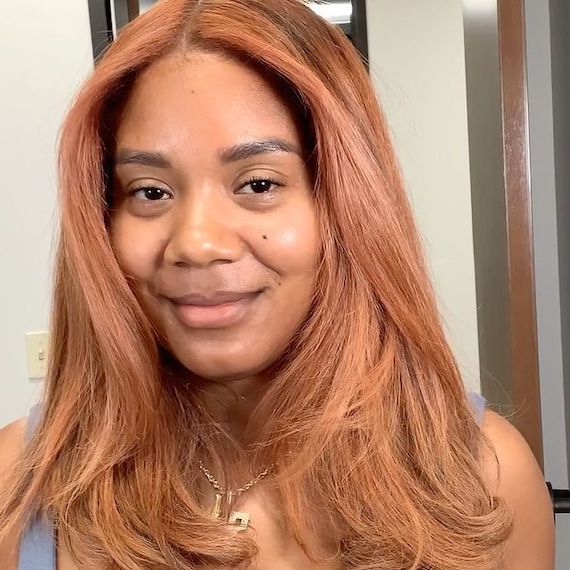 3
Peachy Cinnamon Blonde Hair
Image Credit: @huesbygabrielle
Peach blonde with a hint of cinnamon is the vibe in this lustrous look, which feels warm, rich, ultra-flattering and playful all at once. To recreate the look, start by applying Color Touch 10/34 + 8/41 in equal parts from root to tip after lightening, then finish with Color Touch Relights /74 + /00 for an added shot of red brown radiance.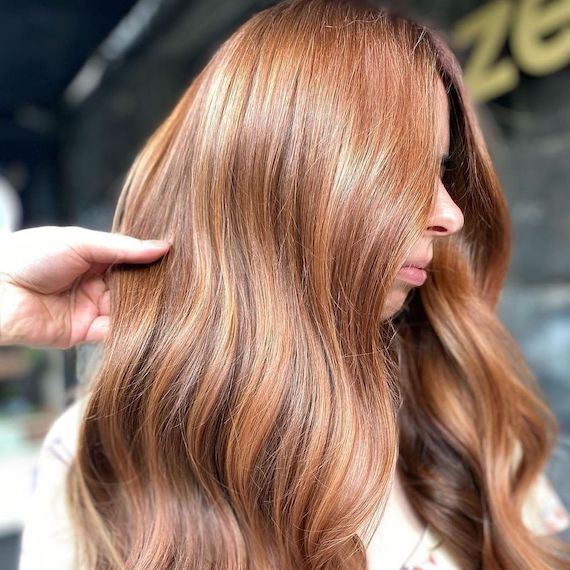 4
Honey Cinnamon Blonde Hair
Image Credit: @peter_petkar
Catch the light just right, and you'll spy a hint of honey blonde in this cinnamon mane. It's subtle yet sweet, lending brightness to the spiced red hue. If you're looking to create it, try applying Koleston Perfect 77/0 + 7/34 to the roots, then for the mid-lengths and ends (which have been lifted with Blondor Freelights), mix up 9/04 + 8/43 + 0/33 as a gloss to finish the look.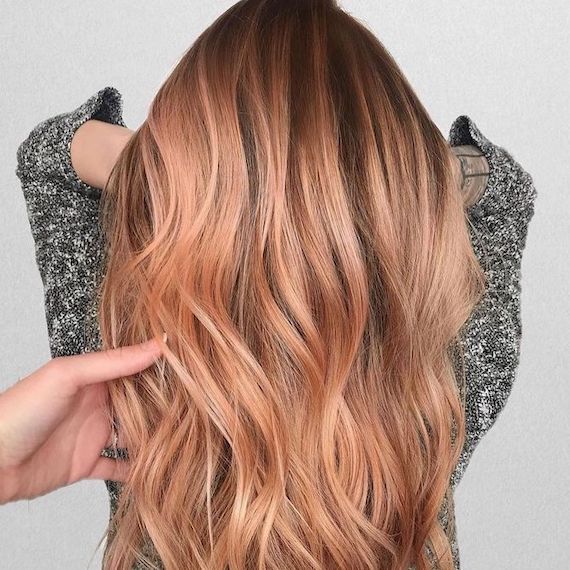 5
Cinnamon Blonde Balayage
Image Credit: @hairbyalimoat
How dreamy is this balayage?! Swept through a dark blonde base, Illumina Color 7/35 + 7/43 lends a candlelit, red-tinted glow through the mid-lengths and ends of hair. Chunky highlights and piecey slices give the colour a volume-boosting, dimensional finish that we can't get enough of. Think of this as a fall-perfect update on golden blonde hair.  
How to Maintain Cinnamon Blonde Hair
1. Boost Colour with a Tinted Conditioner
Depending on the depth of your client's cinnamon blonde mane, they can top up the tone at home with the pigmented Color Fresh Mask or INVIGO Color Recharge Red Conditioner. Recommend they choose the mask in Golden Gloss for blonder tones and Color Recharge for redder tones. Then, suggest they apply through just-washed, damp hair, distribute with a wide-toothed comb, and leave on for the recommended time (10 minutes for the Color Fresh Mask and 3-5 minutes for Color Recharge). This will give them the perfect pigmented pick-me-up in between salon visits.  
2. Enhance Shine with a Glossy Hair Oil
Your client's cinnamon blonde hair colour deserves to glisten and glow, so suggest they add a light yet luminous hair oil to their care and styling routine. Oil Reflections Luminous Smoothing Oil is a lustrous pick for dry, damaged hair, while EIMI Oil Spritz offers weightless radiance for fine or thin hair. They can apply their favourite oil to damp hair before blow-drying, then add a little extra to dried, styled locks for extra softness and shine. 
3. Protect Hair From Heat Damage
Cinnamon blonde tones and heat damaged hair are not an ideal match (to say the least), so make sure your client knows how important it is to protect their strands. Suggest they work EIMI Perfect Me into clean, towel-dried hair before drying for moisture and a heat shield in one, then mist EIMI Thermal Image heat protection spray through dried locks every time they use straighteners or tongs. 
By following these tips, your client's cinnamon blonde hair will stay sweet from one appointment to the next. Just make sure you're sharing your spiced creations with us on Instagram by tagging @WellaHairUKI. We can't wait to see them.