We're Falling for Pumpkin Spice Hair Colour
Fall for autumn's hottest trend: punchy pumpkin spice hair color. Wella Professionals tells you how to find the perfect shade with these expert tips… 
The pumpkin spice trend has transitioned from lattes to locks, with brunettes and blondes embracing golden red hair colors, flecked with flattering hints of chestnut and copper. It's easy to fall for these warm, winter-ready shades, but how do you reach the most flattering finish? Keep reading for four tips that will help you pick the perfect level of spice…
1. Pick a Pumpkin Tone
Pumpkin spice encompasses all manner of shades, from chestnut reds to sophisticated warm coppers, which leaves you with plenty of options when matching a color to a specific skin tone. Slightly tweak the red and copper tones for a tailor-made shade that enhances the skin tone, veering more vibrant if skin is fair, and opting for warm golden hues on dark and medium skin. Expert tip- add a hue of Mahogany to give a twist and personal touch.
2. Enhance the Hair Hue
As well as skin tone, it's important that the pumpkin spice tones work well with the base hair color. You want the final look to be multi-tonal and blended seamlessly. Balance blonde locks with rose copper effects, light-medium brown or red hair with golden copper hues, and dark locks with an auburn touch that shimmers under the light.
3. Embrace an Ombre Finish
This isn't a low-key hair transformation, but opting for an ombre finish can make it look more natural. Simply keep roots darker, and add lighter copper or orange tones through the mid-lengths that beautifully melt together. Twisting in two or three shades will achieve the multi-tonal effect you crave, and for subtler graduation, aim to go no more than two shades lighter than the base color.
4. Care for the Color
Keep coppers vibrant and oranges bright with the proper color aftercare. Excessive straightening and use of heated tools should be avoided, as it's prone to making hair color fade. When washing, swathe the mid-lengths in plenty of Wella Professionals Color Recharge Red Conditioner, which deposits a small amount of pigment that maintains that punchy pumpkin spice finish.
Find more hair inspiration in our Wella Hair Family Gallery, and follow @WellaHair on Instagram for the hottest winter hair looks. Make sure to tag us in your photos with #WellaHair #StylistsDoItBetter to show off your latest styles and be featured on our social channels.
SHOPWELLA STORE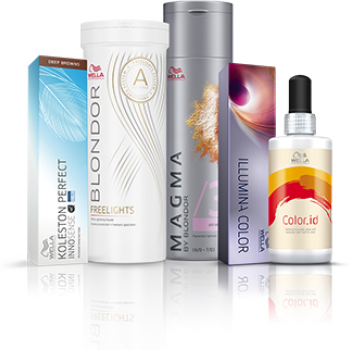 SHOP NOW
Some products may be only available to professionals.