How to Create Brown to Blonde Balayage
What happens when you combine brunette balayage with blonde balayage in one masterpiece? A lust-have brown to blonde creation that looks fresh from one season to the next. Versatile, eye-catching and glossy; this freehand style takes bronde locks to a whole new level, whether your client craves cool, frosted tones or glittering, golden hues.
Here, we reveal three need-to-know tips for creating a brown to blonde balayage. Plus, discover eight ideas and formulas to inspire your own salon creations...
3 Must-Know Tips for a Brown to Blonde Balayage
1. Use a Freehand Lightener
While traditional hair lighteners can be used for a brown to blonde balayage, a freehand lightener is best suited to a painterly technique. Try Blondor Freelights, which features an adhesive mass to ensure it stays in place. This prevents the lightener from transferring to other strands, so you get more precise highlights.
2. Consider a High-Lift Shade
High-lift shades can also be used to lift the mid-lengths through brunette hair. Consider Koleston Perfect's Special Blondes palette; a collection of colours that lift and tone in one. Make sure you mix your client's chosen hue with Welloxon Perfect 12% for four to five levels of lift or 9% for three levels.
3. Aim for the Same Tone
When segueing from brown to blonde, make sure you use shades in the same tonal direction. For example, if the roots are ash brown, go for ash blonde colour on the mid-lengths and ends. Essentially, you're ensuring that the colour is either cool-toned or warm-toned from root to tip, so your blend of balayage hues doesn't clash when you reach the final look.
8 Brown to Blonde Balayage Ideas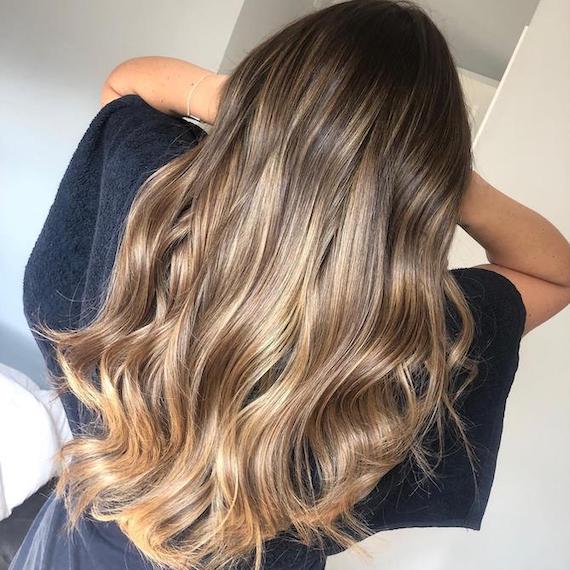 1
1. Ash Brown to Blonde Balayage
Image Credit: @hairbyparisleanne
This mushroom balayage features ash brown roots and ash blonde mid-lengths; two of our favourite hair colours melted into one cool-toned mane. To create the look, a foilyage (balayage with foils) technique was carried out, using Blondor + 6% for lighter, brighter ribbons. Then, Color Touch 9/97 + 1.9% was applied over the top, giving Leanne's client a bold contrast between dark roots and light blonde ends.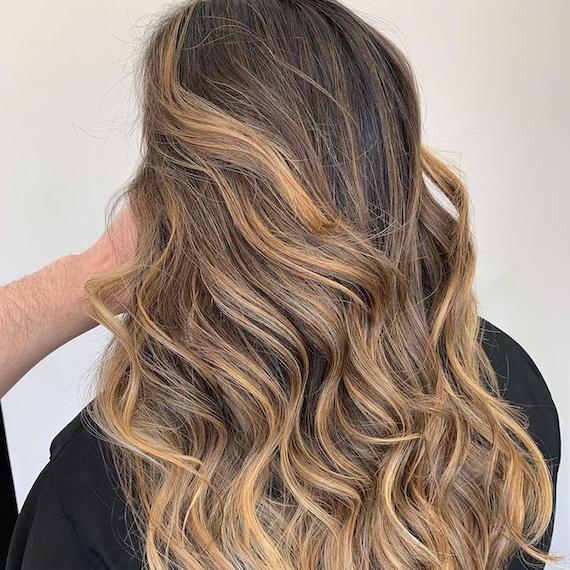 2
2. True Bronde Balayage
Image Credit: @fredyhair
When the term 'bronde hair' was coined, at last it gave us a definitive way to describe that dreamy balance between brown and blonde tones – a shade that ranks high on clients' lust-have lists. This balayage takes the hue to new heights, lending mid-lengths and ends a luminous bronde glow, as if hair has been kissed by the sun on a far-flung getaway. To create the look, highlights were simply toned with a blend of Illumina Color 5/35 + 9/03. Recommend clients maintain the shade at home with the Color Fresh Mask in Caramel Glaze.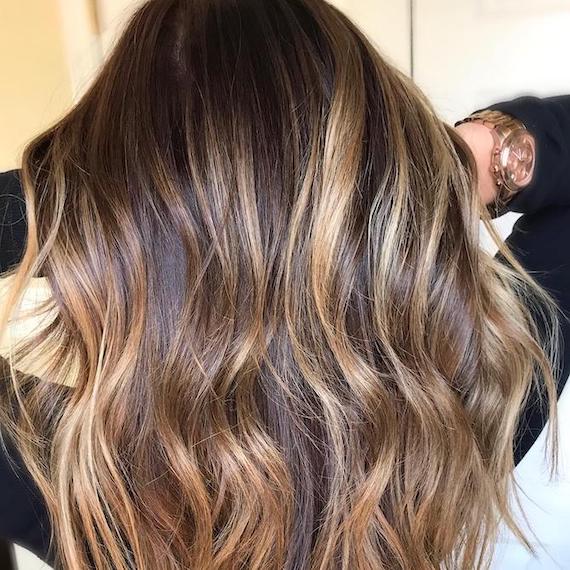 3
3. Brown to Golden Blonde Balayage
Image Credit: @xobeautybynicole
Shades of golden blonde glisten on a chocolate brown base. Just look at this gilded 'do for proof, which was created using a reverse balayage technique. Instead of lightening the ends, Nicole stroked Color Touch 6/71 + 5/71 through the roots to help already-blonde mid-lengths pop. Then, she applied Fusion Intense Repair Mask under a dryer for 15 minutes to "[bring] this hair back to life". Look at that shine.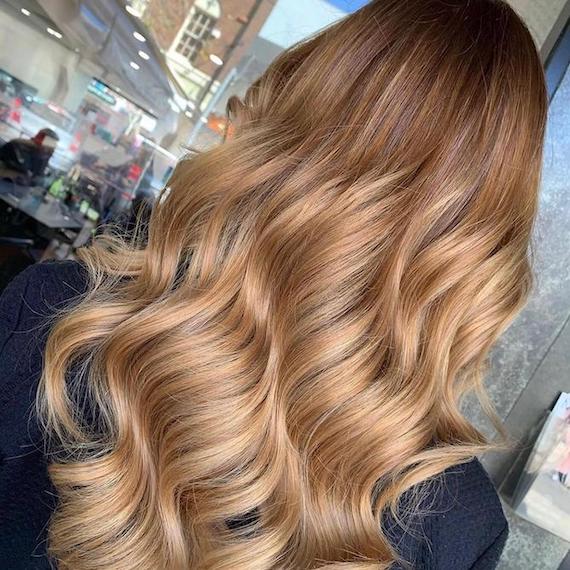 4
4. Light Brown to Blonde Balayage
Image Credit: @portfolio_hair
Pair light brown roots with honey blonde lengths for a summer-ready style that radiates health. Smooth and bright, this look was mixed up using Blondor Freelights + 6% for the freehand highlights. Then, roots were shaded using Koleston Perfect 7/0 + 7/43 + 8/38 + 1.9%, while mid-lengths were toned with 9/0 + 9/73 + 1.9%. Hello, glow.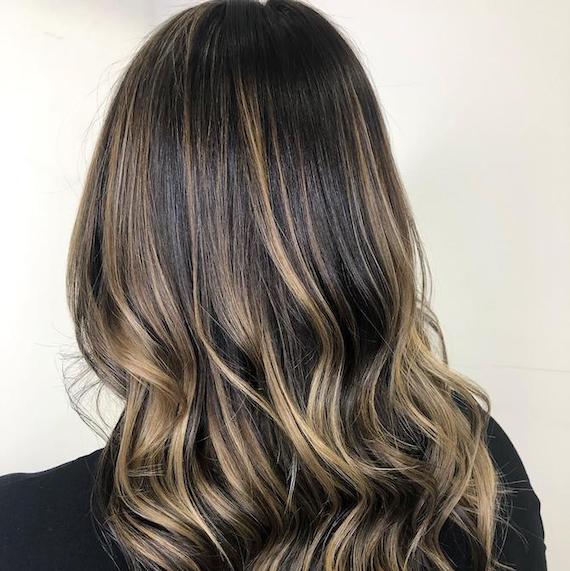 5
5. Dark Brown to Blonde Balayage
Image Credit: @chloebradburyhair
If you're wondering 'what is the best balayage colour for dark brown hair?' Chloe's contrasting creation has you covered. Aim for cool or golden blondes, applied as freehand babylights. For this look, she added a root shadow using Color Touch 5/0 + 1.9%, then wrapped Blondor + 1.9% 'lights up in foils to increase the lift. Finally, mid-lengths and ends were toned with Color Touch 5/97 + 1.9%, before the blonde pieces were treated to a dose of 7/97.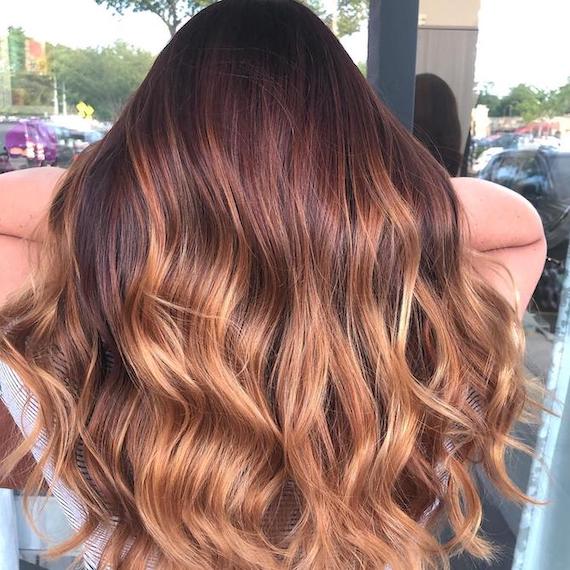 6
6. Red Brown to Blonde Balayage
Image Credit: @hairbyangelaalberici
Lend a subtle shot of red to a brown blonde balayage by giving the crown area an auburn edge. Combined with warm, almost-strawberry blonde ends, red brown roots are ultra-covetable. As for how to maintain this two-tone 'do, it's all about the Color Fresh Mask in Golden Gloss; a hydrating treatment with a hint of a tint that keeps the brown and the blonde looking salon-fresh.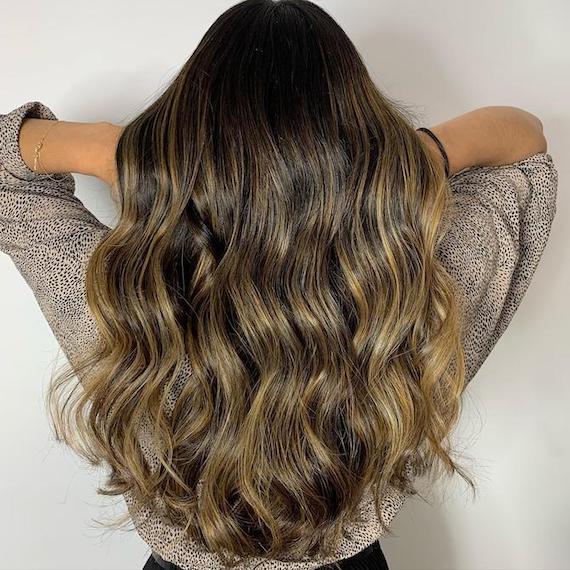 7
7. Brown to Dirty Blonde Balayage
Image Credit: @oz_beauties
Because dirty blonde hair is a medium tone, it teams seamlessly with dark brunette roots. Here's a flawless demonstration, perfected using Blondor + 6% to achieve glossy highlights. Our bond-strengthening system, Wellaplex, was added to the formula nurture and nourish locks. Then, once hair had reached the correct underlying tone, Illumina Color 8/13 + 8/1 was used to tone.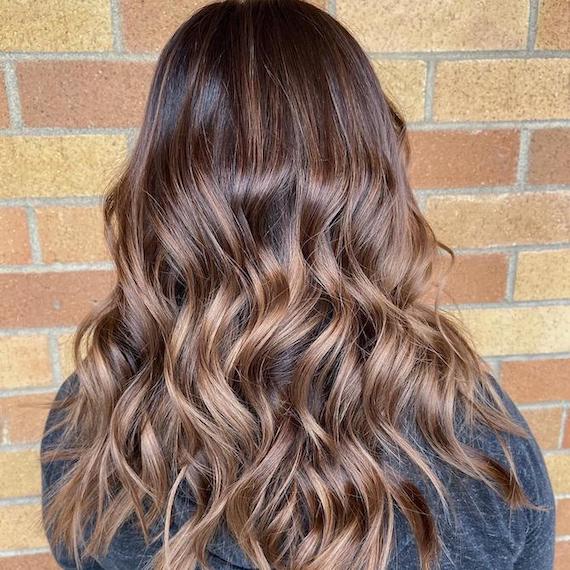 8
8. Cool Brown to Blonde Balayage
Image Credit: @hairby.megw
Blonde doesn't have to mean ultra-bright. In the case of this brunette balayage, the mid-lengths and ends tip slightly lighter, with a blink-and-you'll-miss-it caramel glow. Megan has laced locks in cooler tones for a freshly-frosted sheen. Recreate the look with Koleston Perfect 5/0 + 4/0 through the roots, rinse, then tone the lengths using 8/0 with dash of 8/73. It's cool, crisp and clean.