7 Balayage Ideas Made for Brunettes
Balayage isn't just for blondes. It may be the dreamiest technique for adding sun-kissed ribbons, but brunette balayage proves freehand 'lights can go as bright, bold or brown as you like. While some use it to take locks lighter, the biggest bonus of balayage hair is the way it lends dimension and depth to all hair colours – dark brunettes included.
That's why we're celebrating some of the most covetable brunette balayage looks, from lighter caramel balayage on dark brown hair to dark brown 'lights through a black base colour. Get inspired…
First, What is Balayage?
Let's start with a quick balayage refresher. In French, it means 'to sweep', which is apt given the painterly way colour is swept through sections of hair. Eschewing the patterned approach of traditional highlights, a balayage technique sees pre-lightener applied in a bespoke fashion to the face-framing layers, mid-lengths and ends of hair.
The finished effect is entirely unique to the wearer; natural, multi-dimensional and ultra-flattering, no matter how subtle or bold you take it. Typically, it's done without foils, though you can add them in if you want a higher level of lift. This is known in the industry as 'foilyage'.
How to Do Brunette Balayage
When it comes to sweeping balayage on brown hair, a pre-lightener is always needed to ensure those lighter ribbons truly shine. Keep these rules in mind for every transformation…
1. Brighten with Blondor
When adding highlights, try a pre-lightener designed for freehand painting, like Blondor Freelights. It features an adhesive mass, which ensures it goes exactly where you want it to go and stays there. You could also try mixing it with our bond-strengthening system, WellaPlex, which will keep the internal hair bonds strong throughout the colouring process.
2. Tone to Perfection
Once you've reached the desired level of depth – typically two or three shades lighter for a more natural finish – you'll need to tone your client's highlights to reach their perfect colour. Try permanent hair color like Koleston Perfect for a pure-pigment, high-shine finish, or demi-permanent hair color like Color Touch if they'd like lower-commitment brown balayage that fades beautifully.
3. Condition and Care
Post-colour care is just as important as the pre-lightener and toner you apply, so make sure your client is equipped with products that boost their new hair hue. ColorMotion+ Color Protection Shampoo is the basis of a strong routine, infused with antioxidants that protect against shade-fading free radicals. Then, ColorMotion+ Moisturizing Color Reflection Conditioner will pamper strands to their shiny best, so balayage on brown hair will positively glow.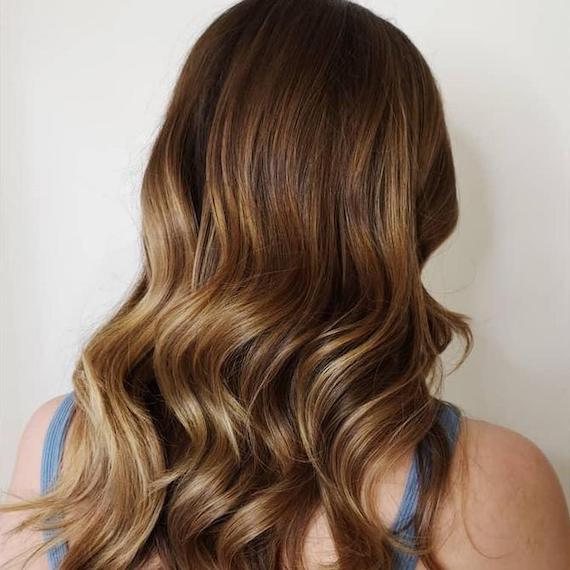 1
1. Light Brown Balayage
Image Credit: @tombadgerhair
Light brown hair and blonde balayage are a match made in highlighting heaven, creating a sun-kissed, post-holiday effect that's making us long for the summer months. Tom Badger nailed it by using Blondor for a little foilyage, followed by a shadow root of 6/0 1.9% 6 vol., which blends into 9/36 + 10/6 1.9% 6 vol.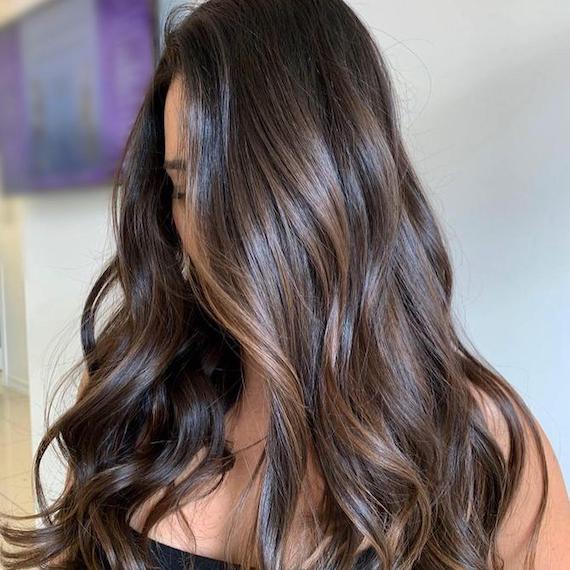 2
2. Dark Brown Balayage
Image Credit: @angietriana.hair
This look is the purest demonstration of dark brown balayage, featuring ribbons that have been lightened just a touch brighter than the base colour. The formula? Color Touch 5/0 + 3/0 1.9% 6 vol. all over and Blondor 6 vol. for the balayage, which has then been toned with Color Touch 8/71 1.9% 6 vol.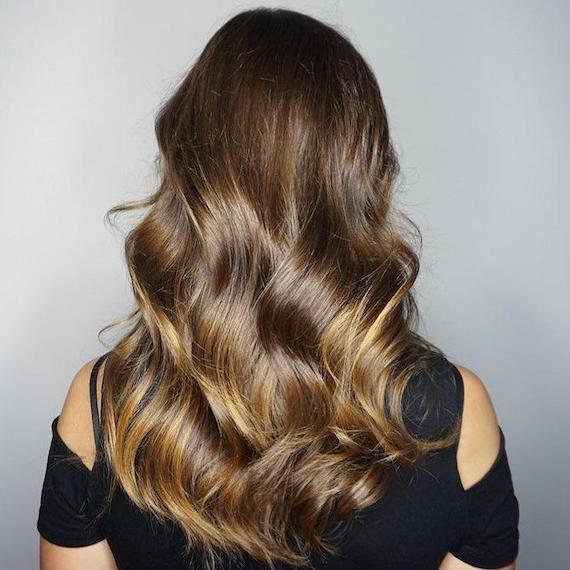 3
3. Caramel Balayage on Dark Brown Hair
Image Credit: @kai_sohn
For brunette clients who crave caramel blonde hair without the commitment of all-over lightening, adding caramel balayage provides the creamiest, dreamiest compromise. These warm blonde 'lights were treated to a hair glossing treatment with Koleston Perfect 7/31, resulting in next-level shine and zero brassy tones.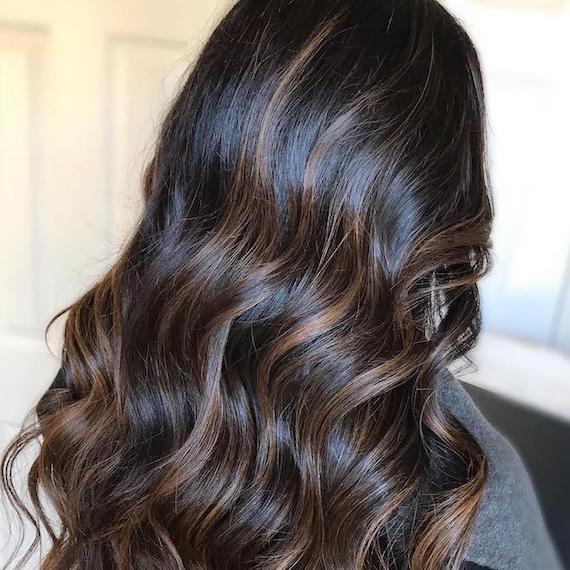 4
4. Brown Balayage on Black Hair
Image Credit: @xobeautybynicole
If you're creating very dark brown, almost-black hair, the last thing you want is a flat, matte black. That's where a scattering of brown balayage really comes into its own. Case in point? This multi-tonal creation, which features a base of 44/0 + 3/0 6% 20 vol. and ribbons of Blondor Freelights, which were toned using Color Touch.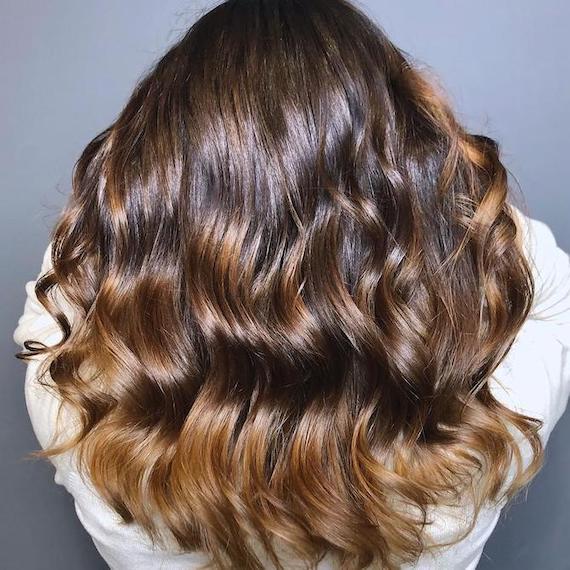 5
5. Chocolate Brown Balayage
Image Credit: @dacciuntaglio.parrucchieri
Chocolate brown hair is as delicious as it sounds. It sees brunette locks taken richer with highlights or - in this case - balayage, to create a spectrum of mouth-watering tones. Blondor and Color Touch culminated in this flawless colour melt.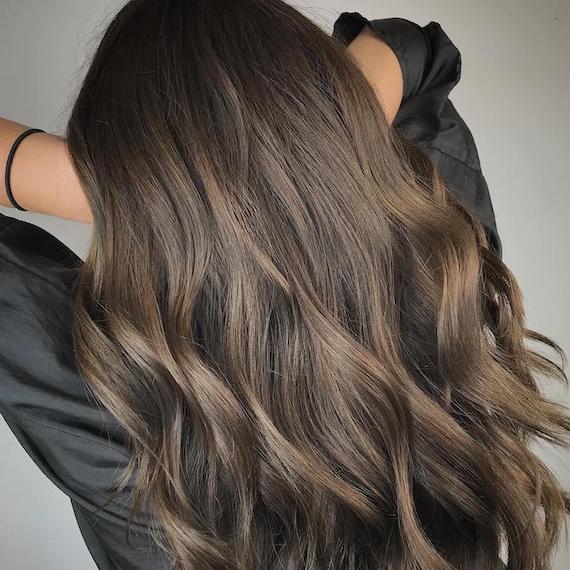 6
6. Ash Brown Balayage
Image Credit: @leothehairalchemist
If you're as obsessed with ash brown hair as we are, you'll love this balayage'd take, which features equal parts of Color Touch 9/97 + 9/16 + 7/73. The perfect autumn/winter shade, it's a cool-toned hue that's crisp, modern and fresh. Pair with loose, tousled waves to make every nuance of colour stand out.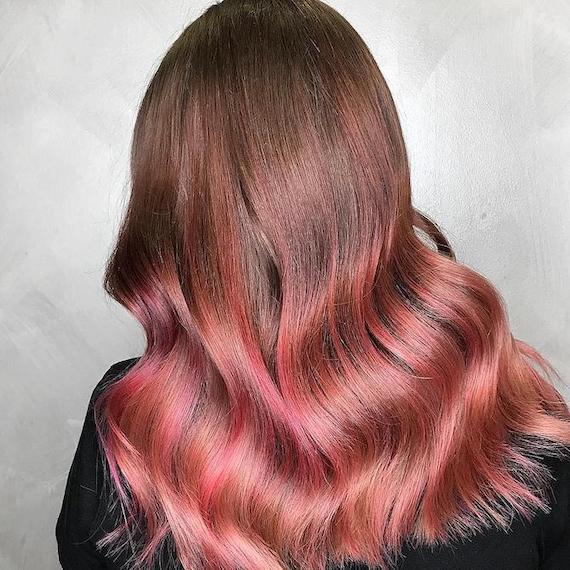 7
7. Rose Brown Balayage
Image Credit: @kathapfrang
While blondes can experiment with rose gold hair, brunettes decorate their locks in rose brown hair; a trend that sees pinky tones mingle with deep hues for a raspberry chocolate effect. Balayage is the ideal technique for this trend, as demonstrated by Katharina Pfrang, who freehand painted Blondor Freelights through mid-lengths and ends to prep for the pink. She then coloured the roots using Color Touch 7/75 + 1.9% 6 vol. before blending Color Fresh CREATE in Hyper Coral + Infinite Orange + Tomorrow Clear with Color Touch 6/45 + 1.9% 6 vol. for a bold colour melt.