5 Decadent Brown Caramel Ombre Hair Ideas & Formulas
Brown caramel ombre is taking hair colour to sweeter heights, giving locks a glistening, gilded glow from roots to lightened ends – and we're obsessed. So, if your client is looking for a brunette ombre that's rich, warm and luxurious, try sweeps of chocolate brown and caramel blonde to deliver the decadence they crave. 
Here, we're breaking down how to craft a brown ombre with the perfect balance of delicious caramel tones, complete with professional formulas and maintenance tricks to sweeten the deal at their next hair appointment. Keep scrolling...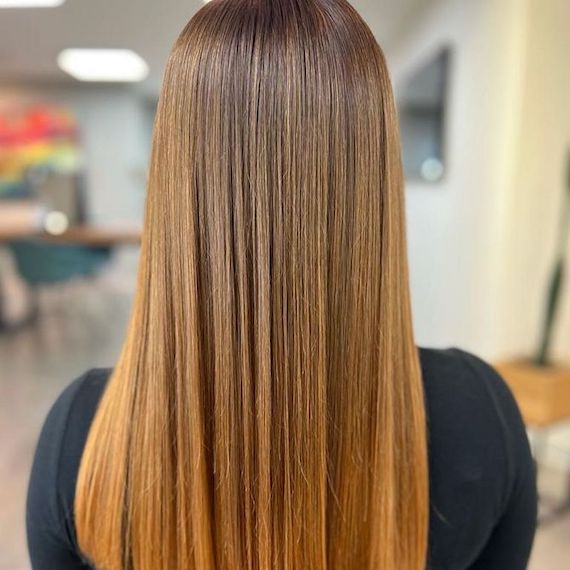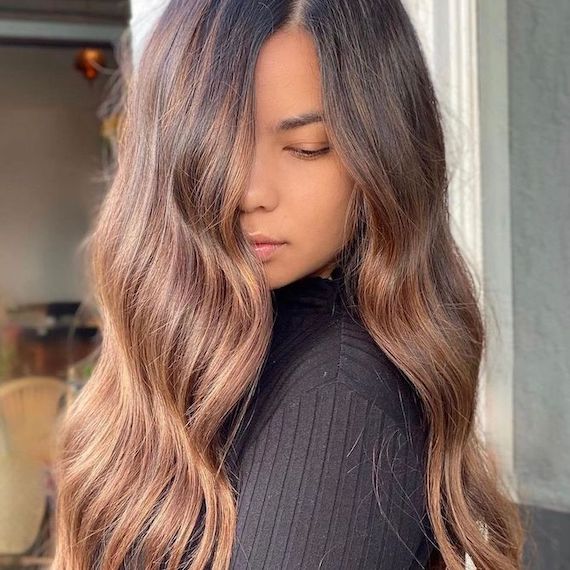 How to Create Brown Caramel Ombre Hair
1. Shade the Root with a Brown Hair Colour
For a smooth transition from dark brown roots to light ends, create a root shadow with rich brown hair colours. Think deep espresso, rich chocolate or a honey brown to blend with caramel lengths. Use your tint brush to feather the colour downwards, so it sweeps towards the mid-lengths. Just make sure you're using the correct hair colour type for your client's end goal. Here's your quick cheat sheet:
Use Koleston Perfect if: a permanent colour with up to 100% grey coverage is on the agenda. Koleston Perfect features an extensive palette of darker shades for a root shadow that's rich and radiant.
Use Color Touch if: you're looking for a demi-permanent root colour that's vibrant and intense. Color Touch transforms locks with beautiful brunette tones that pave the way for softer regrowth.
Use Shinefinity if: your client wants a root shadow glaze that enhances their natural colour and dimension. The Shinefinity finish is soft and translucent; perfect for already-dark hair that needs minimal coverage.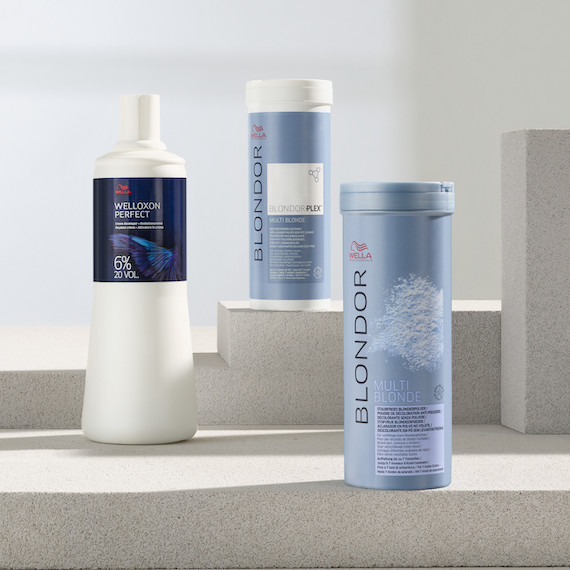 2. Apply Hair Lightener to the Mid-Lengths and Ends
Unless your client's mid-lengths and ends are already light – perhaps from existing blonde highlights – you'll need to pre-lighten brown hair to serve as a base for caramel tones. Unlike highlights or a caramel balayage technique, you're not just picking out sections to lift. Instead, you're lightening the full width of the mid-lengths and ends to create one even graduation. Try it with BlondorPlex, which features our bond-strengthening WellaPlex No1 Bond Maker to respect each strand's integrity as locks are lifted. Once developed, rinse out with the No2 Bond Stabilizer. 
3. Tone the Lengths with Light Caramel Shades
Turn to a sweet palette of caramel tones, golden hues and honey brown colours for a lighter shade on the mid-lengths and ends. You want toners with a hint of gold, so look for Wella colours numbered with a 3 after the dash to denote the warmth. For example: Koleston Perfect 8/03 is an iconic caramel shade. If you're working with lengthy locks, you might want to mix up two ombre formulas: one for the mid-lengths and an even lighter hue for the ends. However, as more porous hair on the ends tends to naturally lift higher than mid-lengths, many colourists find they can create a natural-looking, subtle fade with just one mid-lengths-to-tips toner. 
What Skin Tones Suit Caramel Brown Ombre Hair Colour?
Because caramel brown ombre hair colour is resplendent in warmer tones, it pairs especially well with clients who have a neutral, warm or medium skin tone. But that's not to say those with cool undertones can't also try out the trend; team their caramel brown lengths with a cool espresso brown root colour, so they get a balance of ashy shades and warm richness. The beautiful tones in this look are far more versatile than you might think, with small formula tweaks allowing you to craft a caramel for almost every client. 
5 Brown Hair with Caramel Ombre Formulas
Discover these stunning ombre hair ideas for soft dimension and a gorgeous fade. Brown locks get an upgrade with dark brown roots and subtle highlights that shimmer through the lengths...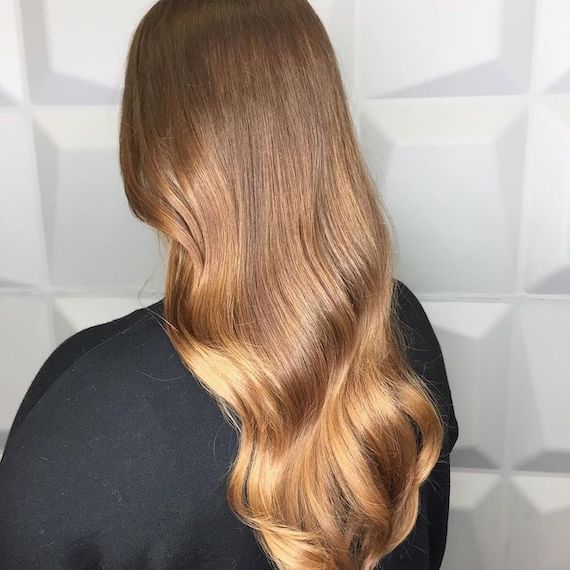 1
Light Brown Caramel Ombre Hair
Image Credit: @janina_ehrenberg
This light caramel brown to blonde graduation is as covetable as colour gets. The beautiful blend of darker tones and honey blonde hues lend a lit-from-within glow against the natural base. To get the look, paint mid-lengths and ends with Blondor Freelights + 6% first, then use Color Touch 8/73 + 1.9% to tone those lengthy locks. For extra silky dimension, you can then gloss from root to tip with 9/31 + 1.9% + Post Hair Color Treatment, mixed at a 1:1:1 ratio. The resulting radiance is worth every second in the chair.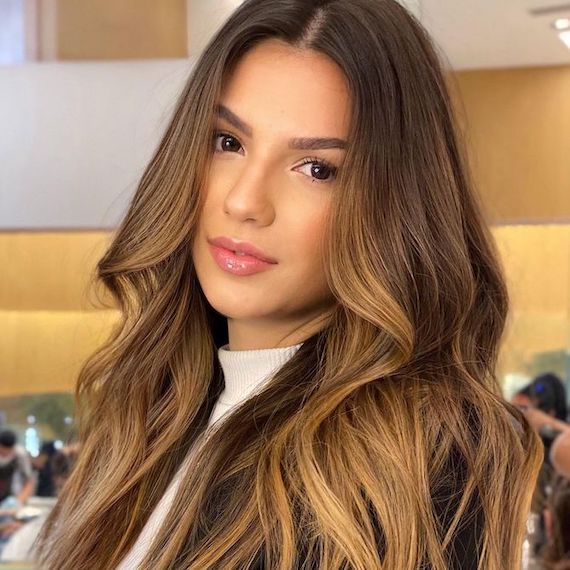 2
Dark Brown Caramel Ombre Hair
Image Credit: @karineguimaraes.s
Hair makeovers don't get much dreamier than these wavy tresses. Merging ombre hair with a hand-painted technique, there's a mix of brown balayage strokes and graduated lightener at play here. Recreate the look by lifting tresses with the BlondorPlex hair lightener first, making sure to add face-framing highlights from the mid-lengths down. Then tone with Illumina Color 8/37+ 9/7+ 7/35.  Loosely wrap tresses around a curling iron for beachy waves with added dimension.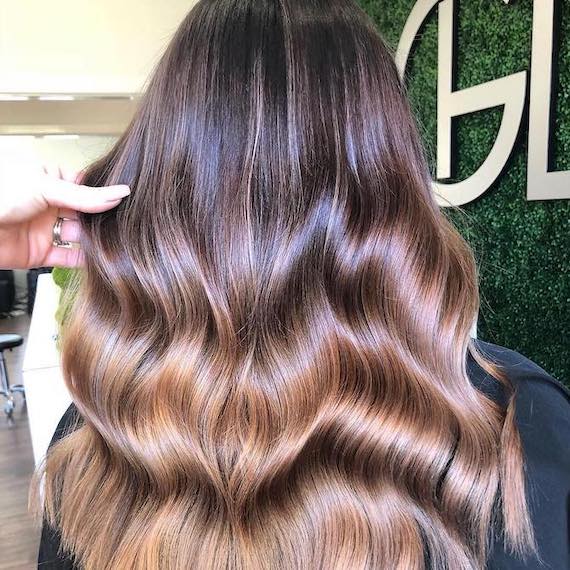 3
Chocolate Brown to Caramel Blonde Ombre
Image Credit: @hairbydemim
Darker roots and caramel blonde shades make for a killer combo, as this glossy look demonstrates. It's packed with shine, thanks to the richness of Color Touch, which transforms locks with vibrancy. If you want to recreate the look, create dark roots with 4/71 + 0/68 first, followed by 5/73 + 7/97 + 0/68 on BlondorPlex-ed lengths and ends. Look at that gorgeous fade.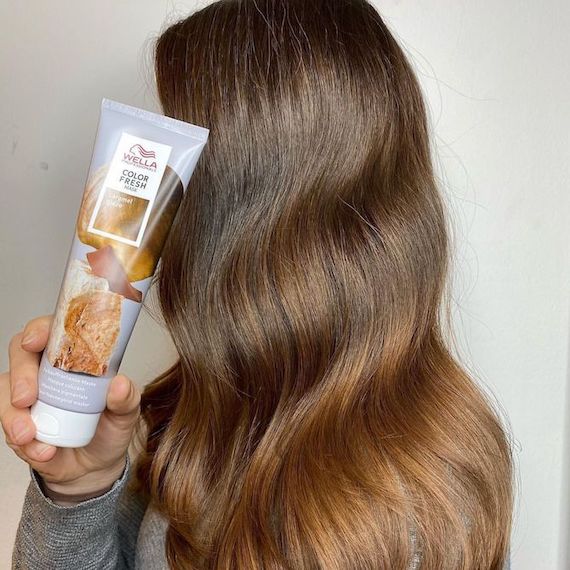 4
Caramel Brown Sombre Hair
Image Credit: @nina.wellapro
For clients who crave a subtle transition from brown roots to a lighter colour on the ends, try sombre hair. It's a subtle ombre that sees tresses shift no more than two shades brighter from root to tip. Great for giving a natural hair colour finish, try recreating this stunning style on an existing brown ombre base, using the Color Fresh Mask in Caramel Glaze to brighten the ends. Finish by styling with a wide-barrelled curling iron and EIMI Glam Mist for loose wavy hair with luminous shine.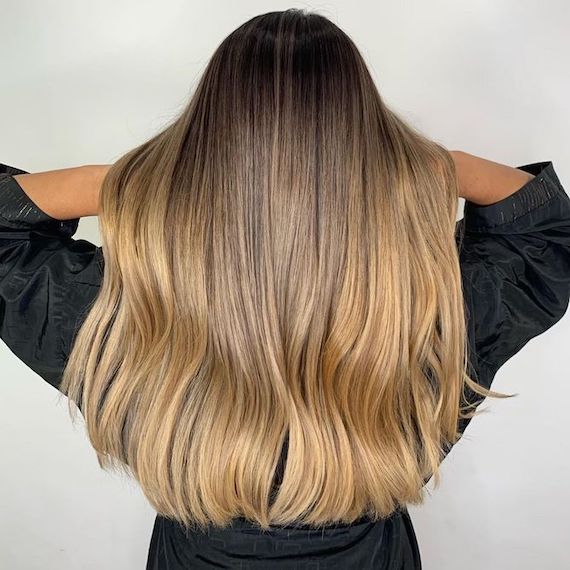 5
Caramel Brown to Honey Blonde Ombre
Image Credit: @xcellent_kevin
Not only is honey blonde one of the most popular shades out there; it's also the perfect complement to caramel brown roots in an ombre creation. Both colours feature warmer tones, allowing them to blend together flawlessly. You could use Shinefinity for a look this glossy. Try sweeping 04/07 Bitter Chocolate on as a root shadow, followed by a mix of 08/38 Honey Latte + 06/73 Caramel Chocolate through pre-lightened lengths. Proving beige hair colours are anything but boring, the creaminess of the honey blonde lends extra sophistication to the finished look.
How to Maintain Caramel Brown Ombre Hair
Before your newly ombre-d client leaves their hair appointment, show them how to maintain their beautiful shade with these maintenance tips and techniques for silky dimension... 
1. Use Colour-Kind Hair Products
We hear a lot about blonde maintenance, but darker tresses need protecting too. The right care products are key to maintaining all that soft dimension and a luminous, lustrous glow. Introduce clients to ColorMotion+ Color Protection Shampoo and Moisturizing Color Reflection Conditioner; a duo that gives brown ombre roots and ends the nourishment they need. The shampoo is packed with antioxidants to keep dulling free radicals at bay, so caramel roots and soft honey highlights appear richer for longer.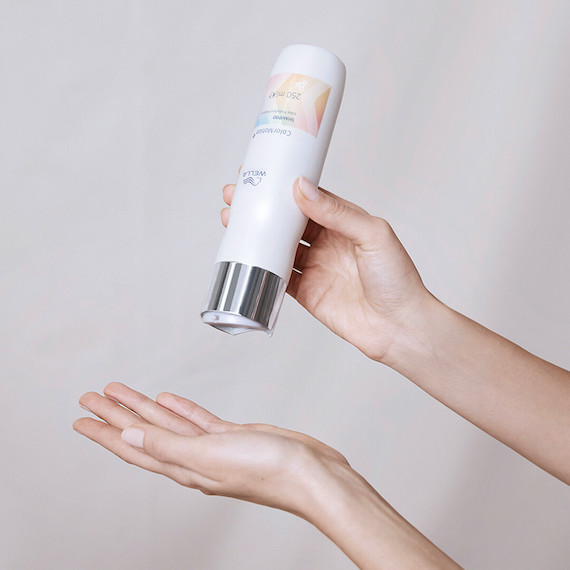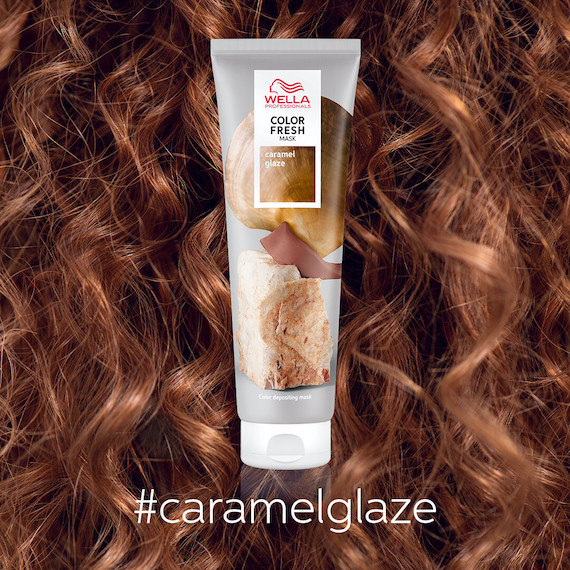 2. Apply Caramel and Golden Brown Conditioners
Your client can top up their tone at home with the Color Fresh Mask; a pigmented treatment that works in place of a conditioner to veil strands in a subtle tint. Recommend they use Chocolate Touch for the brown base at the roots and Caramel Glaze for the blonde base through the lengths. All they have to do is wash locks, apply their masks and comb through, then rinse after 10 minutes. Locks appear instantly revived.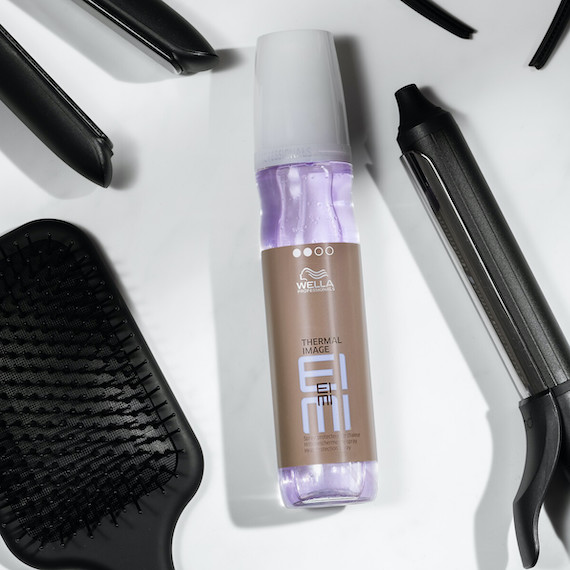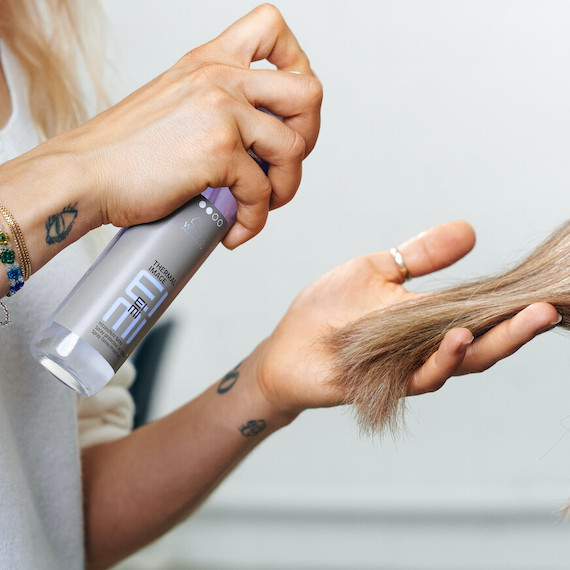 3. Style Hair with Tailored Heat Protection
Whether they're working a straight hairstyle, a wavy style or lustrous curls, your client needs to safeguard their look with a heat protectant. Remind them to use one perfectly suited to their tresses. EIMI Thermal Image is ideal for fine locks that need weightless care before using a flat iron, while EIMI Flowing Form is the perfect balm for protecting dry, damaged strands from heat-induced dehydration. 
Now you have all the tips and techniques you need to create a brown caramel ombre with a soft, subtle fade, it's time to grab the tint brush and work on your next masterpiece. Don't forget to share your looks with us on Instagram by tagging @WellaHairUKI.