7 Blue Ombre Hair Formulas for the Colour-Brave
If you thought blue hair was mesmerizing, just wait until you see blue ombre hair; an ocean-inspired trend that sees shades of the marine hue cascade from light to dark, or from dark to light. Designed to be worn icy and cool through fall/winter, pastel in spring, and bold in summer, this look is a year-round sensation. More than a trend; blue ombre manes are always in style. 
So, let's take a closer look at the trend that's (forever) taking TikTok by storm. These are the tips, tricks and formulas you need for your own blue ombre hair creations…
4 of the Best Colour Products for Blue Ombre Hair
From pure pastels to rainbow brights, the Wella portfolio is packed with a kaleidoscope of blues, so you can mix up an oceanic ombre in a range of finishes. Here are just some of the most popular blue hues from the No.1 Salon Colour brand in the world*...
For a Zero Damage, High Shine Glaze
If a sheer, translucent veil of blue ombre tones is on the agenda, reach for the Shinefinity Color Glaze 08/8 Blue Pearl or the slightly bolder 00/89 Blue Booster. It gives you a zero damage, zero lift route to blue locks with healthy-looking shine, staying true-to-tone even on high porosity hair.
For Limitless Colour Creativity
Every shade in the Color Fresh CREATE collection is intermixable and easy to work with, offering you a range of fashion hues that last for up to 20 washes. New Blue is your pick for a blue ombre, but you can also mix it with Tomorrow Clear to make it pastel, with Pure Violet for a purple tint, or reach for Super Petrol if your client wants more of a teal.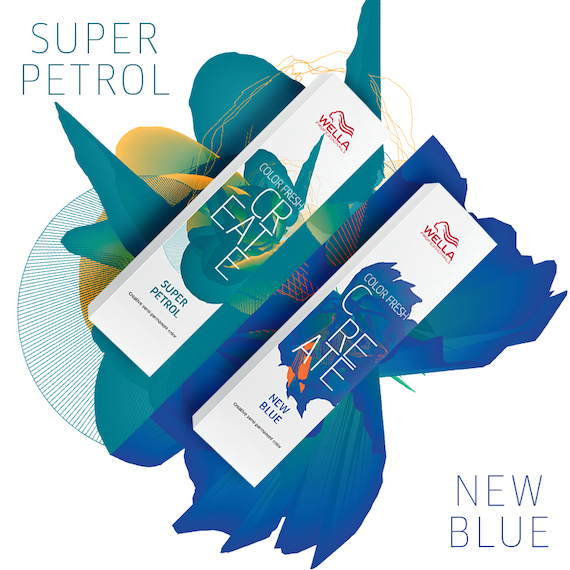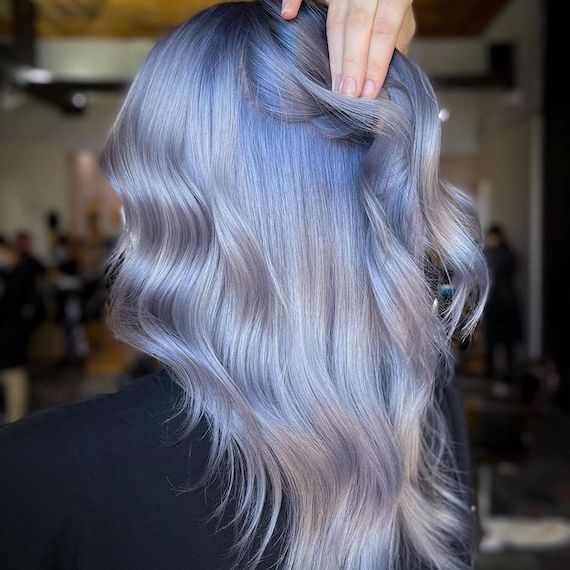 For Pure, Balanced Blue Results
When your client's look calls for a permanent hair colour, try Koleston Perfect Special Mix 0/88. This bold blue mixes with other shades for a personalized tone, while delivering rich intensity with shimmering depth and shine. Case in point: for a softer finish, you can dilute with a level 10 shade, like 10/8 or 10/0, or you could even add 0/00 Clear. This colour is also infused with Metal Purifier, which means when it comes into contact with your hair, it neutralizes any metals that exist in the strand to reduce hair damage. 
For Multi-Dimensional Vibrancy and Shine
There's also a bold, bright Special Mix 0/88 shade in the Color Touch collection, which is perfect for clients who want a lower-commitment blue ombre. Like the Koleston Perfect blue, you can mix it with the shade 10/0, which is like milk for your coffee, diluting and pastelizing the tone to suit your client's needs. If they like to change their shade frequently, go for this demi-permanent hair colour. It's ammonia free, multi-dimensional and high on vibrancy.
Now Try These Blue Ombre Hair Formulas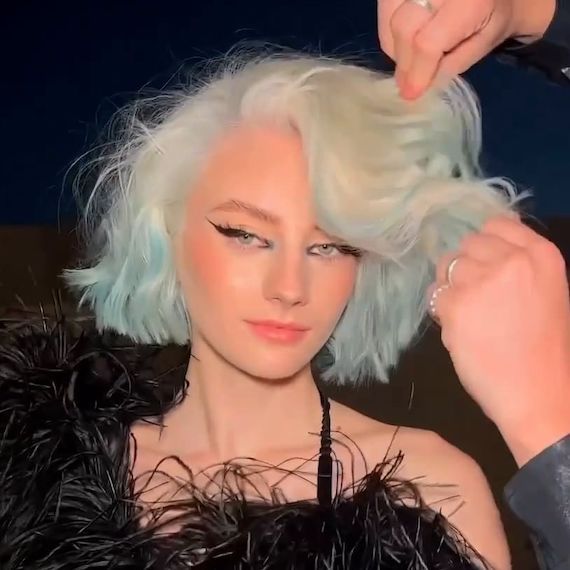 1
Blonde to Pastel Blue Ombre Hair
Image Credit: @jhair_stylist
Giving icy vibes for winter and a pop of pastel for spring, this transeasonal ombre – debuted at Wella Destination 2023 – is one of the most versatile styles out there. You're seeing platinum blonde in the roots, melting into a frosted blue through the lengths – a shade you can recreate with the intermixable hues in the semi-permanent Color Fresh CREATE portfolio. First up, lighten locks with BlondorPlex before toning the root to mid-lengths section with a bright, white blonde. The light-reflective glow of Illumina Color 10/1 makes it the dream for platinum lovers. Then, after rinsing out this formula and neutralizing the hair, mix Color Fresh CREATE Super Petrol with Tomorrow Clear to pastelize, and apply from mid-lengths to ends.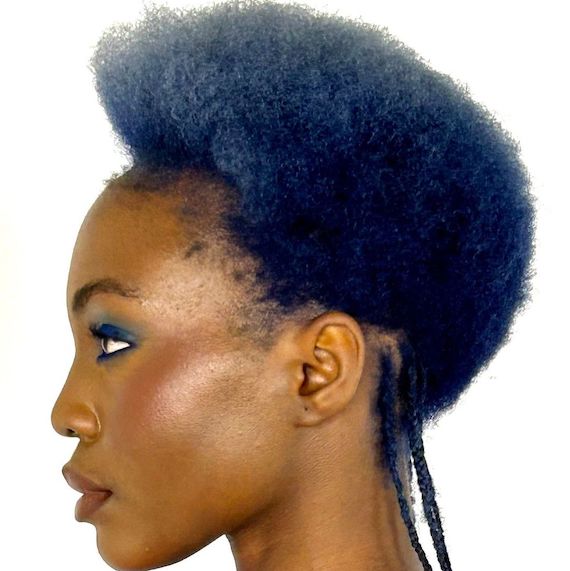 2
Navy Blue Ombre Hair
Image Credit: @anthonycolesebastian
Navy blue hair is the dream for winter, as seen in this Wella Destination 2023 look. So embrace this cool, deeper, ombre fade with a stone blue through the top, and an inky blue through the bottom of textured hair. Your formulas for this look are Color Touch 10/81 + 0/88 + Welloxon Perfect 1.9% on the roots, followed by 10/0 + 10/81 + 0/88 on ends that have been pre-lightened with BlondorPlex. Why BlondorPlex? Because the lightener offers up to 97% less hair breakage** and up to nine levels of lift – perfect for all hair types, including delicate, coily locks.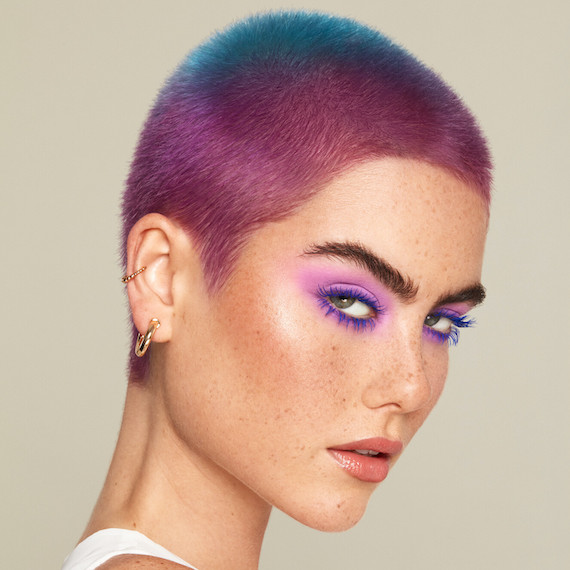 3
Pink to Blue Ombre
Credit: @jhair_stylist
Who says you can't do ombre on ultra-short hair? Create a full-head melt by sweeping one shade through the crown of the head, and another through the surrounding area. This look sees electric blue segue into a magenta pink, with permanent Koleston Perfect delivering rich colour intensity. To create the look, first lighten the whole head of short hair with BlondorPlex + Welloxon Perfect 1.9%, then paint a circular section of the crown with 0/28 + 0/30 + 1.9%. Sweep a halo of pink around the blue area using 0/00 + 0/65 + 0/66 + 1.9%, allowing the shades to slightly blur together for that ombre effect.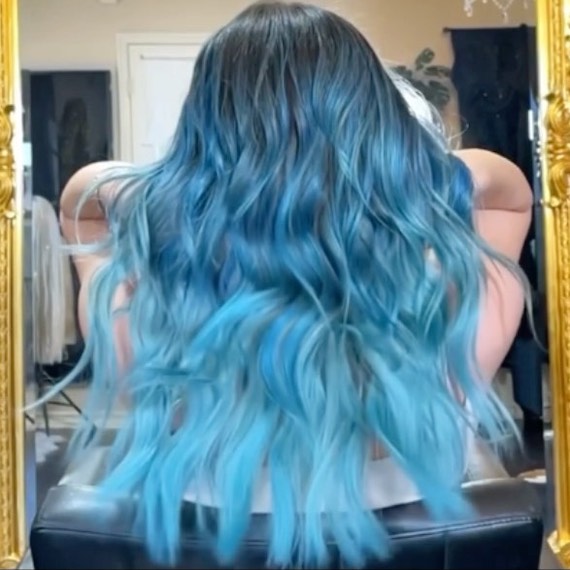 4
Ocean Blue Ombre
Image Credit: @thezachmesquit
It's hard to believe a look this vibrant was created with a colour-depositing conditioner, but that's just how impactful the Color Fresh Mask can be. Applied to a blonde base so the hues truly pop, you're seeing Blue on the root and Mint on mid-lengths and ends, resulting in an ocean-inspired blue ombre with serious Insta appeal. If you want to recreate the look, all you have to do is smooth the chosen colours through clean, towel-dried hair, allow them to develop for 10 minutes, then rinse thoroughly. No conditioner needed - the masks are nourishing on their own.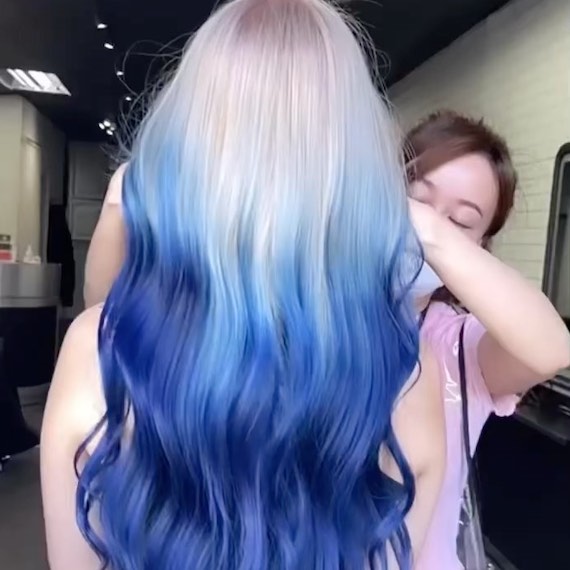 5
Icy Blonde to Cobalt Blue Ombre
Image Credit: @alexis_hair__
Just try and take your eyes off this icy blonde and cobalt blue ombre. If your client wants major contrast with head-turning power, this is a guaranteed winner. Lighten the roots and mid-lengths with Koleston Perfect Special Blonde 12/96 first, which is a high lift blonde hair colour that lifts and tones hair to a cool blonde in a single step. Then, adorn the mid-lengths and ends of hair in Koleston Perfect 0/88. It's a bold, bright blue that can be painted on solo, or pastelized with 0/00 Clear for clients craving a softer hue.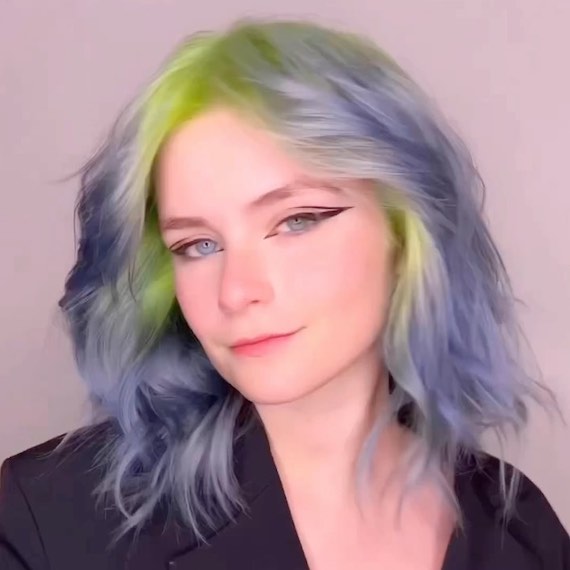 6
Lime Green to Bright Blue Ombre
Image Credit: @mathieuchris
This isn't your traditional ombre. Usually, the fade from light to dark or dark to light would graduate evenly through the full length of the hair, but here the melting starts from the roots and settles in the mid-lengths of hair. The result? An even more head-turning result, made bolder still by an extra injection of lime green in the face frame. Try it yourself with the semi-permanent Color Fresh CREATE collection. For the green, mix Neverseen Green with Future Yellow, plus a little Tomorrow Green to pastelize, then create the blue with New Blue or Super Petrol. To ensure the tones truly pop, work with a pre-lightened base. This green blue ombre will stay vibrant for up to 20 washes.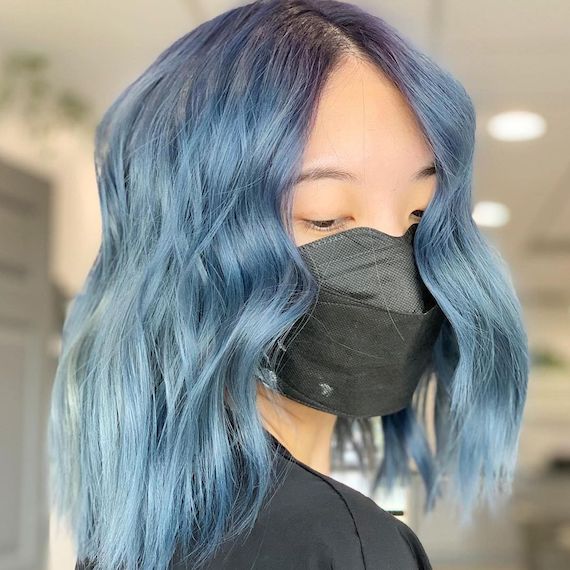 7
Denim Blue Ombre Hair
Image Credit: @thejennshin
As trusty as your favourite jeans, denim blue hair hues suit everyone. We love indigo meets stonewash ombre, created with demi-permanent Color Touch. Get the look for your clients by first treating the roots to mid-lengths with 7/89 + 0/68 + 0/88 + Welloxon Perfect 1.9%. Then, from mid-lengths to ends, sweep on 0/88 + 9/86 + 10/81. The melt from dark to light stays cool, clean and fresh to the very ends. 
How to Maintain Blue Ombre Hair
1. Apply Brighter Shades of Blue
Maintenance for blue ombre hair actually begins in the salon. As long as your client is willing, take their blue hues brighter than desired from day one. That way, when their shade begins to fade, your client will have enjoyed vividness and vibrancy for longer. This is a great trick for extending the mileage of any rainbow colours – especially pastel hair tones. 
2. Wash Hair with a Colour-Kind Shampoo
To keep blue hues true, it's crucial your client washes their hair with a colour-kind shampoo. Our favourite for boosting vibrancy is INVIGO Color Brilliance Color Protection Shampoo, which is packed with nourishing ingredients. First up, it's infused with antioxidants and Wella's Metal Purifier, helping to prevent pollutants and metals from draining your shade. Plus, it's also pH balanced, which means it closes the hair cuticle after colouring to enable better colour retention. And, last but not least, it comes in two formulas – one for fine/medium hair and one for thick/coarse hair – each delivering a boost of glossy shine to any blue ombre hair look. Complete the routine with the INVIGO Color Brilliance Vibrant Color Conditioner.
3. Enhance Blues with a Colour-Depositing Mask
If your client wants to refresh their tone at home, in between salon visits, introduce them to the Color Fresh Mask in Blue or (if their shade is pastel with a hint of green) Mint. To be used in place of their usual conditioner on clean, towel-dried hair, this colour-depositing treatment revives their shade in just 10 minutes. Plus, it's infused with nourishing oils, so it leaves coloured locks soft and moisturized. Pro tip: if their ombre features a blonde and they want to blitz brassiness, they can also use the Pearl Blonde mask to neutralize any yellow tones.
Now you've got plenty of blue ombre inspiration, go ahead and create your own melting masterpieces. Don't forget to share them with us on Instagram by tagging us @WellaHairUKI and @WellaEducation.
* Based on Wella Master Brand USD sales on the 2022 Salon Hair Care Study for the hair colouring products category published by Kline.
** When using Wellaplex N°2 with BlondorPlex, versus BlondorPlex alone