How to Care for Low and High Porosity Hair
When you're assessing the condition of your hair, you probably look at whether the ends are split, how prone strands are to breakage, or how dry and frazzled your locks might look and feel. But, did you know? All of those beauty bugbears can be linked back to your hair porosity – and fixing high porosity hair might just be your key to healthier, shinier-looking locks. Here, we break down what hair porosity is, how it impacts the condition of strands, and what you can do to make your hair less porous. Your hair will thank you later.
What is Hair Porosity?
The porosity of your hair affects how well it can absorb and retain moisture. For example, if your hair is highly porous, it tends to soak up every liquid, oil or cream it touches, from water to conditioner. However, not everyone knows just how porous their strands actually are, which is why we recommend doing a quick test with any hair that might have shed.
Place your shed hair on a non-porous surface and add a couple of drops of water. Then, watch to see how quickly the droplets absorb (if they absorb at all). Fast absorption means your hair is highly porous, slow absorption means it has low porosity, and anything in between points to medium (or normal) porosity.
Caring for High Porosity Hair
Whether it's down to DNA or hair damage, high porosity hair has holes and gaps in the cuticle that are able to let too much moisture in and out. You might think there's no such thing as 'too much' moisture – especially if hair is damaged – but we're not just talking masks and conditioners. Highly porous hair will soak up more chlorine, salt water, heat and humidity, too. So, what can you do about it?
1. Use Leave-In Conditioners
In the same way that gaps through the cuticle can allow too much moisture to get in, they can also let it out, leaving hair dry and thirsty for a dose of hydration. Instead of applying rinse-out conditioners – or as well as, when hair is particularly parched – use a leave-in conditioner, like INVIGO Miracle BB Spray or NutriCurls Curlixir Defining Balm. Apply your chosen lotion through damp, just-washed hair first. Then, if hair is feeling dehydrated, top it up on dry hair in between washes.
2. Book in for a Hair Glaze
As well as veiling your hair in a subtle colour boost with mirror-like shine, a hair glaze can help to fill the holes and gaps in the cuticle. Try it with a Shinefinity Zero Lift Glaze, which gives you zero damage colour enhancement – ideal if you're craving colour but don't want to put strands through any wear and tear. If it's just the glow you're hoping for, you can also opt for a clear Shinefinity Zero Lift Glaze. It injects your highly porous hair with shine you can feel.
3. Wash with Colour-Kind Shampoos
Highly porous hair is notoriously tricky when it comes to maintaining colour, because the gaps in the cuticle allow the pigment to escape much quicker. So, if your hair is coloured and porous, make sure you always wash with a shampoo that prevents shade fade. INVIGO Color Brilliance Color Protection Shampoo is a firm favourite, with an infusion of lime caviar for extra vibrancy. If hair needs a little more care, try ColorMotion+ Color Protection Shampoo, which is boosted with antioxidants to eliminate dulling free radicals.
4. Apply Fiber-Strengthening Masks
Smooth an ultra-rich mask through your hair. You want a product that's oil- and cream-based, as it has enough substance to seal the cuticle, which improves moisture retention. Try Fusion Intense Repair Mask, which penetrates deep down into the cortex and instantly recovers the hair fiber, helping to prevent future hair breakage.
Maintaining Low Porosity Hair
Good news: if your hair has low porosity, that means you don't have to worry about losing moisture as fast, as the cuticle layer is tight enough to hold all that hydration in. However, you shouldn't take this hair type for granted; through wear and tear, gaps and holes can gradually form, meaning it's important to maintain that low porosity hair with the right care routine. So, how do you keep your low or medium porosity hair in check?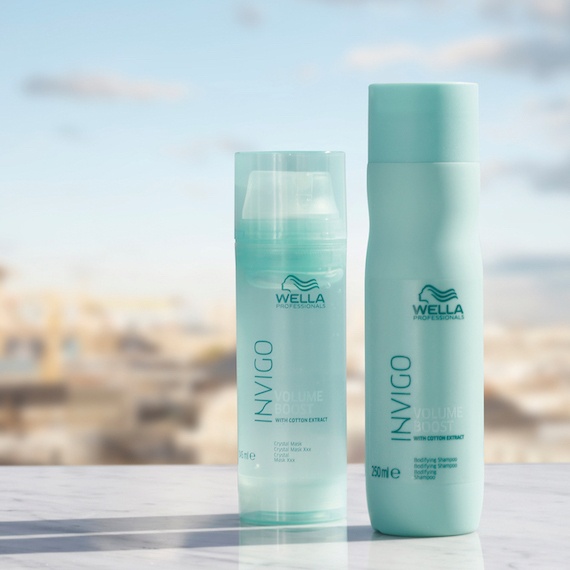 Image Credit: @terricolours_bloominhair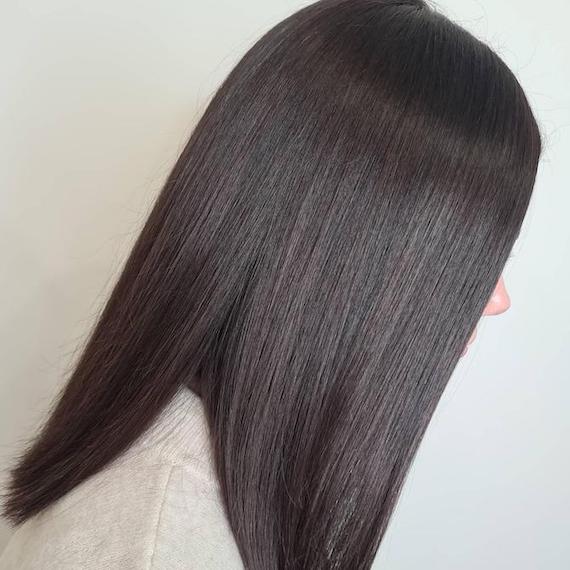 1. Alternate Your Shampoo Formulas
To make low porosity hair last, use a hydrating shampoo that cares for your strands. We love Nutri-Enrich Deep Nourishing Shampoo for straight hair, and NutriCurls Micellar Shampoo for wavy or curly hair. Then, alternate with a more targeted formula that tends to your other hair needs, such as INVIGO Volume Boost Bodifying Shampoo on fine hair or INVIGO Senso Calm Sensitive Shampoo to soothe an irritable scalp. Switch between your two formulas, depending on what your hair is craving that day. This prescriptive approach means your locks will always feel beautifully balanced.
2. Tailor Your Conditioners and Hair Masks
You still need to use hair masks and conditioners to detangle your hair, and to keep it strong and healthy. This prevents any gaps in the cuticle from beginning to form. However, because your strands don't require the same level of deep hydration as highly porous hair, you can choose masks that will target other needs, such as a lack of volume or colour maintenance.
For fine hair, try the INVIGO Volume Boost Crystal Mask; a translucent rinse-out treatment that feels utterly weightless. Smooth it through damp, just-washed locks, allow it to absorb for five minutes, then rinse thoroughly. Do you have waves or curls? Then reap the rewards of the NutriCurls Deep Treatment for Waves & Curls and the Detangling Conditioner, which both work to gently eke out knots and offer frizz-defying definition. And, if your hair is coloured, lock your shade down for longer with INVIGO Color Brilliance Vibrant Color Conditioner; perfect for boosting the radiance of every hue.
3. Boost the Effects of Your Treatments
Your conditioning technique will help your mask or conditioner work that little bit harder. Always squeeze excess water out of hair before you smooth a treatment on, as this will prevent the product from being diluted. Use a wide-toothed comb to detangle hair while the conditioner is absorbed, then rinsed out thoroughly. Finish with a final blast of cool water for added shine.