5 Pastel Ombre Hair Formulas Giving Us Strong Summer Vibes
No colour trend screams 'summer' quite like pastel ombre hair – whether your client is working it in bubblegum pink, sky blue or sunset purple hues. Soft yet statement-making, this look lets you get creative with the most whimsical shades in your palette, while giving you the chance to snap the most eye-catching 'before and after' shots for your Insta feed.
So what are you waiting for? Brush up on how to create pastel ombre hair in the salon, then take inspiration from five unmissable formulas by fellow pros…
How to Create Pastel Ombre Hair
To create the flawless gradient seen in your favorite pastel ombre looks, keep these three simple steps in mind for your next creation…
1. Lighten the Mid-Lengths and Ends
Start by lightening the mid-lengths and ends. Doing so will allow pastel hair tones to stand out, creating a canvas for clean, radiant colour. Our pre-lightening pick for ombre is BlondorPlex, which can be swept from the mid-lengths (where the fade begins) right down to the tips, lending a boost of bond-strengthening power as it lifts.
2. Shade the Root
If your client likes their natural base, why not shade the root area with Shinefinity? This zero lift glaze will add subtle depth and tone without shifting the existing colour. You could also use Illumina Color to lend soft brightening to their existing hue, while paving the way for a super-seamless transition.
For a root-to-tip pastel mane, you'll need to apply a brighter version of your client's chosen colour, like a fuchsia to melt into a candy floss blush or a cobalt that turns sky blue through the ends. However, pastel tones also pop against a blonde and sometimes even a brunette root area, so make sure you know exactly what tonal direction your client is hoping for.
3. Sweep On the Pastel Toners
After the root shadow and pre-lightener have been removed, it's time to apply those pastel hues. We recommend mixing up one or two shades, depending on the finish your client wants to achieve. If they're hoping for a gradual blend from root to tip, opt for two shades: one for the midsection and one for the tips. But if they're looking for a bolder effect, a single shade to cover the whole lightened section will work.
You'll find a host of pastel tones in the Opal-Essence by Illumina Color collection, or you can use the clear toners in our other ranges to pastelize hues to perfection. To do this, look out for Tomorrow Clear in the Color Fresh CREATE line-up, 00/00 in the Shinefinity range or 0/00 in the Koleston Perfect portfolio.
5 Pastel Ombre Ideas to Try
Paint your way to the perfect pastel ombre by taking inspiration from these five pro formulas…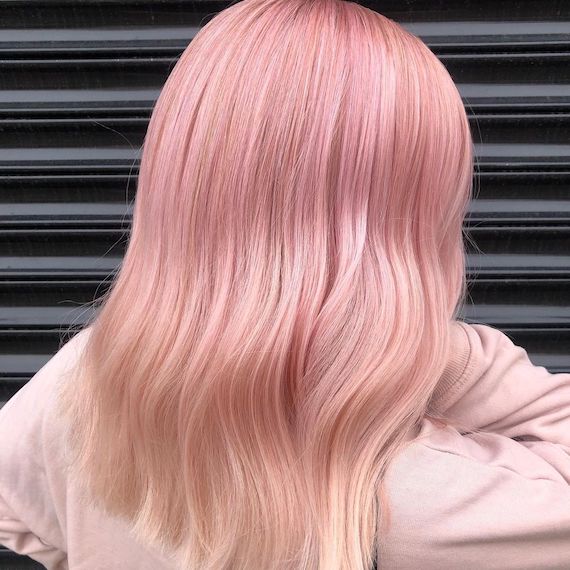 1
Pastel Pink Ombre Hair
Image Credit: @hair.by.craig_parkinson
Pastel pink fades into creamy blonde in this soft ombre creation, which sees hints of blush applied over the top of a clean level 10 base. To recreate the look, try mixing 30g of Koleston Perfect 10/1 with 0.5g of 0/65 + 1.9%, then apply it to the roots and mid-lengths for 15 minutes, and the ends for just five minutes.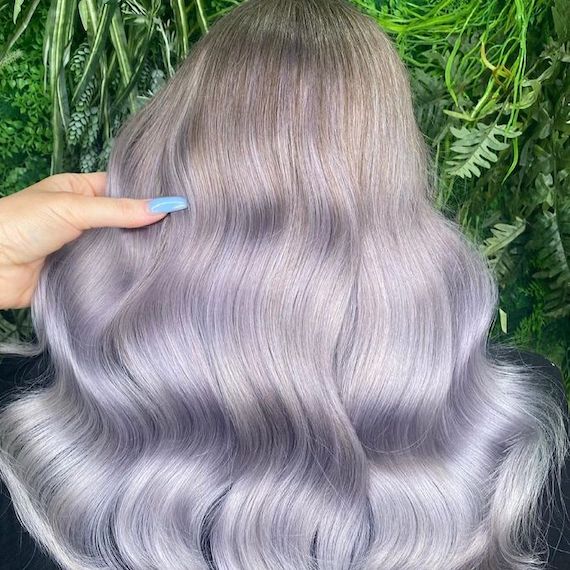 2
Pastel Purple Ombre Hair
Image Credit: @njuk_
From ash blonde roots to lilac infused ends, this pastel purple ombre has us mesmerized. To recreate the look, you could reach for the Shinefinity Blue Booster 00/89 mixed with Clear, or even try 08/8 Blue Pearl mixed with 09/61 Iced Platinum or 09/65 Pink Shimmer.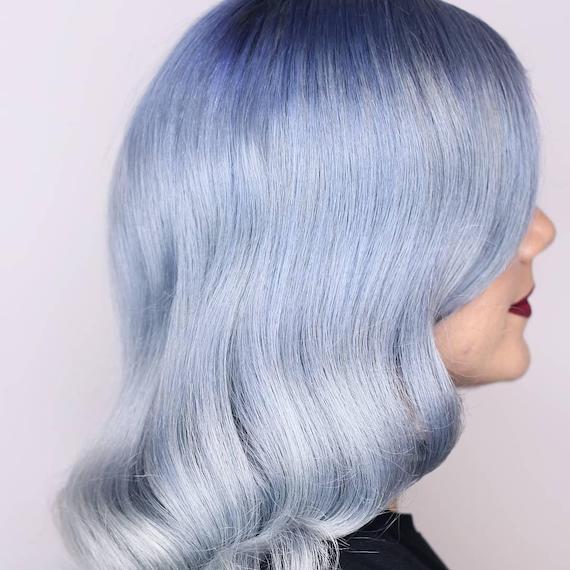 3
Pastel Blue Ombre Hair
Image Credit: @mr.mishwu
This is a pastel ombre mane with a difference; a striking masterpiece that sees bold navy roots segue into blue-grey ends for a graduation that's both soft and impactful. To create the look, roots have been lightened first with BlondorPlex before a toning formula of Color Touch 10/81 +7/89 + 0/88 has been applied for a pastel that packs a punch.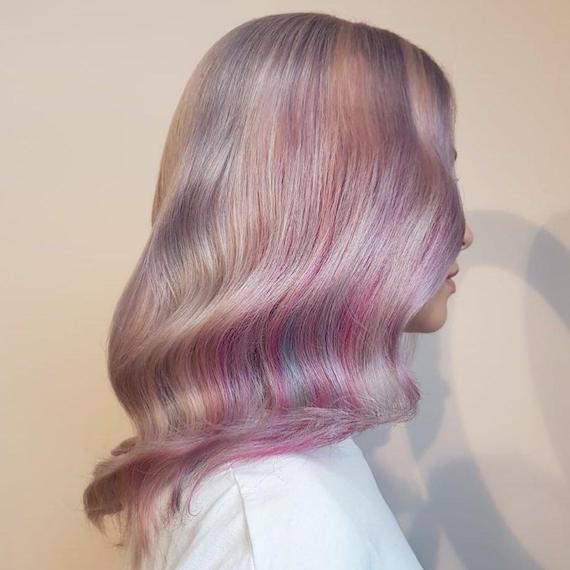 4
Pastel Rainbow Ombre Hair
Image Credit: @lucianbusuioc
Now this is a creative ombre. The array of pastel tones starts out soft and subtle at the root but becomes more saturated as you reach the mid-lengths and ends of the hair. If you're crafting a kaleidoscope of colours like this, we recommend turning to Color Fresh CREATE, which boasts blues, pinks, violets, and greens in the line-up, along with additives that let you tweak the tone. Mix the Tomorrow Clear additive with your client's chosen hues to pastelize to perfection, then make like Lucian Busuioc and play with the intensity from root to tip.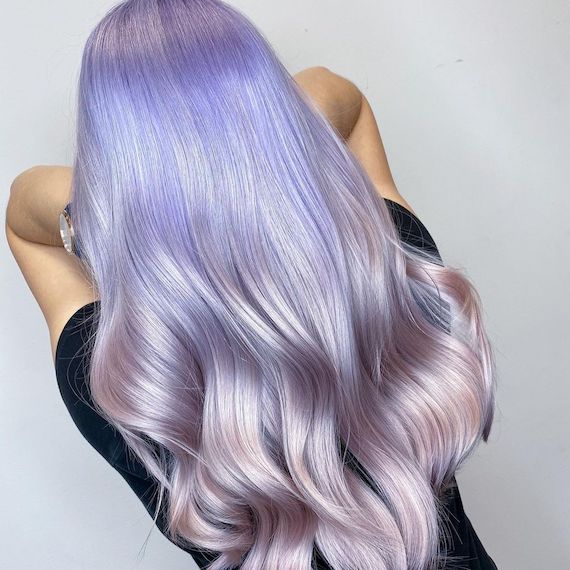 5
Pastel Pink and Purple Ombre Hair
Image Credit: @laila.wella
Have you ever seen a dreamier ombre? This unicorn-inspired creation by Laila Pettersen sees electric lilac roots melt into rosy ends for a show-stoppingly vibrant finish. Proving pastels can be just as captivating as bolds, hair was treated to a pre-lightening session with BlondorPlex + 6%, followed by a veil of Illumina Color tones. You're seeing 9/60 + Opal-Essence Silver Mauve + 1.9% (1:2) in the roots to mid-lengths, and 10/05 + Opal-Essence Titanium Rose + 1.9% (1:2) from the mid-lengths to ends.
How to Maintain Pastel Ombre Hair
Because pastel tones are delicate, they can be prone to fading fast. That's why it's important your clients know how to give colour the correct care with an at-home routine. These are the tips to pass on before they exit the salon…
1. Shade-Saving Shampoos Are a Must
Not just any shampoo will do when washing coloured hair. Recommend your clients use one that shields strands from fading aggressors, while enhancing shine from root to tip. Our go-to for radiance is INVIGO Brilliance Color Protection Shampoo, which comes in two formulas – Normal/Fine and Coarse/Thick – so they can tailor their regimen.
2. Maximum Moisture Equals Maximum Shine
Pastel tones are at their most luminous when hair is healthy and hydrated, so suggest your clients add a moisturizing mask to their weekly routine. The INVIGO Brilliance Vibrant Color Mask is ideal for veiling strands in lustrous shine, while the ColorMotion+ Structure+ Mask is our top pick for dry, damaged hair that craves sumptuous moisture.
3. Hair Needs Protection from Heat Styling
When your client's hair is heat damaged, it doesn't just appear dry and frazzled; too much heat can also cause their pastel hair colour to fade. So, if they're not ready to put down the hairdryer, straighteners or curling iron, they'll need to add a heat protection spray to their routine to lock their shade down for longer. EIMI Thermal Image is ideal, as it shields strands from heat up to 220 degrees Celsius, while also lending a boost of shine for the punchiest pastels around.