5 Luminous Blue-Grey Hair Ideas & Formulas
Blue hair and grey hair have both been high on the trend agenda in recent months, as more and more clients have embraced silver tones or gone bold with bright, oceanic hues. So, it was only a matter of time before blue-grey hair would make an impact; an ethereal blend of two cool-toned colours that – as you'll see – work in flawless tandem. 
But, just because it looks like blue and grey shades should intertwine with ease, doesn't mean creating blue-grey hair is simple. It's all in how you mix up and sweep on the formula. Here's everything you need to know before trying out the trend on your clients, including five formulas you can bring to life in the salon…
How to Create Blue-Grey Hair
The secret to perfecting blue-grey hair is knowing that there's no single colour technique to use. There are so many ways to try the trend, from a grey-to-blue ombre, to a root-to-tip fusion of the two hues. Paint them, melt them and blend them together through hair, any way your client wishes. But make sure you have these essential tips to guide you en route to the dreamiest hue… 
1. Map Out the Technique
Speak to your client about the blue-grey look they hope to achieve, so you can plan the right formulas and choose the right technique accordingly. Some of the styles they could try include a blue-grey balayage, blue highlights on a charcoal base, or sweeps of silver and cobalt through platinum blonde hair.  
2. Brighten with the Base
Unless you're already working with a very light base, you'll need to pre-lighten hair before you apply any blue or grey colours over the top. Doing so will create a clean, bright canvas for the tones to stand out. Try it with BlondorPlex; a pre-lightener infused with our hair-strengthening WellaPlex No1 Bond Maker. 
3. Choose the Right Colour Products
There are vibrant blues and glistening greys across the Wella portfolio, meaning that finding the perfect shades to mix up won't be difficult. However, it's important you choose a colour product that suits your client's needs and lifestyle. Decode their colour product with this speedy lowdown:
For rich, healthy-looking colour, opt for permanent Koleston Perfect, which boasts a raft of silvery greys, alongside a true blue Special Mix shade, 0/88. 
For beautiful pastelization and bespoke tonal results, use semi-permanent Color Fresh and Color Fresh CREATE. The latter features a bright New Blue which you can personalize by mixing with deeper or softer pastel hues.  
For vibrant, transformative results, enjoy playing with demi-permanent Color Touch. Like Koleston Perfect, it features a bright blue Special Mix shade that teams beautifully with cool greys. 
5 Blue-Grey Hair Formulas & Ideas to Try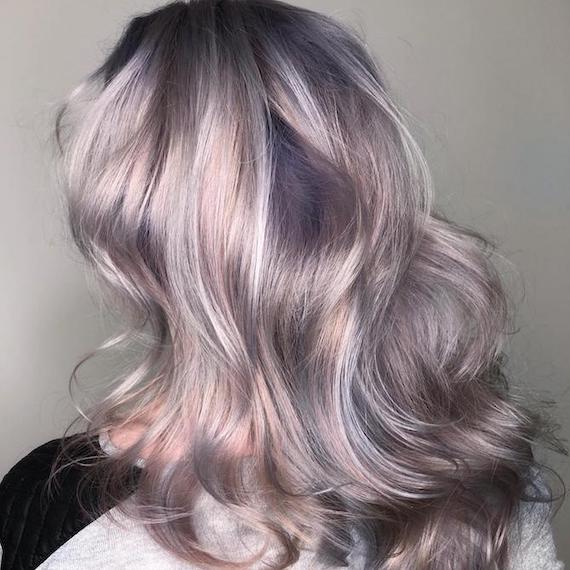 1
1. Grey Hair with Blue Highlights
Image Credit: @laila.wella
We're not just seeing blue in this charcoal creation by Laila Petterson. Intertwined with those washed-out navy tones, we spy a scattering of sunset pinks, perfected using Color Touch. The pastel blue highlights come courtesy of 9/86 with a line of 0/88 + 1.9%, while the rosy hues were concocted using a 2:1 ratio of 9/96 + 10/0 + 1.9%.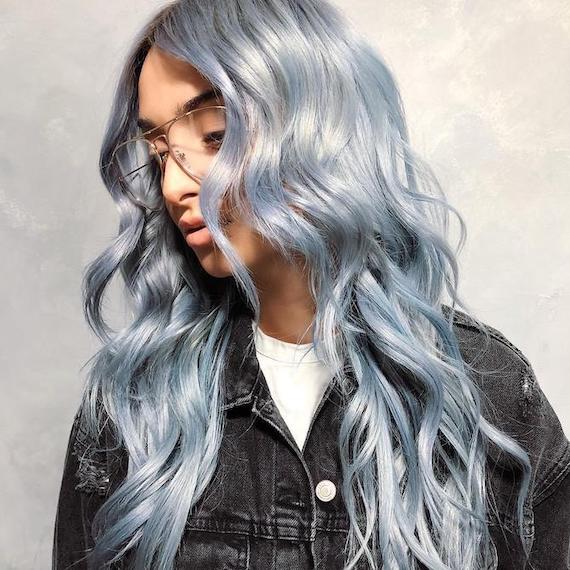 2
2. Pastel Blue-Grey Hair
Image Credit: @e_medz via @wellahairusa
This pastel blue with hints of silver is a shiny dream come true, complete with beachy waves that only serve to enhance that oceanic feel. If you're channelling this soft yet striking tone, add a wave and glow boost to the finished look. We recommend EIMI Ocean Spritz to turn up texture as you tong, followed by EIMI Glam Mist to enhance shine at the end.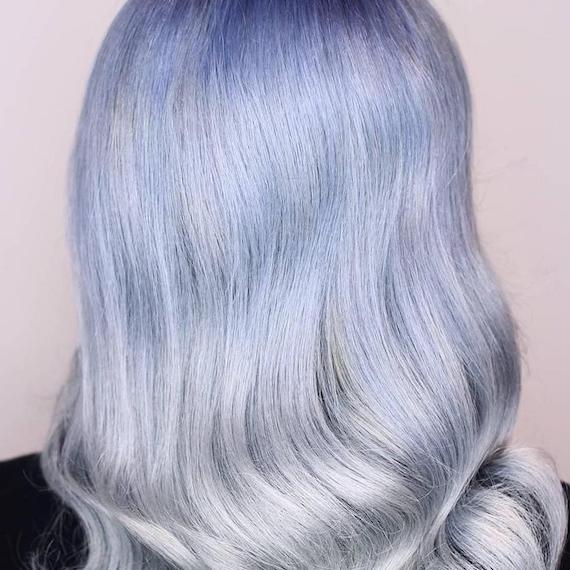 3
3. Blue-Grey Ombre Hair
Image Credit: @mr.mishwu
Ombre hair, but make it vibrant. That's the order of the day with this mane, which you can replicate using a blend of semi-permanent Color Fresh and Color Fresh CREATE. On pre-lightened locks, apply CFC in New Blue diluted with Tomorrow Clear from roots to mid-lengths. Then, from mid-lengths to ends, try toning with a silvery shot of 8/81. Allow the two formulas to meet in the middle for a seamless, metallic melt.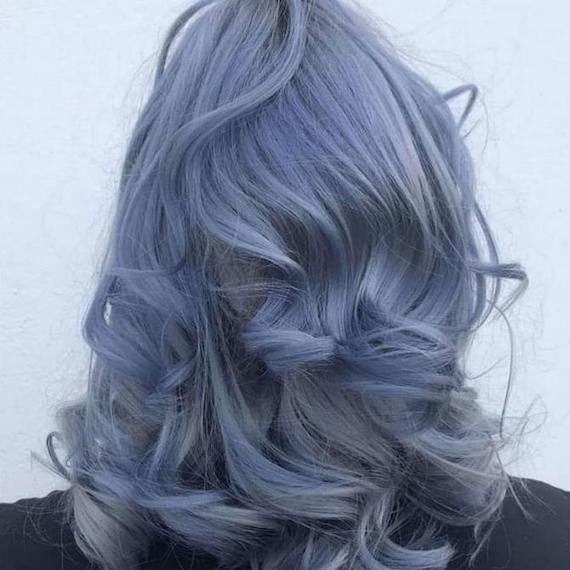 4
4. Dark Blue-Grey Hair
Image Credit: @hairbyailinshanks via @wellanordic
This navy charcoal shows a deeper side to the blue-grey hair trend, and we love how Ailin Shanks has swathed the muted tone from root to tip. The look started with a pre-bleaching phase on the roots, before a 1:2 ratio of permanent Koleston Perfect 10/95 + 0/88 + 1.9% was painted all over. Then, looped ringlets were added to soften the edginess of the darker tone, resulting in a bouncy blue-grey mane with a fresh fall/winter vibe.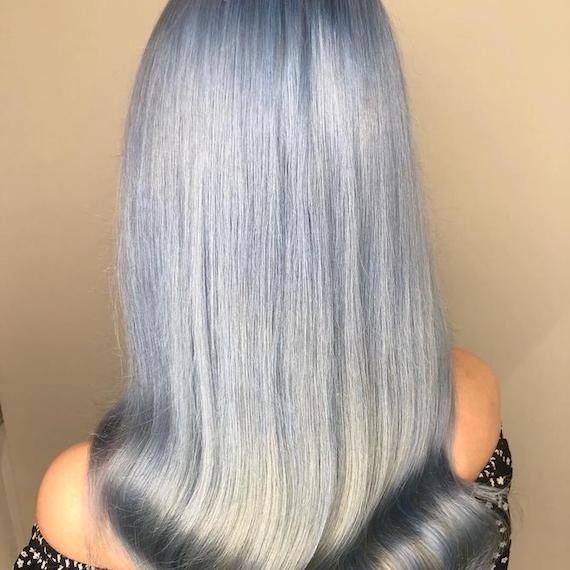 5
5. Blue Steel Grey Hair
Image Credit: @chiriac.ionela
More blue than grey, this steely masterpiece features metallic cerulean from root to tip, with balayage strokes of silver making an appearance at the ends. Ionela Chiriac has gone for a partial balayage with the grey tones, focusing them only in the top layers, through the very tips, for an unexpected twist on true blues. Trying the trend? Style locks smooth then coif a gentle curl through the ends. Finish with a light layer of EIMI Oil Spritz to give those high-shine hues an added boost.
How to Maintain Blue-Grey Hair
First, a colour care refresher: all salon shades require at-home maintenance, which is why you should recommend a routine to your clients that keeps their new hue looking fresh. ColorMotion+ Color Protecting Shampoo and Color Reflection Conditioner keep fading free radicals at bay, while ensuring strands stay shiny, healthy and hydrated between colour appointments. Suggest they also add a purple shampoo, like INVIGO Cool Blonde Color Refreshing Shampoo, to their kit, which they can use if warm or brassy tones start to appear. And, finally, if their blue is on the bolder side, show them the Color Fresh Mask in Blue. It's a tinted treatment that tops up their tone in 10 minutes. Blue-grey tones will appear bright once more.