Blorange Hair is Summer 2022's Dreamiest Shade
Some of our favorite hair colour trends are flawless fusions of our go-to hues. Think bronde (brown blonde), rose gold (pinky blonde), and blue grey (silvery sapphire). So, consider us obsessed with blorange hair – AKA blonde orange hair – which is giving us pretty peachy vibes that are perfect for the spring/summer 2022 season. From pastel-soft to bold and bright, clients can work this trend any way they like. All you need are the right tricks, inspiration and formulas to get your blorange creations started. We've got you covered…
How to Create Blorange Hair
1. Pre-Lighten Your Client's Locks
Unless your client already has light blonde hair, you may need to pre-lighten their existing base colour so those blorange tones can truly pop. For this, Blondor has you covered. Use Freelights if you're sweeping on freehand strokes for a balayage effect, or try BlondorPlex for highlights, all-over lightening or any techniques that require foils. Freelights has an adhesive mass that helps it stay exactly where you place it, while BlondorPlex is infused with our strengthening PLEX ingredient from WellaPlex.
2. Choose a Blorange Colour
Once your client's hair has been lifted to the correct underlying tone, it's time to choose a blorange colour to apply over the top. Typically, a mix of blonde and orange colours is needed to create the perfect formula, but you might not be all that familiar with the orange shades available. (After all, they're not used as often as blondes.) To help you locate them, here are just some of our favorite orange tones…
 Color Fresh CREATE in Infinite Orange is the truest sunny hue, while Hyper Coral is a pinky orange shade that feels fun and fresh for summer. Because all CFC colours are intermixable, you can actually mix the two together, or combine them with the Tomorrow Clear additive to create a custom pastel.
 Koleston Perfect has a range of reds, oranges and blondes available, but our go-tos for mixing up a blorange colour include 99/44, 0/33 and 0/43. On their own they offer a coppery orange, but blending with blonde shades results in a softer tone.
 Opal Essence by Illumina Color in Copper Peach is the definition of a blorange shade. You could apply it alone over pre-lightened, level 8 or 9 hair, and you'd have the trend in one. Choose it if light-reflective shine is high on the agenda, as the finish is truly luminous.
3. Apply, Develop and Remove
After mixing your client's chosen shade of orange with their perfect blonde, apply their blorange formula root to tip, or through mid-lengths and ends for a balayage effect. Allow the colour to develop, then wash out with a colour-kind formula. We love INVIGO Color Brilliance Color Protection Shampoo for a boost of radiance. Apply conditioner if the hair needs it, neutralize with the Post Color Treatment, then dry and style that blorange mane as desired.
5 Blorange Hair Ideas & Formulas
1. True Blorange Hair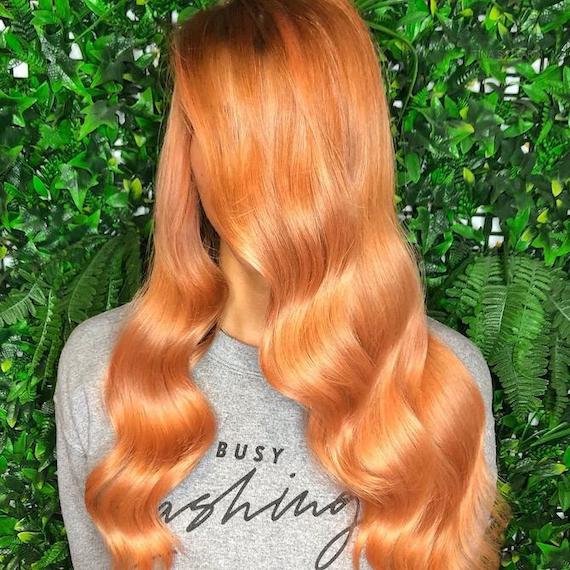 Image Credit: @tinted.bytina
There's just the right level of blonde and orange in this blorange hair creation. For a similar effect, make sure you lift the hair all over first, then mix up a Color Fresh CREATE formula. Try 20g Infinite Orange + 10g Nu-Dist Pink + 60g Tomorrow Clear, which should be painted from root to tip then left to develop for 20 minutes.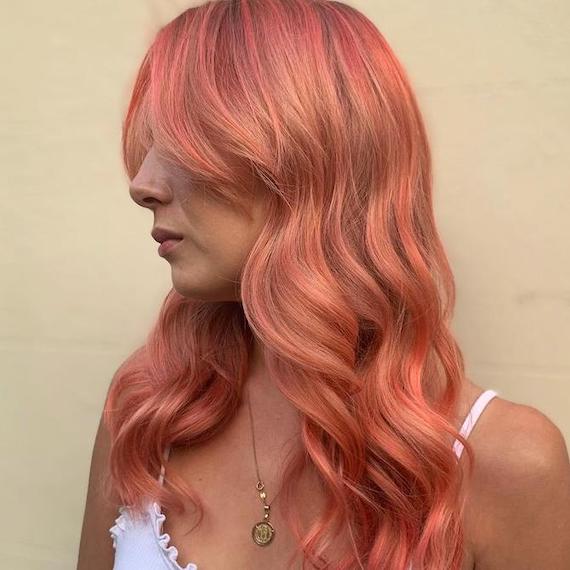 Image Credit: @chloeeuers_salonx
There's a touch of neon coral in this bright blorange mane, giving it an extra summery finish that bold-loving clients will adore. The look was prepped with BlondorPlex +4% developer in foils for brightness, before Color Fresh CREATE Tomorrow Clear and Hyper Coral was mixed 3:1 for a punchy toner.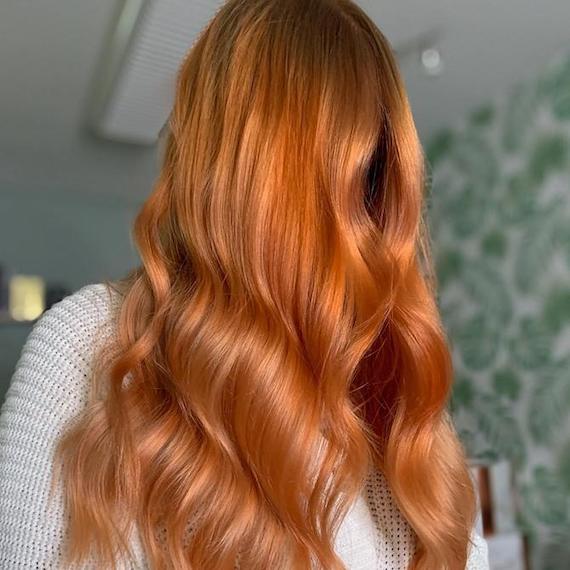 Image Credit: @hairbymerisointu
This richer take on blorange hair is warm and radiant, teaming a dark blonde root melt with coppery blonde lengths for a more lived-in effect. First, Blondor Freelights was applied to mid-lengths and ends, and pre-toned with Illumina Color 9/43. Then, once the new tone had been established, a Koleston Perfect glossing service was carried out. On roots, 7/7 + 7/43 was used, while 8/43 + 9/04 + /65 gave the rest of the hair a blorange glow. We are in love.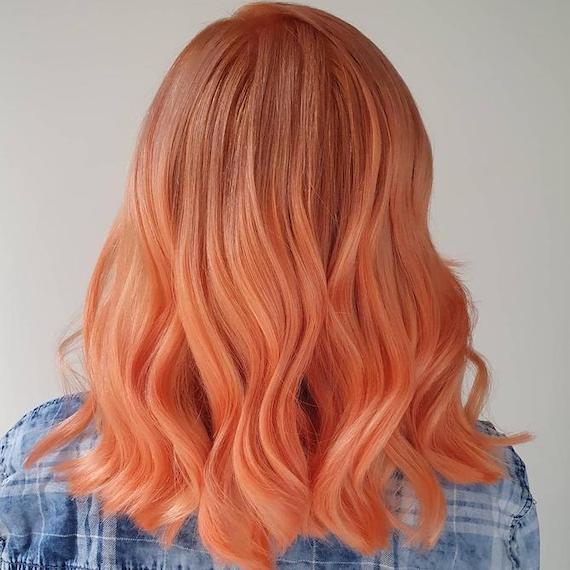 Image Credit: @ericjlo85maverickhair
Is there anything more enchanting than sunset hair colour? We think not. This blorange edition is an ombre dream come true, featuring Opal Essence by Illumina Color. Locks were pre-lightened first – with a focus on the mid-lengths and ends for added brightness here – before 40g of Copper Peach was mixed with 10g of Titanium Rose, 10g of 7/43 and Welloxon Perfect 1.9%. Flawless.
5. Strawberry Blorange Hair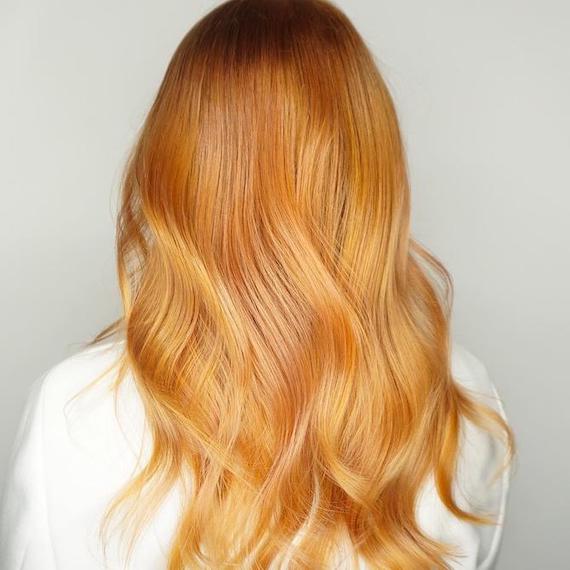 Image Credit: @kai_sohn
What happens when you add a little orange to a strawberry blonde formula? This is the result – a shimmering head of soft, pale, sunrise tones that scream 'summer-ready'. To recreate the look, tone hair with Opal Essence by Illumina Color in Copper +1.9% first, before sweeping ribbons of Blondor Freelights +9% with a balayage technique. Then, apply three shades of Color Fresh CREATE in alternating lowlights: Vintage Blush, Nu-Dist Pink and a 1:1 mix of Infinite Orange + Vintage Blush.
How to Maintain Blorange Hair
Golden shades, like blorange, aren't usually the easiest to maintain, as they have a tendency to go too warm and fade brassy over time. This is why your client needs to use the right shampoo and conditioner at home. We recommend ColorMotion+ Color Protection Shampoo and Moisturizing Color Reflection Conditioner. For a weekly dose of added moisture, the Structure+ Mask is also a coloured hair staple, making sure light locks feel stronger in between salon appointments.
For deeper blorange tones, a colour-depositing conditioner can also help. Try the Color Fresh Mask in Copper Glow, which they can massage through just-shampooed hair in place of their usual conditioner. All they have to do is then comb it through, leave it to develop for 10 minutes, then rinse thoroughly to reveal revived and refreshed colour.
Finally, ensure they understand the importance of a heat protection spray. Whether they blow-dry, curl or straighten their hair (or do all three!), a safeguarding mist is a must to prevent split ends. We created EIMI Thermal Image for exactly this reason. It shields strands from heat up to 220 degrees celsius, while lending a boost of shine too. Their blorange hair will glow.