5 Pink Balayage Looks to Try – From Pastel to Fuchsia
Just when you thought the pink hair trend couldn't get any dreamier, along comes pink balayage to give the punchy and playful shade a painterly refresh. Enhancing the mid-lengths and ends of your clients' hair in all its blush, rose gold or fuchsia glory (take your pick!), pink balayage is one look that's bound to blow up on Instagram when you post those 'before and after' shots.
But, how do you create the look for your clients? Follow these tips and pro formulas to unlock one of the biggest hair colour trends of summer 2022…
How to Create a Pink Balayage
1. Create Freehand Highlights with a Hair Lightener
Unless your client already has light blonde locks (in which case you can jump to step two), you'll need to pre-lighten the mid-lengths and ends of their hair to help their pink balayage stand out. Our go-to for balayage creations is Blondor Freelights, which harnesses an adhesive mass to ensure it stays exactly where you place it with no smudging or bleeding; perfect for open-air development.
However, if you're applying foilyage (balayage in foils to increase the lift), you could also use BlondorPlex which is infused with our WellaPlex No1 Bond Maker to strengthen the internal hair bonds. Just make sure, once your client's hair has lifted to the correct level, you complete the service with the No2 Bond Stabilizer at the sink.
2. Choose the Perfect Pink Hair Colour
There are so many ways to go pink with the Wella colour portfolio, so take your pick and prepare to get mixing in order to achieve your client's dream shade. The pinks on offer include…
 Koleston Perfect in Special Mix 0/65, for a hot pink that can be applied as is, or mixed with shades of blonde or brown to create a more muted tone.
 Opal Essence by Illumina Color in Titanium Rose for a metallic pastel pink that works well with Copper Peach for a soft rose gold.
 Color Fresh CREATE in Nu-Dist Pink for a delicate blush, Hyper Coral for a punchy orange-pink, and High Magenta for a vibrant hue.
Apply to clean, dry hair, focusing through the mid-lengths and ends for a pink balayage, then allow it to develop until you reach your client's dream hue.
3. Rinse the Hair and Neutralize
When that pink balayage is ready, take your client over to the sink and wash out the formula with INVIGO Color Brilliance Color Protection Shampoo. Follow up with a conditioner if the hair needs it, then neutralize using the INVIGO Color Service Post Color Treatment. Now their pink locks are ready for styling.
5 Pink Balayage Formulas to Try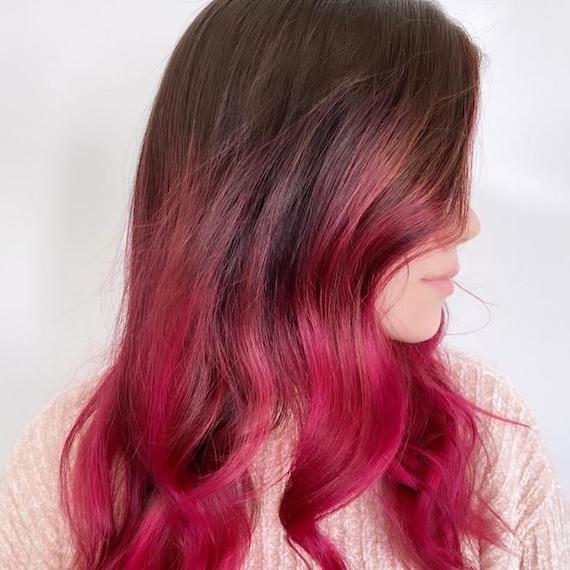 1
Pink Balayage on Brown Hair
Image Credit: @joanneoneill.hair
Who says blondes have all the fun? Brunette hair can enjoy a pop of pink as well, as demonstrated in this vibrant creation by Joanne. She applied a pink balayage on dark hair using Color Fresh CREATE in High Magenta; a wildly vivid hue that fades true to tone for easy maintenance. We love the contrast between dark brown roots and neon ends – a bold, bright masterpiece.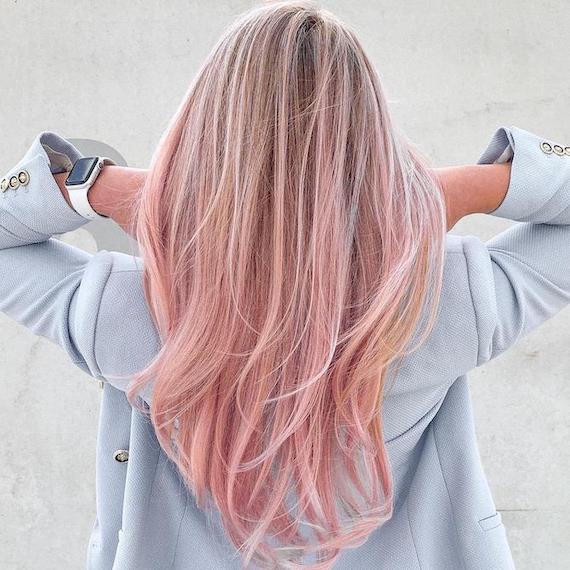 2
Pink Balayage on Blonde Hair
Image Credit: @matherzeberg
Taking pink balayage slightly subtler is this rosé on blonde look, which sees pastel tones stroked through a stone blonde base for the prettiest shimmer. To create the look, Matthias started by sweeping on balayage with Blondor Freelights, before applying Color Touch 10/0 + 0/65 with 1.9% for the touch of pink.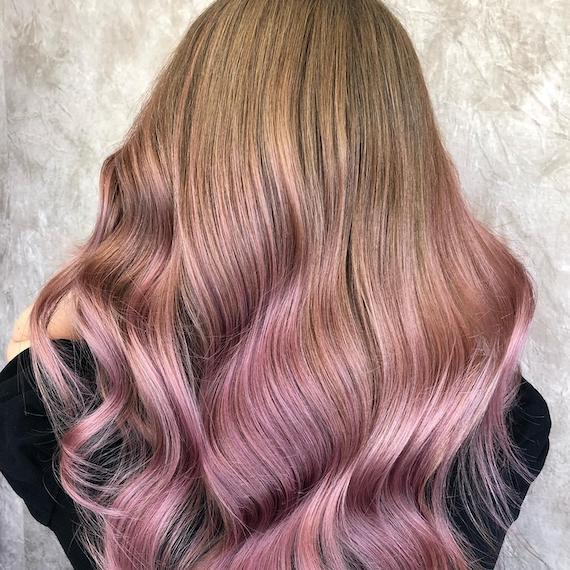 3
Pink Balayage on Dark Blonde Hair
Image Credit: @julia_sukuba
Dark blonde hair and pink balayage are a (surprising) match made in heaven. Together, they create a kind of punk-meets-surfer vibe that we're loving for the spring/summer season. If you'd like to replicate the hue on your dark blonde clients, try Julia's Color Touch mix: 10/81+ 9/96+ 55/65 with 1.9%.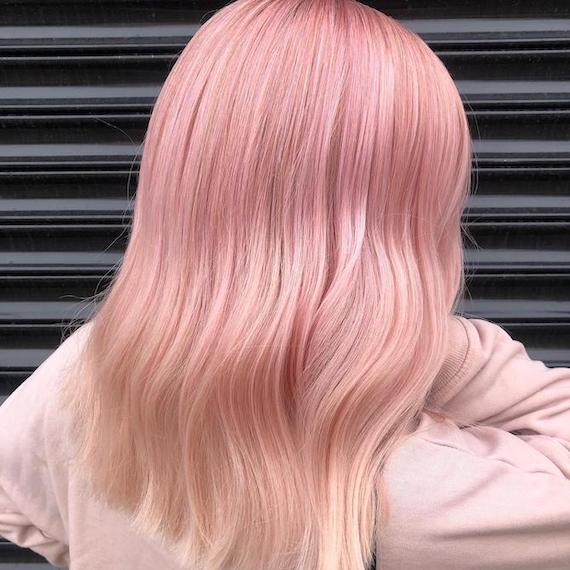 4
Reverse Pastel Pink Balayage
Image Credit: @hair.by.craig_parkinson
Pink balayage is usually focused through the mid-lengths and ends, but Craig proves it's just as impactful – if not more so – when swept from roots to mid-lengths in a reverse balayage. He started with his client's light blonde base, then swept Koleston Perfect in 10/1 + 0/65 + 1.9% down from the crown, feathering gently near the ends.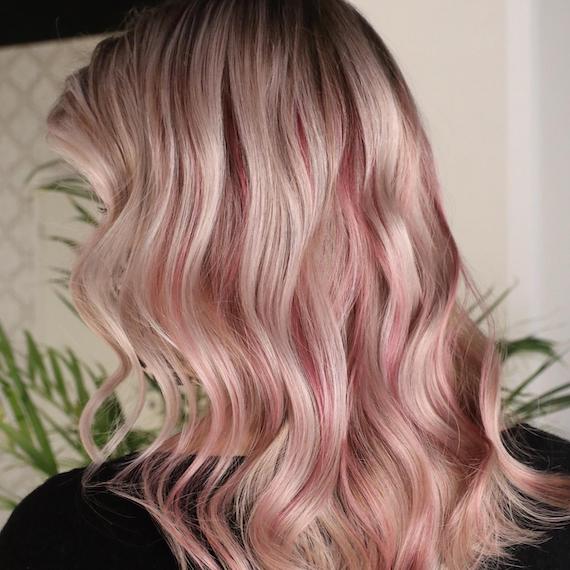 5
Partial Pink Balayage on Cool Blonde Hair
Image Credit: @harriakerberg
This 'peekaboo' pink balayage is focused through the lower layers of vanilla blonde hair, allowing the pastel ribbons to reveal themselves with every hair swish. But how do you get a ballet blush tone this flawless? Harri did it by mixing Color Fresh CREATE Nudist Pink 40g + High Magenta 10g, then painting the underneath sections of the hair.
How to Maintain Pink Balayage
Rainbow brights and pastel tones have a tendency to fade fast, so your client will need plenty of pro tips on how to maintain their pink hair at home. Here are the pointers that will boost their balayage in between salon appointments…
1. Use a Colour Protecting Shampoo and Conditioner
Recommend a duo that enhances shine and hydration, like the ColorMotion+ Color Protection Shampoo and the Moisturizing Color Reflection Conditioner. Together, they keep hair silky-soft while safeguarding strands from dulling pollutant particles.
2. Apply Hydrating Masks for Added Shine
On those days when your client's pink balayage could use a little extra care, they should apply a mask, like the Structure+ Mask, through the mid-lengths and ends. Suggest they massage it through just-washed hair that's been towel dried to boost the effects.
3. Touch Up Hot Pinks with a Tinted Treatment
The Color Fresh Mask in Pink is ideal for touching up your client's tone at home. All they have to do is wash their hair, apply the mask to existing pink sections, allow it to develop for 10 minutes, then rinse. It's a quick fix between salon appointments.
4. Mist On a Heat Protection Spray
Last but never least, let your client know just how important a heat protection spray is for all coloured hair. They should use it every time they blow-dry or heat style their hair. Our go-to is EIMI Thermal Image.