How to Create Hypnotic Sunset Hair
As we head into fall, one sun-kissed trend is set to rise up for your most daring clients. Enter sunset hair colour; giving us a glimmer of summery hues as the leaves start to turn. Like the sunsets you see in the sky, sunset hair combines a clash of striking colours that melt together. Think purples, pinks, oranges and reds – but not always at the same time. For one client, locks might be burning bright with fiery orange or scarlet tones, while for another hair may be softly glowing with pastel purple and pink hues.
So, how do you create sunset hair for your boldest clients? Read on for the tips, tricks, formulas and maintenance you need to know. The sun may be setting on the summer season, but this trend is going nowhere…
How to Create Sunset Hair Colour
1. Pick a Pre-Lightener
While light blonde hair may not need pre-lightening to create the perfect base, anything darker could require a lift to ensure those sunset colours pop. Which lightener you use depends on the melted effect you want to create, whether it's a root-to-tip transformation or a subtler balayage.
For balayage and foilyage: If you're giving your client a sunset balayage or foilyage (balayage in foils), opt for a freehand lightener, like Blondor Freelights. It harnesses an adhesive mass to ensure it stays put. This means, wherever you stroke it, you don't have to worry about smudging it onto other strands. Those painterly ribbons will gleam, glimmer and glow in all the right places.
For close-to-scalp lightening: When you're dealing with a sensitive scalp, Blondor Soft Blonde Cream is the perfect product. The gentler formula allows you to lift at the root, taking hair up to seven levels lighter. It's also infused with protective lipids that coat each strand of hair, helping to protect locks from moisture loss during the lightening process.
For bond-strengthening colour: Another great option for highlights or all-over lightening is BlondorPlex, which comes infused with our bond-strengthening WellaPlex No1 Bond Maker. Perfect for promoting stronger locks while lifting to perfection, it creates an even canvas for sunset colour. Rinse with the No2 Bond Stabilizer to complete the treatment.
2. Decode Their Shades
Sunset hair isn't just one colour. It's not even one colour family. What counts as a sunset blend for one client may not hit the mark for the next. That's why it's important to ask for photos before you start mixing up their shades, so you can see if they're into golden-red combinations or purple-pink colour melts. Just make sure there's always a touch of coral or orange in their unique mix. This is the defining hue that will tie their sunset-inspired tones together.
3. Choose the Right Product
Whether your client craves a semi-permanent, demi-permanent or permanent colour, there are so many shades and so many ways to unlock a sunset mane.
Permanent Koleston Perfect: With a palette of Vibrant Reds, bold Special Mix shades and a pure-pigment finish, Koleston Perfect is your go-to for creating permanent sunset looks that are brimming with intensity. Try adding a stroke of violet 0/65 or gold 0/30 for colour clash creation to remember.
Demi-permanent Color Touch: Like Koleston Perfect, Color Touch boasts a host of Vibrant Reds and Special Mix shades for shade-brave clients. From golds to corals to purples, there are so many ways to step up their sunset 'do. Plus, the demi-permanent formula means they'll get plenty of shine and a low-commitment way to work the trend; ideal for bold hair beginners who are trying the trend for the first time.
Semi-permanent Color Fresh CREATE: This is one of the most popular sunset hair products – and for good reason. With a palette of bold brights in pinks, oranges, reds, golds and more, Color Fresh CREATE gives you boundless ways to work the trend. The colours can be mixed together, blended with Tomorrow Clear for a pastelized effect, or worn in side-by-side rainbow ribbons through pre-lightened lengths.
Sunset Hair Ideas & Formulas To Try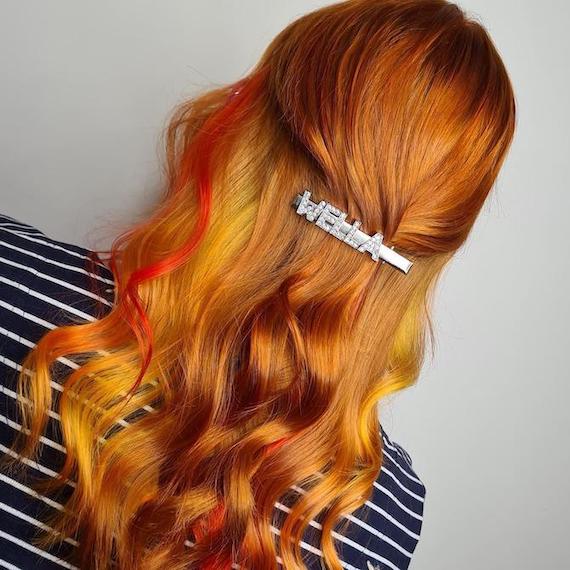 1
Copper Sunset Hair
Image Credit: @terricolours_bloominhair
Summer meets fall in this coppery mane, which sees hints of vivid red and gold swept through the lower layers for a striking reveal. To create the 'fire rainbow', Wella Master Colour Expert Terri Harris stroked ribbons of hair with Color Fresh CREATE in Uber Gold, Hyper Coral and Infinite Orange. Copper Sunset Hair is an Insta-favourite so discover more creative formulas below.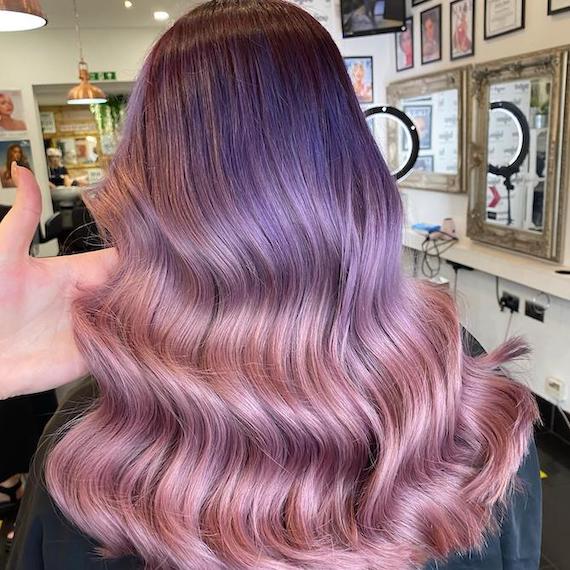 2
Sunset Ombre Hair
Image Credit: @jodiegrovehair
Just as the sun disappears below the horizon, you can sometimes spot an explosion of pinky-purple tones that set the night's sky aglow. This sunset ombre encapsulates that moment flawlessly. To create the look, Wella Passionista Jodie Grove applied Color Fresh CREATE in Ultra Purple near the root area, Pure Violet through the mid-lengths and Nudist Pink on the ends. Ombre hair has never looked so dreamy.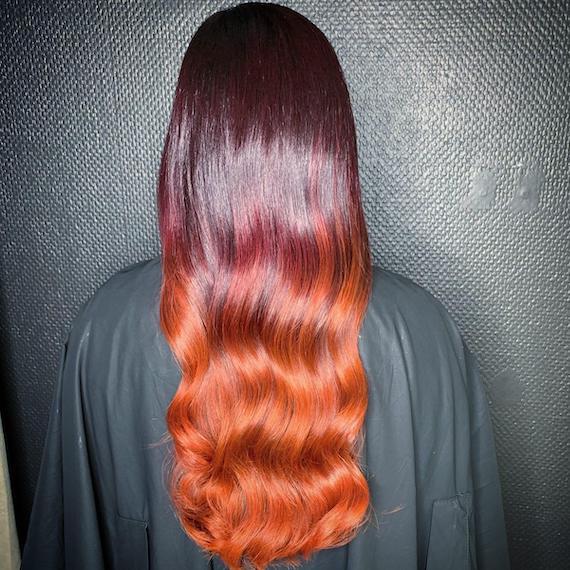 3
Dark Sunset Red Hair
Image Credit: @linn_alexandria_stylist
For darker sunset hair that takes your clients seamlessly into fall, consider melting burgundy tones into a crisp copper red. The effect? A sky ablaze infiery end-of-summer hues. Your go-to for creating this look is Color Touch 55/65 + 4% on the mid-lengths and 7/43 + 0/34 + 4% through the ends.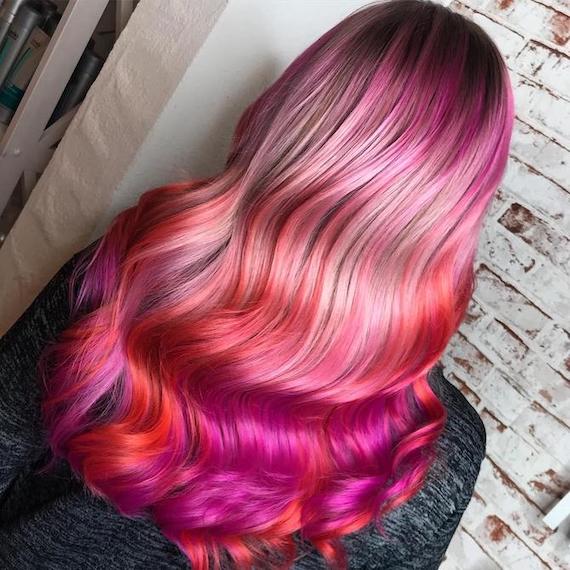 4
Sunset Pink Hair
Image Credit: @enriques_schnittraum
Enter another Color Fresh CREATE masterpiece, this time giving us a punchy pink sunset that's packed with fuchsia, coral and vibrant red tones. On blonde locks, Hyper Coral and High Magenta have been applied in radiant ribbons for a piercing sunset they won't forget. Just remember: the trick is in the melt.
FIERY SUNSET BLONDE HAIR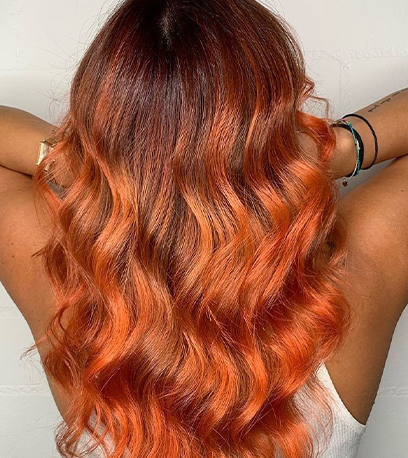 Colour Formula:
Color Fresh Create
100g Hyper Coral + 200g Future Yellow
POSH SUNSET BLONDE HAIR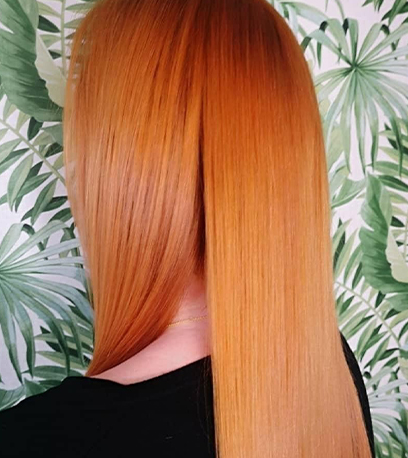 Colour Formula:
Koleston Perfect, Welloxon Perfect 60g
8/43 + 18g 0/30 + 78g 6%
STRAIGHT SUNSET BLONDE HAIR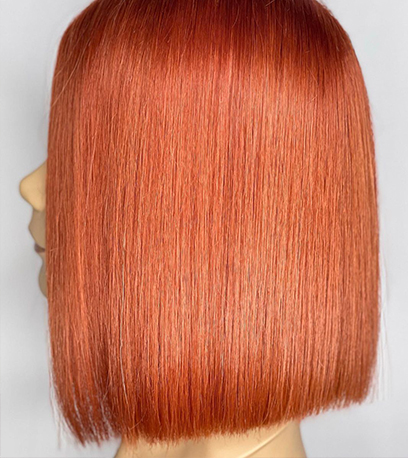 Colour Formula:
Koleston Perfect, Welloxon Perfect
30g 8/41 + 15g 0/00 + 3g 0/65 + 96g 1.9%
ROSEY SUNSET BLONDE HAIR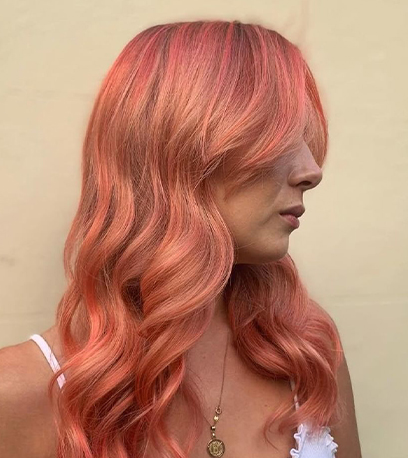 Colour Formula:
Blondor, Welloxon Perfect, Color Fresh Create
Foils: 30g Multi Blonde Powder + 45g 4%
Toner: 75g Tomorrow Clear + 25g Hyper Coral
PINK SUNSET BLONDE HAIR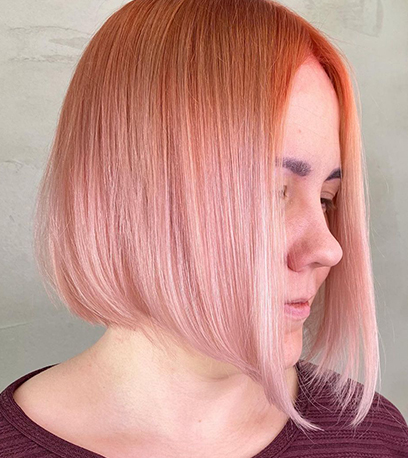 Colour Formula:
Koleston Perfect, Welloxon Perfect
Roots: 20g 8/43 + 40g 10/96 + 5g 0/65 + 65g 6%
Ends: 60g 10/96 + 10g 0/65 + 70g 1.9%
How to Maintain Sunset Hair Colour
Once your client has got their perfect sunset hue, they won't want to let it go. Recommend they take a shade-boosting care kit home, so they can maintain the colour in between salon appointments. Their go-tos are the INVIGO Color Brilliance Color Protection Shampoo and Vibrant Color Conditioner. This shine-enhancing combo will make bold tones appear brighter for longer, while keeping locks moisturized.
Meanwhile, the Color Fresh Mask offers a weekly hint of a tint to refresh colour. Choose from 11 shades, suggesting one that matches the most prominent tone in their sunset 'do. All they need to do is wash their hair as usual, apply the mask from root to tip, leave it on for 10 minutes, then rinse and style their locks as they usually would. Sunset hair, perfected.
SHOPWELLA STORE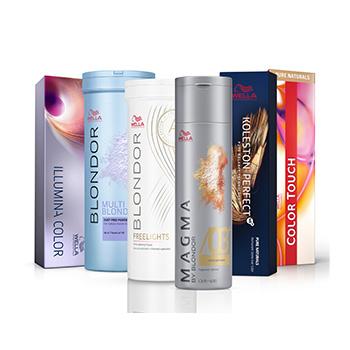 SHOP NOW
Products are only available to professionals.