5 Blonde Hair Gloss Ideas for the Freshest Glow
Maintaining blonde hair is notoriously tricky. While freshly-colored locks look clean, crisp and glowy, without the right care, a lightened mane can quickly fade brassy and dull. That's why, when you're working with blondes, it's not just about creating their perfect shade; it's also crucial to advise on the right after-care, so their hue appears fresher for longer.
So, what are the options? You have two key go-tos:
 Book your clients in for a glossing service between coloring appointments.
 Recommend they use a color-depositing mask at home in between salon visits.
But best results happen when you combine the two. Here, we're breaking down the benefits of both, so you can create and maintain the most radiant blonde shades around.
What Does a Gloss Do For Blonde Hair?
Time for a quick glossing refresher. This in-salon service veils hair in a hint of a luminous tint; perfect for subtle transformations, boosting shine and removing brassy tones. It's not just for maintenance – you can also use a gloss in place of a traditional color or toner, creating a delicate shade shift that's ultra-flattering.
But, how does it work? We offer a Koleston Perfect Pure Glossing Service, which sees the target KP blonde shade mixed with Welloxon Perfect 1.9% and INVIGO Color Service Post Hair Color Treatment at a 1:1:1 ratio. The blend is applied to shampooed and rough-dried hair, combed through with a wide-toothed comb, then left to develop for 5-10 minutes. You can even do this service in the space of a lunch break.
After washing the gloss out, your client's blonde shade will be revived, refreshed and radiant. Brassiness will be neutralized, and healthy shine will take its place. You can do it as part of your client's color service or invite them back in between bleaching appointments. Because it's quick, it's exactly the kind of maintenance time-poor clients will love.
5 Blonde Hair Glaze Ideas and Formulas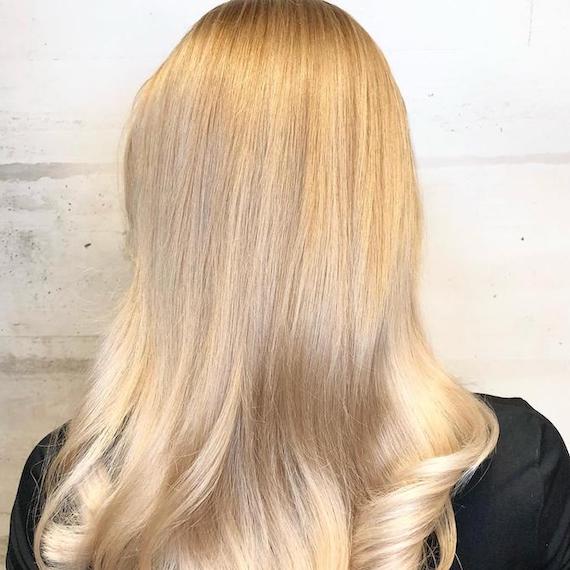 1
Honey Blonde Gloss
Image Credit: @jaripalin
Oh, honey. This delicious, warm, honey blonde balances pearlescent and golden tones beautifully, resulting in deeper roots and sparkling ends that reflect the light. A blend of Koleston Perfect 10/38 + 10/95 was added to the glossing formula, resulting in a sweet honey hue that can be maintained at home using the Golden Gloss Color Fresh Mask (but more on that later).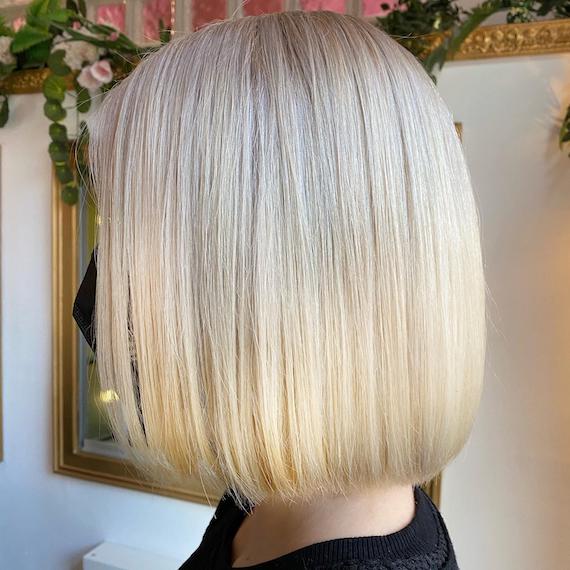 2
Vanilla Blonde Gloss
Image Credit: @christian_cartano_hair
This vanilla blonde gloss gives us all something to celebrate. A shade so clean and timeless, clients will want to lock it down from season to season, and year to year. Christian Cartano mixed up Koleston Perfect 10/81 + 10/05 in the glossing formula, creating an almost-ash blonde gloss hue that eliminates yellow tones.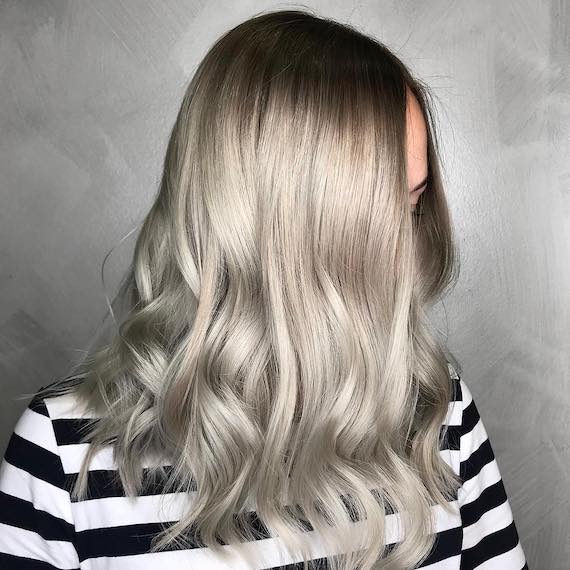 3
Gray Blonde Gloss
Image Credit: @kathapfrang
Gray blonde is one of the trickiest blonde shades to maintain, so clients working the color will be grateful for an 'in between appointments' gloss. Here, Katharina Pfrang topped up a silvery blonde mane by applying a blend of Welloxon Perfect Pastel Developer with INVIGO Color Service Post Hair Color Treatment and Koleston Perfect 10/16 + 10/8.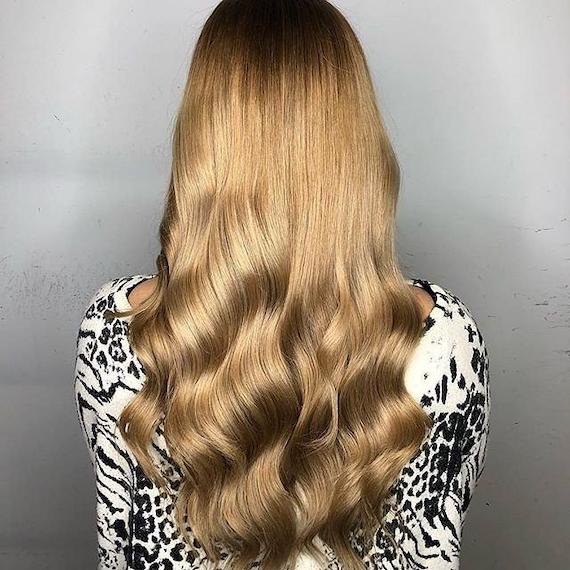 4
Caramel Blonde Gloss
Image Credit: @fergalwella via @wellanordic
How do you ensure a warm shade, like caramel blonde, doesn't veer too warm? A glossing service can bring it back from the brink when brassy tones start to appear. For this particular glossed 'do, locks were treated to a dose of Koleston Perfect 10/04 + 9/04 + 7/31 + 0/65 with Welloxon Pastel 1.9% and INVIGO Color Service Post Hair Color Treatment.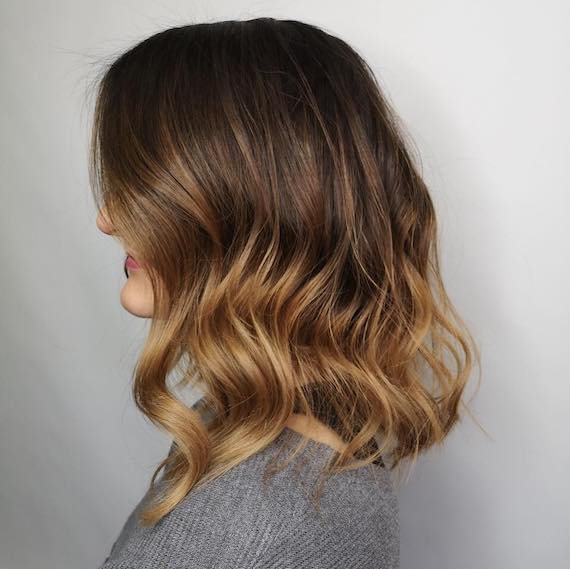 5
Bronde Balayage Gloss
Image Credit: @kopsidashair
Here's another benefit of a glossing service: if brunette clients crave blonde balayage, you can help maintain their lighter ends with a subtle, neutralizing tint. For this look, lifted lengths were enhanced using one part Koleston Perfect 7/31, one part Welloxon Perfect Pastel Developer and one part INVIGO Color Service Post Hair Color Treatment.
Watch the Lilac Frost Color Fresh Mask in Action
Topping Up the Tone at Home
Now, let's talk color-depositing treatments. For clients who want to refresh their tone at home, the DIY Color Fresh Mask will give them the benefits of glossing outside the salon. It combines a subtle tint and a thwack of conditioning botanical oils, designed for weekly use to maintain or transform their color with zero damage. And not only is it free of animal-derived ingredients or silicones, but it also reduces hair breakage during combing. Put simply, it's a color and conditioning win-win for your blonde clients.
Here's how they should use it:
Lather up: First, your clients would need to wash their hair – preferably with a color-kind formula, like INVIGO Color Brilliance Color Protecting Shampoo.
Apply the mask: On damp hair, they would then apply their shade of the Color Fresh Mask from root to tip, starting in the section where color has faded the most. (This means the formula will stay on this section for the longest.)
Comb it through: With a wide-toothed comb, clients should evenly distribute the mask. Gliding it in sections, from root to tip, will allow the conditioning formula to reach every strand.
Wait 10 minutes: That's all it takes for the oils and tint to refresh and renew their hair. Once the 10 minutes are up, no follow-up conditioner is needed; they can rinse, blow-dry and style as usual.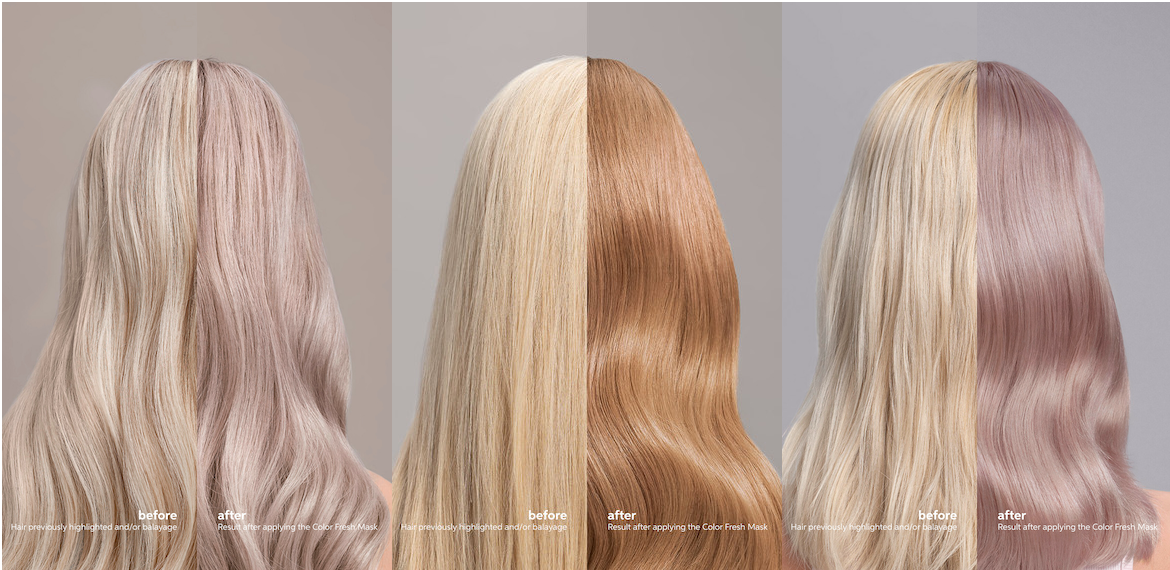 There are three editions of the Color Fresh Mask that blondes can use to top up their tone: Pearl Blonde (above left) and Lilac Frost (above center) for cool-toned blonde hues, and Golden Gloss (above right) for warm-toned blonde hues. Used weekly or whenever color needs a refresh, it injects a dose of conditioning color which, over time, fades completely true to tone.
Watch the Lilac Frost Color Fresh Mask in Action