These Red Purple Balayage Looks Are a Fall Dream Come True
Red purple balayage is set to take salons by storm – and we are so ready for it.
Yes, it may be pumpkin spice season – a time when everything, from hair to lattes, turns copper-brown – but a deeper shade of red appears to be trending this fall/winter. Sweeps of plum, aubergine and mahogany have been spotted through some of the pre-season's most magnetic creations, telling us one thing for sure: red purple balayage is on the rise.
In the months ahead, you may notice more and more clients requesting deeper, vampier, violet-tinted reds to enhance their mid-lengths and ends. That's where this guide will come in handy. Keep scrolling for tips on mixing red purple hair colors, painting the most seamless balayage, and helping your clients keep their bold manes.
Your Red Purple Balayage 101
Who CanPull off Red Purple Balayage?
This trend is perfect for dark brunettes, whether natural or made in the salon – so you may need to darken the base of your client's current shade if it's anything lighter than an espresso brown. Plus, cool-toned roots pair best with the hint of violet in the red purple mid-lengths and ends, so look to shades like Koleston Perfect 5/18, Shinefinity 04/07 or Color Touch 4/71 if you need to neutralize a little warmth. Once you've got the balance of cool, dark roots and vibrant violet-red lengths just right, you'll have mastered one of the most covetable balayage techniques of the season.
What Can I Use to Pre-Lighten Hair?
When it comes to balayage, not just any hair lightener will do. You need one that gives you reliable lifting, is easy to paint freehand, and won't smudge or bleed. Our go-to for painterly ribbons is Blondor Freelights because it hits all three of those goals, and works just as well with teasy lights (where the root section is teased for added softness) as it does with foilyage. You'll need it to lift your client's dark mid-lengths and ends where you want their red purple tones to pop, so apply, develop and rinse before you go in with that carefully chosen toner.
What Red Purple Shades Are Out There?
How long do you have? The definition of red purple is surprisingly broad, spanning everything from magenta, to black cherry, to merlot. In short: it covers a lot of shades. And you'll find plenty of them across the Wella color portfolio, from Koleston Perfect 0/65, to Color Touch 55/65, to Shinefinity 04/65. The 'mixability' of the shades within each brand also makes it easy to customize your client's hues, so you can add more red or more purple, depending on the finish they want.
5 Red Purple Balayage Hair Formulas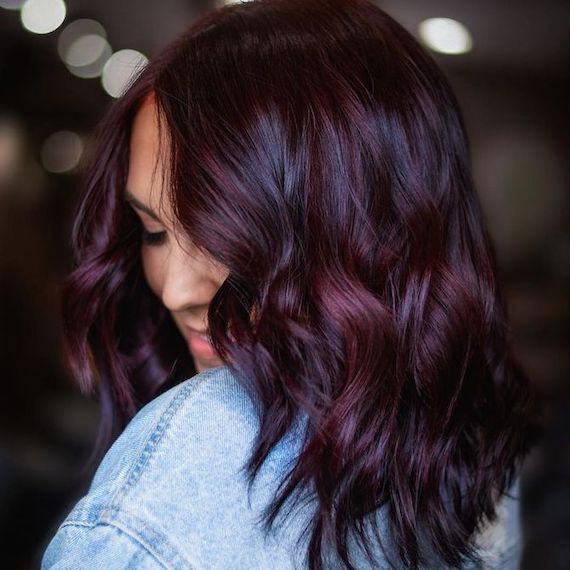 1
Dark Violet-Red Balayage
Image Credit: @thenewenglandstylist
For clients looking to go deep, dark and sultry with their red purple balayage, paint lightener through a deep base and tone with Koleston Perfect 55/46. Go for chunky highlights that reveal new depths as the hair swishes and sways, and recommend a clear Shinefinity 06/6 glaze to finish for an ultra-glossy topcoat.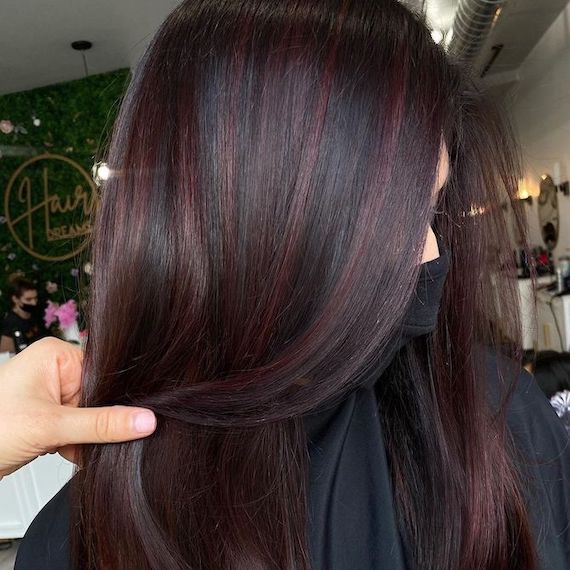 2
Subtle Red Purple Balayage
Image Credit: @hairbyangelaalberici
If your dark brunette client wants to keep their red purple balayage on the subtle side, suggest a lower volume of highlights and tone with a deep, dark aubergine. Here, Blondor Freelights has been used to lift, before locks have been treated to Color Touch 4/6 + 7/86 + and /56.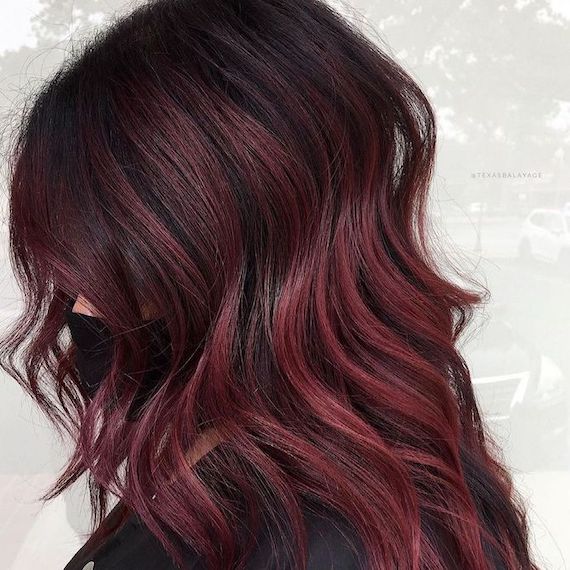 3
Bright Berry Red Balayage
Image Credit: @texasbalayage
Berry tones are as autumnal as it gets, and this dramatic hue is no different. It leans more into the red with just a hint of purple; perfect for clients who want a gentle whisper of warmth. Create the look by stroking Blondor Freelights through the mid-lengths and ends, then toning with Color Touch 5/66 + 44/65 + /68.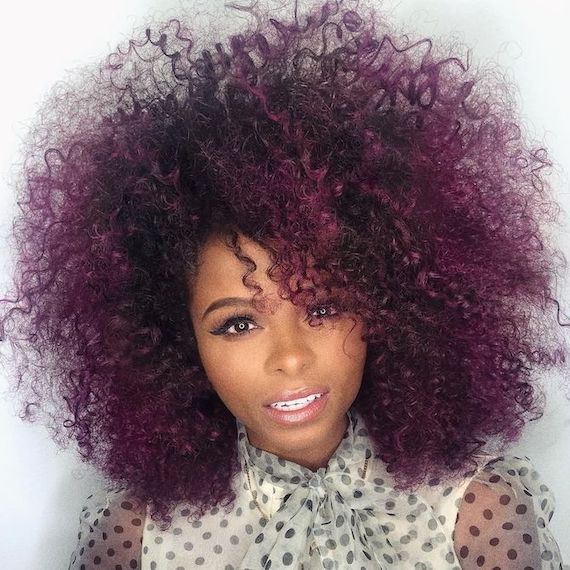 4
Vivid Violet-Red Balayage
Image Credit: @jhair_stylist
Koleston Perfect 55/65 gets an extra boost of violet 0/66 in this vivid creation, resulting in a major magenta that's high on purple hues with just a hint of red. Ideal for a curly balayage that makes a statement, this vibrant shade contrasts with the dark roots, helping to enhance the shape of every last curve and coil.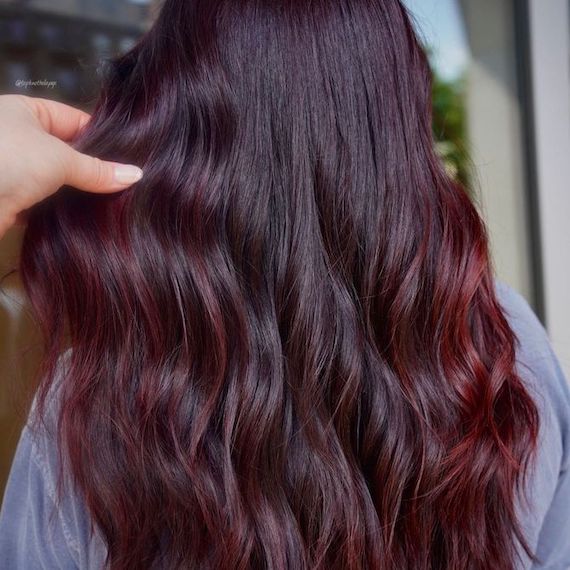 5
Red to Purple Balayage
Image Credit: @topknotbalayage
Purple roots melt into red lengths in this two-tone creation, which sees locks toned with Color Touch 5/66 (a cool, dark violet) and 66/45 (a fiery crimson). It's proof that, with this trend, your reds and purples don't have to be mixed together; they can be intertwined for a seamless balayage that packs a pigment punch.
How to Maintain Red Purple Balayage
The more vibrant the color, the more it will fade, which means red purple balayage can quickly lose its luster through a brunette mane. So how do clients maintain their shade? Recommend they try these hair care switch-ups…
1. Wash with a Vibrancy-Boosting Shampoo
For regular washing, your client should swap traditional shampoo for a color-kind formula. Our favorite for boosting shine is INVIGO Brilliance Color Protection Shampoo. Infused with lime caviar, it levels up shine and nourishes colored locks. Suggest they follow with the Vibrant Color Conditioner to complete their routine.
2. Top Up with a Red-Tinted Conditioner
There's another conditioner that clients with red purple hair need in their kit; introduce them to Wella Color Fresh Mask in Red, so they can quickly top up their tone at home. Designed to be used in place of their usual conditioner when color is looking dull, they should focus it through balayaged sections, leave on for three to five minutes, then rinse thoroughly. Their berry shade will appear revived.
3. Add Extra Gloss with a Shine Spray
Red purple balayage looks its best when it's glossy and gleaming, so point clients in the direction of a shine spray they can spritz through mid-lengths and ends. EIMI Glam Mist offers a weightless glow, while protecting locks from frizz-inducing humidity, so it's a great finishing touch for their violet-tinted mane.
Now, you know all there is to know about crafting a red purple balayage, you're ready to share these looks with your clients for their new color inspiration. Just make sure you tag @WellaHairUSA in your final looks on Instagram – we can't wait to see them.