Everything You Need to Know About Rainbow Hair
Who doesn't love rainbow hair? An instant mood-lifter, this bright, bold trend is here to stay in all its multi-tonal glory, cheering up our locks one section at a time. And it's much more versatile than you might think, going way beyond classic rainbow colors. From showcasing stand-out shades and jewel-toned hues, to soft pastels and hidden rainbow hair, there are so many ways to wear this trend. The possibilities (and shades) are endless...
If your client is looking to step up their shade, follow our everything guide to achieving their rainbow hair of dreams, whether that's weaving subtle pastel highlights through icy blonde locks or perfecting rainbow prism color. We've got the answer to all your colorful questions, including coloring technique, post-appointment haircare advice and hairspirational looks. Just call us your pot of gold...
Rainbow Hair Inspiration
Are your clients ready to dip a toe or take a plunge into the rainbow hair-tinted pool? Look no further for the brightest, freshest rainbow hair looks to inspire their next salon visit...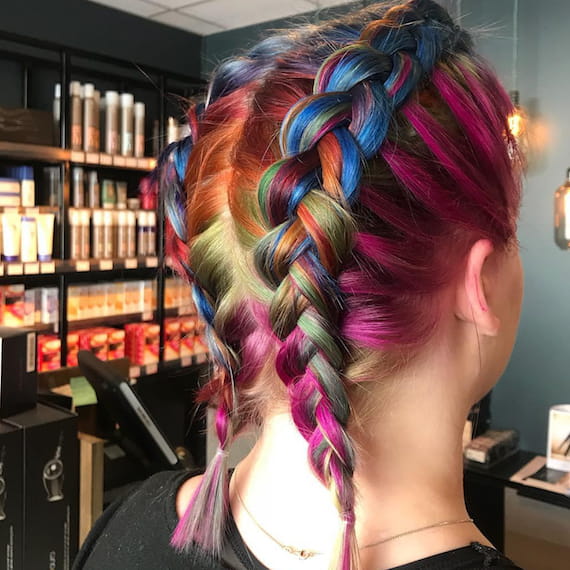 1
Jewel-Toned Rainbow Hair
Image Credit: @arthardesignas
We can't stop looking at this bright, bold kaleidoscope of color. Color Fresh Create was made for this bright, bold hair look. And don't get us started on the beautiful boxer braids to show off. Every. Single. Shade.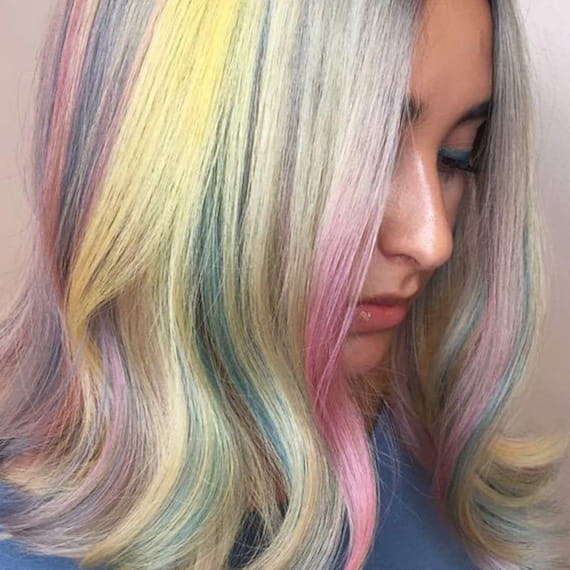 2
Pastel Rainbow Hair
Image Credit: @jmillmather
This soft, sheer pastel rainbow hair is anything but subtle. Create bold ribbons of pastel color with Color Fresh Create and the Color Fresh Create Additive in Vintage Blush to tone down brighter shades.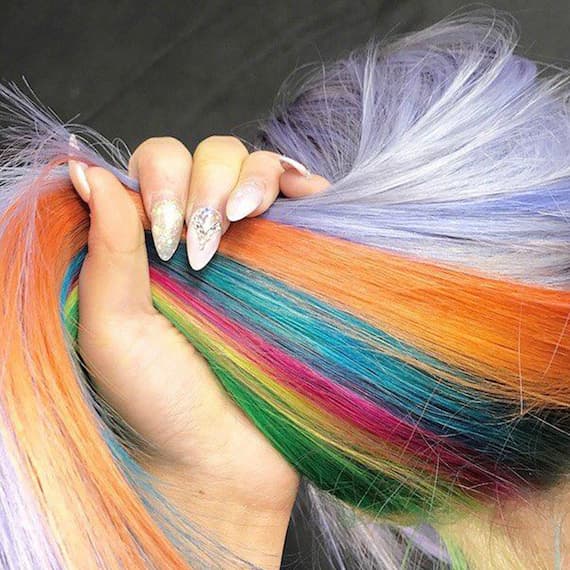 3
Hidden Rainbow Hair
Image Credit: @hairbysharell
The best of both worlds. If your client is hesitant for full rainbow bright color, suggest a hidden rainbow hair look. This way, they could keep their natural color on show, with ribbons of rainbow hues hidden underneath their mane. Style in a sleek high ponytail or braided ballerina bun to show off every shade (when they want to).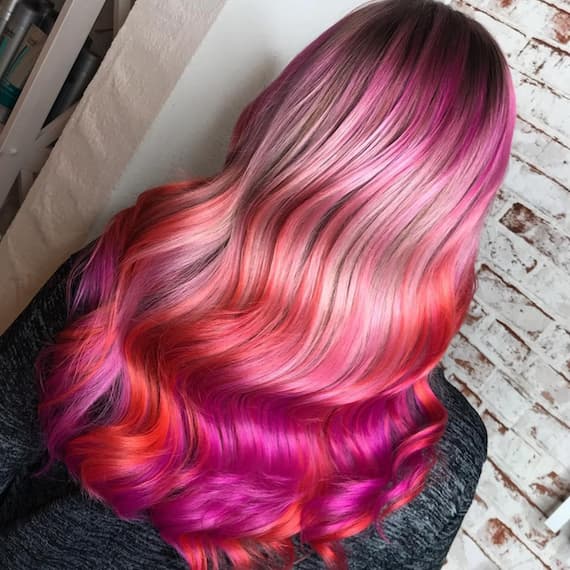 4
Pink Rainbow Hair
Image Credit: @schnittraum_sindelfingen
The prettiest pinks. Weave Color Fresh Create shades in Hyper Coral, High Magenta and Nu-dist Pink through your clients hair for a seamless, multi-tonal rainbow pink look you'll both love.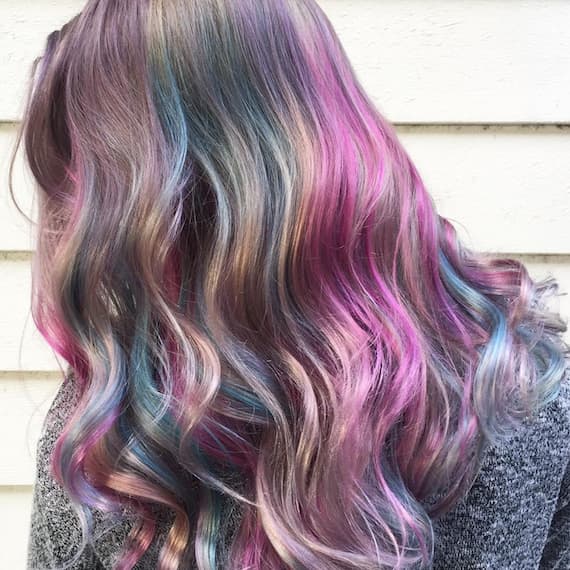 5
Mermaid Rainbow Hair
Image Credit: @marije_salonb
Because rainbow hair and fantasy shades go hand-in-hand. Mermaid hair is going nowhere, and we're loving this rainbow take on the trend. Alternate shades of Color Fresh Create in Pure Violet, Super Petrol and Nu-dist Pink to get rainbow hair worthy of a fairy tale.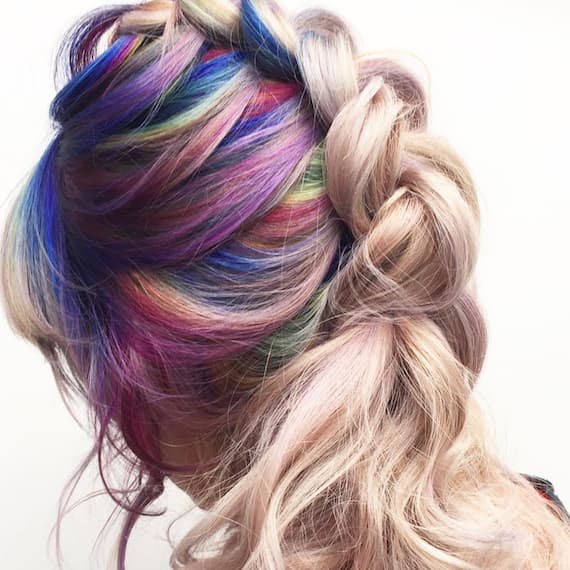 6
Ice Blonde Rainbow Hair
Image Credit: @marije_salonb
Here's how to make rainbow hair even cooler: sweep bold, multi-tonal hues through icy blonde locks. The contrasting colors deliver an ice blonde rainbow hybrid that's giving us all the hairspiration we'll ever need.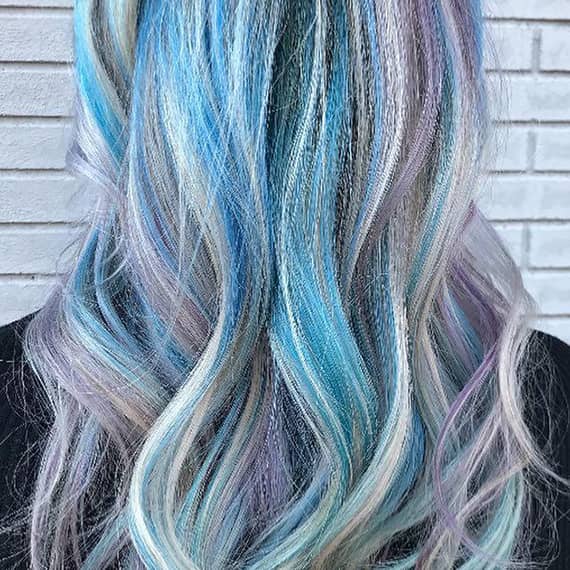 7
Blue Rainbow Hair
Image Credit: @thewarrensalon
Rainbow hair doesn't need to mean multiple hues. Step up their shade by introducing lighter and brighter tones to break up block color. To get the blue rainbow look, mix Color Fresh Create in New Blue and CFC in Ultra Purple with CFC Additive in Tomorrow Clear; perfect for creating a pastel tone or bold color. Experiment with quantities until the desired pastel effect has been achieved for your spectrum of blue hues.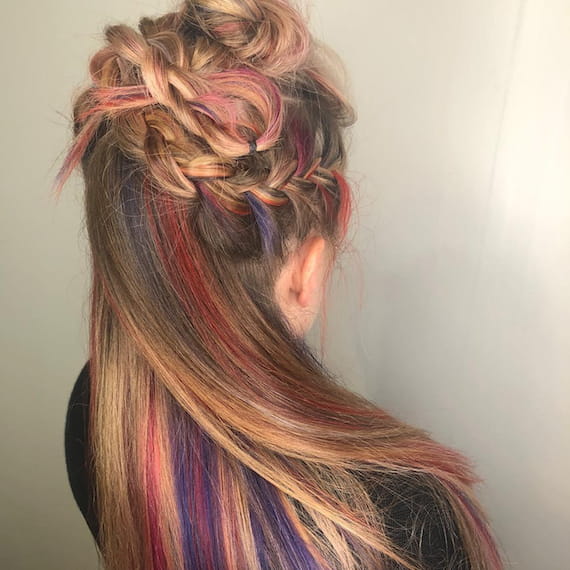 8
Natural Rainbow Hair
Image Credit: @kellyawesomesauce
Rainbow hair doesn't have to be an all-over look; it can be worn against natural shades, too. Simply weave bold hues through their natural hair color to create a unique rainbow look. Ideal for those who are new to rainbow brights.
How to Create Rainbow Hair
Whatever colors of the rainbow your client is looking to try, our top tips will ensure their new colorful 'do stands out for all the right reasons. Here's what you need to know...
Step 1: Start with Pre-Lightened Locks
There's (literally) a full spectrum of shades to choose from when creating a rainbow hair look. To achieve the best color possible, the sections of hair you're applying color to must either be naturally blonde, or have been pre-lightened, allowing rainbow shades to show up.
So, if your client is naturally brunette, you'll need to bleach hair prior to applying any rainbow color. Lighten up sections of hair by sweeping Wella Blondor + Wella Plex through lengths, leaving the perfect pre-color canvas while reconstructing bonds for stronger hair. Condition is key to achieving beautiful, bold color that lasts.
Step 2: Plan Your Color Palette
Classic rainbow, pastel hues, pink rainbow? There's no one way to wear rainbow. Color Fresh Create comes in every bold bright you could imagine, from Hyper Coral to New Blue, and lasts for up to 20 washes. Want to dial down a shade to a pretty pastel finish? Mix your chosen rainbow hue with Color Fresh Create Additive in Tomorrow Clear, using the ratio 1:30, for a soft-focus feel. For a sepia-toned finish, mix color with Color Fresh Create Additive in Vintage Blush, giving a lived-in feel to hair color. Or, for a deeper, darker hue, add 1 part Color Fresh Create Additive in Tonight Dusk to 20 parts rainbow color. Experiment with effects and get creative with color to achieve a unique rainbow look.
Step 3: Be Precise with Sections
Is your client going for hidden rainbow hair or opting for an ombré rainbow look? Think about where you're placing different shades and how they'll look when styled by your client at home. Once you've both agreed on their new shades, map out where you'll place color and section out hair into exact pieces, prior to applying their shade. Use foils after each application to keep separate color sections clean; this avoids bold shades blending together, leaving a neater finish.
How to Take Care of Rainbow Hair
You've perfected their ultimate rainbow hair. Now, make sure they take care of their new look. Here's a cut-out-and-keep guide to show clients and ensure they're getting the most out of their new color. Time to take note...
Step 1: Create a Haircare Regimen
With new hair color comes new care products. To really lock in rainbow shades, advise your client to treat their haircare regimen like skincare. Similar to a three-step cleanse, tone, moisturise routine, we recommend a wash, hydrate, protect regimen for hair.
Starting with shampoo and conditioner: Like a cleanser for the face, it's important to choose the correct formulas for their hair type. INVIGO Color Brilliance Shampoo has a low pH level, designed to close the hair cuticle and help prevent color fading from the first wash. Next, INVIGO Vibrant Color hair mask is the perfect weekly treatment to nourish and hydrate color-distressed hair. Healthier hair = less color fade. Finally, a spritz of INVIGO Sun UV Hair Color Protection Spray during the summer months will stop the sun from lightening up their color.
Step 2: Have Regular Touch-Ups
There's no getting away from it: Bold hair color is more likely to fade quicker than other, more natural hair hues. To keep their rainbow hair looking flawless, regular appointments for touch ups are a must. From a full-on color refresh to root touch ups, rainbow hair isn't the lowest-maintenance of looks, but the color payoff is more than worth it. Book your client in every 4-6 weeks to keep their rainbow hair shining bright. Want to take a break from the bold? All Color Fresh Create shades fade true to tone, leaving a soft version of your client's original color when they're ready to let go of rainbow. It's the best of both worlds.
Step 3: Wash Hair Less Frequently
Dry shampoo is their new BFF. The most failsafe way to keep bold color for longer is to wash hair less frequently. If they're an everyday washer, this may come as a shock, but trust us – it's a game-changer. Over-washing hair only causes color to fade quicker, and, if using harsh products, can leave hair feeling dry and brittle. Encourage your client to work those lived-in locks for a few extra days, spritzing EIMI Dry Me onto roots and around the hair line to absorb grease and oil while freshening up lifeless roots. Their hair color will remain bright and bold for longer in between appointments.
Step 4: Turn Down the Temperature
Heat is another factor that can cause damage, meaning hair color can slowly disappear before your eyes. Fight the fade by turning down the temperature gauge. To help protect hair, recommend they smooth EIMI Thermal Image through damp hair before blowdrying. Then, style at a low to medium heat to avoid hair feeling drying and brittle, which can strip color.
Wella Education Platform
Want to know more about bold color? Learn more about color and styling techniques on the Wella Education platform.