9 WAYS TO WEAR HIDDEN HAIR COLOR
Hair color is having a moment - and when we say color, we mean color. Think, ultra violet, deep mahogany, icy blonde, aqua… the list goes on. But, you don't have to go for an all-over shade to make an impact with these hues; the new under hair dye trend allows you to wear bold color in a sort-of 'secret' way.
The idea is that you paint your chosen hidden hair color through the mid-section of your hair, so the bold shade only reveals itself when you tie your locks up, move the layers back or add textured waves. But you don't have to go for a neon mane; here's three ways to wear dyed hair underneath, whether you want a rainbow of vibrant shades, or something more soft and subtle…
HIDDEN RAINBOW HAIR
Want to start bold? A rainbow of hidden hair colors will rack up plenty of likes on Insta, and allow you to experiment with a spectrum of Color Fresh CREATE shades.
If you're brunette, request a combination of marine tones to make hair pop (when you want it to). Bring blue tones to your tresses with a blend of Super Petrol, Ultra Purple, and New Blue hidden through the mid-section of your hair.
Blondes should try tucking an array of pastel shades in the lower layers, like Nudist Pink with diluted doses of Hyper Coral and Pure Violet.
To keep your hidden hair color looking luminous for longer, ensure you protect your shade from heat styling. Apply EIMI Thermal Image before blow-drying to prevent color fade.
PASTEL PEEKABOO
Soften your new hidden color hair look with a more discrete, wearable layer of pastel pink or blue. This pre-spring shade appears particularly fresh when painted through pale or medium blonde hair.
If your base is a dark or brunette tone, your colorist will need to pre-lighten the 'secret' section of strands first, in order to make the pop of pastel pink stand out.
With the new Color Fresh CREATE portfolio of colors, picking your perfect pastel is easy. For a pretty, blush hue, try a powdery swathe of Nudist Pink. Hyper Coral will dial your shade up to a punchy coral-pink, which lasts for up 20 washes and gently pastelizes over time.
HIDDEN HIGHLIGHTS
If this is your first foray into the colorful world of hidden hair color, start subtle. Ask your stylist to recommend the best shade to enhance your natural hair hue and skin tone.
Add richness and dimension to brunette locks with warm bronze and caramel lowlights, which can be seamlessly weaved through the lower layers of your hair to emphasize texture.
A rich mahogany tone – tipped as the hot shade for the new season – is perfect for warming up a brunette mane. To make your 'tones stand out, spray EIMI Ocean Spritz from root to tip for texture, then twist locks up into a messy half-up bun that reveals the red tones underneath.
Find more hair inspiration in our Wella Hair Family Gallery, and follow @WellaHairUSA on Instagram for the hottest hair looks. Make sure to tag us in your photos with #WellaHair to show off your latest styles and be featured on our social channels.
SHOPWELLA STORE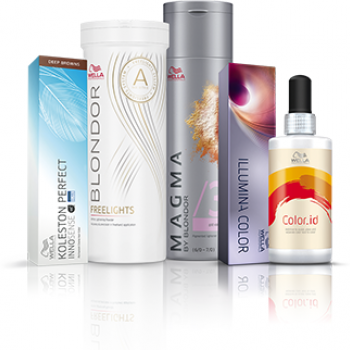 SHOP NOW
Some products are only available to professionals.
ARE YOU A SALON CLIENT?
Find a Wella Professionals salon near you with our professional salon products and inspired stylists.