5 Ash Blue Hair Ideas & Formulas Bound to Turn Heads
When you hear 'blue hair', what's the first thing you think of? Perhaps it's a beautifully bold cobalt, or maybe it's a pastel tone that shifts from blue to aqua blonde in the sun. Whatever your vision, it's time to extend it to the upcoming ash blue hair color trend; a shade that sees navies and silvers and grays collide to lend the coolest, crispest finish. No wonder it's all over Instagram. 
Here, you'll discover five ways to create your own ash blue creations, plus tricks on keeping this shimmering shade cool and fresh for longer... 
How to Create Ash Blue Hair
Every ash blue 'do will be different, but there are some fundamental rules to follow before you start transforming your client's hair. Keep these tips in mind…
1. Locks May Need Pre-Lightening
Unless your client's hair is already a pale shade of blonde, you may need to pre-lighten their hair to ensure those ash blue tones truly stand out. Choose a lightener that matches your technique; BlondorPlex is perfect for highlights and all-over lightening, while Blondor Freelights is specially formulated for freehand painting, like balayage. If you're lightening close to a sensitive scalp, you could use Blondor Soft Blonde Cream. It's a gentle yet effective lightener that we like to reach for when painting from root to tip.
2. Choose Blues That Match Your Client's Needs
Good news: there are plenty of blues (and silvers and grays) in the Wella portfolio, meaning it's easy to mix up a hue your client will love. The ability to intermix shades within each product range gives you complete control of their ash blue shade, and the range of finishes helps you personalize their look even more. Choose a blue like Koleston Perfect 0/88 for an intense hit of color, Color Touch 0/88 for unbelievable richness or the Shinefinity 0/89 Blue Booster for a zero-damage, zero-lift, translucent color glaze. Then, add in the right ratio of ashy grays (within the same product line) to reach their desired color.
3. Rinse Out Color the Correct Way
When color has developed, not all hair formulas are rinsed or washed out in the same way. To care for color after using an oxidative product, like Koleston Perfect or Color Touch, you should neutralize it with the Post Color Treatment. Meanwhile, the pH-balanced technology in Shinefinity means it can simply be shampooed out. In this case, all you need is a color-enhancing shampoo and, if hair is dry, a conditioner. Our picks are INVIGO Brilliance Color Protection Shampoo and Vibrant Color Conditioner. 
5 Shades of Ash Blue Hair You Need to Try
Once your client's hair has been prepped and primed, the fun can really begin. Get inspired for your client's fresh look with these five ash blue hair formulas...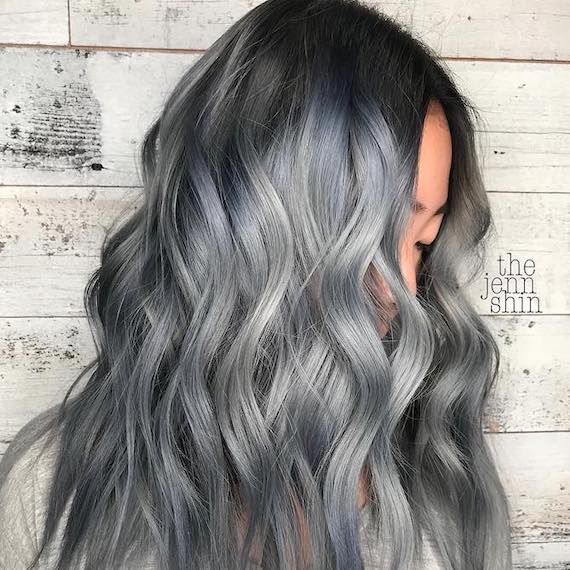 1
Smoky Ash Blue Hair
Image Credit: @thejennshin
Smoky vibes are here to stay, as demoed in this glowy gray-blue mane by Wella Passionista Jenn Shin. The look relies on a Color Touch root shadow, featuring 7/89, 2/0 + 0/88, followed by sweeps of 7/89, 10/81 + 0/88 through the mid-lengths and ends. Cool, fresh and clean.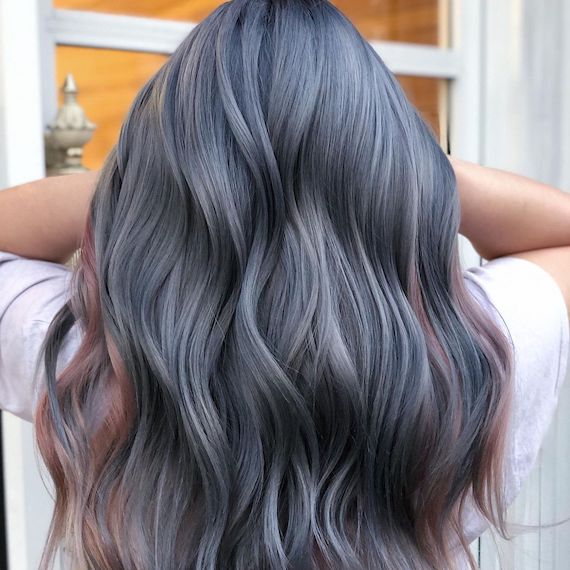 2
Dark Ash Blue Hair
Image Credit: @jeongchen
Charcoal blue lengths meet a faded coral face-frame in this ashy take on bubblegum hues, perfected by Wella Passionista Jeong Chen. The dark ash blue comes courtesy of Koleston Perfect 9/16 + 7/18 + 0/88, while that pop of pink sees 10/96 + 33/66 mixed together flawlessly. Who knew ash tones could be so fun?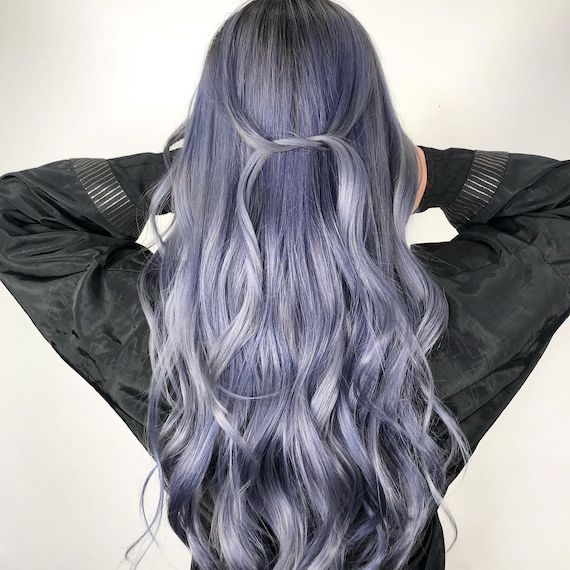 3
Ash Blue Gray Hair
Image Credit: @xcellent_kevin
Ash blues and gunmetal grays intertwine in this long, wavy mermaid mane. It's a great example of how gray-haired clients (natural or not) can embrace pops of color that really enhance their cool, silvery base. This particular ash hue was crafted with Color Touch 0/88 + 10/01 + 9/16 (2:10:1), but you could also use Shinefinity 0/89 for a zero-damage tint, paired with 07/81 Smoky Opal.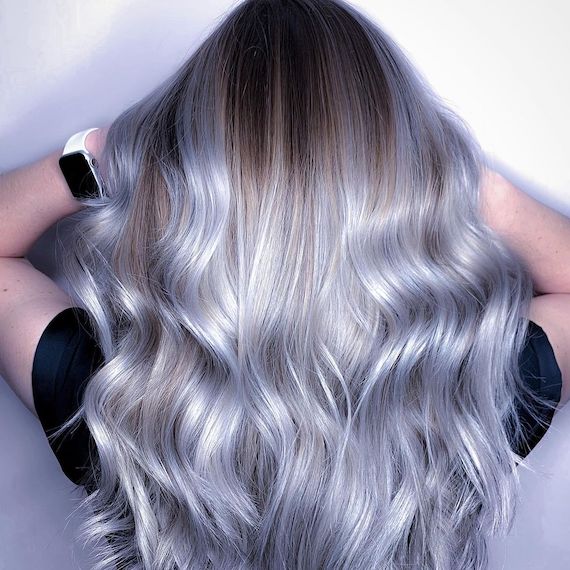 4
Light Ash Blue Hair
Image Credit: @thatbalayagebabe
This is an ethereal dream come true by Wella Passionista Kat Russin; an icy aqua blue with a sheer and radiant translucent glow. Try recreating the look with the frosted sheen of Shinefinity 08/8 Blue Pearl (a pale, pearlescent periwinkle), and add in a little extra 0/89 Blue Booster if you want to intensify the shade.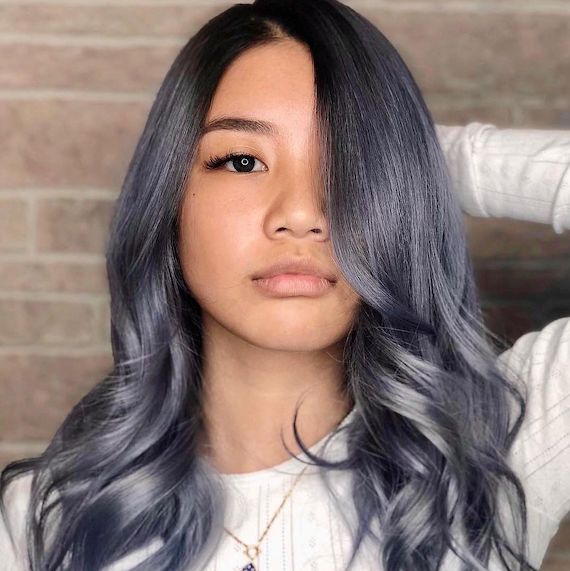 5
Ash Navy Blue Hair
Image Credit: @xcellent_kevin
Kevin The Hair Doctor sure knows how to do a navy blue. Here's another of the colorist's ashy masterpieces, this time made with the intensity of Koleston Perfect 0/88, 9/16 + 9/01. It's muted yet statement-making; a great option for brunettes who are looking for a bold transformation that will give their dark locks an on-trend refresh. We are obsessed.
How to Maintain Ash Blue Hair
Keep those ash blues looking true with three must-follow rules for a radiant finish. These tricks should be shared with your clients so they can maintain their hair color at home…
1. Wash With a Shade-Saving Shampoo
Give ash blue hair added shimmer with a shampoo that not only locks the shade down for longer, but also keeps strands beautifully hydrated from root to tip. Our pick is INVIGO Brilliance Color Protection Shampoo; a formula that's infused with lime caviar for an injection of shine. Your client can choose between the Normal/Fine or Thick/Coarse formulas infused with lime caviar for an injection of shine. 
2. Boost Hydration and Shine with a Mask
Hydrated hair is shiny hair, and that glow is a must for an ash blue mane. So tell your clients to boost vibrancy with a nourishing mask that keeps strands moisturized in between salon appointments. INVIGO Brilliance Vibrant Color Mask is a perfectly pampering pick, drenching locks in radiance-enhancing hydration to leave their hair touchably soft. Recommend they use it once per week after shampooing hair, focusing on the mid-lengths and ends.  It is a perfectly pampering pick, drenching locks in radiance-enhancing hydration to leave their hair touchably soft.  
3. Protect Hair from Heat Damage
Heat damage can cause ash blue hair to fade fast, but your client may not want to put the tongs down. If that's the case, remind them how important it is to use a heat protection spray. They'll love EIMI Thermal Image, which not only shields strands from temperatures up to 220 degrees celsius, but also amps up shine for flawless styles every time.