The True Grey Collection: How to Make Silver Hair Glow
Over the past year, we've seen more and more clients embracing their naturally grey hair. And is it any surprise? After lockdowns placed root touch-ups out of reach, some have decided to celebrate their silver hues. Not only is it low commitment but, with a little influence from A-listers, such as Catherine Zeta Jones and Jodie Foster, you've got all the makings of a lust-have look – one that will never go out of style.  
But, here's the thing: like all hair colors, naturally grey hair comes with its own set of challenges. It can appear dull, lack dimension and shadow, and even be prone to turning yellow. Products to enhance natural silver hues have long been limited, with silver shampoos not lasting long enough, and toning or glossing services proving too high a commitment. That's why we've developed Silver Glow by True Grey, a new set of dedicated in-salon hair treatments that allows your clients to celebrate their silver like never before. Here's what you need to know...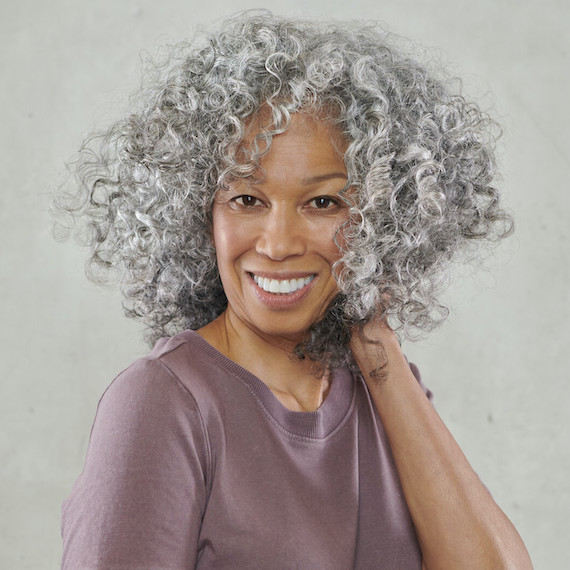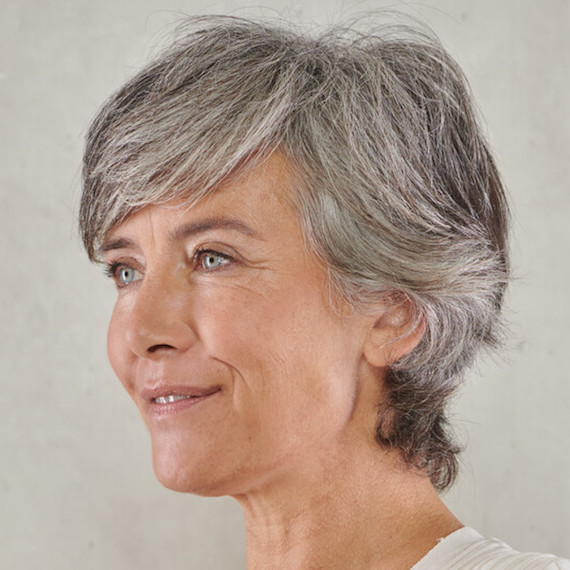 What is Silver Glow by True Grey?
Put simply, Silver Glow by True Grey is a treatment service menu with a silver-boosting twist. It features new grey-based toners, a dedicated activator and a perfector that revitalize and enhance naturally grey hair, while reducing yellow tones. Best of all, each of the treatments is completely damage-free, allowing you to add some sparkle to your clients' hair without putting stress on their strands. Take your pick.
1. The Full Head Silver Glow Treatment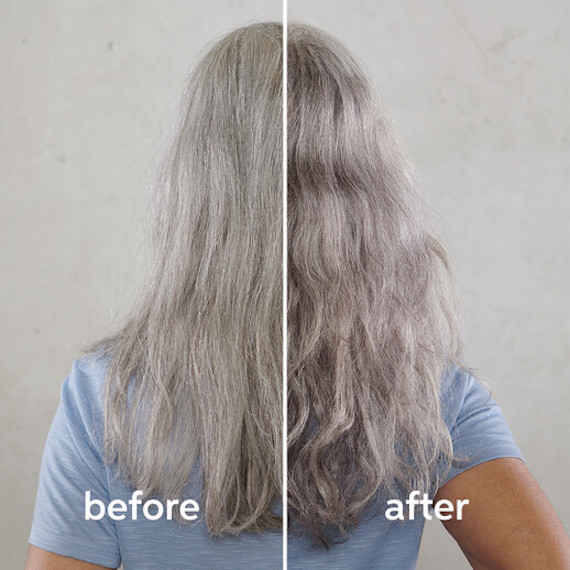 Designed to be added to a traditional cut and blow-dry appointment, the 30-minute full-head Silver Glow treatment enhances silver tones to play up your client's individual light reflections. Application is personalized to the natural highs and lows in their hair, resulting in glossy shine, dimension-boosting shadows and zero brassiness. Mix up their perfect shade by blending equal parts of their chosen Cream Toner with the Activator. No foils needed – you can just stroke their toner through.
2. The EXPRESS Silver Glow Treatment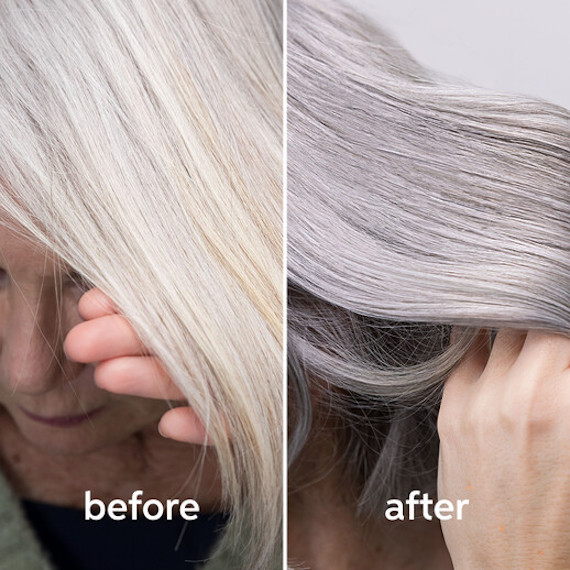 This speedy take on Silver Glow sees grey hair enhanced in just 15 minutes, using a soft and subtle hint of silver to create an overall healthy-looking finish. It gently reduces yellowness, helps your client's natural grey tones gleam, and bumps up root-to-tip luster. Simply mix 20g of their chosen Cream Toner with 20g of the Activator and 20g of the Clear Conditioning Perfector.
3. The Partial Silver Glow Treatment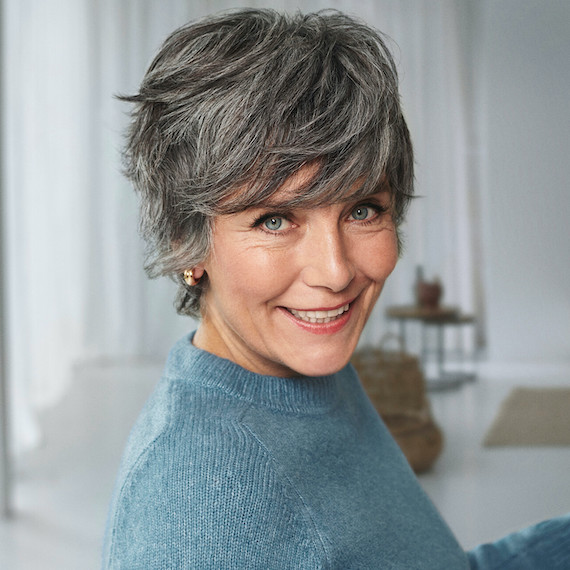 A partial Silver Glow application is perfect for adding balance to grey hair that's unevenly distributed. Sweep your client's toner through freehand, picking out sections that will define the shape of their haircut. Avoid small and fine pieces, opting for chunkier sections of hair instead. All you have to do is mix 30g of the Cream Toner with 30g of the Activator, then get to work with a tint brush.  
4. The Men's Shadowing Silver Glow Treatment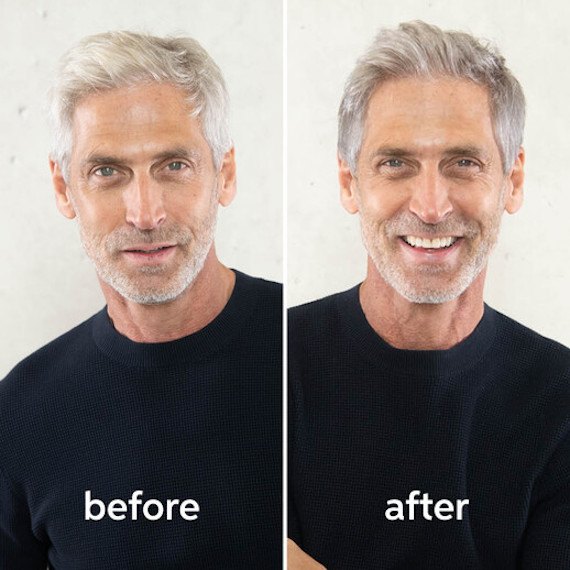 Give clients the 'silver fox' effect with cool-toned shadows and definition. For a men's partial application, simply choose a Silver Glow by True Grey toner that adds instant depth, such as Graphite Shimmer or Steel Glow. Blend the formula 1:1, using 30g of the Cream Toner and 30g of the Activator, making sure you use a lighter shade near the hairline for a natural-looking finish.  
Why Will Grey-Haired Clients Love It?
It's all about the grey-based pigments. Because there isn't just one type of natural grey, the toners feature a variety of pigments to mimic a spectrum of silvery hues. They boost light reflections, enhance shadows, and veil strands in a multi-dimensional finish, so locks never look dull or flat. Just glowy, healthy and bright.  
Meanwhile, the formula gives clients a commitment-free and damage-free finish by retaining a neutral pH level 7. In doing so, it helps to support the original structure of the hair and its cuticles, so that each of the toners is as gentle on hair as pure water. No, really.  
Plus, we've formulated them without traditional alkalizers (like ammonia or ethanolamine), without perfume, and without any animal-derived ingredients. 
Discover the True Grey Shades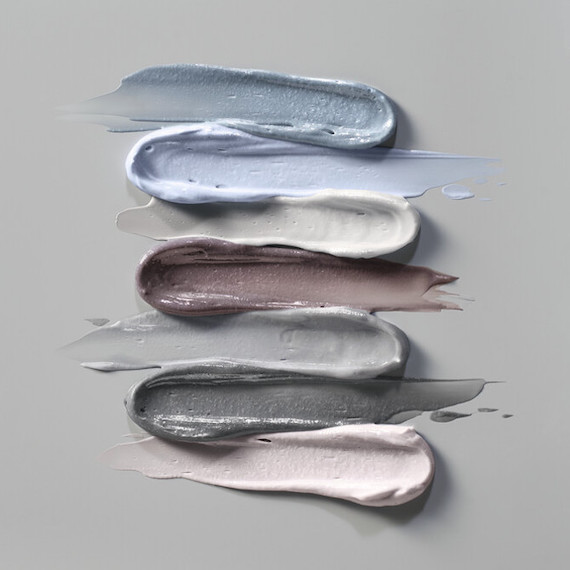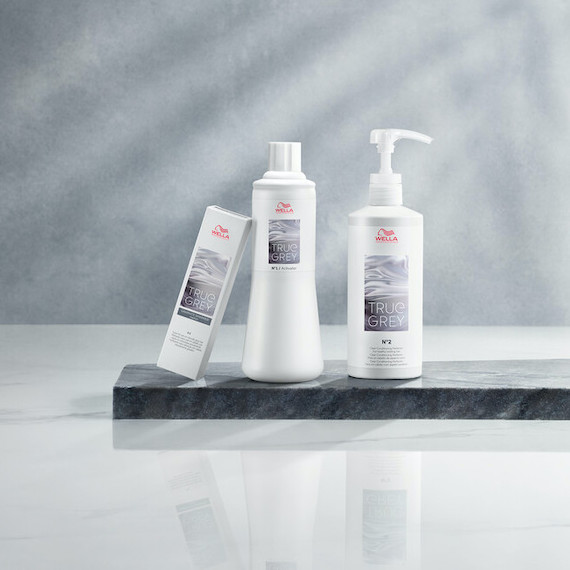 Let's get to the toners. There are seven in the Silver Glow by True Grey line-up, each carefully tweaked and refined to mimic the natural hues of grey hair. They don't color or cover, but rather veil clients' strands in a soft-focus, silvery sheen, before fading true to tone. 
If you're wondering which toner to offer each of your clients, check below for a complete breakdown of the tones. The light hues are perfect for 100% grey hair, while the medium and dark shades can be used to play up shadows.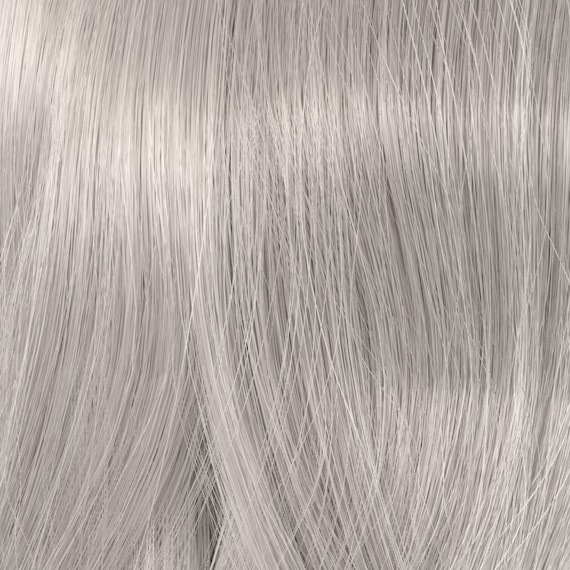 1
Pearl Mist Light
This light violet grey shimmers with every swish and sway of your client's locks. The coolness and lightness looks especially fresh with blue or green eyes. It's ideal for creating subtle reflections in 100% grey hair, and for reducing yellowness without adding shadow.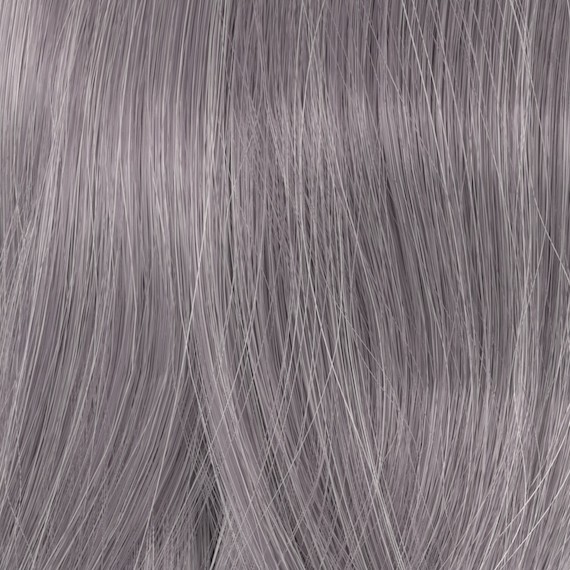 2
Pearl Mist Dark
Still cool and violet-tinted – but darker – this hue adds depth and definition to silver hair. See how it helps to intensify brown, grey-blue and hazel eyes. We recommend applying it to hair that is under 70% grey, for clients who currently have a salt 'n' pepper effect through their strands.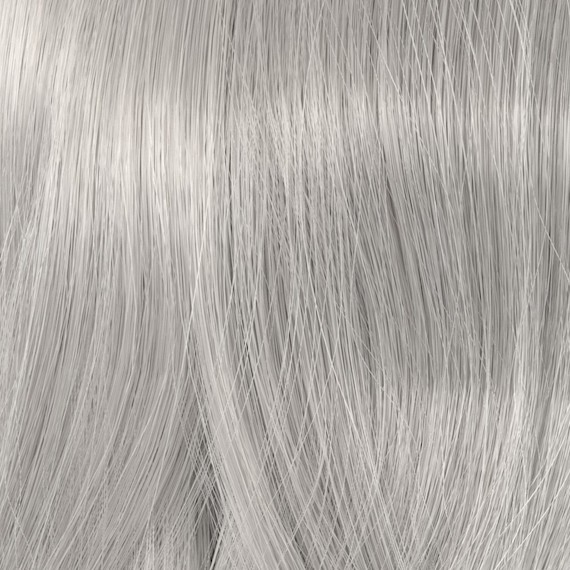 3
Graphite Shimmer Light
Packed with brightness, this toner is perfect for enhancing true grey results. Suggest this shade for clients with mesmerizing green eyes. A light hue like this is also ideal for 100% grey hair, when you want to celebrate the color without adding any shadow.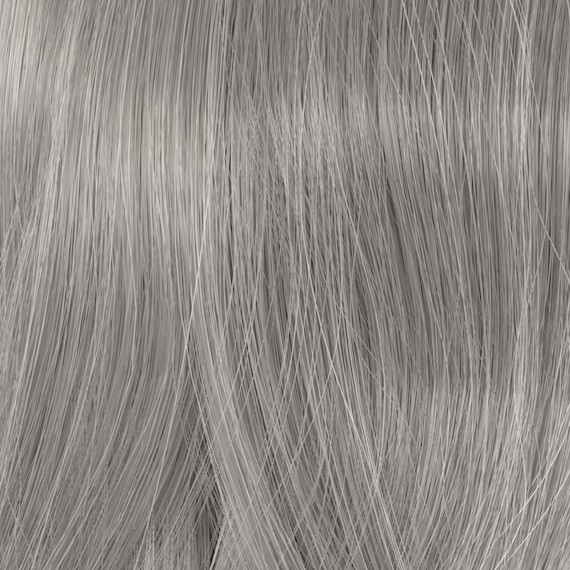 4
Graphite Shimmer Medium
Slightly deeper, but still a true grey, this medium silver is a suits-everyone hue. However, it looks especially fresh against blue or blue-grey eyes. Use it to add a dose of shadow and dimension.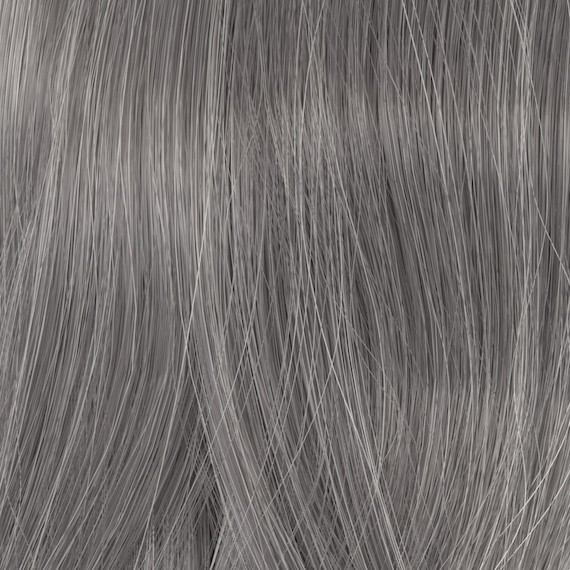 5
Graphite Shimmer Dark
The perfect shade for adding depth, dimension and shadows to grey, including eyebrows and men's beards. We love to see it against any eye color, but especially browns and hazels.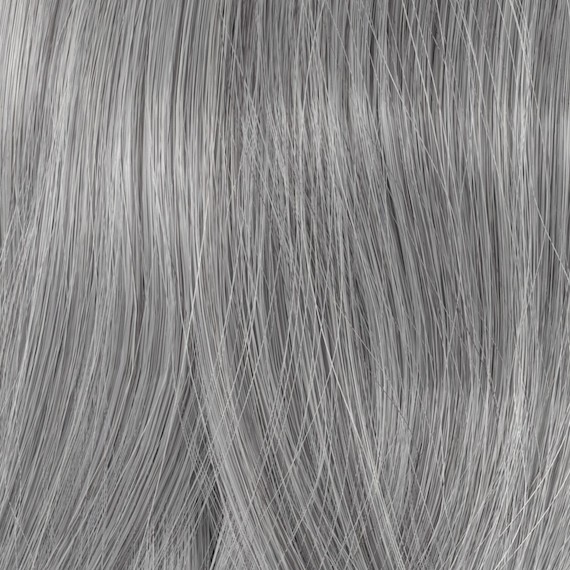 6
Steel Glow Medium
With a grey base and an icy blue hue, this shade is your go-to for knocking out duller tones. It appears especially flattering on clients with blue or blue-grey eyes. If you would like to create a paler version of this cool shade, simply add some Clear Conditioning Perfector to dilute the toner.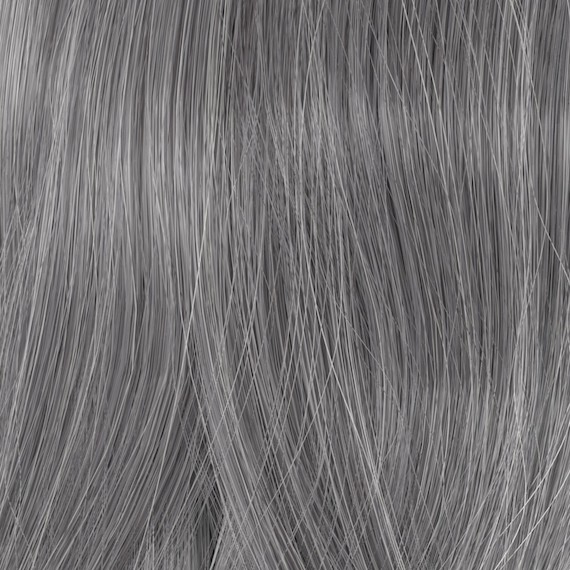 7
Steel Glow Dark
Dark and eminently cool, this shade is ideal for hair that's dark and under 70% grey. It also looks dreamy against dark brown or hazel eyes.
Completing the Treatment
After applying your client's Silver Glow by True Grey blend and allowing it to develop, emulsify the toner with warm water and rinse it thoroughly. Then, smooth through one or two pumps of the No2 Clear Conditioning Perfector to enhance shine with a weightless finish. This gel-like hydrator is unlike any other post-service treatment you've tried.
Finally, once you've rinsed hair again and styled to perfection, mist EIMI Oil Spritz into the palms of your hands and press through lengths. If their hair was glowing before, it will be positively dazzling after this step.