7 High Contrast Balayage Ideas & Formulas
Just when you thought balayage couldn't get any dreamier, high contrast balayage comes along to take your clients' painterly locks to the next level. This hair color trend is exactly what it sounds like: a freehand lightening technique that relies on the highest highs and lowest lows to make strands pop. The bolder and more dramatic your highlights, the brighter your contrast will be. 
So, let's take a closer look at some of the most mesmerizing high contrast balayage looks around, featuring pro colorist formulas and tips to maintain your client's shade...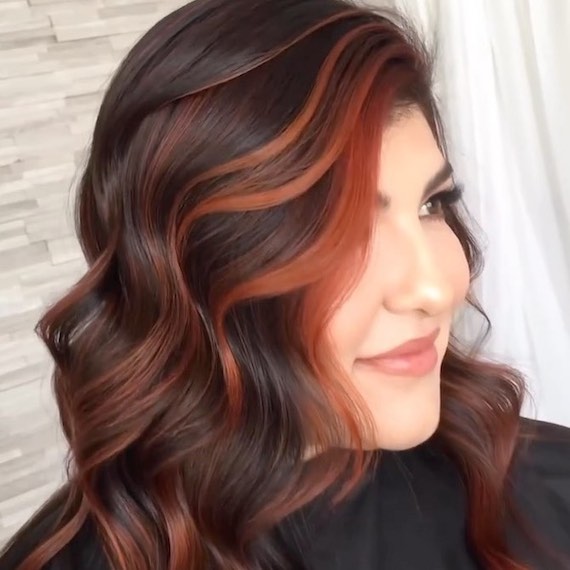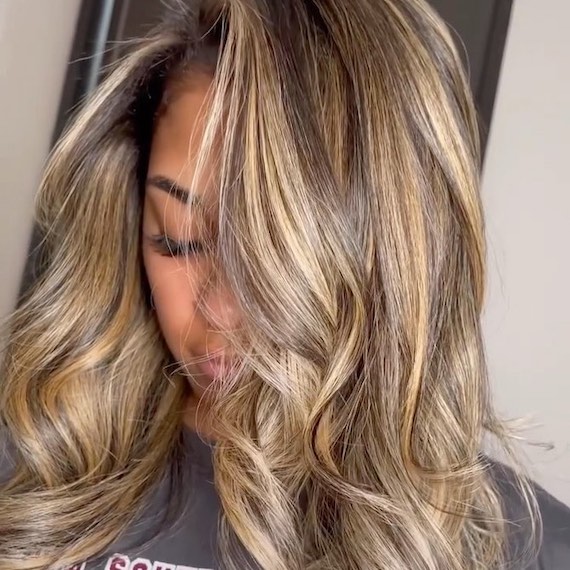 5 Tips for High Contrast Balayage
1. Use a Bond-Strengthening Hair Lightener
Enhance your balayage technique with a bond-strengthening product like our very own BlondorPlex, which provides up to nine levels of lift. This cutting-edge lightener is infused with the PLEX ingredient, which supports strands during the lightening process for up to 97% less breakage*. You can also mix up your own bond-boosting formula by combining the WellaPlex No1 Bond Maker with Blondor Freelights, a lightener that's specially formulated for freehand painting. 
*When using Wellaplex N°2 with BlondorPlex, versus BlondorPlex alone
2. Add Lowlights One Shade Darker Than the Base
Give high contrast balayage some extra pop by adding lowlights one shade darker than the base. There are so many balayage color combinations you can try, including ash brown lowlights with ash blonde highlights, or sweeps of fuchsia on a pastel pink base. As long as the tones are a few shades apart, they're guaranteed to make a statement. 
You could also try the Koleston Perfect Shadow Lights service, which swaps traditional monochromatic highlights for a multi-dimensional approach, featuring an 'accent' shade. Think a pop of cinnamon through brown hair or rose gold against a platinum blonde base. Sweep this accent alongside the color of your original highlights, and it will shimmer with every swish of your client's balayage. 
3. Try Applying Balayage in Chunky Highlights
Sweep on lightener in chunky highlights for an extra piecey effect. This is a must-try technique when you're working with curls, waves and coils, as it helps to enhance the shape and beauty of your client's natural texture. Meanwhile, for straight hair, chunky face-framing highlights deliver a dose of sun-kissed brightness, while lending a subtle nod to this season's color blocking trend.
4. Fully Saturate Hair Strands with Lightener
'Gently, gently' isn't the goal for this look – save that for your subtle highlights. Instead, go heavy on your formula application, making sure you layer up and fully saturate hair strands with lightener for an ultra bright and even lift.
5. Embrace Foilyage to Incubate Sections of Hair
Typically, a balayage is developed in the open air. However, if you want higher contrast, you can switch up your balayage application by wrapping lightener up in heavyweight foils. This technique is called 'foilyage', and it allows you to incubate the formula while increasing the lift. For even more of a luminous statement, develop the foils under a Climazon.
7 Formulas For High Contrast Balayage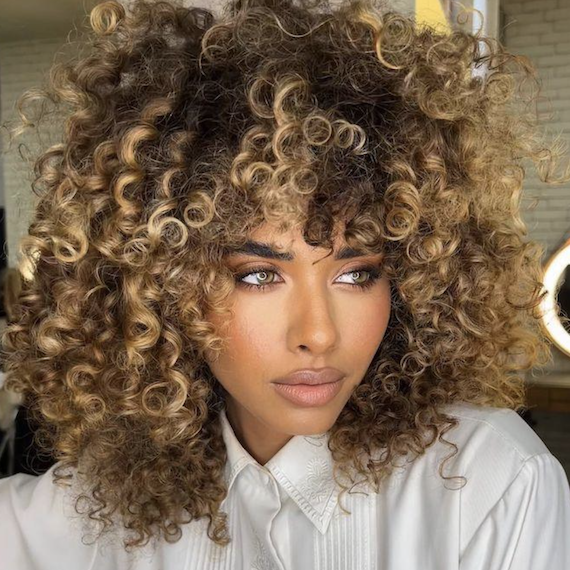 1
High Contrast Chocolate Brown Balayage
Image Credit: @romeufelipe
Hello, dream mane! If you're adding a brunette balayage to dark hair or black hair, don't be afraid to go light, light, light to achieve a caramel chocolate glow. Golden brown shades and blondes make for a classic balayage combo, setting your client's natural color aglow with show-stopping richness. Case in point? This curly hair do, featuring chunky highlights courtesy of BlondorPlex, which have been toned using Color Touch 8/35 + 9/75. Color us obsessed.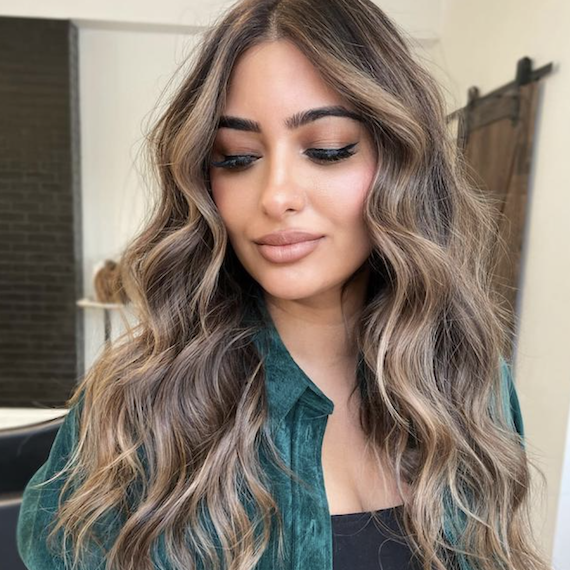 2
High Contrast Brown Blonde Balayage
Image Credit: @e_medz
For a blonde brown balayage – AKA a bronde balayage – enrich a brown base with popping blonde pieces that verge on a toffee tone. You wouldn't think varying shades of brown could create such a cool contrast, but by keeping the base and the highlights at least three shades apart, you get plenty of added dimension. 
Try it yourself with Koleston Perfect 66/02 on the root and BlondorPlex on the lengths. Then, once both formulas have been rinsed and neutralized, tone the mid-lengths with Color Touch 7/97 + 9/97 + 8/3, and the ends using 9/97 + 9/16. The cooler tones of the natural-looking base combined with delicated beach waves helps the warmth of those beautiful balayage pieces pop even more.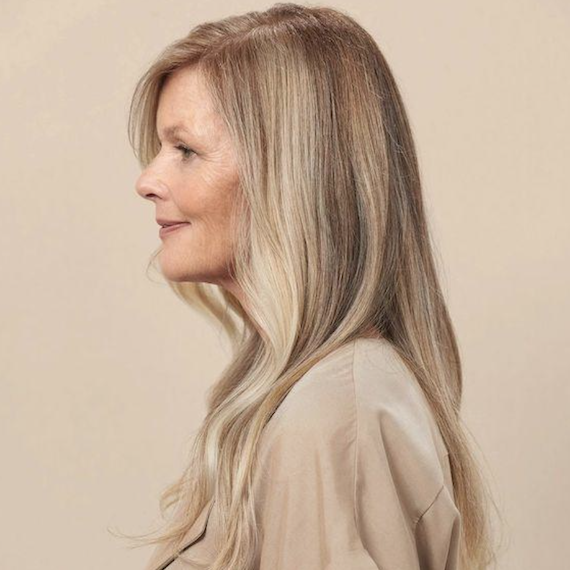 3
High Contrast Balayage On Gray Hair
We often recommend high contrast balayage to clients who want to blend in gray hair, as the dimensional ribbons draw the eye away from silver strays. Try the Koleston Perfect Mirror Lights service for this look, which centers on three key principles: a lighter foreground color on the roots at the front, a slightly darker root color through the rest of the hair, and beautifully blended highlights on mid-lengths and ends. Here, you're seeing 8/07 + 6% on the foreground and 7/07 + 6% on the background. Then, light blonde balayage has been swept through lengths using BlondorPlex + 6%, before strands have been toned with 10/16 + 1.9%.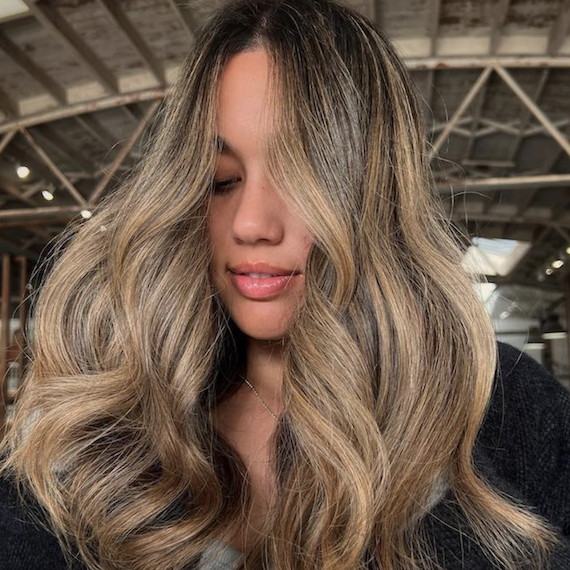 4
High Contrast Caramel Balayage
Image Credit: @danielleemilie
Here's the proof that a balayage can be both seamlessly blended and high in contrast at once. This color-blend features side-by-side, closely packed ribbons, but because they're so much brighter than the brown base, they still stand out to make a head-turning statement. Try it out on your own brunette clients, first painting Blondor Freelights + 6% through the lengths and Color Touch 5/0 + 1.9% on the roots. Then, tone that fresh blonde balayage with 9/0 + 9/73 + 8/0 + 1.9%. The mix is brimming with warm tones that make both the client's hair and their warm skin tone positively glow. Team with loose waves to add a hit of volume.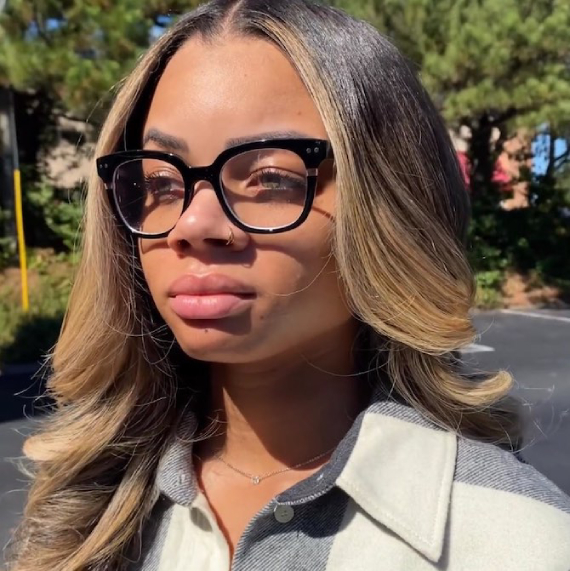 5
Blonde Balayage Highlights With Face-Framing Strands
Image Credit: @essentialwigz
This might be the chicest balayage on the block, featuring the brightest blonde shade through the mid-lengths and face-framing strands against an ultradark base. So, how do you get the look? First up, reach for BlondorPlex, which gives you up to nine levels of lift, so even deep tones can be taken to a bright, bold hue. Paint it through the lengths of hair first followed by the face frame, using a classic foil technique to incubate sections. Then, enhance the newly blonde hair pieces with a cool tone, like Illumina Color 10/1. Flawless.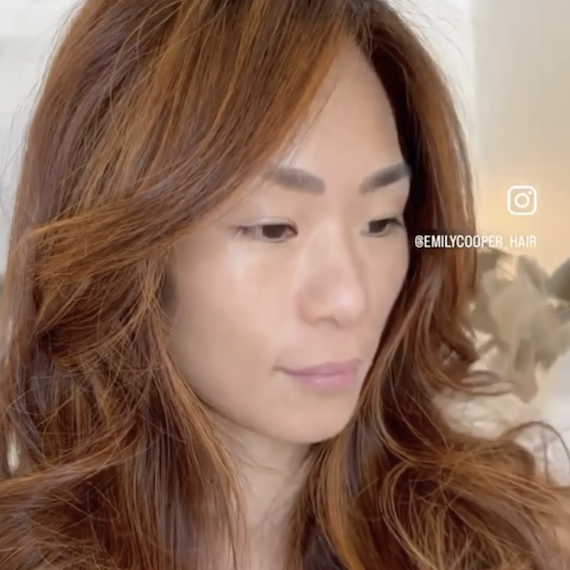 6
High Contrast Copper and Auburn Balayage
Image Credit: @emilycooper_hair
You don't always need a lightener to lift, as this copper auburn mane demonstrates. Here, instead of using bleach, Emily Cooper has created contrasting ribbons with bright shades of Koleston Perfect. The balayage color palette features 8/74 + 7/34 + 6% on the ends and 8/34 + 7/34 + 9/03 + 6% on the mid-lengths; two mixes that have been applied to a previously bleached and faded base color. A final veil of Shinefinity 08/34 has then been applied for 15 minutes to deliver a glossy veil of ginger spice with an effortless vibe.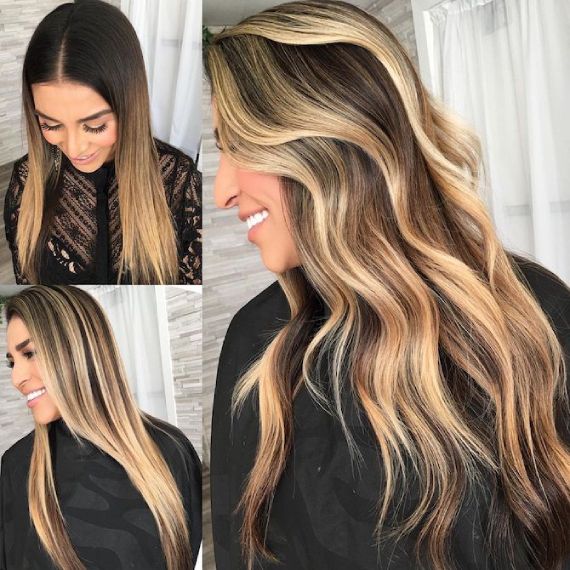 7
Mega Contrast Blonde Balayage Style
Image Credit: @paintedhair
Take your client's natural hair color to new heights by adding bold and chunky balayage. What you're seeing here isn't just high contrast – this is mega contrast – and nobody nails the trend like Patricia Nikole, who delivers some of the most eye-catching balayage hairstyles around. Try recreating the look with weighty, fully saturated sweeps of BlondorPlex. Then, tone the dimensional balayage with a warm blonde shade, like Shinefinity 09/36 Vanilla Glaze. After that, it's up to you and your client how you style it, but the beachy waves in the look above seem like the perfect idea to us.  
How to Maintain High Contrast Balayage
1. Cool Down Brassy Tones With Purple Shampoo
If there are blends of bronde or blonde highlights in your client's balayage, remind them how important it is to maintain their color with a purple shampoo. The violet pigment helps to neutralize any brassy or yellow tones, so when locks start to fade too warm, they can cool their color back down again. INVIGO Cool Blonde Color Refreshing Shampoo is the perfect pick, loved by colorists, as it refreshes highlights in 3-5 minutes while keeping hair silky soft.
2. Keep Hair Healthy with Color-Safe Care Products
When they aren't using a purple shampoo, your client needs hydrating hair care heroes in their kit. Point them in the direction of Ultimate Repair for the most nourishing ritual. The Ultimate Repair Shampoo cleanses away damaging aggressors, like pollutants and metals in the hair, while kick-starting the bond-rebuilding process in even the most sensitized strands. Then the Ultimate Repair Conditioner replenishes locks from the inside out, leaving hair visibly moisturized but never weighed down. 
The final step is the Ultimate Repair Miracle Hair Rescue, which repairs signs of damage through all hair types in just 90 seconds. All you have to do is mist it through clean, towel-dried tresses and let it absorb for the full time period. After that, your client can style their hair as they usually would, with straight hair appearing sleeker, and natural curl patterns appearing sleeker and more defined.
3. Refresh Their Balayage Hair Color With a Pigmented Mask
Another must-have in every color care kit is the Color Fresh Mask. It's a tinted semi-permanent treatment that refreshes salon color in no more than 10 minutes. Your client can take it home with them, and reach for it whenever tresses start to look faded or dull. Tell them to smooth it through, clean damp hair, let it sit for 10 minutes, then rinse out thoroughly. 
Bonus: there are a range of shades to choose from, making it easy to boost any high contrast balayage. Help your clients find the perfect mask for their mane... 
For golden or caramel tones: Up the warmth but skip the brassiness with the beautifully rich Golden Gloss or Caramel Glaze; two radiant hues that look great with a bronde coloring. 
For a blonde blend: Correct orange and yellow tones in blonde locks by applying Ivory Blonde; an ultra cool and icy hue for brassy emergencies. 
For chocolatey locks: Get brunettes back on track with Chocolate Touch. It's a decadent brown that nixes any brassiness from dark hair, while adorning tresses with a radiant gleam. 
For rainbow brights: From fuchsia Pink to blazing Red, the Color Fresh Mask collection even boasts a range of brights for clients who opted to add rainbow ribbons to their look.
Now go ahead and create your own high contrast balayage looks. Don't forget to share them with us on Instagram by tagging @WellaHairUSA. We can't wait to see them!