How to Create Bangs with Face-Framing Highlights
We're used to seeing bold face-framing highlights swept through long hair, but nothing takes this show-stopping trend to the next level quite like a face frame through bangs. Short yet statement-making, they shift those highlights even further into the spotlight – whether your client wears them blunt and ultra-cropped or wispy and grown-out. Here, we reveal everything you need to know about coloring, trimming and styling bangs with face-framing highlights, so you can perfect the trending look for your clients…
3 Rules for Flawless Bangs with Face-Framing Highlights
1. Trim in the Length First
This rule is only for clients who don't yet have bangs. If their face-framing layers are long, trim hair into a fringe before you apply the lightener, so you don't end up using lots of unnecessary product. This is also crucial so you can see how the hair falls when it's shorter, as it can sometimes sit a little differently after a trim. You don't have to nail the shape at this point; you're simply getting locks to the right length, and you can then perfect the style of the bangs at the end, when the color has developed.
2. Apply a Bond-Strengthening Lightener
For many clients, the front sections of hair tend to be a little bit finer, which can leave them more susceptible to breakage. That's why we recommend using a bond builder-infused lightener to paint on face-framing highlights. BlondorPlex is our go-to, as it's infused with our strengthening WellaPlex ingredient, so hair is supported throughout the lifting process.
3. Play with the Width and Color
Don't be afraid to get creative with highlighted bangs. You can take them chunky or fine, bold or subtle, curly or straight – there truly are no limits to this look. Micro fringes and 'gringes' (grown-out fringes) are both trending, along with curtain bangs, so the length comes completely down to your client and what suits their unique features best.
5 Ideas for Bangs with Face-Framing Highlights
1. Curtain Bangs with Face-Framing Hiighlights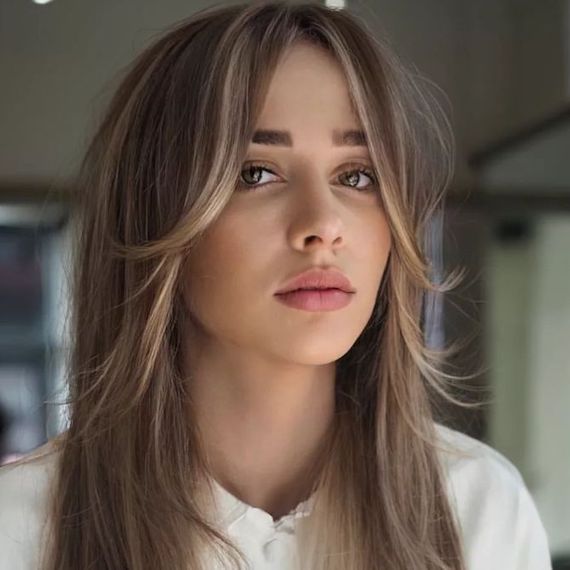 Image Credit: @charlesjuniorlouw
Curtain bangs are blowing up right now, so why not try the look on your clients? Simply trim in their fringe – short or long – then give it a center parting, so the hair sweeps out on each side. A smooth blow-dry is a must to really define the shape of the cut, so prep locks with EIMI Flowing Form first, then use a large, round brush to direct hair away from the face. As for that face frame, recreate the look with chunky weaves of BlondorPlex + 4%, followed by Color Touch 7/7 + 1.9% to tone locks blonde.
2. Side Bangs with Face-Framing Highlights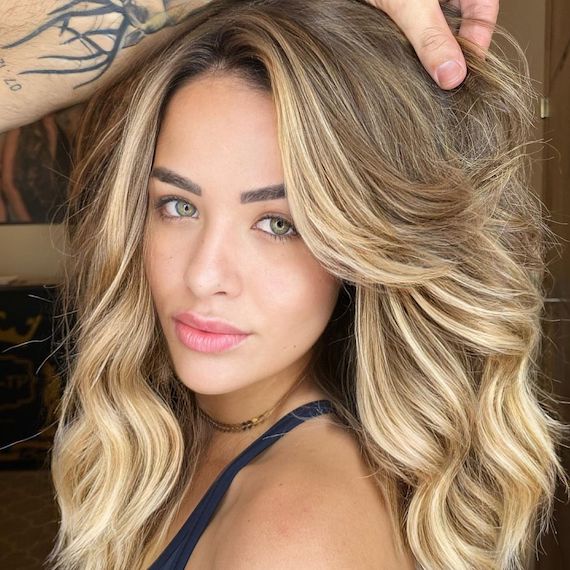 Image Credit: @bythiago.cardoso
This side 'gringe' (grown-out fringe) gets a beachy blonde boost from a weighty face frame, which blends beautifully with the rest of the hair and delivers just the right level of 'pop'. It's the only section where blonde highlights are swept from the very roots to the tips. Elsewhere, balayage is painted through the mid-lengths and ends to lend some surfer-girl inspired dimension. So, what was the formula? You're looking at strokes of BlondorPlex + 9%, which have been toned using Illumina Color 8/38 + 9/60 + 1.9%.
3. Curly Bangs with Face-Framing Highlights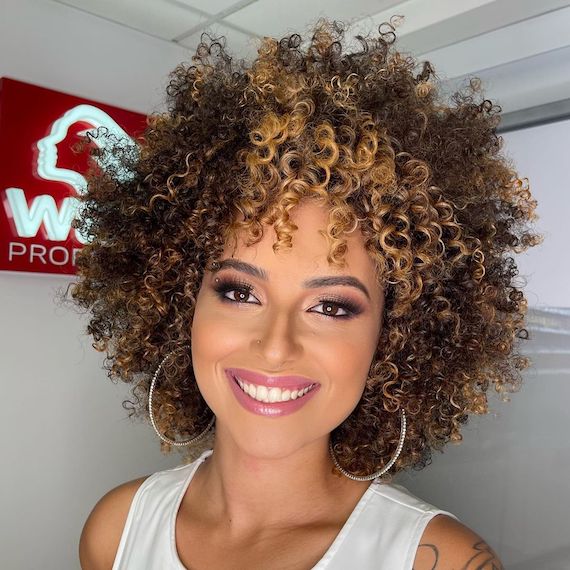 Image Credit: @rickymoica
Just look at these flawlessly highlighted curls. With lightener concentrated through the front then scattered at the back, brunette locks take on a multi-tonal glow. Amp up added gloss and body by styling hair with the EIMI Boost Bounce Mousse, which you can work into damp hair post-color, then diffuse for frizz-free, defined curls. Finish with EIMI Glam Mist for an extra veil of shine.
4. Bangs with Blonde Face-Framing Highlights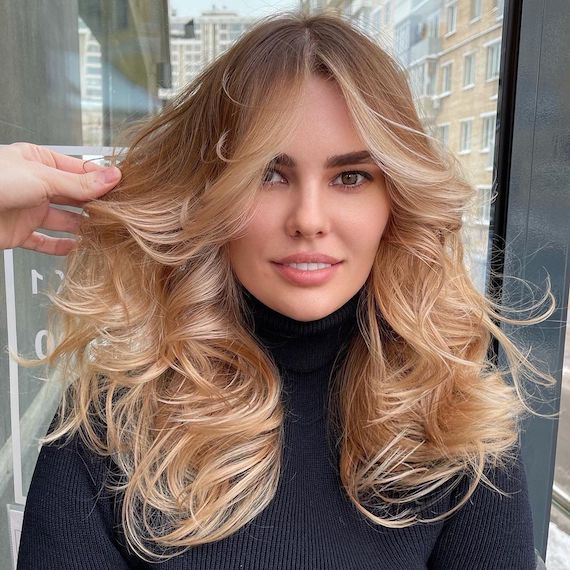 Image Credit: @alexandrmaslovsky
'Modern Farrah Fawcett' is the vibe with these flicked-out curtain bangs, which feature a blonde face frame that stands out against the golden honey blonde lengths. Volume plays a key role in the finished look, which you can recreate with INVIGO Volume Boost Bodifying Shampoo and Crystal Mask; two perfect plumpers that work up a light and airy texture. Add a handful of the Bodifying Foam, then blow-dry locks with a large, round brush, curving strands up and out at the ends.
5. Bangs with Bold Face-Framing Highlights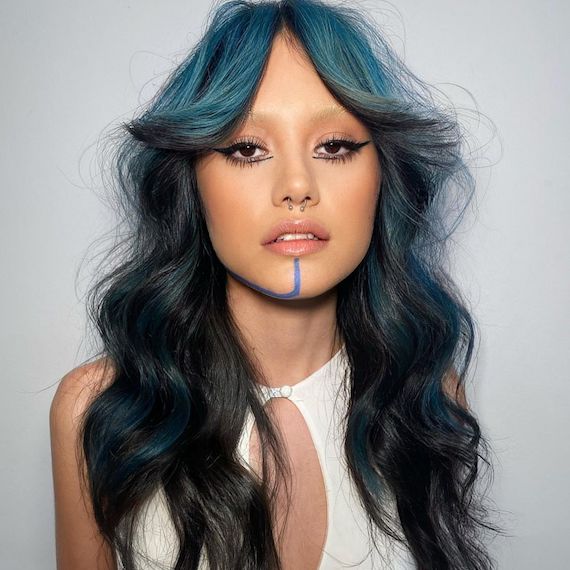 Image Credit: @jhair_stylist
Fact: face-framing highlights don't always have to be bright blonde. You can work them in shades of red, shades of brown, shades of pink, shades of gray, or any color your client craves. This chunky, blue face frame is proof, delivering all the avant-garde inspiration you need. Recreate the look with Color Fresh CREATE in New Blue and Super Petrol, swept in a generous panel through the fringe.
How to Maintain Bangs with Face-Framing Highlights
The last thing your client wants is a color damaged fringe – especially as it can lead to split ends and the need for a shorter trim (on already-short locks, no less). So, make sure anyone working the trend follows these tips to keep their highlighted bangs looking fresh…
1. Wash with a Color-Boosting, Moisturizing Shampoo
Clients with highlighted bangs need their shampoo to do two things: hydrate and protect. That's why we packed ColorMotion+ Color Protection Shampoo with antioxidants and smoothing ingredients. The nourishing formula helps to safeguard strands from fading aggressors, while enhancing hair's smoothness and shine.
2. Carefully Condition the Ends of a Fringe
If your client's hair is fine or oil-prone, we recommend applying conditioner only through the mid-lengths and ends of hair, as massaging it into the roots could weigh their locks down. You might think bangs don't need conditioner, but if they're starting to look dry and damaged, suggest your client combs a drop of ColorMotion+ Moisturizing Color Reflection Conditioner just through the tips.
3. Apply a Heat Protection Protection Spray When Styling
For clients who style their hair with heat, a protective spray is a must. Our pick is EIMI Thermal Image for shine and shielding in one, as it's light enough to apply from root to tip. Remind your client that they'll need to apply it to the bangs as well as the lengths, so they can blow-dry and straighten a fiddly fringe as much as they wish.