10 Red Hair Colors, from Ginger to Auburn
When you hear 'red hair colors', what's the first thing you think of? For many, visions of fiery, bold, show-stopping locks come to mind. Think, shades of scarlet, crimson, ruby and mahogany. However, the red hair spectrum spans so much further, offering up softer hues too, like copper, pumpkin spice and strawberry blonde.
With so many ways to go red, we've pulled together your definitive guide to the hottest shades, whether you (or your client) are craving subtle copper strands or a statement-making mane. Keep scrolling for 11 of the dreamiest red hair colors…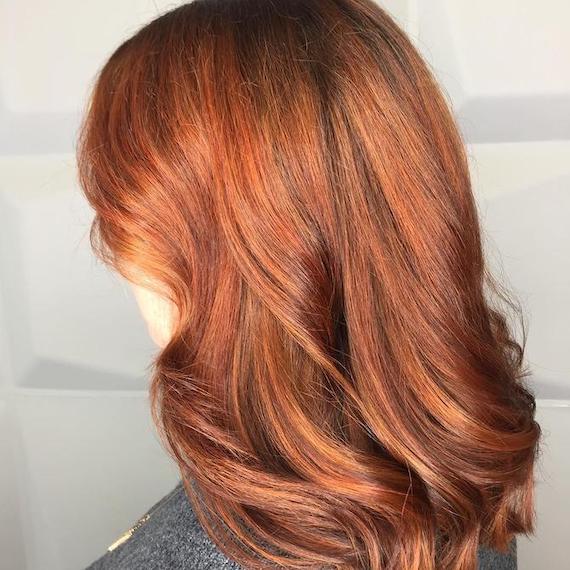 1
Copper
Image Credit: @janina_ehrenberg_friseure
Every autumn/winter, the trend for metallic hues makes a big comeback, with copper hair proving the most covetable shade to take a shine to. It's the perfect balance of red and brown tones with plenty shimmer thrown in, and you can wear it as rich and warm or cool and almost-coral as you like. Look to Koleston Perfect's palette of Vibrant Reds for this look; each one giving you pure, balanced color, reflective shine and natural-looking depth.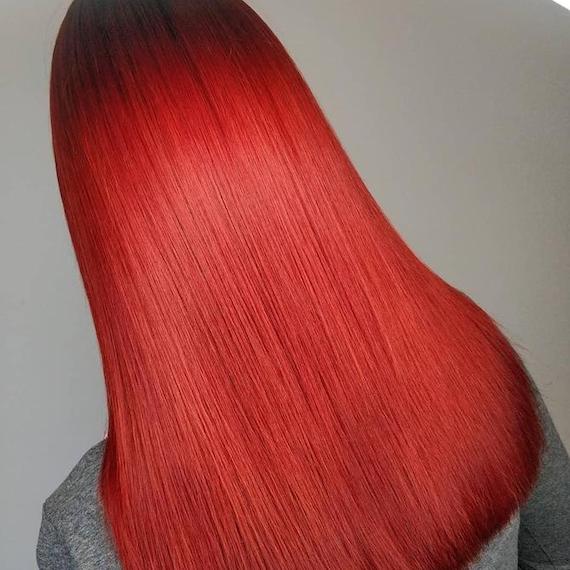 2
Cherry Red
Image Credit: @darlingsalon
For red hair with a juicy twist, get a taste of cherry red, which might just be the boldest, brightest and bravest shade of all. Whether worn in a true cherry hue or with a pop of deep cherry cola, Color Fresh CREATE's Next Red gives you unlimited ways to work the trend. Mix with a small amount of Tonight Dusk to take it deeper, add Infinite Orange to go fiery or mix in a little Hyper Coral for more of a glacé cherry vibe.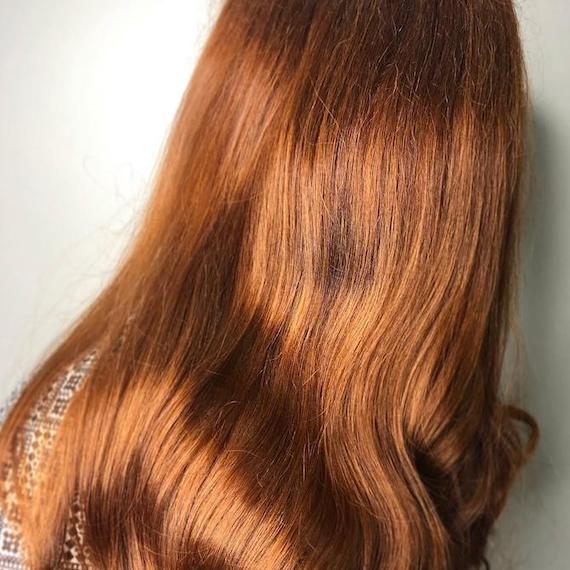 3
Pumpkin Spice
Image Credit: @smash_styles
Gourmand-inspired hair colors are some of our all-time favorites. We're talking chocolate brown, caramel blonde and, of course, pumpkin spice hair. Flecked with copper, chestnut and auburn hues, it's as indulgent as everyone's go-to latte order and can be customized to flatter all skin tones.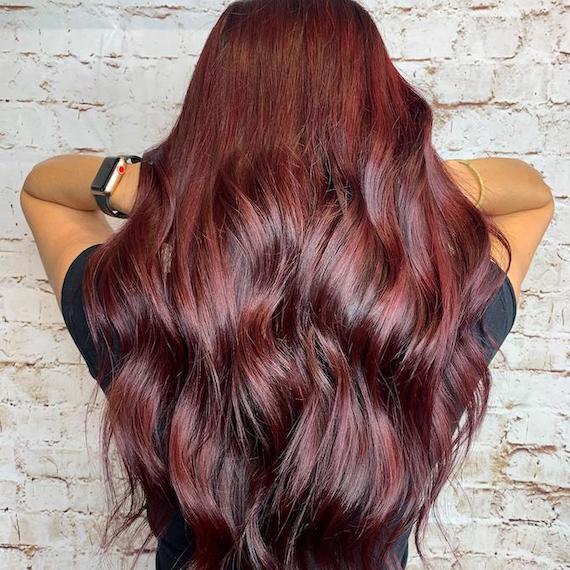 4
Mahogany
Image Credit: @jmvbeauty
Get the gloss with mahogany hair. It's a red meets brown meets deep purple hue that's deliciously dark and brimming with light-reflective shine. You don't want any shade fade with this one, so ensure your client adds a weekly dose of INVIGO Color Recharge Red Conditioner to their routine. It's a pigment-depositing treatment that keeps those mahogany tones polished to perfection.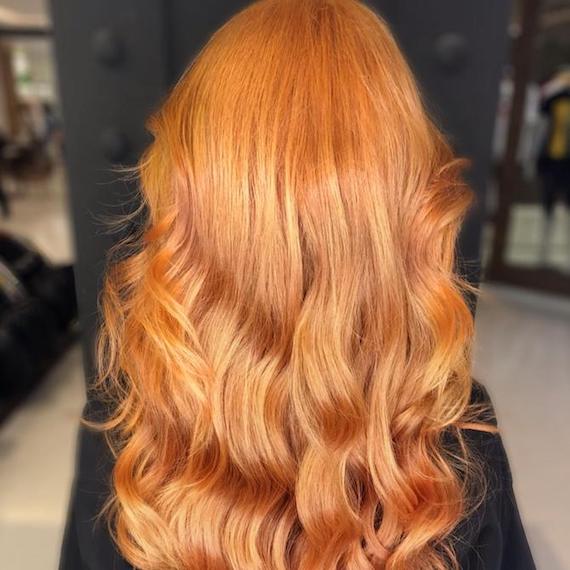 5
Ginger
Image Credit: @dudugimenez
The most famous shade of red hair is also one of the most captivating, as proven by ginger-haired beauties Isla Fisher, Amy Adams and Jessica Chastain. To spice up your life with ginger hair, you'll need to lighten dark locks with Blondor first, then apply a toner, like Illumina Color, which reveals unseen light reflections in the hair. Eduardo Gimenez used the shades 9/43 + 9/03 for this creation.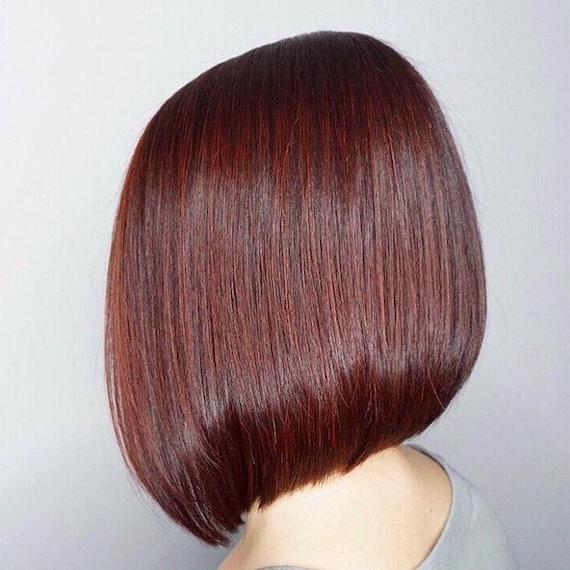 6
Dark Red
Image Credit: @kai_sohn
Like mahogany hair but without the hints of purple, dark red hair comes in shades of merlot, burgundy and sangria. Are you noticing the red wine theme? We're obsessed with this ultra-glossy, blunt cut bob, which you can create by lightening hair with Blondor, then transforming into a radiant red using our plant-based dye EOS in the shade Hot Chilli.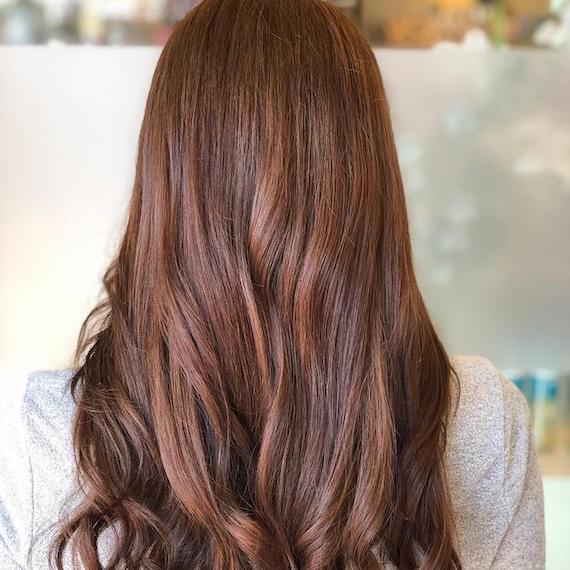 7
Auburn
Image Credit: @hairslayyer
For those who fear a bright red is too bold, auburn hair is the muted, more wearable option, combining the warmth of a brown hair color with hints of fall-ready burnt orange. Shelby Irvin nailed the shade with demi-permanent hair color Color Touch, which lasts up to 24 shampoos, giving you a flawless, gradual fade.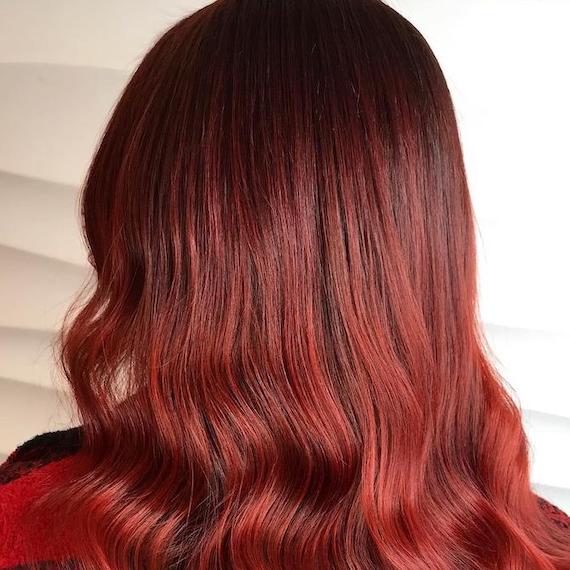 8
Red Ombre
Image Credit:  @shaunaformanhair
Nothing takes red hair to the next level like an ombre technique, which sees color evenly graduate from dark at the roots to a rich red through the ends. If clients have naturally dark hair, it's a great way for them to achieve low maintenance color, as they won't need root touch-ups; just regular glossing through the mid-lengths and ends to keep their hue vibrant.