15 Golden Blonde Hair Ideas and Formulas
All that glitters is golden blonde hair; a shade so shiny, sparkly and soft, it lends a warming complexion boost to anyone who tries the trend. No wonder, then, that it's one of the most coveted shades of blonde out there. Keep scrolling for inspiration, formulas and tricks to maintain this gilded shade – each worth their weight in gold(en blonde)…
How to Create Golden Blonde Hair
Whether you're creating golden blonde hair for a client or trying the shade yourself, keep these transformation tricks in mind to ensure you achieve the most flawless finish…
1. Golden Blonde for Blondes
It goes without saying that blonde hair is the best base for a golden blonde concoction. Locks may already be light enough to skip the pre-lightener step and go straight into glossing or toning. If this is the case, look to the blonde shades in the demi-permanent Color Touch  portfolio, and try adding doses of 9/03, 9/73 or 9/36 to your formula. These sunny hues are perfect for adding some welcome warmth.
2. Golden Blonde for Brunettes
Brown hair will need pre-lightening before golden blonde color can be applied, and you can do it two ways: all over for a dramatic brown to blonde makeover, or in fine blonde highlights to achieve the most natural-looking finish. Either way, use BlondorPlex to lift strands to the desired underlying tone, which is infused with our WellaPlex No1 Bond Maker to strengthen strands. (Just make sure you apply the No2 Bond Stabilizer when you rinse.) Then, choose a warm blonde hue from the permanent Illumina Color portfolio. It creates a sheer, shiny result that enhances the light reflections in your hair. 
3. Golden Blonde for Redheads
While those with medium or deep red hair will want to lighten all over for a golden blonde hue, copper hair can carry off a few glistening highlights to create a gilded strawberry blonde. Try Blondor Freelights for a scattering of soft, seamless babylights, then tone with permanent Koleston Perfect for a shiny finish, using warm tones from the Pure Naturals or Rich Naturals collection.
10 Golden Blonde Hair Ideas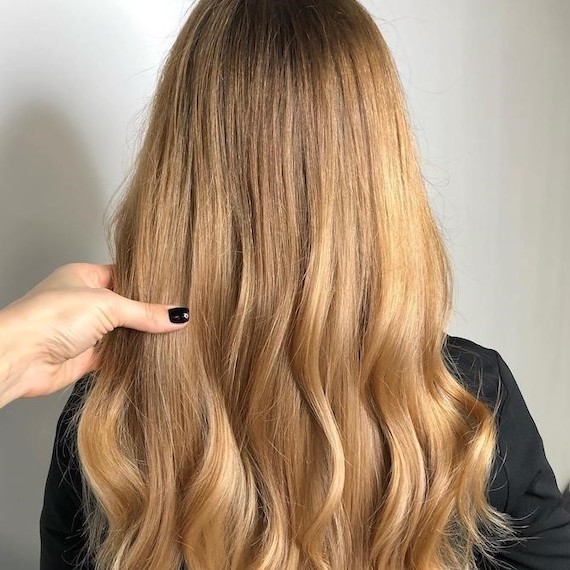 1
1. Pure Golden Blonde Hair
Image Credit: @marinazuravliova
A true golden blonde is neither light nor dark and glimmers beautifully under the light, a la this creation by Marina Žuravliova. A combo of Blondor-ed babylights and Illumina Color ensures locks are brimming with shine, which you can take to the next level by spritzing mid-lengths and ends with EIMI Glam Mist gloss-boosting spray.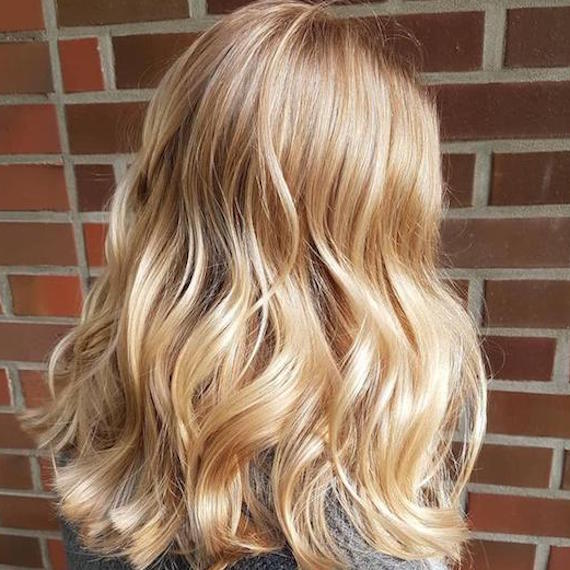 2
Light Golden Blonde Hair
Image Credit: @anne_does_hair
For those who prefer a paler shade, try a light and sunny golden blonde, which features bright, twinkly highlights lightened to a level eight. A shade this luminous teams flawlessly with loose, undone waves, which you can tease to perfection using the Pro-Curl tong and EIMI Thermal Image heat protection spray.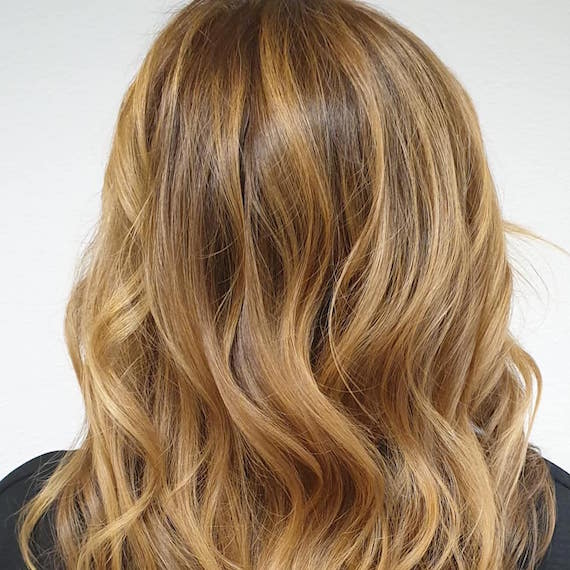 3
Medium Golden Blonde Hair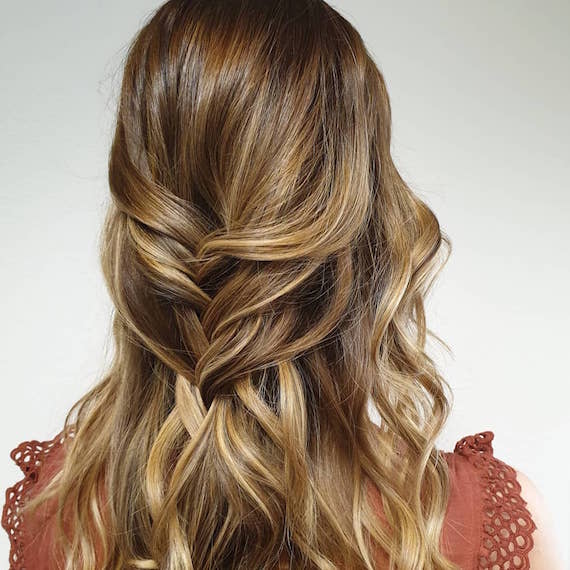 4
Dark Golden Blonde Hair
Image Credit: @pablofriseure
A dark golden blonde is essentially brown hair with warm, glittering highlights, as dreamily demonstrated in yet another look from the pa.blo friseure salon. Created with a foilyage technique (that's balayage wrapped in foils for a brighter lift), the look goes next level with tousled texture. Try styling locks with EIMI Ocean Spritz salt spray for a similar effect.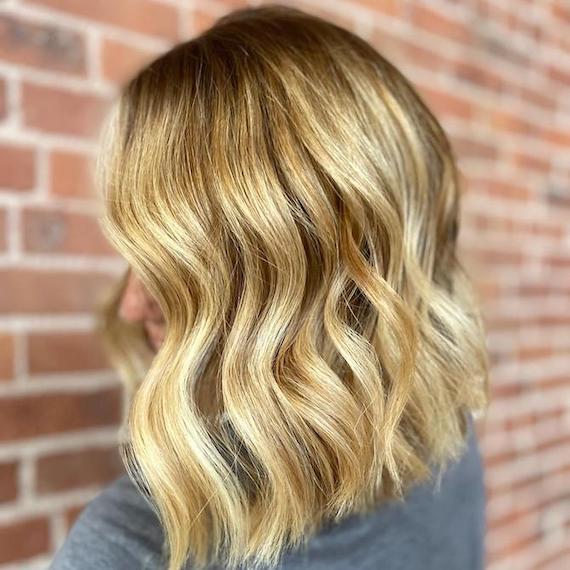 5
Golden Honey Blonde Hair
Image Credit: @unrivaled.beauty
On the blonde hair spectrum, honey blonde and golden blonde sit close together, both decorating locks in glimmering warmth that looks luminous all year long. For something in between, go for a softer gold with a milky, hazy finish, and lower the volume of brown lowlights to reduce the contrast of your highlights.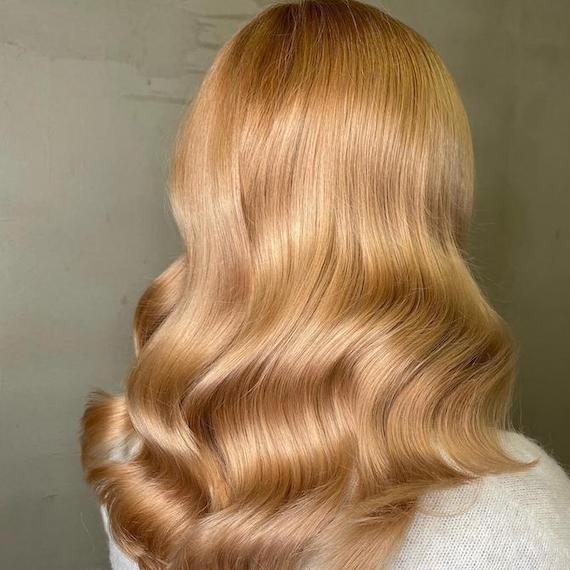 6
Golden Copper Blonde Hair
Image Credit: @hairbysatukylatasku
Give copper hair a gilded twist to reach a golden apricot tone. Your go-to shade is Opal-Essence by Illumina Color in Copper Peach.  Applied to pre-lightened locks, it veils hair in a peachy keen sheen that sparkles under the light. Bump up the shine further by misting EIMI Oil Spritz through freshly styled waves.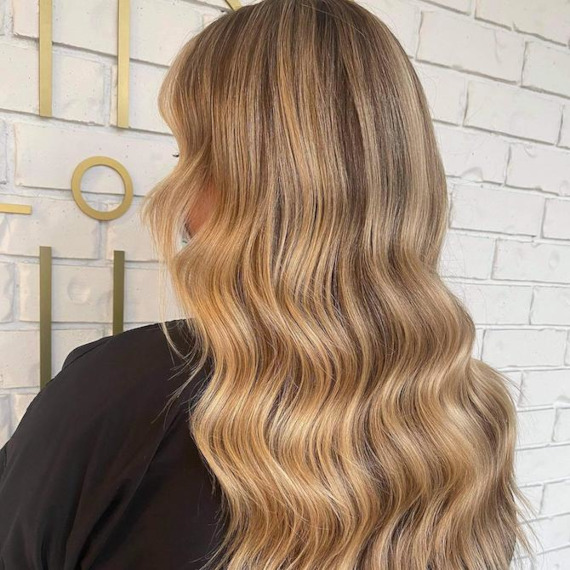 7
Golden Blonde Highlights
Image Credit: @blondee_salon
Golden hour is every hour with these chunky blonde highlights, which shimmer and shine from root to tip through a golden brown base. Give them a beachy vibe by tousling EIMI Sugar Lift through loosely tonged ends. Sun-kissed blondes and surfer-girl waves are always a winning combo.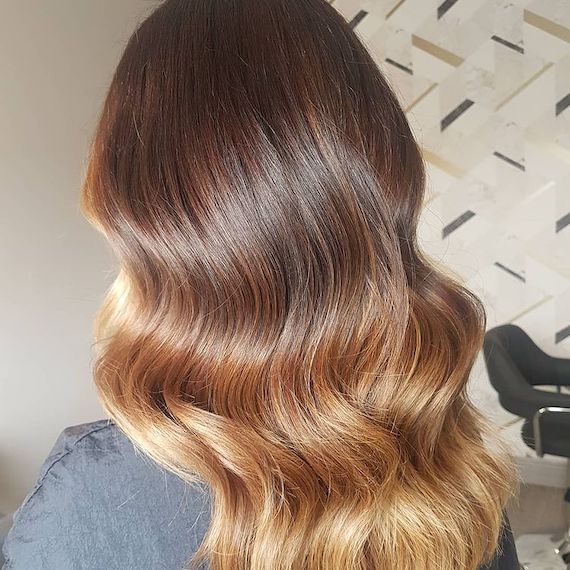 8
Golden Blonde Ombre
Image Credit: @leonora__ribeiro
One of the simplest ways to set brown hair aglow is with a golden blonde ombre. It's a low-maintenance look that lets you keep the roots au naturel, while lightening up the mid-lengths and ends. This means no harsh regrowth, no root touch-ups and no more dullness through the ends. Just make sure you care for lifted mid-lengths with a rich, creamy hair mask, like ColorMotion+ Structure+ Mask.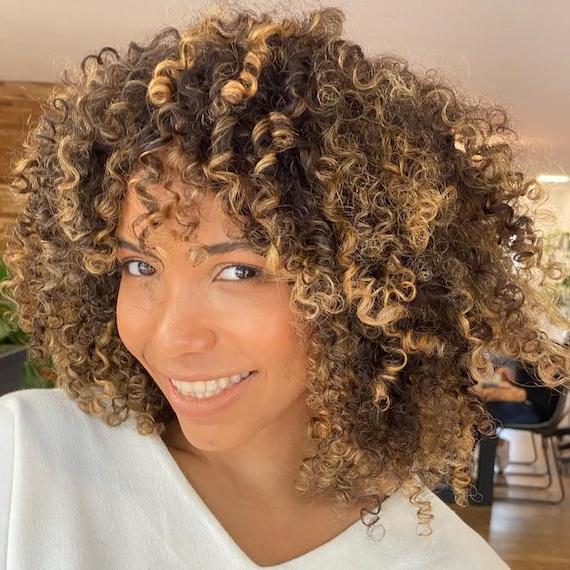 9
Golden Blonde Balayage
Image Credit: @gleitonpedrostudio
One of our favorite things about a curly balayage is its ability to make texture pop. When it's tactically placed, the lightener can define tight coils, so their shape stands out against a darker base. Try it with Blondor Freelights, which we specifically designed to be used during freehand services. It has an adhesive mass that makes it stay in place, so you don't have to worry about smudging. For extra curl definition, style balayaged strands with the EIMI Curl Shaper gel-cream. Simply apply it evenly through damp hair, then dry with a diffuser for flawless, frizz-free curves.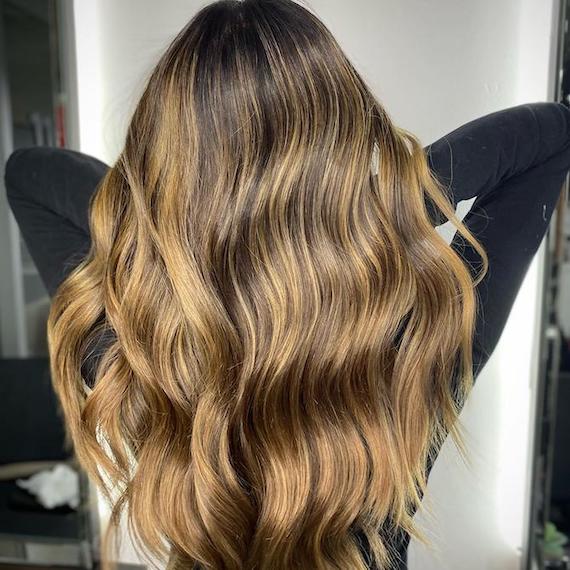 10
Golden Blonde Twilighting
Image Credit: @morphosispace
Have you heard of twilighting? It's a glow-giving technique for deep brunettes, which sees bright, golden highlights applied to create a bold contrast that breaks all the color rules. While, typically, it's recommended that highlights are no more than two shades lighter than the base, you're going around four shades lighter with this look. And, honestly? The rule-breaking pays off. Just make sure it's done with BlondorPlex, so the structure of hair isn't compromised.
5 Golden Blonde Hair Formulas
How to Maintain Golden Blonde Hair
Golden blondes aren't always easy to maintain. You want the shade to be warm but not brassy, which means a carefully chosen color-kind routine is needed to strike the perfect balance. 
Step one is preventing those brassy tones from popping up by using the right shampoo. Our go-to is ColorMotion+ Color Protection Shampoo, which is packed with safeguarding antioxidants. It's these antioxidants that forage shade-fading free radicals found in tap water or polluted air. By lathering up with this gentle shampoo, blonde locks will look golden for longer. 
Next up, a conditioner is key. Colored hair looks its best when it's nourished and moisturized, so team the ColorMotion+ shampoo with the ColorMotion+ Moisturizing Color Conditioner. On days when ends feel particularly parched, the ColorMotion+ Structure+ Mask is an added must. In five minutes, it leaves mid-lengths and tips feeling softer, smoother and strengthened. 
But the real game-changer is the Color Fresh Mask. Teaming rich moisture with a hint of a tint, it allows golden blondes to refresh their salon color in the shower. Try the Golden Gloss shade, applying it from root to tip through just-washed, towel-dried hair. Leave it on for 10 minutes before rinsing to reveal a revived golden blonde. Flawless.
SHOPWELLA STORE
SHOP NOW
Products are only available to professionals.