Dry Scalp and Oily Hair? Try These 8 Tips
Do you have combination hair? While it sounds like the ultimate oxymoron, we often meet with clients who have a dry scalp and oily hair (or what seems like a dry scalp, but more on that later). And while restoring natural balance to oil glands on the scalp might seem tricky, the solution is simpler than you think – as long as you have the right hair products in your kit and pro tricks up your sleeve.  
So, let's explore the reasons why you might have flakes and greasy hair, plus tips for a healthy scalp (and, in turn, healthy hair) that feels calm and renewed... 
Why Do I Have a Dry Scalp But Greasy Hair?
You'd think a dry scalp would mean dry hair, too – right? But dehydrated roots can also lead to oily hair, and this unexpected combination often points to an imbalance in your hair follicles. It can happen because:    
Your scalp is overworked due to changes in weather, over-styling or even simple genetics, which may make it itchy and flaky. In response, your sebaceous glands could be pumping out too much sebum to try and 'fix' the problem – cue oily hair and roots that are still dry and dehydrated.
The rich products often used to treat a dry scalp can sometimes lead to product build-up if not rinsed out properly, leaving you with locks that feel oily and sticky yet skin that's dry and irritated.   
You may have seborrheic dermatitis, also known as dandruff. What looks like a dry scalp condition could really be an oily scalp that's producing sticky flakes. This is the most common cause of a flaky scalp and oily hair combo, which is why it's good to be aware of the differences between dry flakes and dandruff flakes. 
So, Is It a Dry Scalp or Dandruff?
Is your scalp really dry, or is it just flaky? Sometimes flakes in your hair can be mistaken for a sign of dry skin when they might really be the result of excess sebum and oil build-up. Itchiness, irritation, redness and a tight sensation all point to genuine dryness, which means hydrating hair care products should be high on your agenda (yes, even if the lengths are greasy).
Meanwhile, sticky flakes could mean you're dealing with dandruff, which thrives in oily environments. This oiliness can travel down the hair shaft to leave you with greasy hair that's calling out for a purifying routine. Take a close look at the roots of your hair to figure out the cause of white flakes and oiliness, then follow the tips below to bring back calm and balance...
8 Tips to Treat a Flaky Scalp and Oily Hair
1. Switch Up Your Shampoo Routine
The shampoo you use can make all the difference to your scalp condition, so make sure you use one that targets the unique needs of your hair type. If it's truly a dry scalp you're dealing with, you should be using gentle shampoos that cleanse and nourish. We recommend NutriCurls Micellar Shampoo for curls and waves, INVIGO Nutri-Enrich Deep Nourishing Shampoo for straight hair, or INVIGO Balance Senso Calm Sensitive Shampoo for parched skin. Focus your nourishing formula on the root area, then cleanse oily lengths with INVIGO Aqua Pure Purifying Shampoo.
If dandruff is your hair issue, use INVIGO Balance Anti-Dandruff Shampoo, massaging it in from roots to ends to cleanse and moisturize locks, while removing visible flakes and dead skin cells. It harnesses salicylic acid alongside zinc pyrithione, which has antibacterial, antimicrobial and antifungal properties; perfect for cleaner-feeling hair that stays fresh and flake-free.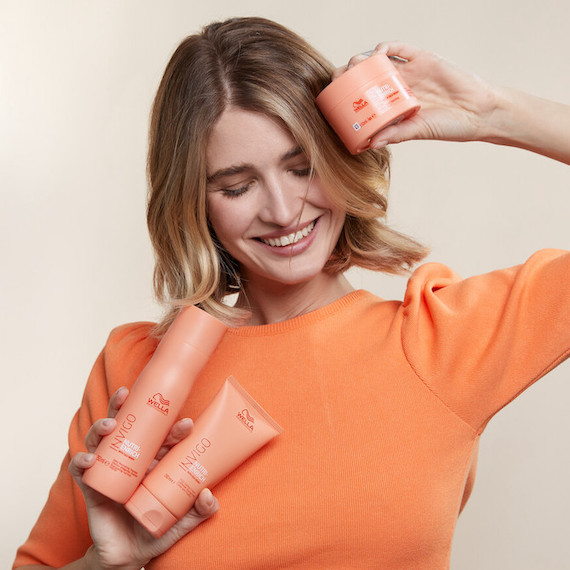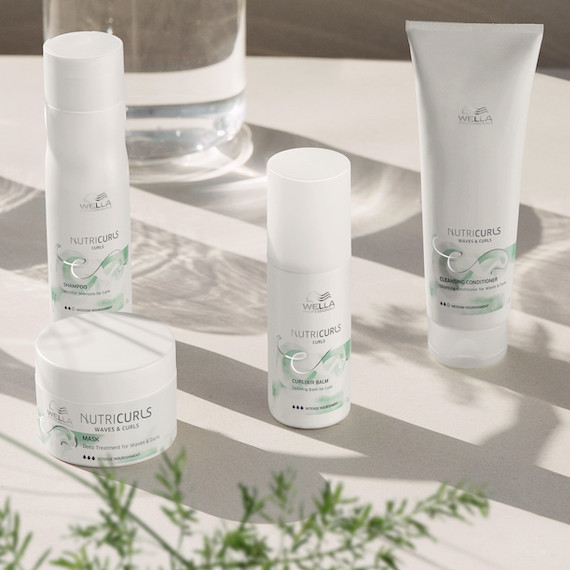 2. Soothe a Dry, Flaky Scalp With a Calming Hair Mask
Dry, irritated and itchy scalps need moisture, so reach for a scalp mask that feels like a big glass of water for your aggravated skin. INVIGO Balance Senso Calm Sensitive Mask soothes and alleviates itching with a fragrance-free, allantoin-boosted formula. You can apply it from roots to ends, but if you're worried about weighing down the lengths of hair, simply focus it on the scalp area. Leave on for five minutes, then rinse thoroughly.
3. Balance a Flaky, Oily Scalp With a Clay Scalp Treatment
If your scalp is flaky due to oil build-up, seek out scalp treatments that target excessive sebum production. A clay mask is perfect, as it absorbs oil while being gentle on sensitive skin. Try it yourself with Elements Purifying Pre-Shampoo Clay, which you apply to an oily scalp weekly before washing your hair, and leave on for up to five minutes. Follow it with a gentle shampoo, like Elements Renewing Shampoo, which will whisk the mask away and leave the roots of your hair purified. Bonus: the mask helps to boost volume in limp locks too.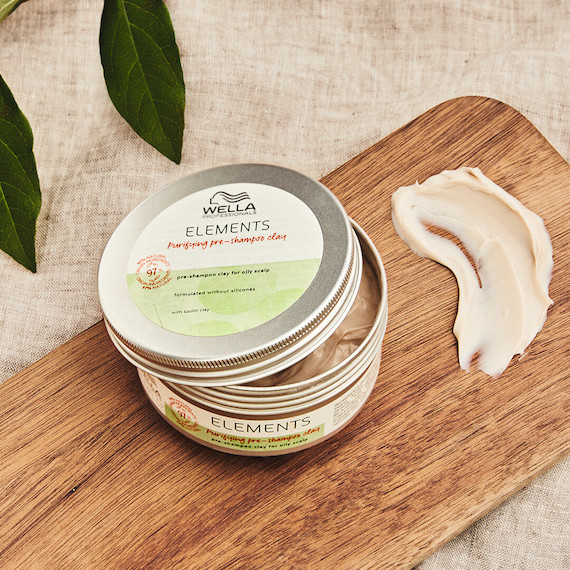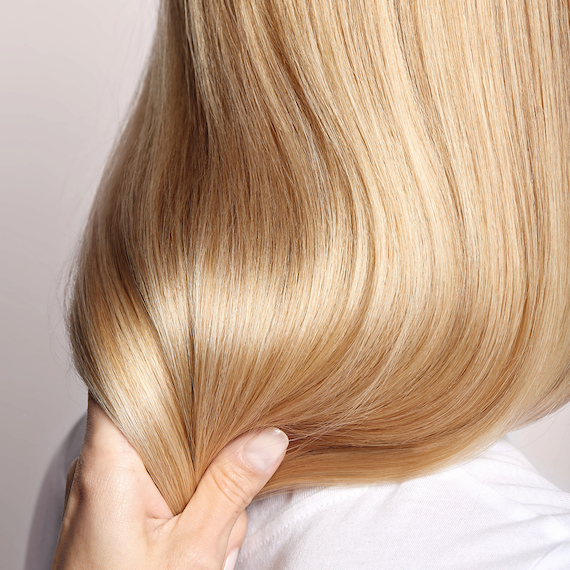 4. Hydrate Lengths With a Lightweight Conditioner
Just because hair is oily doesn't mean it's hydrated. If your tresses look dull and in need of conditioner, use one that's light yet moisturizing, so it doesn't drag hair strands down. For nourishing curly and wavy hair, NutriCurls Detangling Conditioner strikes the right balance between weightless and softening, giving extra definition to those beautiful curves. Elements Renewing Leave-In Conditioner will care for locks in a spritz with a shine-enhancing dose of aloe vera. Meanwhile, colour-treated hair will look radiant with ColorMotion+ Moisturizing Color Reflection Conditioner smoothed through the lengths and ends.
5. Keep Your Skin Protected During Colour Services
When your scalp is sensitive, you may be wary of booking in for salon colour appointments. However, there's a step your colourist can take to keep roots protected as you strive for your dream shade. Let them know about a dry scalp or scaly skin, and ask them to use the Marula Oil Blend Scalp Primer, which instantly reduces scalp discomfort during lightening and colouring services. You could also opt for looks that don't require colour near the scalp. Think balayage, foilyage and Illuminage; three trends that put the focus on mid-lengths and ends of hair.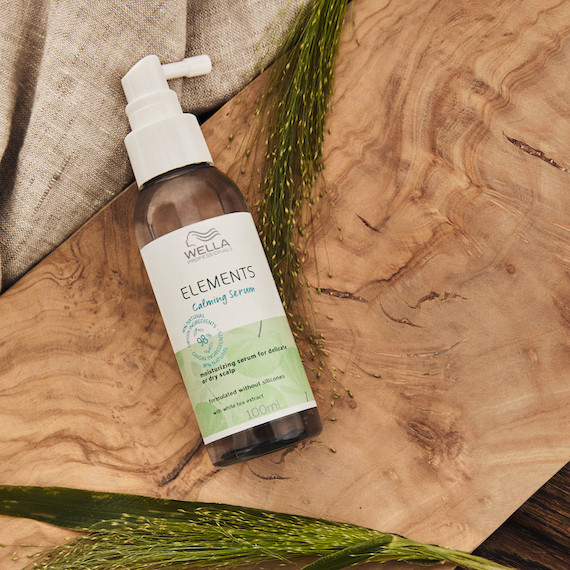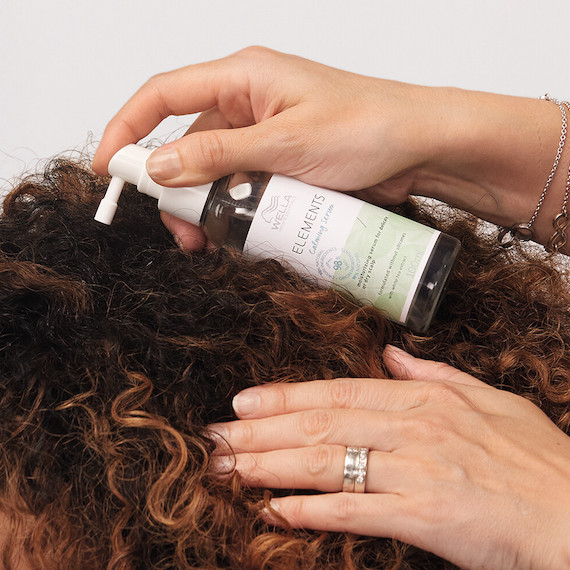 6. Use Weightless Hair Styling Products
Product residue can make greasy hair greasier – but that doesn't mean you have to quit your styling routine. Instead, simply swap out rich, heavy products in favour of weightless yet hard-working stylers. Try these hair product picks:
For protection while heat styling, try: EIMI Thermal Image, a water-like mist that enhances shine while shielding locks from heat up to 220°C. 
For wave and curl definition, try: NutriCurls Milky Waves Spray, a hydrating mist for locks that can be applied to clean, damp hair then topped up on dry hair whenever moisture is needed. 
For soothing the scalp, try: Elements Calming Hair Serum, which can be massaged into a dry, sensitive scalp without leaving a greasy residue. Focus it directly into the roots to offer comfort to parched skin.
For thicker, fuller-looking hair, try: INVIGO Volume Boost Bodifying Foam, which gives fine hair the lush volume and touchably soft texture it deserves. It's pleasingly light, adding guts and hold without weight. 
For teasing and texture, try: EIMI Ocean Spritz, a salt spray that gives locks a chunky, beachy texture while protecting against dehydration and UV damage. 
For treating dry ends, try: EIMI Oil Spritz. It's possible for locks to be both greasy and dry at once, so if the tips of strands feel parched, boost hydration levels with this light lotion. Focus it just on the ends, using a small amount at first and building up as needed.
Meanwhile, we recommend you hold off on using dry shampoo on a dry or inflamed scalp, as it could cause extra irritation. Steer away from it if you have dandruff with an oily scalp too. Although it can help to soak up excessive oil production, it may sit on the surface of the skin and clog hair follicles. 
7. Make Sure You Brush Hair Through Daily
Are you brushing your hair frequently enough? Gently glide your brush from root to tip at least twice per day to help sweep away any flakes of dandruff and redistribute oils through the hair. Sebum overproduction can cause an excess build-up of oils in some areas, but regular combing and brushing will work to balance things out – even just a little.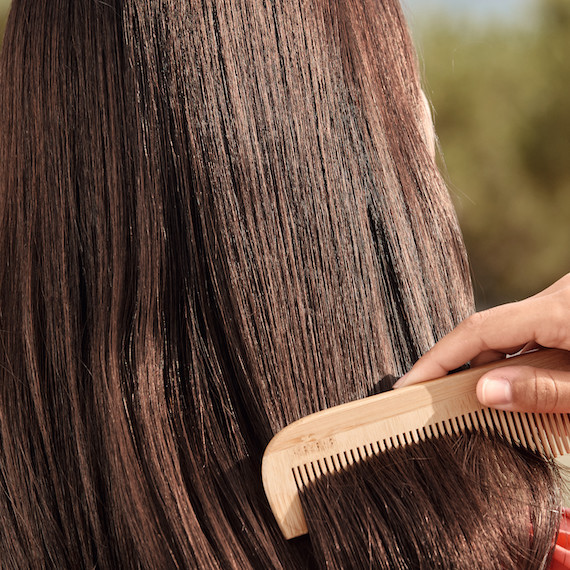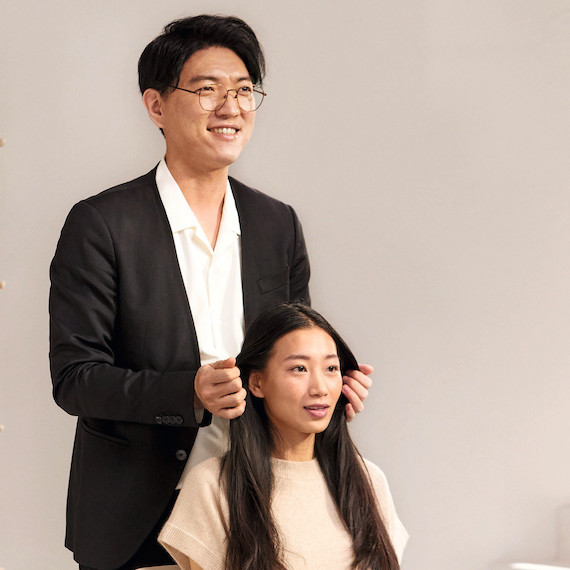 8. Seek Further Advice
Don't be nervous or afraid to talk about your scalp concerns with your hairdresser. They're specially trained not just to cut and colour, but to offer advice on improving the health of your hair too. If the insight they offer and the tips above don't soothe your scalp issues, we recommend seeking medical advice to further treat potential skin conditions that might be causing flakiness. Help is at hand, so take it; you deserve to feel happy and confident with your hair. 
Want more tips on soothing your hair and scalp? Discover our guide on how to care for and repair damaged hair.