How to Make Dry, Brittle Hair History
Dry hair is more common than you might think. Hair strands are surprisingly sensitive, and moisture can be sapped away from all manner of daily aggressors – including heat damage, changing weather and pollution. And usually, dry hair = brittle hair, which makes locks more susceptible to snapping and breakage through the lengths. So what can you do to stop dehydration from turning into an even bigger drama for your tresses?
Here, we reveal the tricks to transform dry, brittle hair back to its silky best – and prevent further damage. Come rain or shine, these are the secrets to weather-proof, frizz-free, healthy-looking locks...
Why is My Hair Dry and Brittle?
Before we go into the fixes, let's look at the real causes of dry, brittle hair.
Genetics: Some of us are just born with it; our hair follicles produce less natural oils which, in turn, means the lengths can feel parched too.
Pollutants: Pollution and metal particles, found in both the air and water, also affect hair's moisture levels.
Weather: Extreme weather (plus the heating/air con that goes along with it) wreaks havoc on damaged tresses.
Wear and tear: Think daily washing, brushing, combing, heat styling and bleaching.
Without a moisture-boosting hair routine, all of these daily challenges can result in that coarse, crunchy hair texture. So, let's get into the ways you can rehydrate dry, brittle hair…
6 Dry, Brittle Hair Remedies to Try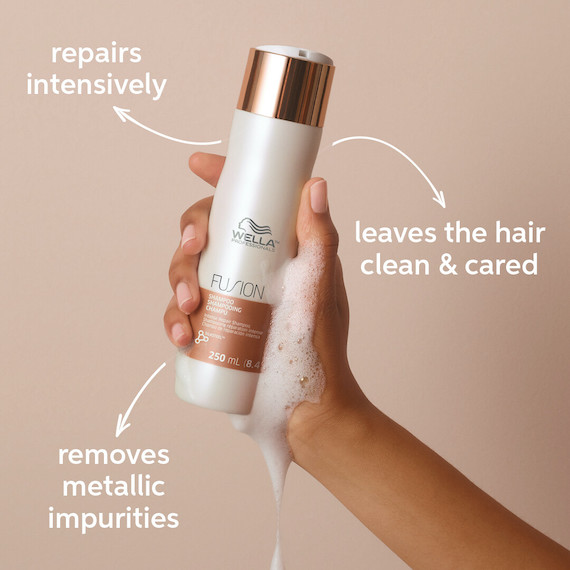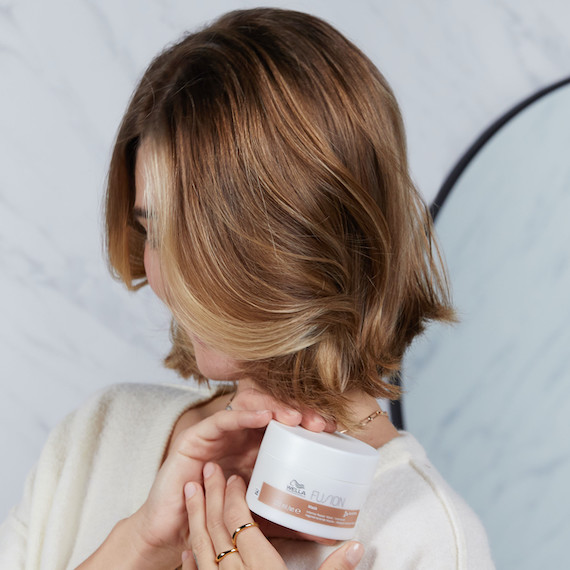 1. Restore Moisture with Deep Conditioning Hair Masks
First up, wash your hair with a mild shampoo, like Fusion Intense Repair Shampoo or NutriCurls Micellar Shampoo, depending on your hair type. Then treat locks with a deep conditioning mask that restores softness. When quenching is the goal, we recommend nourishing thirsty locks with the lipid-packed Fusion Intense Repair Mask. For curl definition, try NutriCurls Deep Treatment for Waves & Curls, which prevents frizz and keeps hair soft to the touch. 
There are a couple of extra tricks to keep in mind that make your mask extra-nourishing. The first is to make sure you're washing and rinsing with warm water – not hot or cold. If the water is scorching, it may make your hair feel even drier, while cold water won't clean as thoroughly (although it's great for a final, shine-boosting rinse). So, warm, tepid water it is for masking locks.
You can also give your mask added help by wrapping hair up in a microfiber towel and leaving it there while the ingredients get to work. Release locks and rinse after 5-10 minutes for softer, smoother hair condition.
2. Stick to a Balanced Diet, Rich in Fatty Acids
You can eat your way to healthier hair with a diet that's rich in fatty acids, which are believed to deliver extra nourishment to locks. Fruits, seeds, nuts and vegetable oils are all great sources. Adequate proteins are also key to keeping hair healthy, so make sure you're eating at least one serving per day of lean meats like fish and chicken, eggs or soy products.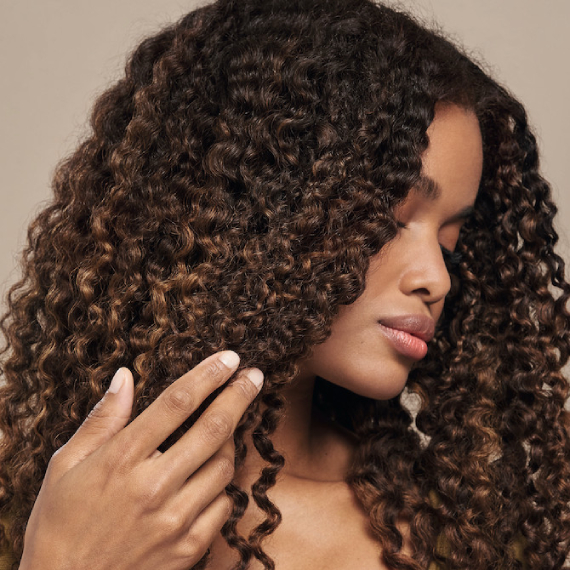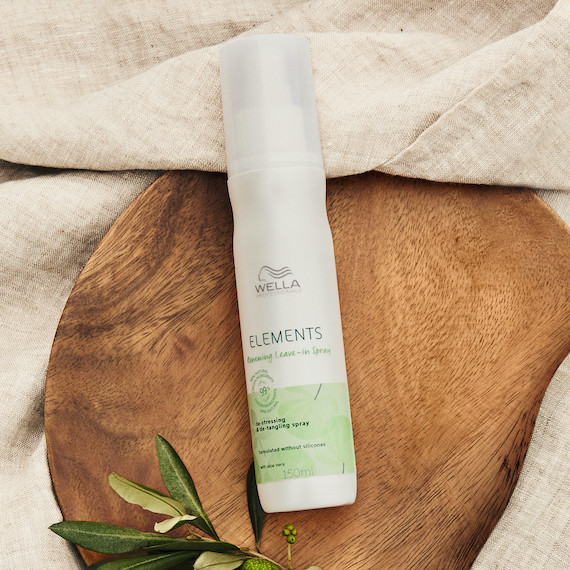 3. Add a Leave-In Conditioner to Your Styling Routine
Could your hair be highly porous? Over time, damaged hair forms gaps and tears along the cuticle, which not only makes it ultra-absorbent, but also means that moisture can escape easily. That's why we recommend misting a leave-in conditioner through clean, damp hair, so your tresses can reap the rewards of nourishing ingredients that stick around until your next wash.
Try Elements Renewing Leave-In Spray or NutriCurls Milky Waves Spray. You can keep lightly topping it up in between washes, so the hair shaft gets a regular dose of nourishment. These leave-ins also make for a great detangling spray, so you can easily work through knots without causing extra harm to brittle strands. 
4. Lock in Hydration with Hair Oils
When you've completed your nourishing hair wash routine, you need hair products that lock in moisture. Look to hair oils which act as occlusives, meaning they seal in hydration so it lasts until your next hair wash. Just make sure you're layering hair styling products in the right order, starting from the lightest texture to the richest. That means hair oils usually come last, after your serums, leave-in conditioners or blow-dry lotions.
Our pick for this step is Oil Reflections Luminous Smoothing Oil, which tames split ends and frizz by smoothing hair cuticles to leave locks glossy and soft. Apply it to damp hair, focusing on the mid-lengths and ends while avoiding the roots. Then allow your strands to air-dry or follow with a heat protectant before styling.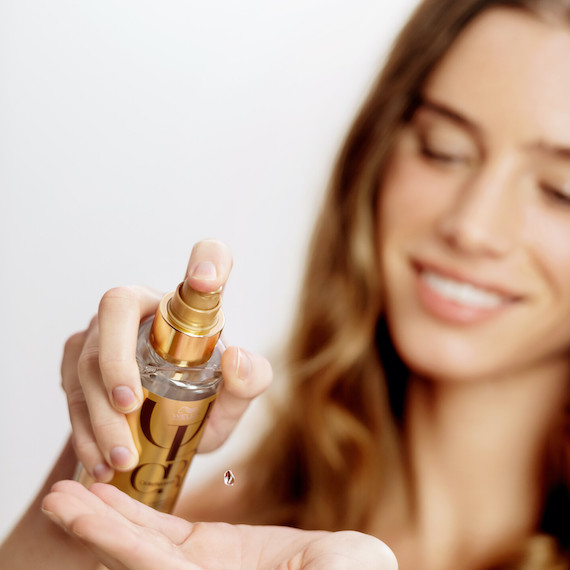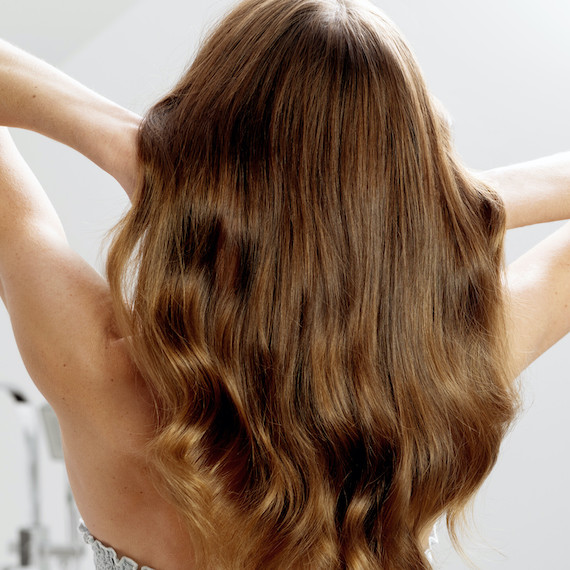 5. Use Light Lotions to Protect Strands While Heat Styling
Speaking of heat protection, this is key no matter how you style your hair. Whether you're using a hair dryer, flat irons or curlers, make sure you shield locks from scorching temperatures. Dry, brittle hair will benefit from a light yet lustrous lotion to level up hydration as it protects, which is why we always treat parched strands to EIMI Flowing Form.
Layer it through while hair is still damp and, if you're going for straight hair, blow-dry with the nozzle pointing downwards. This will encourage the hair cuticle to lie flat, so you get a smoother, sleeker finish. For curly hair, dry with a diffuser to encourage beautiful coils and waves, taking care to work section by section for major body and movement.
Then, before using any further hot tools (such as straighteners or curling irons), mist EIMI Thermal Image heat protectant spray through dry strands from root to tip. This way, you'll safeguard hair from heated styling tools, all while unlocking your perfect look.  
6. Ensure Dry Hair is Trimmed Regularly
Dry hair is prone to breakage through the lengths – and especially through the tips. That's why you might start to notice split ends, leaving your locks looking less tidy than you'd like. While you put strands through the hydrating steps above to pamper hair back to its healthiest, make sure you're also getting regular trims to snip away snapping tresses. A cut every six to eight weeks is recommended for smoother ends. Gradually, you'll notice hair looks neater and even feels thicker, with no dry, wispy sections in sight. 
P.S. Watch Wella Educator Eddie Sweeney reveal another big benefit of regular trims here!
With these tips, you can make brittle tresses feel soft, smooth and silky once more. Before you know it, dry locks will have their shine back – just in time for the new season.