5 Ruby Red Hair Colour Ideas & Formulas
It's the ultimate statement hair colour; the reddest of all the reds. So it's no wonder colour-brave clients are hailing ruby red hair the trend of all seasons. Brimming with cool blue undertones that give skin a glow and look fresh all year round, it's a bold hair colour that never goes out of style, with a vibrancy that's guaranteed to turn heads. 
So how do you create ruby red hair in the salon? Here, we have all the tips, formulas and maintenance tricks you need to make ruby reds look ultra radiant...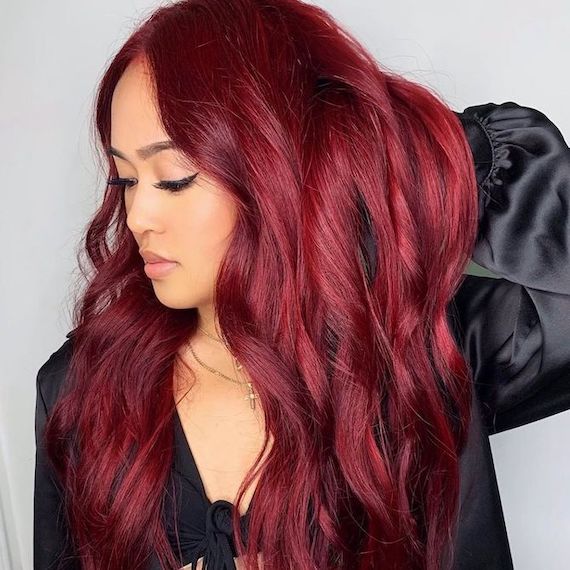 Pick the Perfect Ruby Red Colour
Unlike coppers, strawberry blondes and auburns, which boast an orange undertone, ruby is packed with blue and purple-red undertones that feel both fresh and striking. One of the best things about cool-toned reds is that they throw off a beautiful shine, so hair is brimming with a healthy glow from wherever you place the colour. You'll find a host of such hues in the Wella Professionals portfolio – all you need to do is pick the perfect one to suit each client's hair goals...
For a pre-lightened canvas: If your client has brown hair or black hair, locks will need to be pre-lightened before you apply a ruby red. Try BlondorPlex, an exclusive formula which features our bond-strengthening WellaPlex ingredient. It lifts locks to the desired level while keeping the internal bonds resilient, so hair feels healthy and strong after lightening. 
For temporary hair colour: Ruby red hair is bold (to say the least!) so if your client wants to trial the colour temporarily, try treating their locks to the Color Fresh Mask in Red. You can apply it to an already-red mane, pre-lightened hair or naturally blonde hair for a ruby tone that develops in just 10 minutes.  
For richness and vibrancy: Reach for demi-permanent Color Touch in shades such as 77/45 or 0/45. You're guaranteed to get vivid, vibrant results which, over time, fade beautifully true to tone. A must-try for the low-commitment client. 
For a high-shine glaze: The Shinefinity Color Glaze is a must when shine is on the agenda, giving your client a translucent veil of colour with zero lift and zero damage. Try 04/65 Deep Cherry for a purple-toned ruby red which leaves locks looking and feeling silky-soft.
For pure, intense hair colour:  To achieve pure, balanced colour from roots to ends – plus up to 100% grey coverage – introduce your client to Koleston Perfect. With a host of Vibrant Reds, such as 6/45 and 8/45, it's the perfect product for major intensity and healthy-looking hair, colour after colour. 
5 Amazing Shades of Ruby Red Hair To Try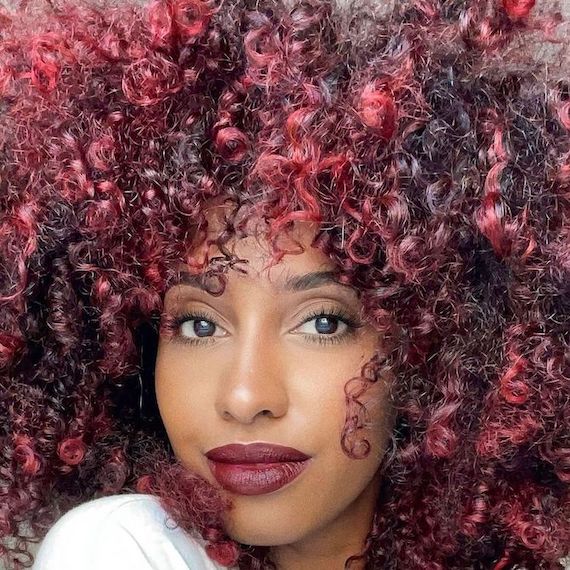 1
Ruby Red and Black Hair
Image Credit: @mayssas_beauty_mark
We'll forever be obsessed with this crown of ruby red curls. Black hair is set aglow with the most radiant highlights, courtesy of Magma by Blondor. The clever, single-process lightener works to lift locks while injecting strands with colour, so you can achieve your client's dream hue in one step. The shades at play here are /65 and /44, applied in alternating ribbons and wrapped up in foils for sweeps of vibrant red. How dreamy? After removing and neutralizing the colour, you can add an extra, optional toner if you want to boost the brightness. Here, Color Touch 66/45 + 77/45 was swept on for 15 minutes for an ultra-amplified ruby.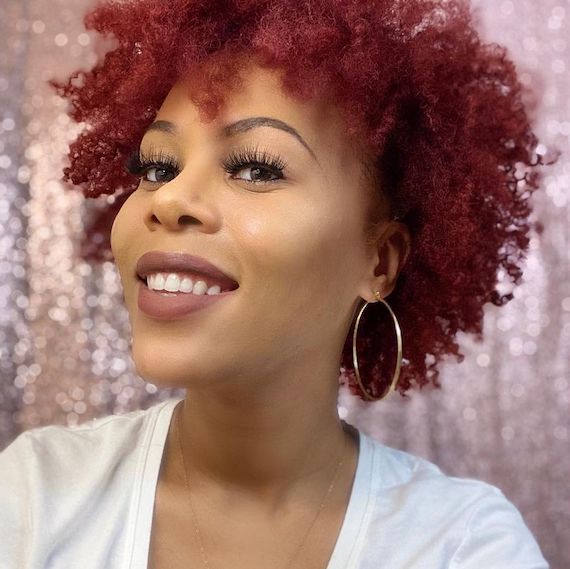 2
Ruby Red and Purple Hair Colour
Image Credit: @beverlyeze
A ruby violet mane is the ultimate head-turner, as flawlessly demoed in this pure pigmented Color Touch creation. To get the look, Beverly Eze mixed two purple-tinted reds into one must-try formula, featuring 6/45 with just a touch of 5/66. While the finished look steers redder, a hint of a purple tint gives hair a summer-ready vibe that can be worked right through fall too. Think sweet and berry fresh, with an unforgettable brilliance. To bump up that Color Touch shine, style hair with a few drops of Oil Reflections Luminous Smoothing Oil before your client leaves the hair salon.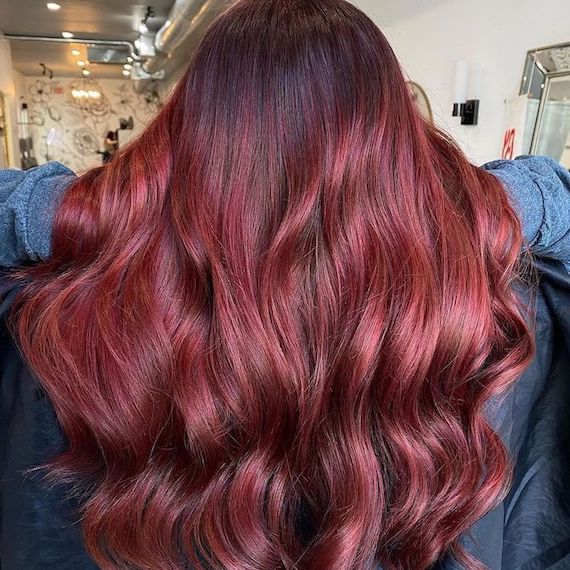 3
Ruby Raspberry Red Hair Colour
Image Credit: @hhailbeauty
Red meets magenta in this ruby raspberry mane by Hailey, which features a vibrant balayage melted through a deep brunette base. Ideal for clients who want to try red but also like a little pink in their hair, it fuses two colour trends in one to deliver the perfect blend of cool-toned bolds. To recreate the look, lighten dark lengths and ends first with Blondor Freelights + WellaPlex No1 Bond maker. Freelights is perfect for freehand techniques like balayage, and the WellaPlex will keep strands strong while hair is lifted. Then tone with Color Touch 5/66 + 0/56 for a vibrant burst of ruby richness.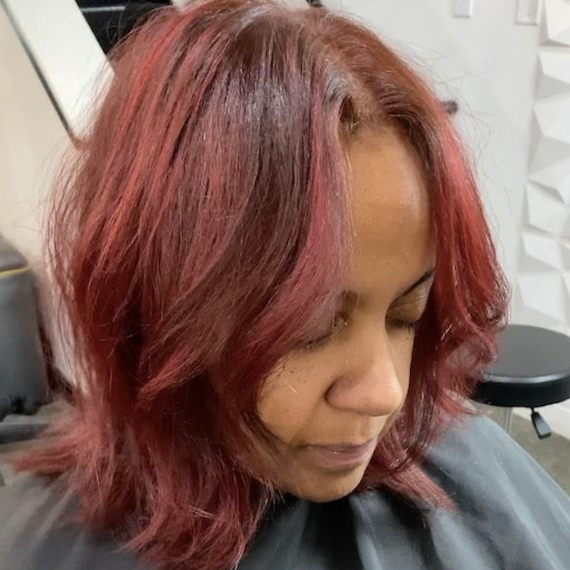 4
Vibrant Ruby Red Hair
Image Credit: @dereqc
Make a bold statement with true ruby red hair. Crafted by Wella Professionals North America Brand Ambassador Dereq Clark, this shade is a vibrant vision that's equal parts bold and stylish. To recreate the look, try applying Koleston Perfect 6/45 + 8/45 to the root area, then sweep Magma by Blondor /44 in radiant red highlights for a luxurious colour with serious Instagram appeal.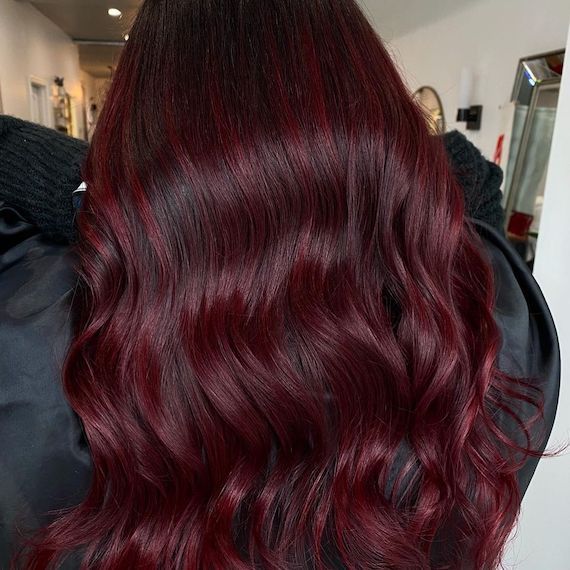 5
Deep Ruby Red Hair Colour
Image Credit: @effortlysshair
Take ruby tones deeper with a vivid take on mahogany hair. Packed with incredible shine, this multi-tonal mane shows just how impactful darker reds can be. For the look, Alyssa veiled naturally dark strands in Color Touch 66/45 + 0/56 + 5/66, delivering a dose of vampy vibrancy that shimmers from roots to ends. Hair was then washed with Elements Renewing Shampoo, and styled with Elements Renewing Leave-In Spray, a nourishing conditioner that boosts manageability and shine. 
How to Maintain Ruby Red Hair
Red hair colours can fade brassy quickly, so your client will need to follow a strict at-home hair routine to maintain that ruby radiance. Before they leave the chair, remind them of these three care tricks...
1. Switch Up the Hair Wash Routine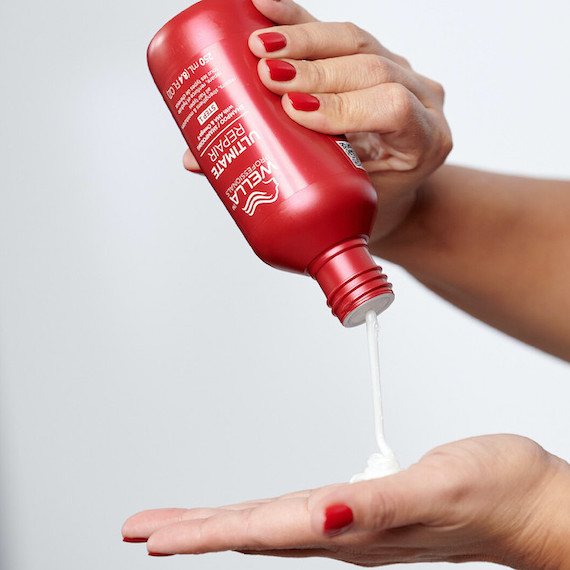 Whether red, blonde or brunette, all colour-treated hair deserves specialized care. That means switching out regular shampoos and conditioners for colour-safe formulas. To lock ruby hues down for longer and inject strands with lustrous shine, INVIGO Brilliance Color Protection Shampoo is a go-to for colourists and clients alike. Its optimized low pH formula helps to close the cuticle after colouring, which enables better colour retention. Meanwhile, if hair is damaged and more moisture is needed, Ultimate Repair Shampoo is the perfect pick. The luxurious formula is packed with AHA (Alpha Hydroxy Acid) and Omega-9 to rinse away impurities, hydrate lengths and kick-start the bond-rebuilding process. 
Remind your client to follow their shampoo with a care conditioner or, as a weekly treat, a hair mask. For rich colour results, they should reach for formulas that complement their chosen shampoo. INVIGO Brilliance Vibrant Color Conditioner is ideal for enhancing vibrancy and smoothness, while Ultimate Repair Conditioner is a must for all hair types craving intense nourishment. In fact, the latter is so strengthening that the effects last for up to four washes*, and yet it doesn't weigh hair down. Strands feel clean, fresh, strong and nourished after every use thanks to its rich and creamy formula. Not a dry hair strand in sight!  
2. Apply a Colour-Depositing Hair Mask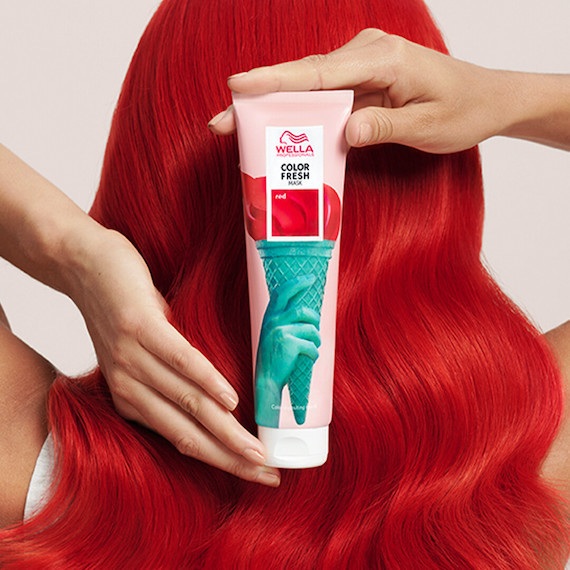 In between salon visits, your client can top up their tone at home. All they need is the Color Fresh Mask temporary hair colour in Red, a wide tooth comb and a spare 10 minutes for development time. This pigmented hair mask refreshes their colour ultra-fast and damage-free, giving ruby reds a bold boost of show-stopping shine. These are the steps to follow:
Wash hair with their chosen shampoo, rinse and gently towel dry.
Apply the Color Fresh Mask in Red from root to tip or just on red sections of towel-dried hair.
If needed, evenly distribute the mask with a wide tooth comb.
Allow to develop then rinse out thoroughly.
The Color Fresh Mask is designed to be used in place of traditional conditioners, so all your client needs to do next is dry and style their locks as usual. Simple.
3. Reverse Damage With This 90-Second Treatment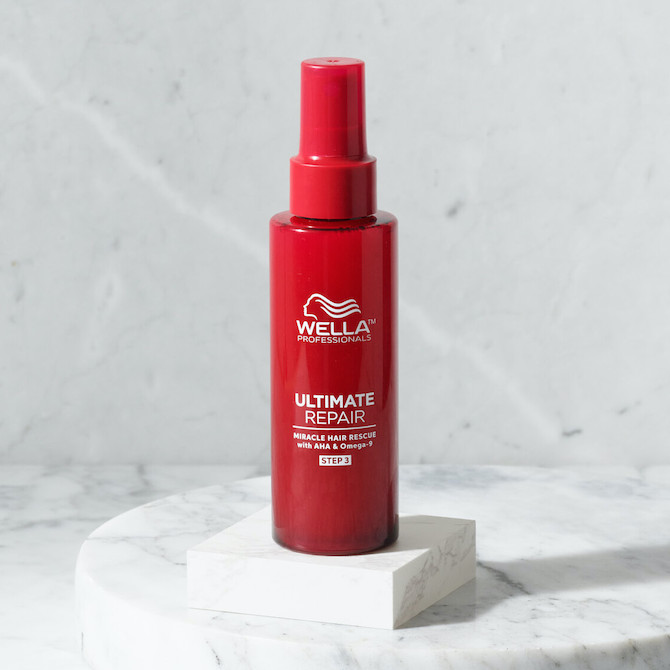 Ruby red hair looks its best when it's nourished, so introduce your client to a treatment that truly transforms their locks after just one use. We're talking 12x smoother hair with 99% less breakage*. Ultimate Repair Miracle Hair Rescue is a game-changer that's already making waves across TikTok, delivering legendary results to take healthy hair to new heights. It works in just 90 seconds and couldn't be easier to use: all your client has to do is mist it through their clean, damp, ruby red hair and let it absorb for 90 seconds. The result? Easy-to-style, glossy hair that's smoother, stronger, frizz-free and visibly nourished. Their ruby mane will look better than ever before.
Now you have all the inspiration you need to mix up the perfect ruby red hair colours, don't forget to share your creations with us on Instagram by tagging @WellaHairUKI. We can't wait to see them!
* When using ULTIMATE REPAIR Steps 1 (shampoo), 2 (conditioner) & 3 (Miracle Hair Rescue).