The Best Red Hair Colours For Your Client's Skin Tone
Red hair colours are much more versatile than you might think. With so many shades of red out there, it's possible to find a hue for every skin tone, from strawberry blonde to cherry cola. And, while we don't necessarily believe in set rules when choosing shades – hair colour is a form of expression, after all – we do know that certain skin tones suit specific red hair colours better than others. So, here we're breaking down your red hair 'cheat sheet' for some colour-mixing inspiration. 
For Fair Skin Tones: Try Peachy Coppers and Strawberry Blondes
If your client's skin is very fair with pinky or peachy undertones, a strawberry blonde or peachy copper mane will really sparkle against their complexion. (Think Emma Stone at her reddest.) You can make these shades as light and bright or deep and autumnal as your client pleases, and you could even shift the tone as the seasons change, so their colour always feels fresh and modern.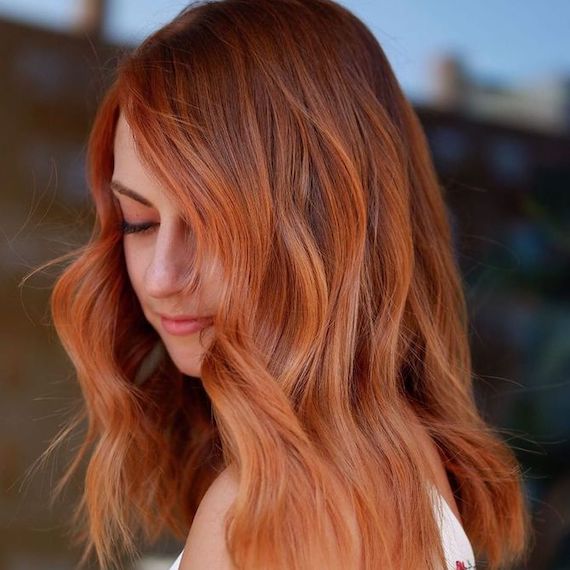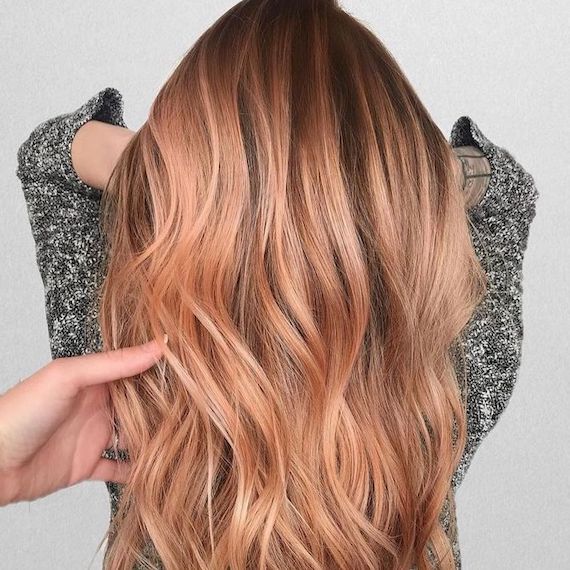 Image Credit: @hairbyalimoat
Soft strokes of strawberry blonde bring out the creaminess in a fair complexion, so embrace these pink-tinted tones – or even opt for rose gold ribbons for a trend-led look. Here, long waves have been painted with Illumina Color 7/35 + 7/43 to create a juicy hue that's guaranteed to stand out. 
For Light Skin Tones: Try Rich Auburns and Bright Gingers
Usually, clients with light skin have more yellow undertones than those who are fair, so you can take their choice of hair colour a little bit warmer. A flash of ginger is ultra-versatile, as it can be worn bright and orangey or more raspberry pink. Meanwhile, auburn hair also lends a flattering finish, and offers a great way for brunettes to embrace a touch of red.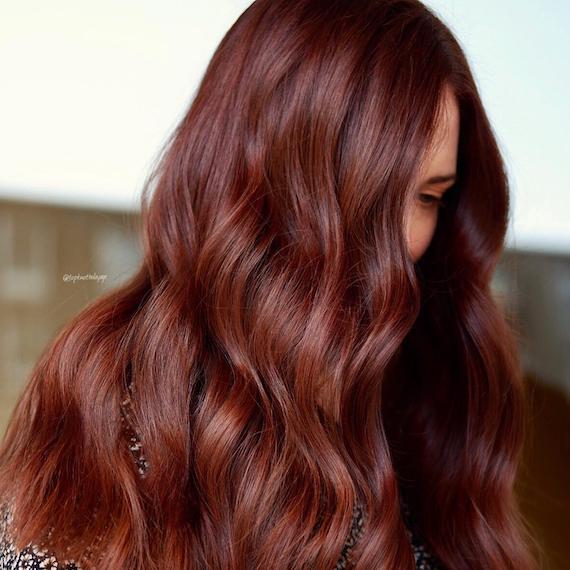 Image Credit: @topknotbalayage
For brown-haired clients who are feeling nervous about switching to a red, suggest a rich auburn colour or a rose brown – something that's brimming with gloss and warmth. This particular hue is a Color Touch masterpiece, which you can mix by adding 7/0 + 7/7 + 7/47 to your formula.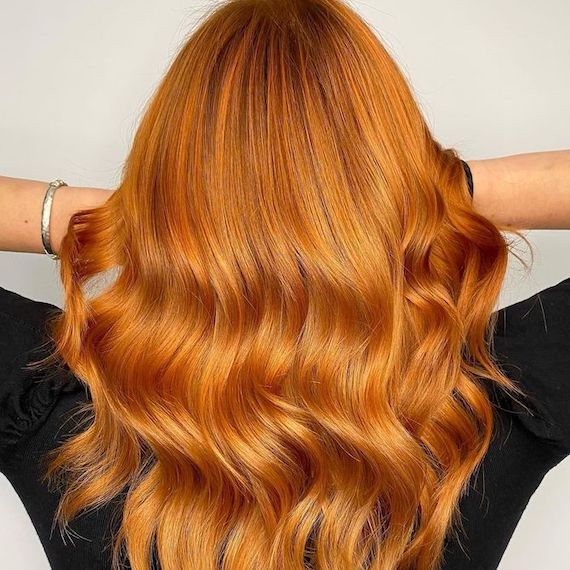 Image Credit: @dmartin_hair
Choosing a true ginger, like this, is as much about sense of style as it is about skin tone, so mix it up for those clients who are open to truly vivid locks. The colour was crafted using Color Touch 7/43 + 7/3, followed by the Color Fresh Mask in the shade Copper Glow for a little extra zing. 
For Medium Skin Tones: Try Russet Reds and Deep Merlots
A russet red is one of the most wearable bold shades for medium-skinned clients, as it's neither cool nor warm – just neutral – so it flatters no matter their undertones. But if your client wants a darker, slightly subtler red, suggest they get a taste of deep merlot, which looks especially vibrant if their skin is on the tanner side.
Russet Red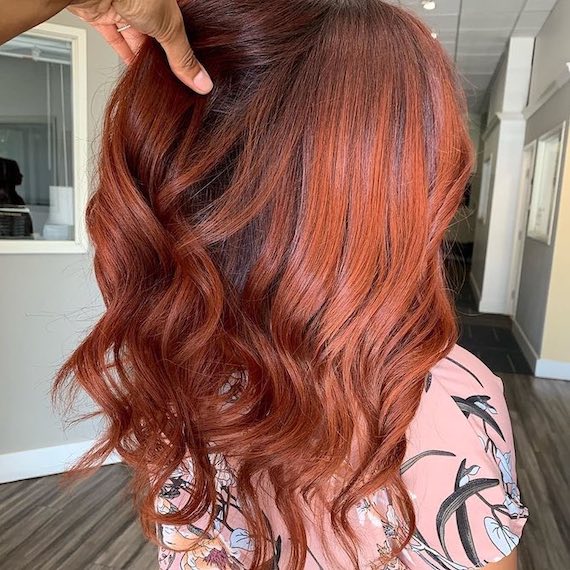 Image Credit: @hairluvbytiffany
This molten lava mane can be created with none other than our go-to demi-permanent, Color Touch, featuring a combination of 6/0 + 6/4 + 6/3 for the base. BlondorPlex + 3% can then be used to lighten hair and create a base for the red highlights, while 77/45 + 7/4 + 1.9% is perfect for giving you that fiery russet. 
Deep Merlot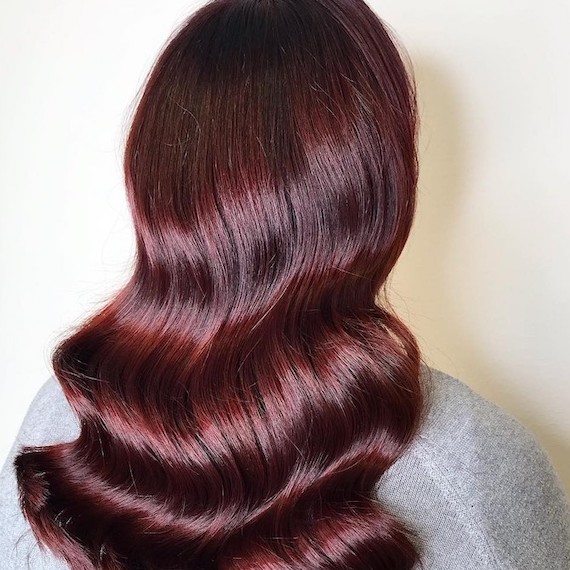 Image Credit: @av.malin
Wine reds, like a deep merlot, are the dream for medium olive skin tones. Case in point: this delicious mane, expertly painted with two vivid Color Touch formulas. To recreate the look, try sweeping 4/57 + 5/5 + 5/4 + 1.9% through the root area, and 5/5 + 5/4 + 66/45 + 4% through the lengths.
For Dark Skin Tones: Try Light Cinnamons and Chili Reds
Clients with a dark skin tone can pull off golden and reddish browns better than anyone, so reach for cinnamon and chili red tones to flatter their complexion. If they want a warmer, more sun-kissed look, a scattering of light cinnamon highlights will add instant luminosity. Meanwhile, hints of orange in a chili red face frame will create a statement that's easy to maintain.
Light Cinnamon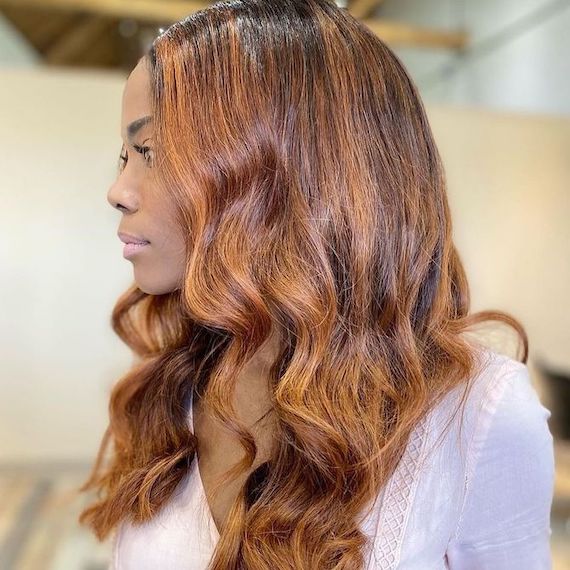 Image Credit: @nicolerevish
Spice up brown hair with cinnamon highlights if your client craves a golden red. These radiant ribbons were applied to natural level 3 hair using Koleston Perfect 12/22 + 12% in back-to-back foils. Once this lifting and toning step had been thoroughly rinsed and removed, locks were then treated to a Shinefinity Zero Lift Glaze using a combo of 07/34 + 08/34.
Chili Red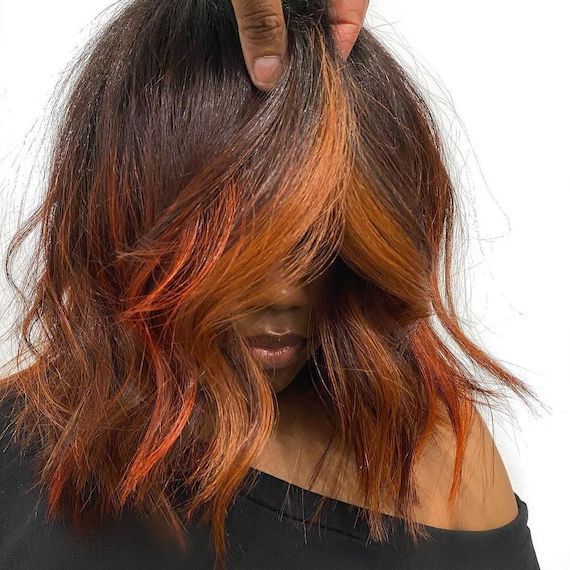 Image Credit: @dereqc
If a deeper red is more your client's vibe, pair a dark brunette base with chili face-framing highlights. We love the pops of orangey-red in this statement mane, created using BlondorPlex as a base, and Koleston Perfect 7/34 to tone. To add extra vibrancy, locks were then treated to a final veil of Color Fresh CREATE in Infinite Orange, which kicked the impact up to the next level.
For Deep Skin Tones: Try Ruby Reds and Cherry Colas
Intense, multi-tonal reds pair flawlessly with deeper skin tones, as they elevate the richness and have a glow-boosting effect on your client's complexion. So, reach for ruby reds or cherry cola hues, and sweep them in show-stopping highlights through a dark, glossy base for maximum impact.
Ruby Red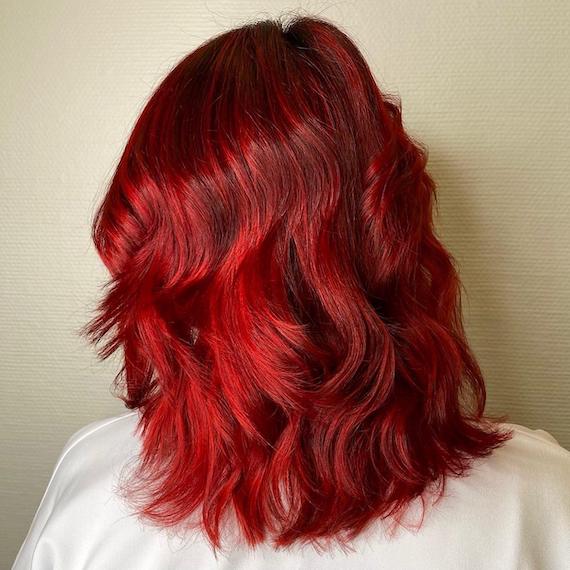 Image Credit: @kai_sohn
Set deep skin tones aglow with an unmistakably bright ruby red. There's no colour quite like it – ideal for your colour-brave clients who are all about making a statement. The formula? Magma /44 + 1.9% for lightening and toning in one, followed by a second toning step that featured Color Touch 66/45 + 4%.
Cherry Cola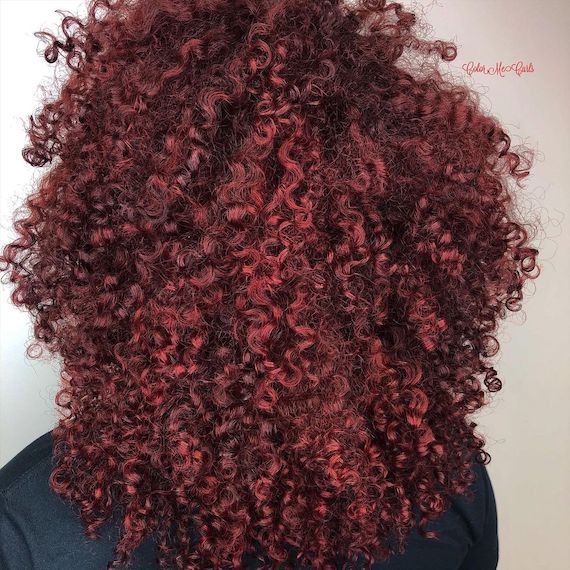 Image Credit: @colormecurls
Cherry red highlights through dark brunette curls deliver plenty of pop and glow, so get this intense shade by stroking Koleston Perfect 66/55 + 6/45 + 8/45 through locks from root to tip. The coolness will contrast against deep skin in the most mesmerizing way, while bumping up the natural luster in your client's hair.
One Last Reminder…
These tips are just a guideline, and colour-matching should always be bespoke to your client, so keep an open mind and use your shade swatches to unlock the red hair shade of their dreams. The range of reds is endless, and so are the possibilities for all skin tones. We hope these tips, tricks and formulas have given you (and your customers) some fresh ideas for that next big shade switch-up.