How to Create Red Ombre Hair
Any ombre hair colour is covetable, but make it a fiery red ombre, and you've got the most Instagrammable gradient of all. Shades of auburn, cherry, mahogany and copper team flawlessly with this statement-making technique, giving your clients an update on radiant red hair that turns heads in and out of the salon.
But how do you create the look? Here, we break down the tips, formulas and inspiration you need to make your clients' red ombre dreams a reality. First, let's start with your ombre technique...
How to Get Red Ombre Hair
1. Create a Root Shadow
Red ombre hair relies on a dark to light graduation, which means the root area needs to be up to three shades darker than the ends. Unless your client's existing root colour is already a match for their desired look, you'll need to begin by giving them a root shadow.
The shade you choose here will depend on the type of red ombre you're aiming for. For example, if you're doing a black and red ombre, you may want to use Koleston Perfect 2/0 for near-black roots. Meanwhile, an auburn ombre may start with a mahogany hue up top, making something like 55/65 or 5/41 the perfect pick.
2. Apply a Pre-Lightener
Unless the existing hair colour is lighter than the shades you're applying through the lengths, you'll need to apply a pre-lightener to help the ombre hues show up. Try Blondorplex, which provides up to 7 levels of lift, while constructing bonds inside the hair with Wellaplex Technology.
Use your tint brush to apply the hair lightener where you want the fade to begin, then sweep it down to the ends. This will act as a base for your red ombre. Allow the lightener and root shadow to develop, before rinsing and neutralizing locks, ready for the colouring step to begin.
3. Mix Up the Red Shades
Finally, mix up your red gradient colours. Depending on how gradual the fade should be, you'll need one or two different shades to colour the mid-lengths and the ends. Your middle shade should be one or two shades lighter than the root shadow, while the shades through the tips will be a shade lighter than the mid-lengths, resulting in an even graduation.
If you're using just one red colour to seamlessly melt from root to tip, choose a shade that's two levels brighter than the roots for the dreamiest sombre (subtle ombre).
Red Ombre Hair Ideas and Formulas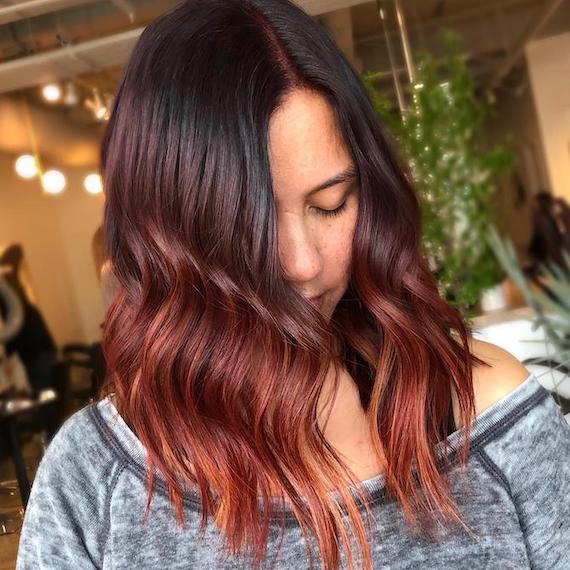 1
1. Dark Red Ombre Hair
Image Credit: @jt_hairandmakeup
Going from black to mahogany to auburn, this Koleston Perfect red ombre reminds us of autumn leaves and blazing sunsets, making it the perfect pick year-round. Try creating this look for your clients with a dark root shadow, 44/65 on the mid-lengths and 55/46 through the ends. Then, tong lengths so the tones tumble into rich waves.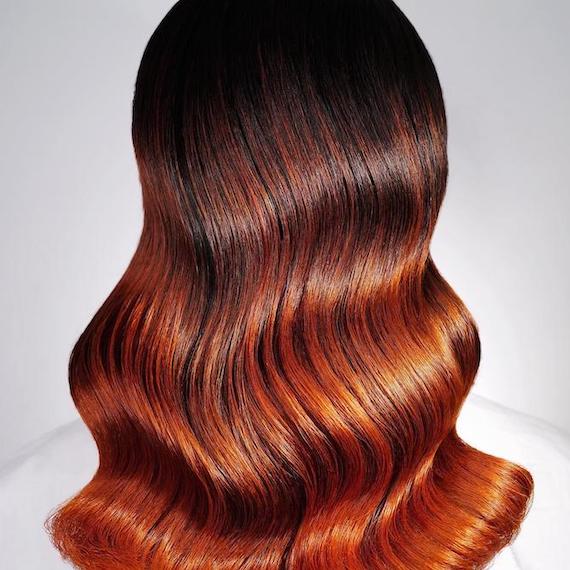 2
2. Fiery Red Ombre Hair
Image Credit: @kleykafe
How glossy is this look? The polished waves combine with a vibrant ombre to help those red tones shimmer under the light – and shimmer they do. To perfect the look, Koleston Perfect 5/7 + 6% was used to shade the roots, before 8/43 + 0/33 + 9% was painted from mid-lengths to ends for a fiery fade.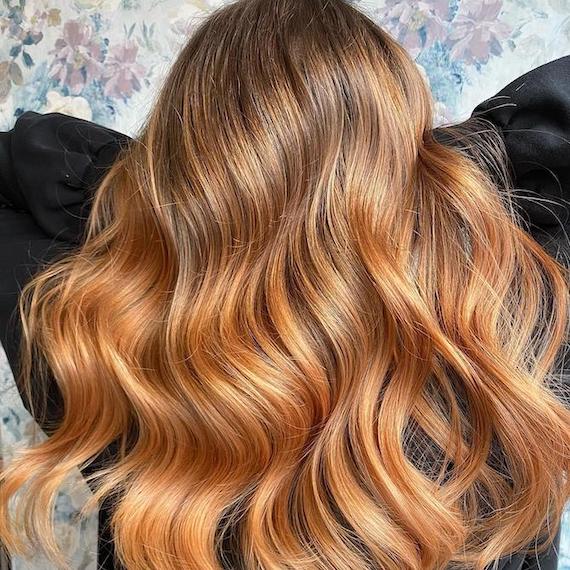 3
3. Strawberry Blonde Ombre Hair
Image Credit: @hair.by.vicki
Part ginger, part strawberry blonde; this ombre 'do by Vicki Wareing is brimming with shine. Try recreating the look with Koleston Perfect, turning to a palette of Vibrant Reds. Some of our favorites for a blonde-meets-red shade include 9/04 and 8/34.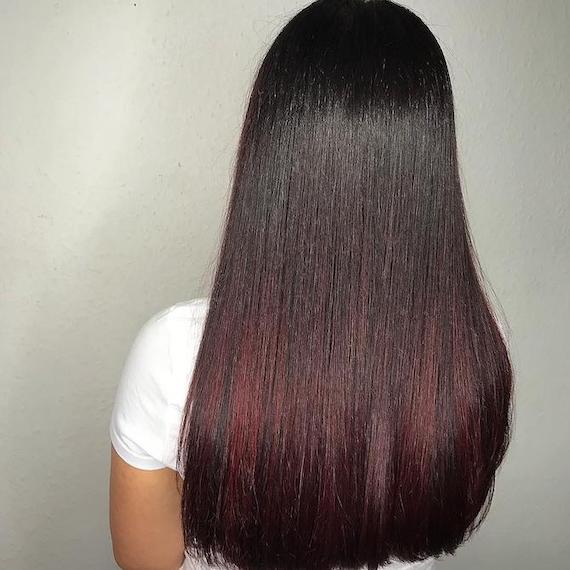 4
4. Black to Red Ombre Hair
Image Credit: @david_bkc
More of a sombre, this Color Touch creation features black at the roots and a touch of cherry cola red through the mid-lengths and tips. If you want to recreate the look, try applying 2/0 through the crown area, then brush Special Mix /57 or 6/45 onto pre-lightened ends.
How to Maintain Red Ombre Hair
You don't want your red ombre hair creations to turn brassy or fade too fast, so give your clients the tips they need to maintain their perfect shade at home. Here's what they need to know…
1. Colour-Kind Shampoos Are a Must
Coloured hair should never be without a protective shampoo, so suggest clients swap their usual wash for a safeguarding formula. Some of our go-tos include INVIGO Color Brilliance Color Protection Shampoo for vibrant shine, and ColorMotion+ Color Protection Shampoo to fight shade-fading free radicals.
2. The Right Conditioner Can Top Up the Tone
You've heard of purple shampoos keeping blonde hair looking its cleanest and brightest. Redheads have a solution too, with colour-depositing conditioners that make lengths appear salon-fresh. Suggest clients try INVIGO Color Recharge Red Conditioner for a subtle refresh. Or, for added nourishment and more intense tone, the Color Fresh Mask in Red or Copper Glow will boost their shade and condition in just 10 minutes.
3. Strands Need Protection During Heat Styling
You know it, but your client might not, so make sure you remind them that heat styling and sun exposure can cause colour to fade much faster. That's why, before blow drying or tonging lengths, they should mist hair with EIMI Thermal Image heat protection spray. If possible, they should also wear a hat in the sun to keep red ombre hair under wraps. Their shade will stay flawless for longer.