5 of the Most Angelic Halo Highlights Formulas
When you're looking to lend luminosity to your client's complexion, face-framing highlights guarantee a dose of radiance that – bonus – boosts dimension in their hair as well. But for an unrivaled glow, it doesn't get much dreamier than the halo highlights trend; a technique that sets the face frame and mid-lengths of hair alight, as if a halo is shining down.
But how do you create this flattering 'ring of light' effect for your clients? Here, we reveal the tricks and formulas you need to know for halo highlights with an angelic glow…
What are Halo Highlights?
Halo highlights create – wait for it – a halo of light around the face framing layers. But it's not like your typical face frame; instead of being disconnected, it seamlessly flows into the rest of the hair. The intensity is through the front, but the glow the halo casts gleams through the lengths and ends, resulting in celestial ribbons that appear oh so radiant.
'Soft-focused' and 'diffused' are your key words for this look, so babylights and teasy lights can both be used to achieve the glimmer of glow-boosting colour you're aiming for. Just remember, when creating halo highlights, there are three golden rules you need to stick to:
Always add a luminous 'ring light' face frame for a hyper-real halo.
Swap piecey, textural highlights for a more even 'glow' of light.
Ensure the face frame flows seamlessly with the mid-lengths and ends.
How to Create Halo Highlights
To create a head of halo highlights, you need to perfect your pre-lightener placement. Start by painting Blondor Freelights on the face frame, so your lightener stays on this section for the longest, resulting in the highest lift. Then, gently backcomb the root section and apply balayage ribbons just below where the teased hair ends; a trick called 'teasy lights' that helps to diffuse the line between the roots and the mid-lengths. You could also work with a more traditional balayage technique, then add a root smudge to create a similarly soft finish.
One clever way to make halo lights appear ultra-natural is by working in babylights (micro-fine) strokes. Pack in a high volume of ribbons so they blend more seamlessly with the vibrant face frame. Once hair has lifted to the desired level, finish with a toner in a candlelit hue that complements the root colour; think honey blonde on light brown hair, caramel bronde (brown-blonde) on espresso brown hair, or ash blonde on ash brown hair.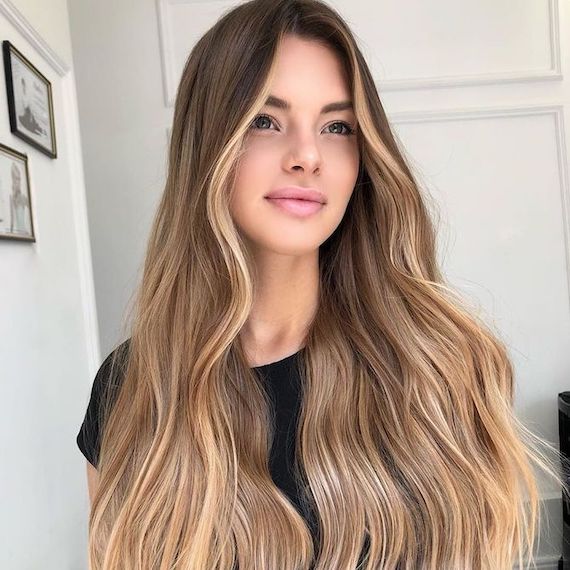 1
Golden Blonde Halo Highlights
Image Credit: @igorkhonin
This golden blonde halo reflects warmth around the face and through the rest of the hair, giving warmth to a long, wavy Victoria's Secret Angels-inspired mane. Recreate the look for your clients with Blondor Freelights + 9%, followed by Color Touch 9/16 + 9/73 to tone.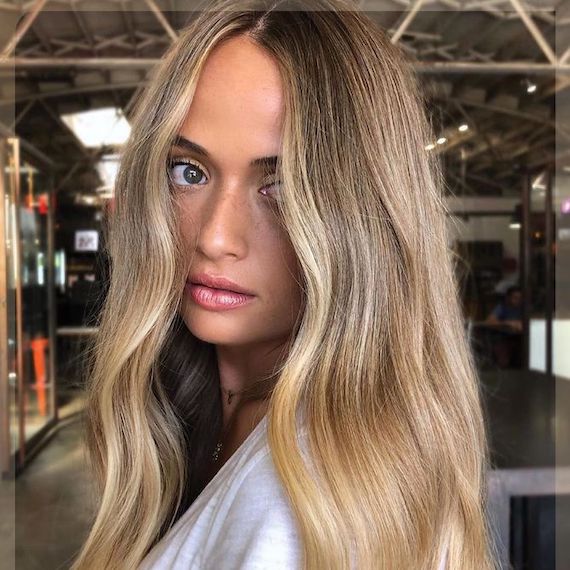 2
Beachy Blonde Halo Highlights
Image Credit: @haley_marshall
Halo highlights give beachy blonde hair an extra sun-kissed upgrade, as seen in this vacay-ready creation. It features strokes of Blondor + 6%, painted more generously through the face frame, a Color Touch 7/0 root shadow, and a toning step of 9/73 + 9/0.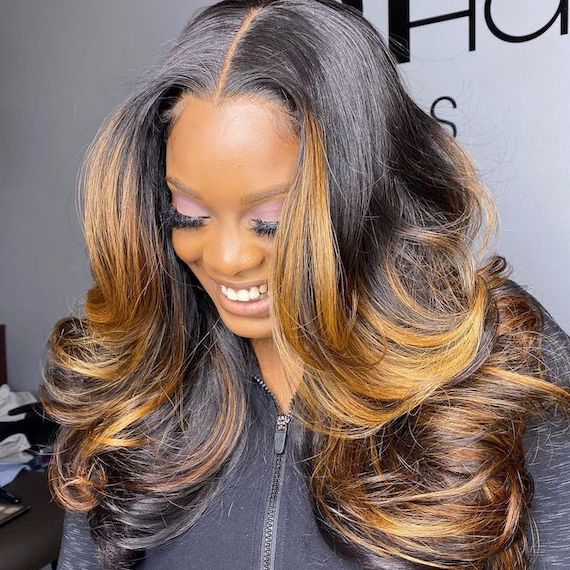 3
Halo Highlights on Black Hair
Image Credit: @officialmicah
We are obsessed with this gilded halo, creating a statement on black hair. It glistens through the front, then flows into luminous lengths that were lifted using Blondor Freelights. If you love the caramel blonde hue as much as we do, turn to the warm tones in the Koleston Perfect Pure Naturals range. 10/03, 9/03 and 8/03 are just some of our favourites.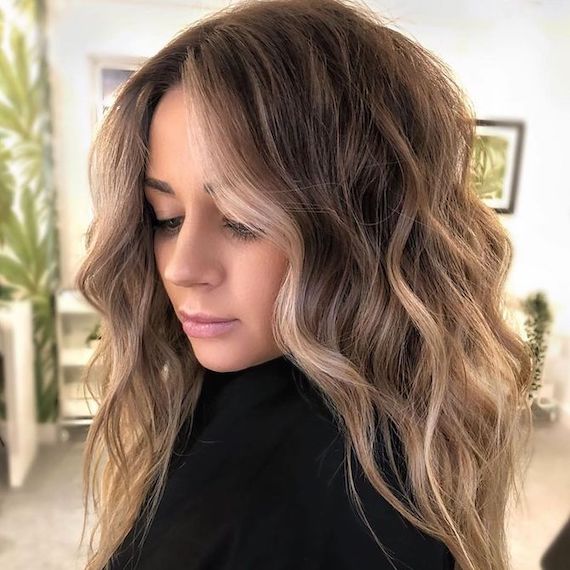 4
Halo Highlights on Brown Hair
Image Credit: @tialambourn_hair
The gentlest of halo lights is shining down on this ash brown mane, creating a delicate face frame and lit-from-within ribbons that cascade through the lengths. To create the look for your brunette clients, first lighten with Blondor Freelights. Then, tone the roots with Color Touch 5/97 and 4/0, the front with 5/97 + 7/97, and the ends with 10/0 + 9/97.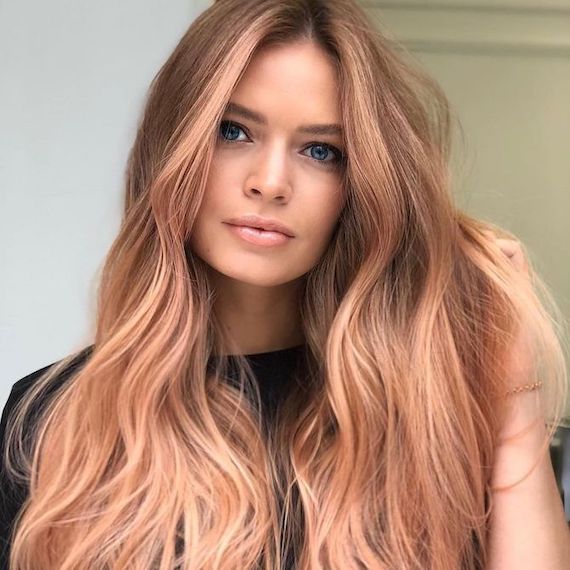 5
Rose Gold Halo Highlights
Image Credit: @igorkhonin
For fans of pastel balayage, these rose gold highlights are a must-try, sparkling through a dark blonde base to lend some warmth to the skin. You can sweep them on with Blondor Freelights + 12%, then tone with a blend of Color Touch 9/73 + /56. Does it get more angelic?
How to Maintain Halo Highlights
To keep halo highlights luminous, a good colour care routine is key. Teach your clients how to protect their shade and boost hydration with these at-home tricks…
1. Use a Colour-Protecting Shampoo
Essential in your client's care kit is a shielding and nourishing shampoo, so suggest they add INVIGO Color Brilliance Color Protection Shampoo to their routine. Designed to keep colour vibrant with a boost of lime caviar, it comes in two formulas: one for Normal/Fine Hair and one for Coarse Hair. If your client's halo is a cool blonde, they may also benefit from a purple shampoo. Suggest they wash with INVIGO Cool Blonde Color Refreshing Shampoo if their light tones start to steer too warm.
2. Boost Shine with a Moisture Mask
As well as treating locks to INVIGO Color Brilliance Vibrant Color Conditioner each time they shampoo, your client should be using a hair mask weekly. Our pick for radiance is Oil Reflections Luminous Reboost Mask. Remind them to gently blot clean, wet hair with a towel before they apply their mask, then distribute evenly through the mid-lengths and ends. (A wide-toothed comb will help, while eking out knots!)
3. Shield with a Heat Protection Spray
Heat styling can turn your client's halo highlights brassy, so let them know just how important it is to shield locks with EIMI Thermal Image. This clever bi-phase formula elevates shine while safeguarding strands from heat up to 220 degrees. It's a must before blow-drying, straightening or curling those highlights to perfection.